Many businesses spend time and money putting together their strategic plans. We must recognize the importance of strategic planning, yet it requires more than strategy alone.
How do you bridge the gap between business strategic planning and implementation? Strategy execution software takes a typical strategic plan and makes it actionable, removing the headache from the execution phase and streamlining operational processes. Strategic planning software helps companies execute their plans and provides dynamic business management solutions that reach every member of an organization.
In This Article
Why Do Businesses Need a Strategic Plan?
A strategic plan gives your business direction by creating detailed business strategies. Implementing and evaluating these strategies provide critical information and improvement opportunities. A strategic plan for businesses should be fluid and dynamic to match the industry's ever-changing needs.
You might be asking yourself, why spend time, energy, and bandwidth on strategic planning in the age of technology? In truth, strategic planning is more critical than ever for businesses to maintain a competitive edge. A strategic plan allows you to communicate your messages clearly throughout your organization, track progress toward specific goals and be prepared for any eventuality.
Working toward a common goal increases productivity, improves employee satisfaction and provides a proactive advantage over competitors.
What Is a Strategic Plan?
A strategic plan is a combination of unique strategies and actionable goals. Strategic planning requires a considerable understanding of your business's direction and mission and is often formulated in three steps:
Strategy formulation: Strategies begin with an in-depth assessment of your business practices to identify strengths and weaknesses. The results provide decision-makers with crucial information on which to focus their future efforts.
Strategy implementation: Effective implementation depends on a solid administrative framework that supports the company's strengths.
Strategic evaluation: In today's fluid business climate, business leaders must examine the results of their chosen strategy and identify opportunities for future development.
Why Typical Business Strategies Fail
Strategic plans are complex to execute — failure occurs between 60% and 90% of cases. In theory, the innovations and allocation of resources you decided on might look straightforward. In practice, however, many factors can impact the success of your business strategy. The top five reasons business strategies fail include the following:
Premature upscaling: Pushing your business past its current limits could cause business failure, as not anticipating possible consequences could leave your business beyond the scope it can handle.
Choice of employees and partners: For a strategic plan to be successful, you must choose the best people for each role. The wrong people and priorities will decrease productivity and cohesiveness.
Gaps in planning: To create and implement a successful business strategy, you must plan for it. Without adequate communication and proper leadership, your business could experience delays in planning implementation. In the absence of actionable daily plans, people will lose their focus and prioritize less critical tasks.
Lack of leadership: Ineffective leadership could mean the downfall of a strategic plan. Leadership is responsible for communications and goal management — without these, your business will be like a ship without a rudder.
Unrealistic goals: Unattainable goals could set your business up for failure before it's even off the ground. Employee satisfaction will dip as they can't meet your requirements. Vague, undefinable goals could lead to strategic plan failure.
What Is Strategic Planning Software?
Strategic management software is an integrated platform where business owners and leaders can create strategic plans, manage operational processes and progress and assess company-wide performance. The software provides automatic strategic updates, giving you and your employees real-time information on how well you're meeting your strategic goals.
Strategic planning software tools allow you to manage all your strategy-based objectives from one centralized location. With centralized data, you can look forward to improved productivity and a more cohesive company culture.
How Does Strategic Planning Software Work?
Strategy execution software helps businesses streamline and implement their strategic plans in the following ways:
Assisting companies in identifying and mapping out short- and long-term goals.
Focusing leadership and employees on specific priorities.
Helping businesses choose unique paths to achieve their goals that align with their industry and business model.
Measuring business and employee success and providing feedback with strategic plan tracking tools.
Gathering and tracking mission-critical information with a single, automated platform.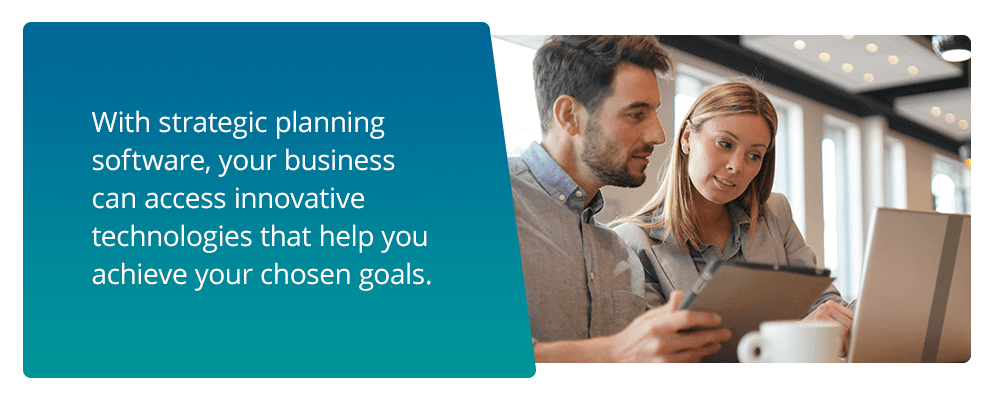 With strategic planning software, your business can access innovative technologies that help you achieve your chosen goals. Companies that use the software have a massive competitive advantage, as they can use technologies they wouldn't be able to create internally.
The Benefits of Strategic Planning Software for Businesses
Strategic planning software provides an innovative and flexible option for continuous strategic business processes. Some of the many benefits of using a strategic planning software tool include the following:
Encouraging a proactive culture: Strategic planning software allows you to see potential challenges and accommodate them before they happen. Your proactive approach will filter throughout your organization and boost confidence and productivity.
Providing additional expertise: Many strategic software providers will help you in your strategic planning.
Producing a sense of direction: With strategic planning software, your business has a clear sense of direction and the ability to measure daily operations against these goals.
Elevating accountability: Strategic plan tracking tools promote involvement at all levels. It's clear who is responsible for tasks and leadership, and employees can be held accountable.
Increasing operational efficiency: Leadership has a well-defined roadmap to align organizational activities with predefined goals. Strategic planning software assists in resource decisions and focuses employees on a cohesive purpose.
Enhancing goal flexibility: As the user, you can access your strategic plan and update it in line with business trends at any time.
Augmenting business durability: Running a business can be unpredictable. Strategic planning software provides a foundation to help see you through challenging patches.
Providing perspective: The intuitive and user-friendly interface you can expect from strategic planning software help you see your business operations as a whole.
Fostering effective communication: Everyone on every level of your business has a clear idea of your business strategy and its role in executing it.
Elevating profitability: With the valuable insights provided by the software, you can create a targeted approach to sales and marketing for the best possible results.
Improve Your Business's Strategic Planning With AchieveIT
AchieveIt provides your business with a solution that helps you and your team accomplish the essential tasks needed to meet your overall goals and strategy. You can improve communication, visibility and accountability from one integrated platform that automates your processes and engages team members across the breadth of your organization.
After the initial implementation and adjustment period, AchieveIt makes operations easier for everyone in the following ways:
Improved data quality
Built-in organizational roll-up view
Conditional formatting and automatic formulas
Versatile system setup to suit your unique needs
Automatic reporting
Multiple edit capabilities — several people can edit simultaneously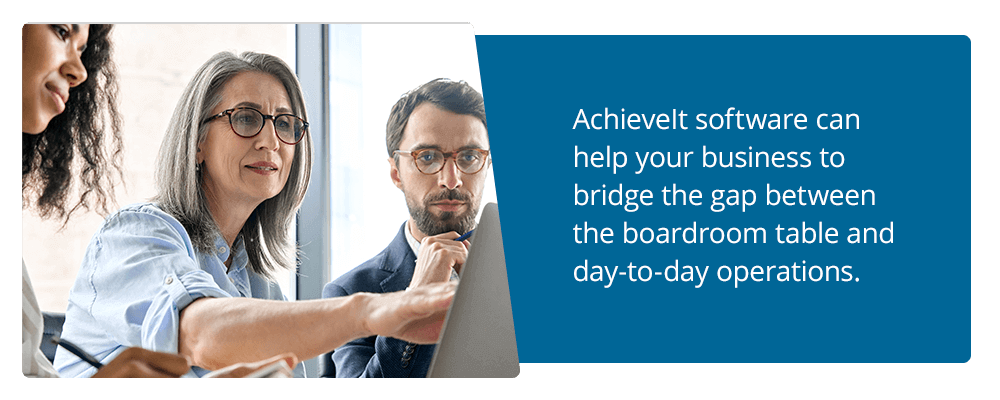 AchieveIt software can help your business to bridge the gap between the boardroom table and day-to-day operations. Your team can easily connect to execute your goals and stay ahead of the curve in your industry.
Let's Get Started
AchieveIt is the ultimate platform to get your strategies off the shelf and into reality. We can help you define your critical plans and initiatives and integrate them into one easy-to-access platform that provides you with a 360-degree view of your overall efforts. With help from AchieveIt, you can transform your great ideas into quantifiable results.
If you're looking to improve visibility, accountability and uniformity from a single platform and elevate the execution of your initiatives, request a demo today so we can discuss integrated plan management geared to your specific goals and challenges. Connect, manage and execute your key plans and initiatives with AchieveIt.