Arguably, a leading cause of business failure is not having any type of strategic plan. If a business has little idea where it is headed, its employees will lack clarity of purpose, wander aimlessly without priorities and be unable to set appropriate goals for the organization's progression. This is why corporate strategic planning is critical to business success, even if the planning process takes time and resources. Let's review 10 benefits of strategic planning.
In This Article
1. Strategic Planning Instills Focus, Direction and Clarity for Your Company
The main purpose of strategic planning is to align the organization's mission, vision and plans to help bring goals to fruition. Organizations can carry out this practice by addressing these three questions:
Mission: What is our purpose?
Vision: What are we aiming to achieve?
Plan: How are we going to get there?
Businesses should want to engage in corporate strategic planning because it provides an organization with direction and focus through outlined procedures and written documents. Having a clearly articulated vision for important goals enables the company to develop a strategic plan that is a literal roadmap for success.
Due to miscommunication, confusion and day-to-day complications, many organizations may find that strategic planning provides little results, but teams can mitigate these risks by writing down their plans and including reasonable assignments, due dates and deliverables that employees feel they can actually achieve.
To put this into perspective, consider how difficult it might be to tackle an important company project without knowing where to start, how to delegate tasks or how to monitor your progress to ensure you will complete it on time. Strategic planning offers a solution to this dilemma and empowers employees to know what efforts they must execute by when.
Curious about help putting together your plan? Learn more about our Execution Experts.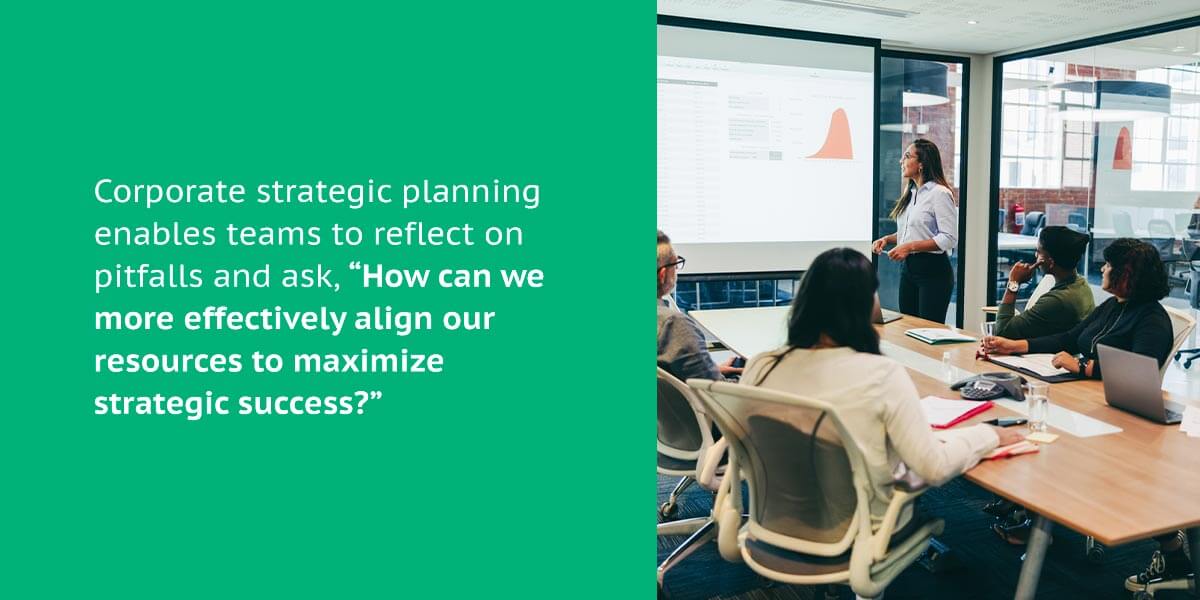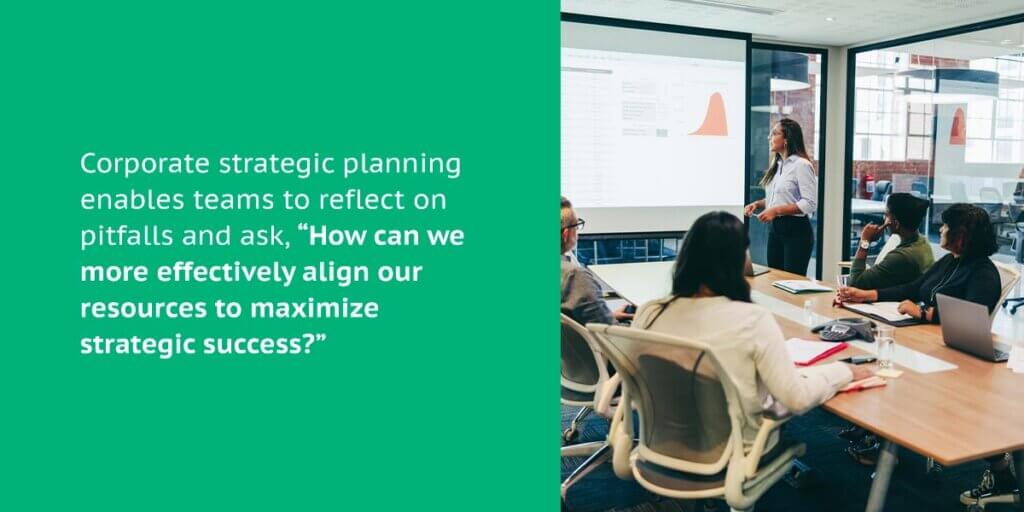 2. A Strategic Plan Powers Organizational Alignment
A strategic plan is more than a document or whiteboard idea that keeps everyone on track. Having the entire team participate in the strategic planning process fosters collaboration and cooperation between colleagues and generates an opportunity for discussion on the organization's direction, which is why strategic planning often results in cultural transformation. In addition, the process promotes the exchange of creative ideas, including working on effective solutions and resolving disputes.
Many organizations have skilled, experienced employees who always put their best efforts into every project and task. However, this energy, time and knowledge may be wasted in areas that have no productive effect on accomplishing important goals and objectives toward strategic success. Even the most talented professionals may feel their labor goes unused if there is no clear direction or progression path that gets the company to its target.
Involving employees in the strategic planning process ensures everyone is on the same page during the execution phase of the planning process so they will be prepared to make better decisions in the interest of the strategic plan and plan goals. Corporate strategic planning enables teams to reflect on pitfalls and ask, "How can we more effectively align our resources to maximize strategic success?"
3. A Plan Communicates Your Message
Even if the leaders of an organization have a strong and thorough vision statement or mission, many of them tend to focus on virtual strategies they create in their heads. For instance, the CEO will certainly have clear ideas of the company's strategic direction and which tactics they want to execute to bring their teams on board with a new goal, but they may not be able to articulate it effectively down the corporate chain.
If no one has the strategy written down in a clear and digestible way — or if only a handful of employees know which priorities to execute — the likelihood that the team can carry out this visualized strategy is greatly diminished. This is one of the reasons why strategic planning is so crucial. It serves as a communications vehicle for everyone on the team to know exactly what they need to do to contribute to short- and long-term sustainability.
AchieveIt's cloud-based strategic planning software is the ideal technology for answering the question, "why strategic planning?", as it enables organizations to manage and track the execution of every type of plan in real time — whether strategic plans, operational plans, project plans or quality improvement plans.
4. A Plan Draws Attention to Shortcomings, Biases and Flaws
Incorporating strategic planning processes in your corporation allows you to examine and eliminate the inherent bias you likely incur when making decisions. It's natural to fall prey to some cognitive biases, such as:
Selecting the most recent option or idea because it's fresh in your mind
Making a choice by assuming the most obvious option is the best decision
Choosing the option that feels familiar and easy
Strategic planning lets you and your team use supporting data, case studies or projections to understand why you're making certain decisions and help you combat common flaws or shortcomings.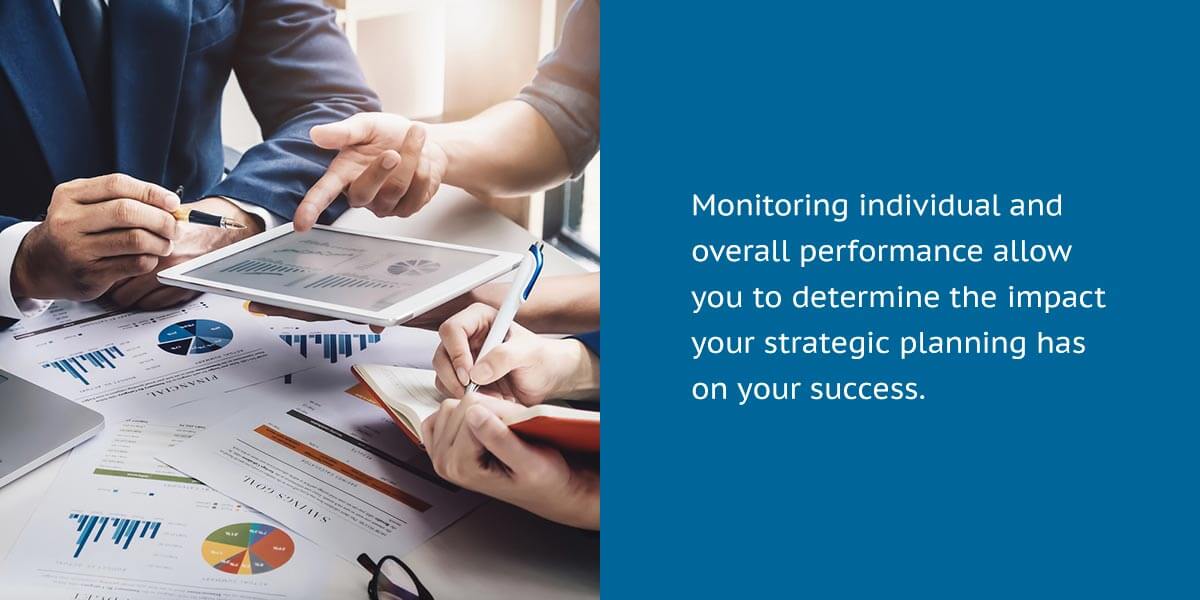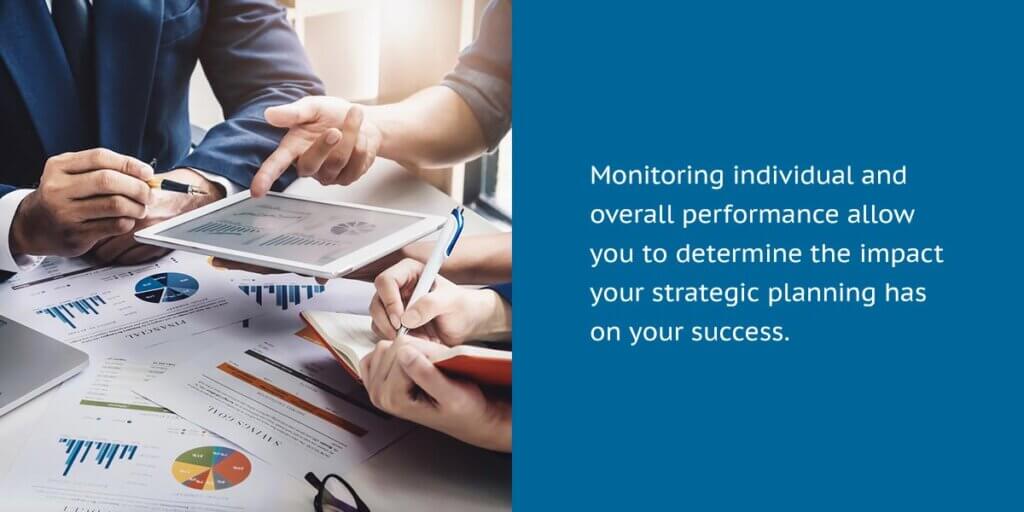 5. A Plan Allows You to Track Progress on Goals
When every team and department in your organization understands the strategies and goals they are aiming for because of strategic planning, it can be easier to track the progress toward these goals. Monitoring individual and overall performance allow you to determine the impact your strategic planning has on your success.
An effective way to approach this step is by using key performance indicators (KPIs). KPIs are a measuring tool you can use to determine your company's new initiatives and goals and align them with your business processes.
As you track your progress, you can also shift your KPIs so you can evolve to meet new plan execution challenges as they arise and remain agile. You can also communicate these changes with your team members so they can adjust their performance accordingly.
6. Planning Helps You Prioritize the Most Important Tasks or Goals
With strategic planning, you and your team will clearly see which goals and objectives to prioritize over others. For instance, if your team has already decided on due dates for specific goals, you've likely determined which ones are the most important. Now, you know which order to complete them in, and your employees can put all of their focus on the top goals on the list.
Prioritizing your most essential tasks can help your business stay organized and ensure all critical functions are completed before moving on to more redundant, minor issues later. Prioritization can also empower your corporation to align your mission, vision and plans to address the most critical assignments first and ensure cohesiveness and consistency across the organization.
7. A Strategic Plan Gives You an Advantage Over Competitors
A competitive advantage in the market or industry is an advantage that every business can benefit from. With actionable plans and strategies in mind, your corporation can accomplish its goals ahead of the competition and ensure you provide better quality and results to your customers.
Because strategic planning requires businesses to study market conditions and learn how to anticipate and predict the next moves of their competitors, it gives them the advantage of being one step ahead every time. From customer satisfaction to the creation of innovative products to increase exposure in the industry, strategic planning can empower you to boost your agility and flexibility.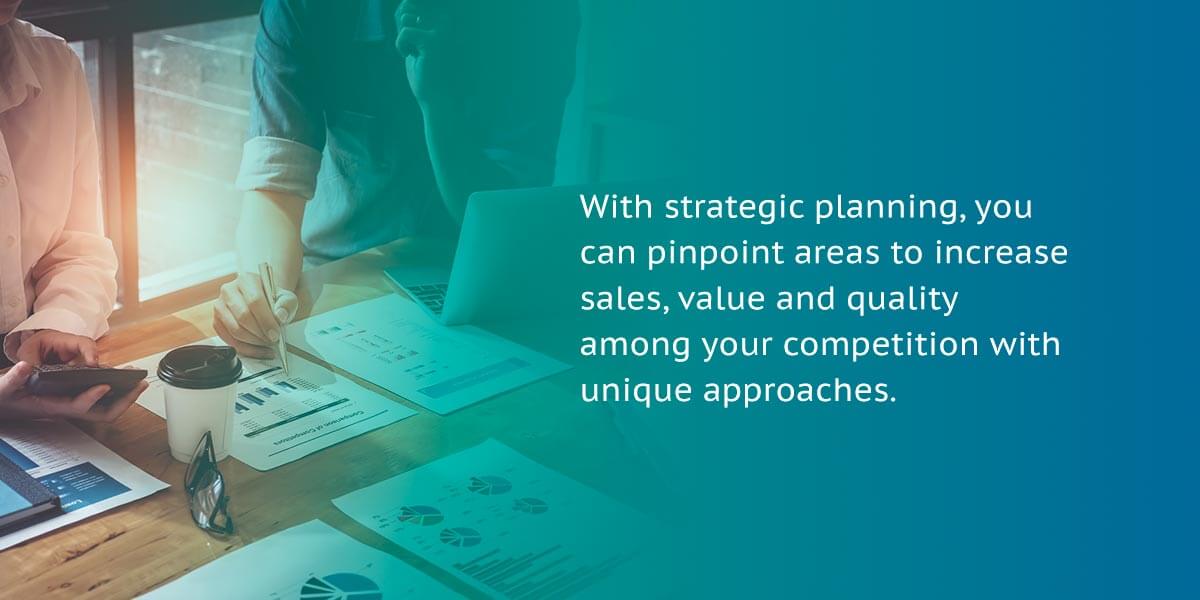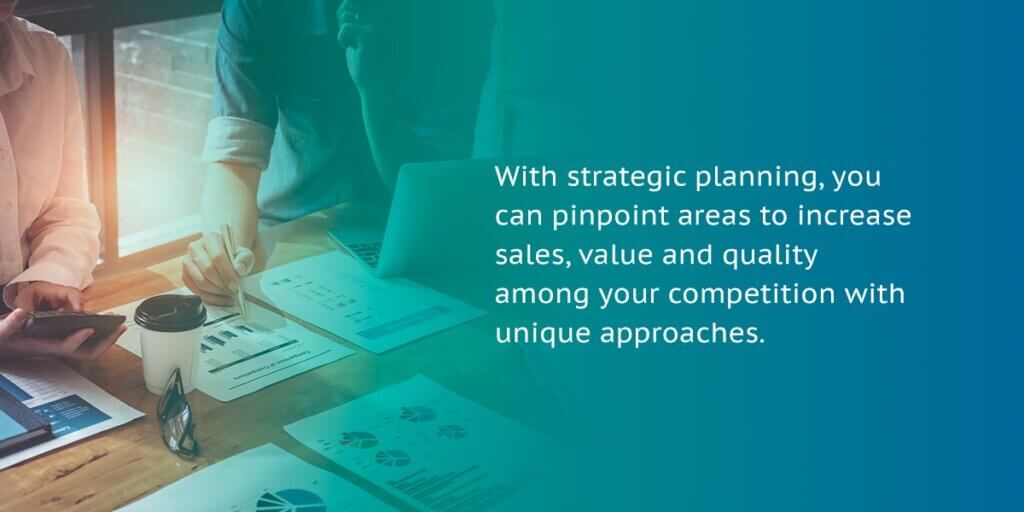 8. A Plan Allows You to Spot Areas to Innovate or Improve
Regardless of industry, innovation is one of the critical aspects of success. This skill allows your company to grow, evolve and rise to meet challenges that come with time and market fluctuations. Following strategic planning can help you identify gaps in your performance or management and help you continuously improve your products or services to meet consumer demand. With strategic planning, you can pinpoint areas to increase sales, value and quality among your competition with unique approaches.
For instance, if your business is disorganized and unable to thoroughly describe each of your processes and which employees are responsible for which tasks, productivity and valuable time fall through the cracks. By analyzing your existing processes and creating clear visions and deliverables, you can reduce unnecessary tasks and put more energy into improving a solid workflow.
9. Strategic Planning Increases Company Productivity and Efficiency
An essential purpose of strategic planning is to improve overall company productivity and efficiency. Whether your organization wants to focus on driving revenue, reducing manual labor or assigning small teams to work on specific tasks, the right strategic plan lets you conduct these processes more effectively.
By writing down your plans, goals and objectives and clearly articulating how you plan to achieve them, your team will understand what it will take to meet those targets and how you expect them to perform. A properly formulated strategic plan can also act as a roadmap for your company and guide you and your team along in the process to ensure everyone is on the same page. Increasing productivity and efficiency may also connect to more transparency and accountability, leading to a more positive work environment.
10. A Plan Increases Company Proactiveness
After implementing strategic planning into your business, you and your team will likely get used to being proactive and taking effective measures to identify, plan and execute processes that will lead you to your goals. Over time, your organization will realize the importance of strategic planning and practice problem-solving ahead of time so you can be more resilient when faced with unexpected issues or interruptions.
You and your team may be used to taking a reactive route where you only deal with problems as they arise. However, this can stifle your vision and make it difficult to see the big picture or prepare for obstacles along the way. By following the fundamentals of strategic planning, your company can gain a better understanding of common issues that complicate your short- and long-term goals and make you more proactive in resolving them.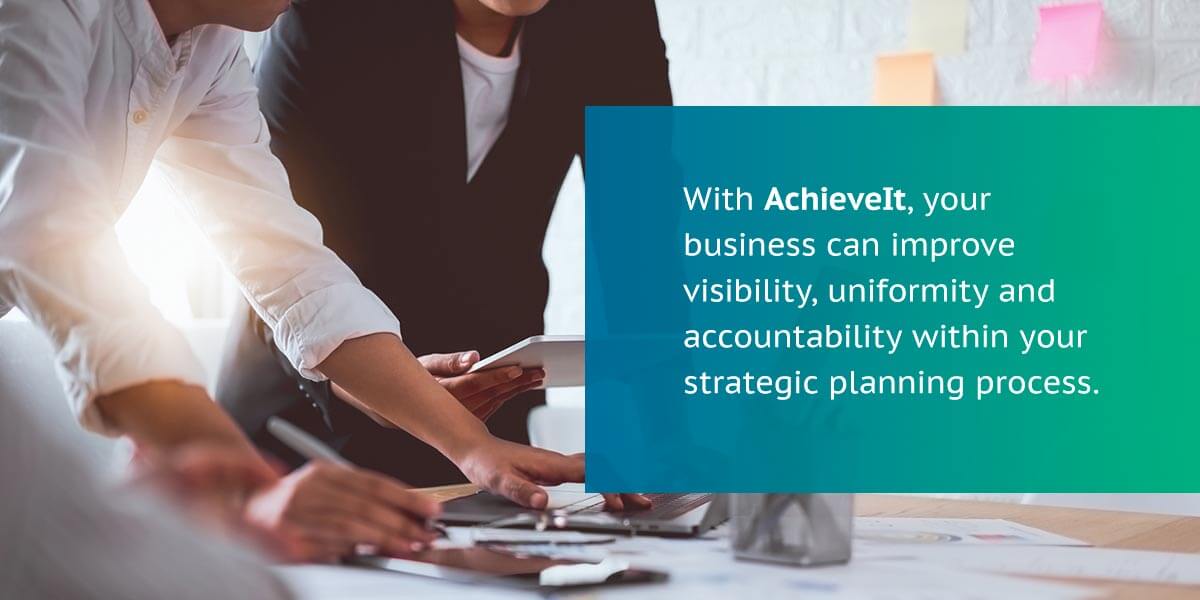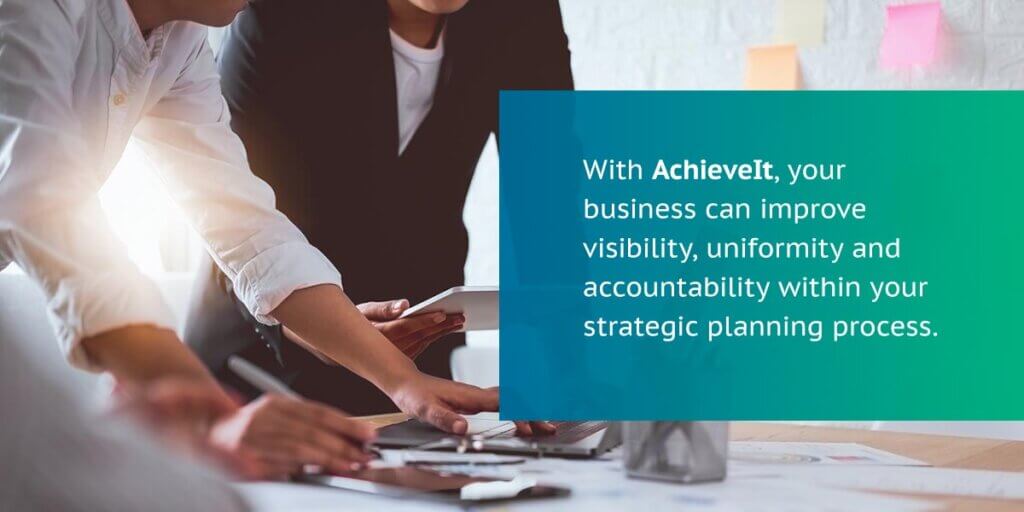 How AchieveIt Helps With Strategic Planning
Organizations that struggle to get their important initiatives from the boardroom into reality and keep their performance on track may falter with their objectives. With AchieveIt, your business can improve visibility, uniformity and accountability within your strategic planning process.
Our automated platform and strategic planning software enable your teams to connect, execute your goals and evaluate how your essential plans are performing. Integrated plan management solutions from AchieveIt can revitalize the way your organization reaches for its goals with dashboards, reporting, updates and more strategic planning tools.
Schedule a demo or contact us today to learn how AchieveIt can transform the way your business approaches goal setting.