Utilities: Scale Your Plan to See Successful Outcomes
How AchieveIt Partners with Utilities Companies
Implementing your
risk management

and environmental

health and safety

plans can be challenging.

With many front-line employees that work shifts or part-time hours, rolling out expectations and the reasons behind those initiatives may get lost in translation. Alignment falls away, and as an executive leader, you're left tracking down critical KPIs for utilities plan execution and success updates in a time crunch. Furthermore, with many different generation fleets, departments and regions, it's difficult to scale metrics tracking – like SAIFI or SAIDI – across all groups, and keep it updated in one place.

Shouldering the responsibility to provide modern necessities to communities, utility providers are confronted with particular challenges to meet and exceed compliance standards to ensure the well-being of their customers. Information must be available to all stakeholders at all times, in one place so project leaders can focus on what's most important – keeping their employees and customers safe and thriving.
Organizational leaders in the utilities industry can look to AchieveIt as the
solution

for their utilities plan execution, management and tracking complications. AchieveIt provides an easy-to-understand software platform that

keeps data tidy

in one place, and an always-available Customer Success Team – who are

experts in execution

– to help your team stay on track.
How
AchieveIt

Works for

You

As a utilities leader, a top priority is to ensure processes are in place so your employees get the proper training and information to do their jobs safely and confidently in a high-risk environment. Once you have a solid, operable plan to do that, implementation needs to be easy to understand, relatable and simple to track. Without adding another cumbersome process to a list of many, AchieveIt's Customer Success Team will work with your group to use our one-stop software – so you can finally execute with ease and see the results of your efforts.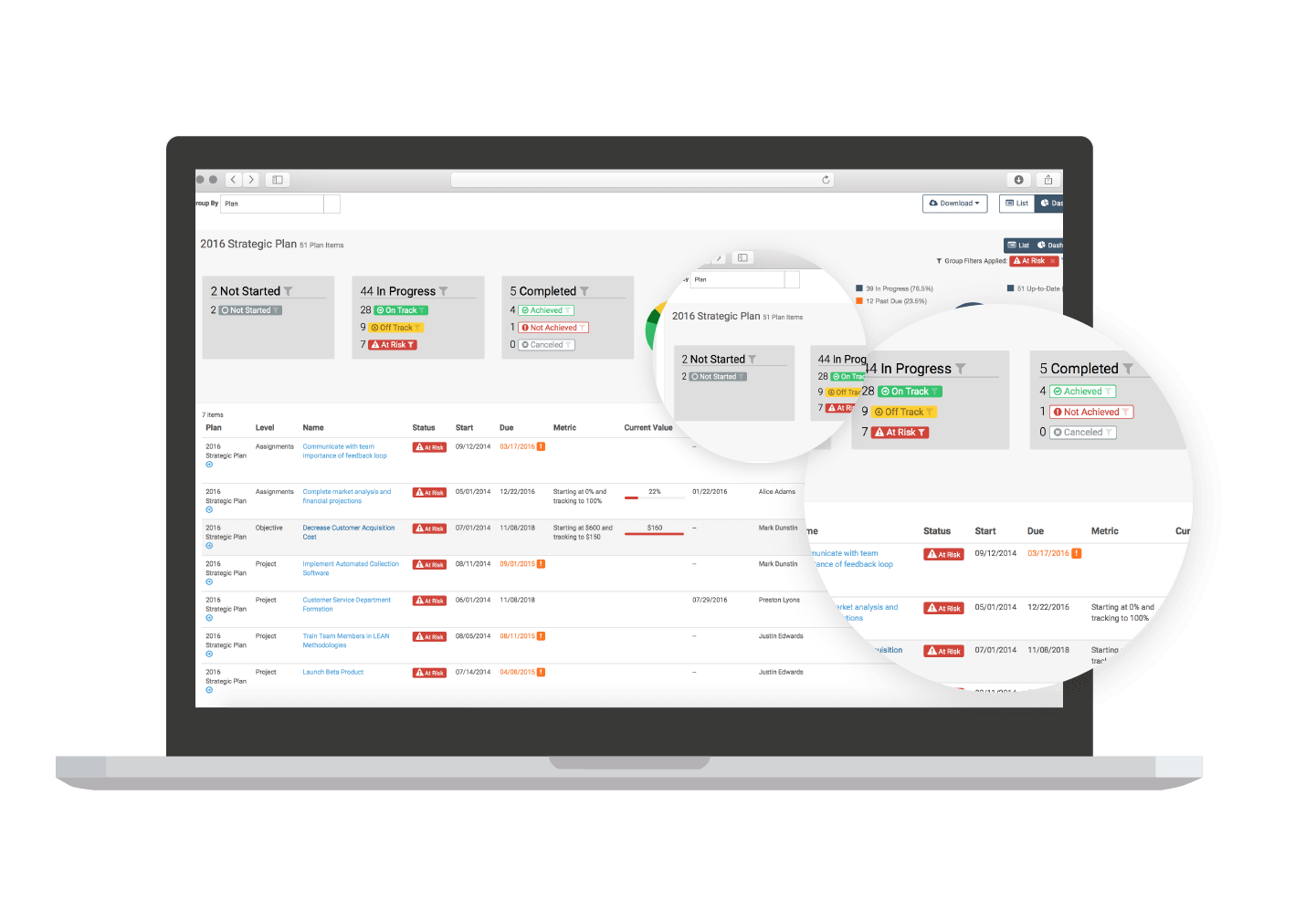 Track the
Success

of Your Initiatives in

One Place

Critical KPIs, like annual labor cost per device, electrical grid load or percentage of maintenance work orders requiring rework, need to be tracked. But with multiple reporting parties, the numbers can live in several different documents. Without a central living document, it's almost impossible to discuss insights in conversation with your CEO, while presenting to your board of directors or during a discussion with a mechanic on the line.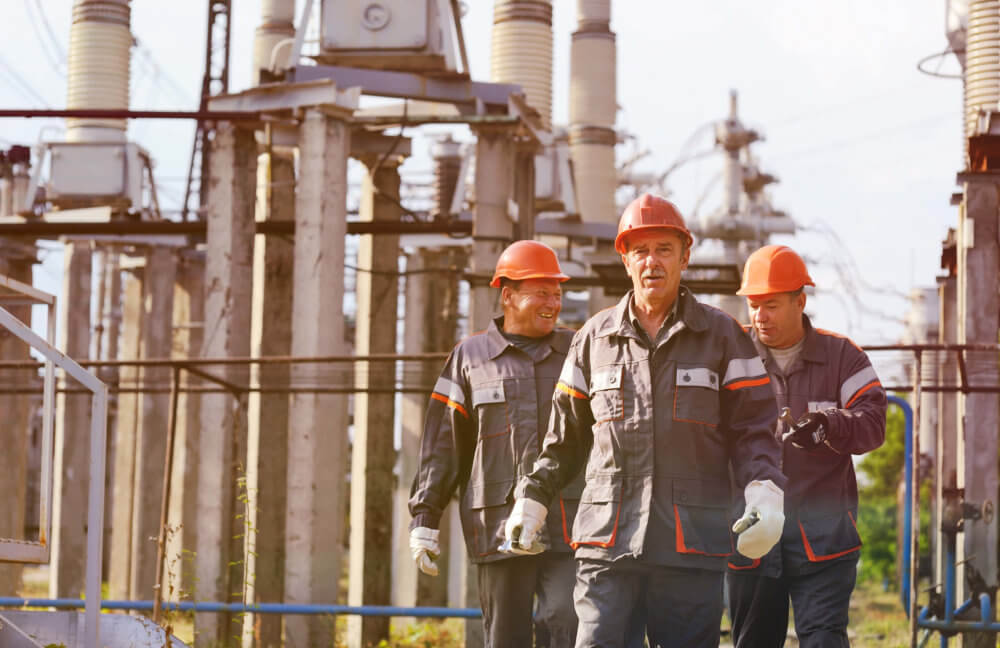 AchieveIt's MultiPlan View™ makes interplant tracking simpler. Your commitment to the success of your employees and shareholders will extend to your designated Customer Success Manager who will work with you to set up custom dashboards to see every groups' initiatives at once, in one place. With the ability to filter by status, project leader or due date, you will finally be able to see all your data in a central, accessible location.
One of our major utilities customers has seen a huge relief in Plant Manager stress since implementing AchieveIt. Updates are quick and the at-a-glance success tracking has spread awareness and inspired action throughout their organization.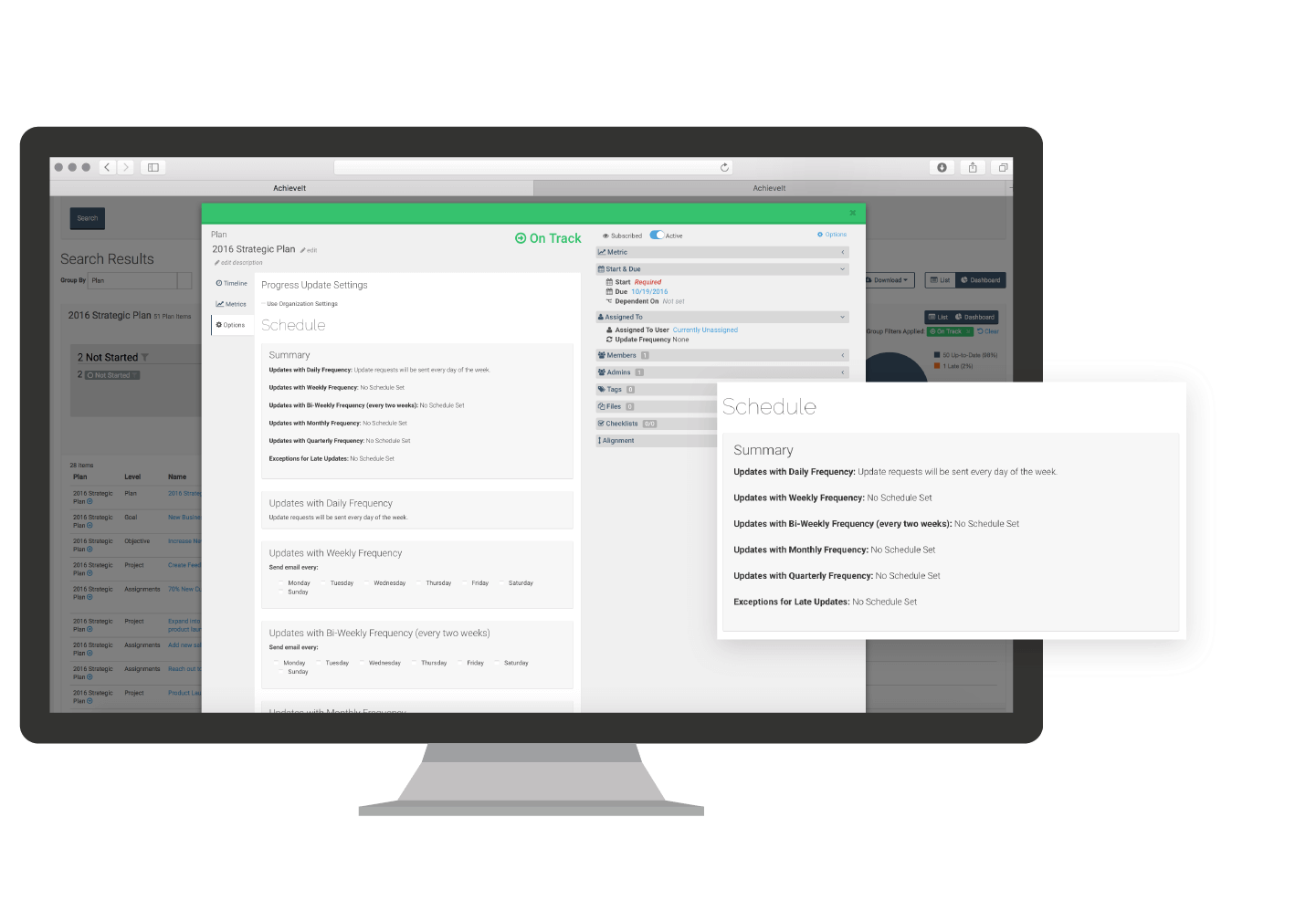 Keep
Momentum

Going on

Operational Excellence

Initiatives

Successful Production Officers push past meeting requirements and standards and inspire employees to find ways to execute better today than the day before. Continuous improvement is hard to do well when plans are stagnant documents and leaders aren't held accountable for striving for operational excellence. A dynamic accountability system is imperative to ensure executive leaders can track progress and make sure action items are getting done by responsible Plant Managers.
In a world of competing priorities, AchieveIt makes it simple to provide utilities plan execution updates with SmartAlert™ emails. Without having to log into a system or navigate by way of many clicks, project leaders can respond with all the updates they need to provide in one quick email. AchieveIt makes it clear who is and isn't providing updates to the business plan, so you can spend fewer "people hours" making sure nothing gets dropped and finally ditch the three-ring binder.
PLAY VIDEO
Let Us Make You
More Efficient

and Effective

You make sure your mechanics on the line and in the field have the right tools so they can do their best work. Why are you still using Excel to track your business plan?

Sign up for a demo today to get the right tool so your organization can do their best work.