Healthcare: Execute Your Plan with System-Wide Buy-In
How AchieveIt Partners with Healthcare Organizations
The definition of
success

in the

healthcare

industry is a moving target.

Implementing a healthcare plan execution process to address critical KPIs can be challenging without alignment. Front-line employees in healthcare are most successful when they understand how their everyday processes roll up to support overall strategic objectives, which can otherwise seem inaccessible or unrelated.

Operating in a regulatory environment calls for close monitoring of metrics that can be pulled at a moment's notice. However, without a holistic view of which initiatives are on or off track, the ability to adapt processes and employ countermeasures is near impossible.

If tracking progress isn't clear or easy, competing priorities take precedence in strategy stakeholders' time management. The likely result? Tracking strategic initiatives falls by the wayside – especially without the backing of a leadership team.
AchieveIt can help
healthcare organizations

see the value in executing

strategic initiatives

from the top-down. Our software and services will help create

alignment

, so you can spend time and resources on what really matters - driving

successful outcomes

.
How
AchieveIt

Works for

You

Our plan execution software and on-call success team make it easy to identify which initiatives are off-track and at-risk with simple roll-up views. Custom dashboards make it effortless to scale from a holistic view to individual project statuses within smaller entities. Regular calls with your designated Customer Success Manager will set you up for outcomes that matter, like better physician relationships and medical staff reputation, and reduced readmission rate.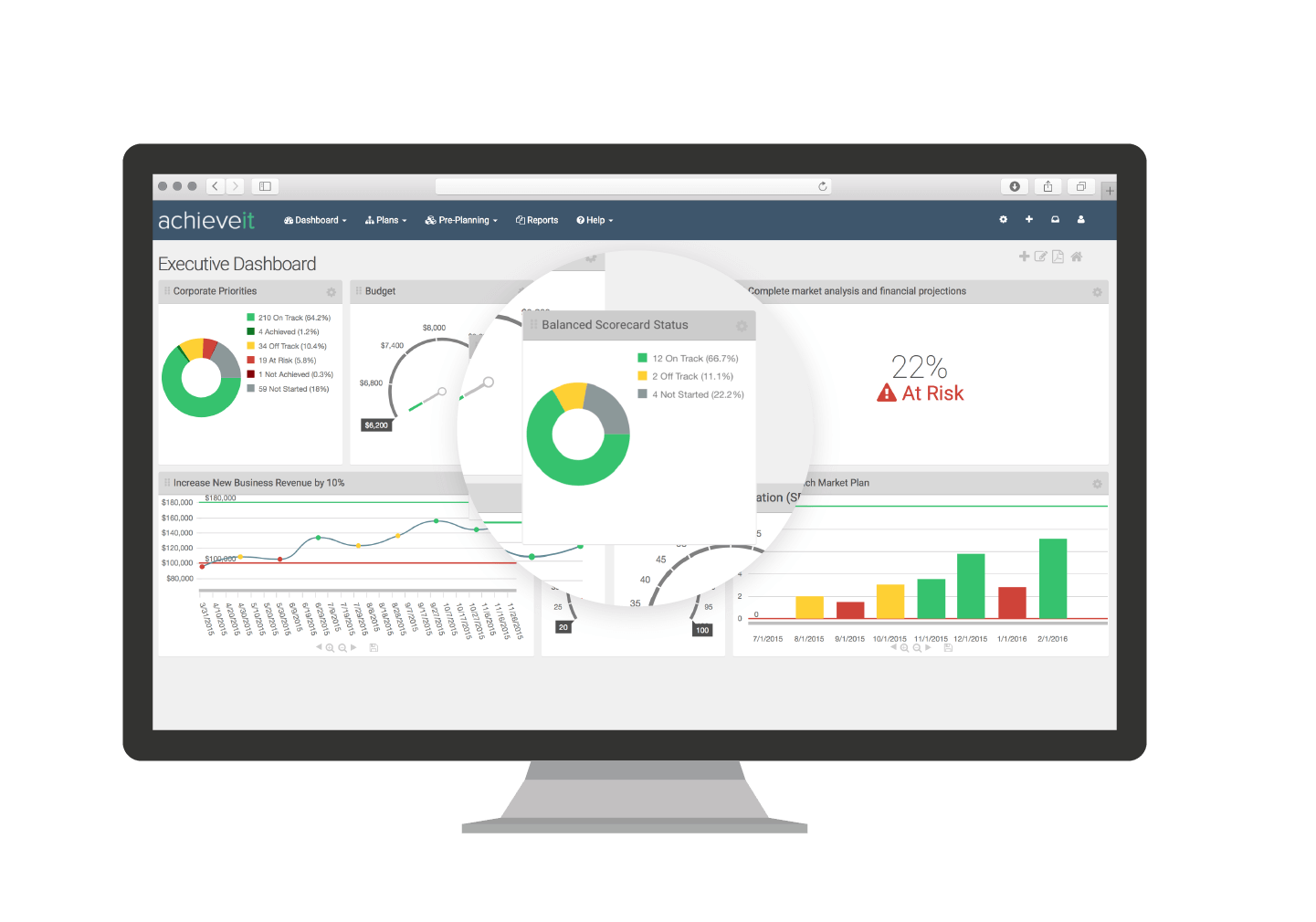 Show the
Value

of Hard Work

As with many health systems, several plans are in operation at once. A lot of your time may be consumed compiling the mountain of core measure data to get an overarching view of success. As a strategy leader, you also need the ability to look at statuses of individual initiatives at a granular level for successful strategic plan execution.

Gain the ability to make agile decisions and report with clarity with AchieveIt's custom dashboards. By providing context to big data, our MultiPlan View™ makes it possible to zoom all the way in or roll all the way up for broader visibility.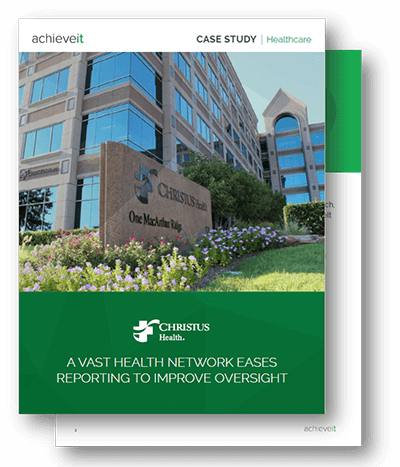 CHRISTUS Health systems have become more effective and efficient by using executive dashboards to get the big picture for their quality of care. With eight regions and over 60 hospitals and long-term care facilities, tracking three different kinds of plans has become a simpler task. With AchieveIt's unmatched continued client support and training team, CHRISTUS has made outstanding strides in the healthcare industry.
READ THE CASE STUDY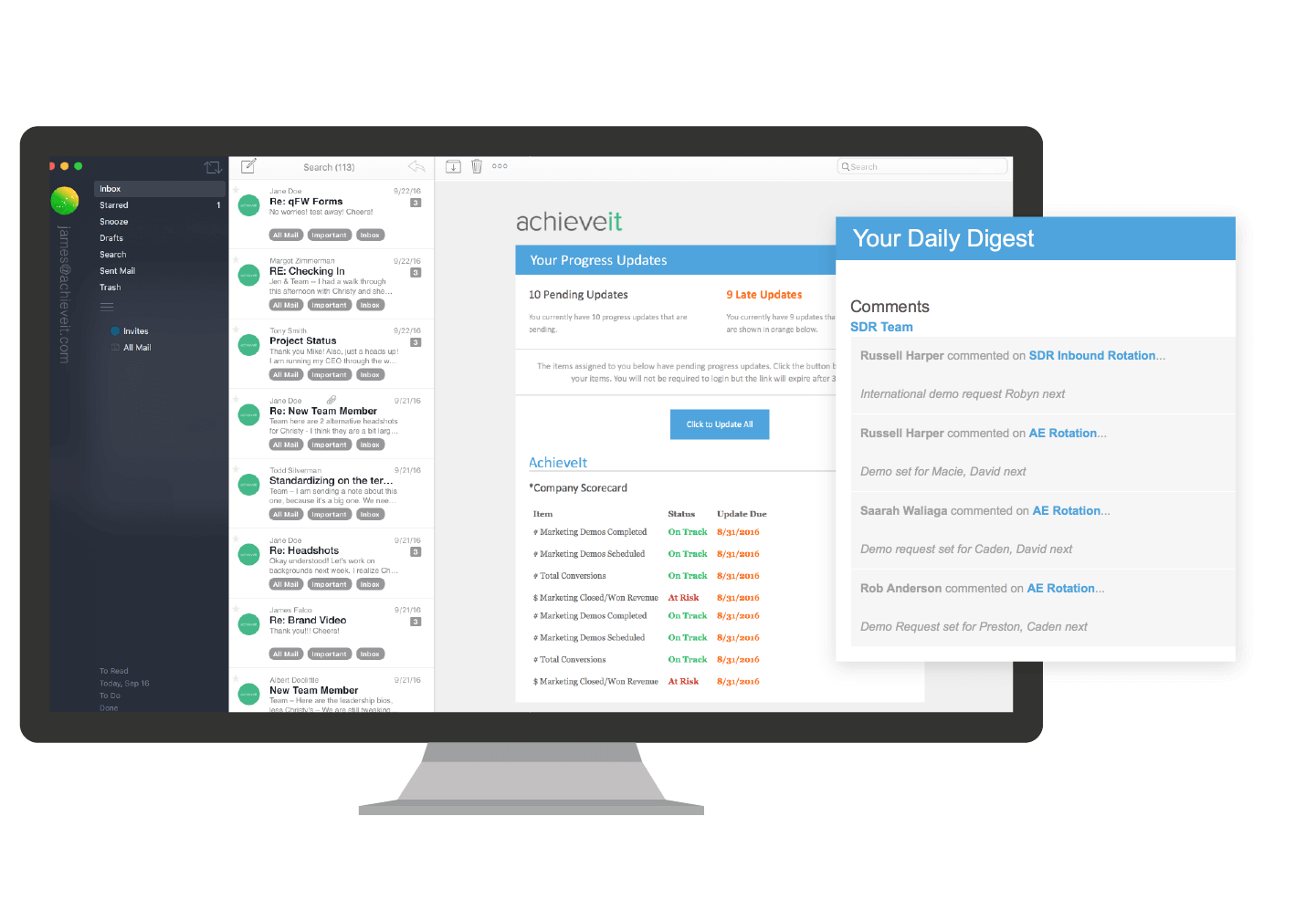 Track
Critical

Healthcare Plan Execution

KPIs

with Simplicity

An improvement plan should address details about baseline measurements, like how to improve HCHAPS, quality and safety scores in order to meet QAPI initiatives to stay Medicare and Medicaid compliant. However, an effective healthcare strategic plan also addresses how the organization and service lines want to grow and develop, while also capturing fast-changing, far-ranging local initiative progress. That's a lot of metrics to track, which means a lot of updates to retrieve from a lot of different people.
AchieveIt's software platform makes it easy for project leaders to provide their updates. One SmartAlert™ email is sent to any stakeholder for all the strategic initiatives they lead, and they can type in their progress updates directly in to the email response – without ever having to log in to a platform. We work to lift the burden of the strategy leader to compile qualitative and quantitative updates from multiple documents and platforms so you can focus on quality improvement in healthcare instead of gathering data.
PLAY VIDEO
Let Us Take
Care

of You

The AchieveIt Team can't wait to talk with you about how our service can make your life easier, while you're saving others'. Let us set you up for success to drive better outcomes.