Business strategy failure can occur if certain elements are not working together agreeably to contribute to a goal. Strategic plans may often fail if they are not supported by proper planning, development of specific roles, organization of tasks and highlighted priorities. These elements are just some examples of the vital aspects that culminate favorable results for your business. However, it's necessary to know that many other reasons play a role in strategic plan failure. 
In This Article
What Are the Factors That Lead to Strategic Failure?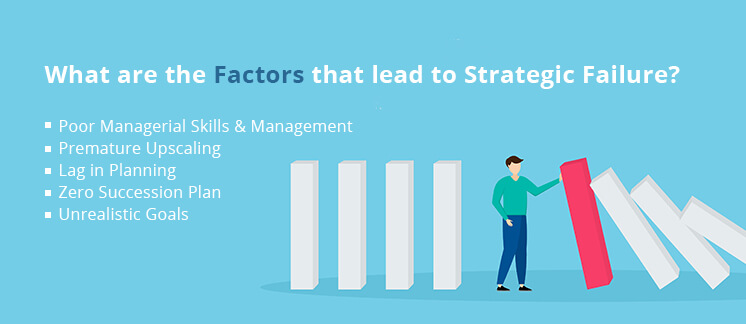 Learn how to watch out for factors that can lead to strategic failure, which may be present in your business structure or plan. We've gathered a list of the top 22 common reasons that can contribute to why business strategies fail. 
1. Premature Upscaling
Pushing your business outside of its limit is known as premature upscaling. This may happen if you are impatient to implement a business venture, project or strategy. Preparing your team to take on any kind of expansion, growth or use of resources before anticipating possible consequences can lead to disaster. Managing the effectiveness of your strategic plan can present a challenge if you take it to a point where it is way beyond the reality of what your business can handle. 
A practical internal organization should focus on a steady upscale by defining specialized roles, strengthening management structure, planning, forecasting and sustaining culture.
2. Lag in Planning
The first step to creating or implementing a business strategy is planning for it. If there is a lack of communication or delay in the process, it could hold you back from putting your plan into action and seeing results. Without proper communication and leadership, attention can begin to shift to other tasks instead of the ones you are trying to prioritize. 
Although it is important to be flexible and adaptable in business, it is also necessary for project managers and leaders to ensure the predetermined deadline or tasks are completed as efficiently as possible.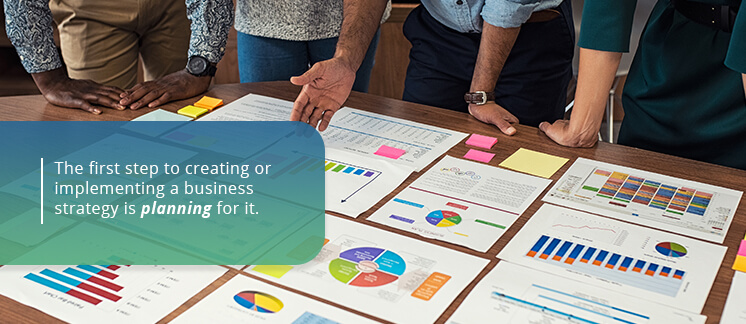 3. Poor Managerial Skills and Management
Strong leadership can be a fundamental key aspect of why a business strategy fails or succeeds. Management that contributes to a lack of trust or low expectations can decrease the motivation or performance of employees, which can affect strategic planning. Managers can assist in creating a proactive environment by learning from their failures and encouraging experimentation. Promoting open communication and exchange of ideas may help implement improvement opportunities. 
Managers should be aware that employees may not always come to them when problems arise. Anticipating problems and engaging with employees to create solutions for strategic plans lets your team know they are a priority.
4. Zero Succession Plan
Having a succession plan in place ensures the necessary resources and skills will be available when needed for a business plan or transition. The absence of succession planning may leave your business exposed to inefficient replacement options for positions that need to be filled and less training and opportunities for your hard-working employees.
Businesses with a strong succession plan may see more resolved conflicts, effective decision-making and a boost in employees' qualifications to take over specific roles. 
5. Overwhelming Strategic Plan
A strategic plan that is too uncontrollable or overwhelming may be just as ineffective as no plan at all. Too many general goals or action steps can create confusion and dilute specific instructions or paths to accomplishment. This lack of precision in highlighting the most important goals will make employees less likely to make any progress on them. 
A strategic plan can also seem overwhelming if it aims to accomplish too many objectives at once, making it more difficult to translate them into useful measures. 
6. Unrealistic Goals
Setting unrealistic goals in your business strategy may set you up for failure from the beginning. Unrealistic aspirations contribute to a lack of organizational focus because employees may find it unmanageable to meet the requirements. These types of goals may seem way out of your business's capability to employees, which may lead to a decrease in confidence. Employees are more motivated by challenging but attainable and incremental goals that align with business resources and productivity. 
Overestimating what your team is able to achieve may prolong your success. Intentions that are vague, immeasurable or unquantifiable can be more difficult to put into action.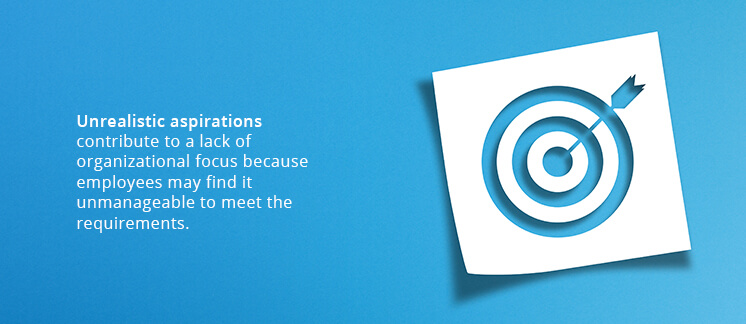 7. Lack of Leadership
A lack of leadership can be just as troublesome for strategic planning, as it may divert the process from accomplishing any tasks. Leadership is important for setting an example in the workplace and upholding the vision and communication skills. Having suitable leadership can ensure your team's commitment and buy-in to the process and prioritize critical components of your strategic plan. 
Managers and leaders can heavily influence productivity, revenue, innovation and turnover, so your employees must have reliable leadership. 
8. Focus on Structural Changes
A business that puts too much focus on the structural changes may lose the opportunity the target their energy toward decision making and goal meeting. Rather than building new structures, it is important to work on developing effective processes for strategies. Structural changes may bring about more issues and conflicts that may take away attention and time from business strategies that can help your business succeed. 
There are often limits to structural changes in its organizational design, as it can often take a long time to get everyone on board with the process to run smoothly. 
9. Lack of Accountability
When employees and team members are unclear about what they are accountable for, it can lead to fewer work accomplishments. Where there is a lack of communication surrounding accountability, 60% of workers report higher levels of mistrust with leadership. Proper accountability in the workplace involves capability and responsibility, which are both fundamental factors for achieving success and improving performance.
Effective accountability is important — 91% of employees would say its implementation is one of their company's top leadership-development needs. Accountability can help your business improve feedback and connections between leaders and employees, leading to more functional strategic planning. 
10. Lack of Empowerment
Empowered employees may feel more motivated to collaborate and achieve a goal. This element can have a direct impact on your strategic planning success. Empowerment in the workplace can encourage and drive your team to achieve a goal in a cooperative way. 
Leaders who implement empowerment may see an increase in connection and growth and allow room for creativity. Developing an environment that is willing to inspire employees to innovate can increase adaptation to different work styles, which may lead to success.
The formulation and execution of your business strategy may depend heavily on your employee's confidence and positive thinking. 
11. Wrong Timing
A solid business plan should consider when the time is right to administer action. A fully developed plan that addresses possible challenges and obstacles is key to facing inopportune timing. Your business strategy may be equipped with the proper resources, planning, goals and actionable measures. But if the timing in your market or industry is not optimal, it may be wise to contemplate implementing it at a different time. 
The timing of your project often directly relates to success, so finding the ideal moment to bring your plan to life is important. 
12. Short-Term Planning
Before establishing your business strategy, think about the big picture and general direction of where you want to grow. If you are not thinking ahead to the future of your business by setting long-term goals, you may cloud the ability to envision sustainability. Setting long-term plans and objectives can improve your short-term goals' structures because you may be able to narrow the focus toward what you are trying to achieve. 
Most of the time, your business's short-term goals will be very different compared to its long-term strategy. 
13. Choosing the Wrong People
In any business, the employees and team members are the most important asset. Every business strategy, plan and execution stage requires different skills, personalities and capabilities. Choosing the wrong people to fill specific roles in your business plan may decrease productive methods and success. Depending on the top priorities, consider which skills would be most fitting for the gaps in your employee roles or responsibilities. 
When hand-picking your project team, remember that the people that contribute to it should be favorable and accomplish tasks well.
14. Lack of Communication
Communication undoubtedly plays a critical role in the success of any project. However, communication methods must also be effective to facilitate progress. Understand what information is relevant and important to your team to notify them of any updates, issues or changes on a project. When planning or working toward a common goal, communication may act as a means of keeping everyone on the same page during the process.
In businesses that experience a severe lack of communication, employees may feel confused about their roles and responsibilities and or feel disconnected when attempting to collaborate. 
15. Losing Sight of Goals in Day-to-Day
In the hustle of day-to-day operations, it may be easy for employees to lose sight of the mission and purpose of your business. This can relate to short-term goal planning, in which your employees only focus on specific daily activities rather than their purpose in the overall goal. You and your team should be revisiting goals regularly to refresh your memory and keep everyone on track with the main priorities.
Planning for your business's future and adapting your daily actions to the goal of your strategic plan can strengthen your employee's ability to keep a broader perspective. 
16. Lack of Clarity on Actions Required
If there is a lack of clarity in communication, employees may become misinformed or misinterpret their responsibilities. This issue may lead to poor execution and confusion on context and outcomes. A method of storytelling can be effective in this case, in which you can put facts, strategies, missions or operational planning directives into a structure that people can relate to and understand. 
It can be proactive to discuss specific criteria that can explicitly contribute to your company's mission. It also might be helpful to assess any underlying questions or concerns. 
17. Inadequate Monitoring
Monitoring the development of planning and progress for any strategy can keep you aware of when changes need to be made. Determine which factors will have a significant impact on the success of your business to create a timeline of when critical tasks need to be completed. Proper monitoring allows for the opportunity to notice alternative solutions and predict long-term performance. Keeping your strategies and objectives on track may help prevent problems and enable you to revise or update plans as necessary. 
Monitoring your financial key performance indicators (KPIs) is another great way to be proactive and add value to your daily activities. 
18. No Progress Reporting
Reporting progress is another effective means of communication that contributes to staying on track with meeting your goals. A progress report updates the right people on the status of certain projects or task completion. Without it, there can be confusion and concern surrounding the productivity in your business and what actions are being implemented.
Progress reporting can also provide an overview of your team's accomplishments as well as areas that need to be improved. Constructing a regular analysis of your team's performance, spending and profits can provide insight into how you compare with competitors. 
19. Lack of Alignment
Strategic alignment means that all crucial elements of a business are working together to support the long-term goals of a company. If your employee's performance is not aligned with your company goals and important strategic plans, it may present another obstacle to success. Misalignment in your business can create a disruption in focus, unclear goals and conflicting tasks. 
Employees need to understand how their responsibilities fit into the success of a strategic plan or mission. Creating clear, established intentions may help to develop alignment with what your business aims to accomplish. 
20. Strategy You Can't Execute
Before wasting time, energy and resources on putting action into a strategic plan, consider if it is truly worth executing. Vague ideas or goals won't usually produce anything successfully, so analyze your plan to see if it is capable of creating real change. Your strategy should be flexible and leave little opportunity for disruption. 
Your business may be too focused on seeing rapid results that it may not take the time to develop capabilities and innovation techniques. A worthy, solid strategy will take time to develop and may even require fundamental changes in your business. 
21. Unforeseen External Circumstances
Unpredictable occurrences should, ironically, be expected. If your company is not comfortable with confronting unforeseen external circumstances, it may lead to failure. Learning to anticipate risks or unfavorable opportunities can strengthen your ability to prepare a more secure strategy in the future. It is wise for your business to continually adapt its resources to suit a changing environment. 
Leaders and managers should devise a plan that highlights any uncertainties or possibilities for changing demands and competition to reduce the chance of failure from an external source.
22. Flawed Strategy
Implementing an incomplete or inconsistent plan is another possible reason why your strategic plans fail. A poor match between strategy and organizational core competencies may prevent you from seeing the growth and success that you desire. Testing your strategy with logic and a discernable vision can help determine if there are flaws in your strategy and how to address them.
Look to past situations and failures to see where you might notice defects in your current business strategies. You may jeopardize your business's advancement if you rush to execute a strategy that hasn't been well-thought-out.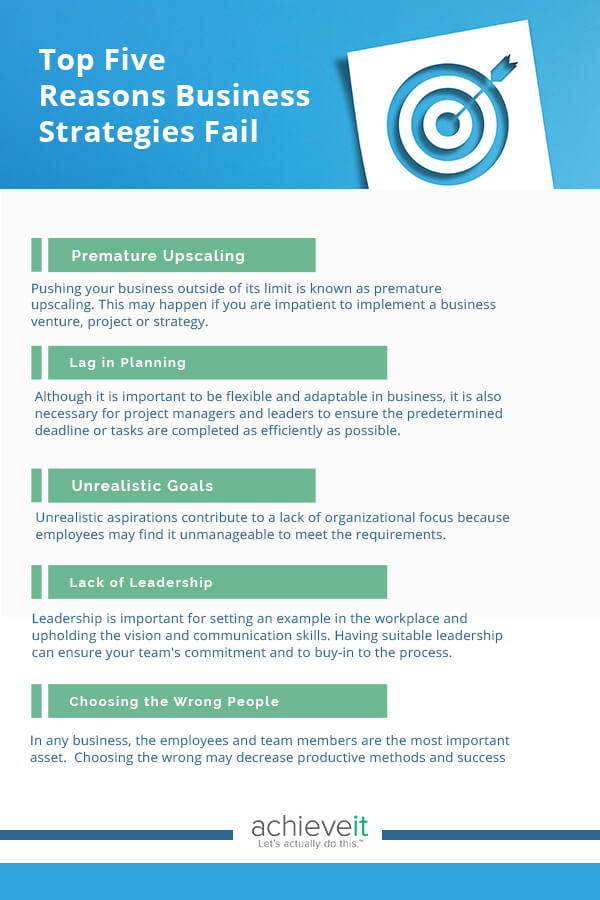 Learn More About Creating a Successful Business Strategy With AchieveIt
Business strategies fail when faced with challenges you are unprepared for or unrealistic goals. Adequate communication and leadership also play key roles in whether or not a plan may fail. At AchieveIt, we want to see your business increase visibility, improve accountability and establish uniformity in a single, automated platform. Our strategic planning software can reduce manual processing for all types of projects and initiatives, leaving you more time and energy to focus directly on your team.
Planning and execution can take time, so our system can help you effortlessly visualize your progress and track performance. Contact us today or schedule a free demo so we can answer your questions about creating a successful business strategy.
Ready to improve your plan execution?
Organizations of all types leverage AchieveIt to connect, manage, and execute their most important initiatives. Replace manual processes & siloed systems with interconnected plans in a single, automated platform.