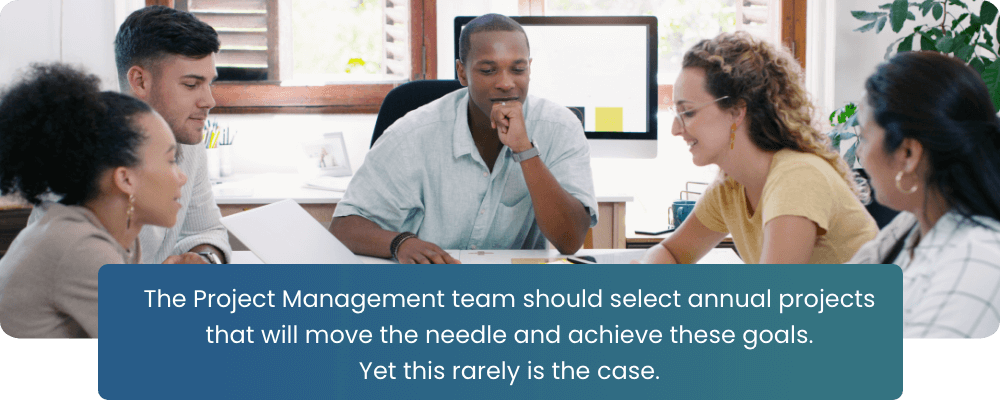 "Effective & efficient project management should be considered a strategic competency within organizations." – PMBOK Guide 
Every fiscal year ends with the same story. A seemingly large disconnect between the Project Management Team and the Strategic Planning Team.  
If you think about it from the surface, this seems like a completely wrong approach. The two shouldn't be disconnected at all. Rather they should team together to ensure the growth and success of the organization.  
The Strategic Planning Team should define strategic goals. The Project Management team should select annual projects that will move the needle and achieve these goals. Yet this rarely is the case.  
The strategic plan is too often siloed from organizational projects. The siloed approach makes it difficult to define the impact of projects when the year comes to an end. Additionally, when you ask project managers why they are working on their projects, they often can't provide three reasons, let alone one.  
The Project Management Body of Knowledge (PMBOK Guide) defines Organizational Project Management, or OPM, as "a framework in which portfolio, program, and project management are integrated with organizational enablers in order to achieve strategic objectives."  
It seems like a long definition but let's zoom into the last three words "achieve strategic objectives."  
Based on these three words, all project management initiatives should help achieve strategic objectives.  
Here are 3 reasons to connect your projects to your strategic goals: 
1) It Establishes a Defined Impact of Projects
As said above, it's important to understand the impact on not only the organization but the strategic goals as a whole.  
A defined impact can help keep project managers motivated toward the end goal. Additionally, a defined impact helps justify the costs associated with the project by showing overall performance and return on investment. And when reviewing the end-of-year results, a defined impact can identify which projects truly impacted results.  
But it doesn't just have to wait until the end of the year. Throughout the year you can understand if a project is working or if you need to make a quick change mid-year.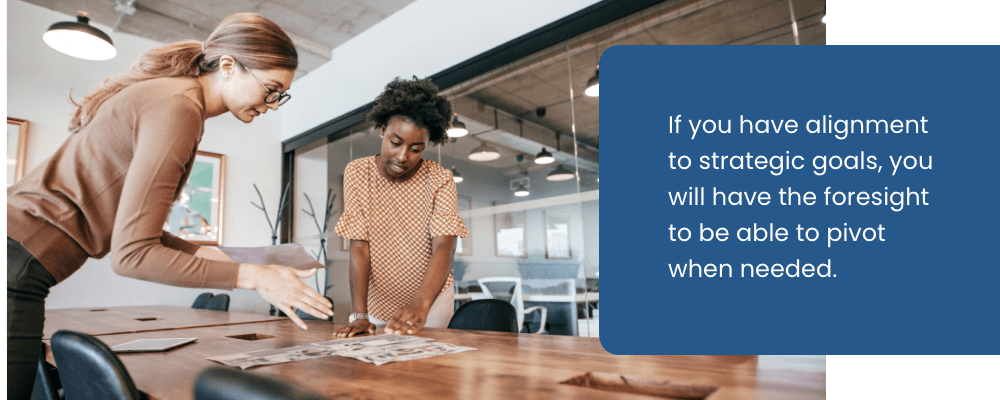 2) It Creates the Ability to Pivot
Every time a project isn't going the way you hoped, I hope you hear Ross from Friends screaming "Pivot!" because it really is so important.  
Many times, you get to the end of a fiscal year and realize some of the selected projects didn't make the impact that was hoped for at all. Without a direct alignment to strategic goals, it can be difficult to have visibility into the project's performance. And more importantly, if it is having the expected impact.  
If you have alignment to strategic goals, you will have the foresight to be able to pivot when needed. It's okay to leave a project behind if it's not helping achieve strategic objectives and to select a new project that will. Moving forward with a dead-end project is wasted time you will never get back. 
3) It Helps you Get what you Want
Finally, you should connect projects to strategic goals because it can make it so much easier to get what you want and what you need to be successful.  
A budget running over? Likely a big issue if the project has no direct connection to pushing the business strategically forward. However, if the project connects to the CEO's initiative of "Increasing Business Revenue by 10%," then a pushed budget may not seem like a burden at all.  
The same goes for extended deadlines, more overtime pay, and additional workforce needed to complete the task at hand.  
Beyond direct organizational impact, if you can relay how projects help achieve strategic goals, your career will undoubtedly benefit.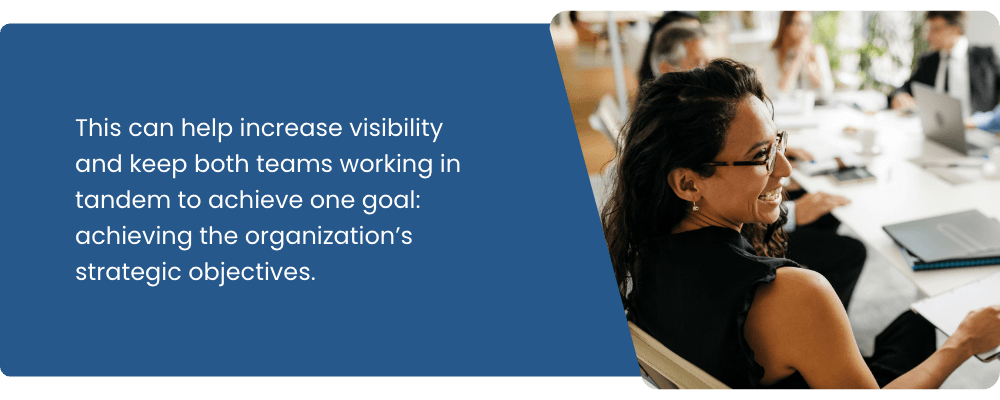 Begin Connecting Projects to Strategy Today
Connecting strategic projects to the organization's strategic objectives can help you define impact, pivot when something isn't working, and get what you need to be successful.  
If only working alone in a project management tool, you may look into tracking your projects alongside the strategic plan all in one centralized platform.  
This can help increase visibility and keep both teams working in tandem to achieve one goal: achieving the organization's strategic objectives. 
About AchieveIt
AchieveIt is the platform that large organizations use to get their biggest, most important initiatives out of the boardroom and into reality. Too many great ideas never quite make it across the finish line, because there's no real way to keep everyone on course and keep everything on track. What does it take to actually guide these initiatives all the way through to completion? You've got to:
Get everything in view – so you can see what's happening with every initiative, at every level, from the enterprise to the individual, in real time.
Get everyone engaged – with an easy-to-use platform that connects your organization from the executive leadership to the project teams, keeping everyone accountable and on the same page.
Get every possible advantage – not only because you have the premier platform in this space, but because you can draw on the experience and best practices of our execution experts.
That's why everyone from global corporations, to regional healthcare systems, to federal agencies have turned to AchieveIt for their Integrated Plan Management. Let's actually do this.
Ready to improve your plan execution?
Organizations of all types leverage AchieveIt to connect, manage, and execute their most important initiatives. Replace manual processes & siloed systems with interconnected plans in a single, automated platform.