Strategic planning is more important now than ever.
I'm pretty sure I can feel your eyes rolling and hear you saying, "Strategic planning at a time like this?" We don't have time! We don't have the bandwidth! We don't have the budget! We'll just wait until we're back in the office!
It's hard to refute many of your questions and statements but this blog is meant to challenge your present thinking.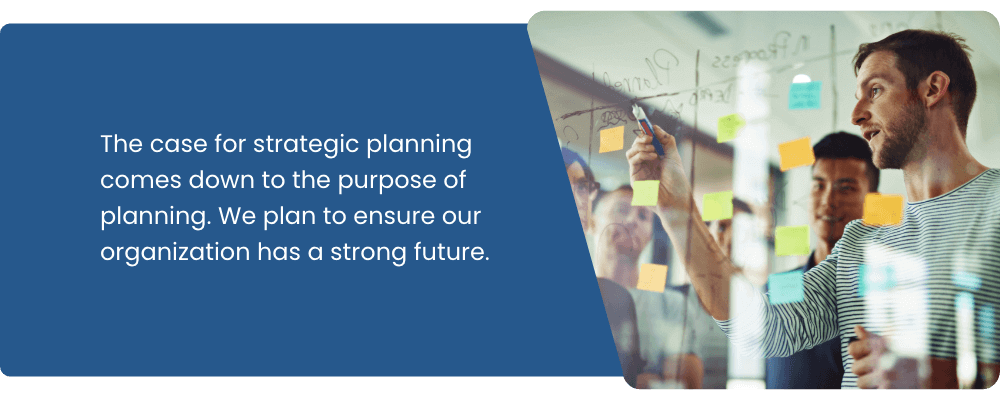 Why do we plan?
The case for strategic planning comes down to the purpose of planning. We plan to ensure our organization has a strong future. That strong future ensures continuous benefits from your organization's offerings as long as possible. Benefits are received from the individuals you serve and the people responsible for delivering the value.
What happens if we don't take the time to plan?
Well, logic dictates that if planning ensures your organization has a strong future, a lack of planning puts that strong future in question. If you're with me until this point, you realize that planning is something we can't ignore. Now it's time to talk about how to approach planning.
Strategy & Planning Under Uncertainty
The Harvard Business Review published an article titled, "Strategy Under Uncertainty." Despite being published in 1997, it is extremely relevant to our current situation.
The authors contend mistakes are made when you try to make your planning process binary. In good times the future looks crystal clear, so we often try to make precise predictions.
Before COVID-19 how would I know a client had this crystal ball worldview?
Their strategic plan would be 35 pages with hundreds of items in it. Nothing screams, "I know the future!" more than an extremely long plan.
Do you know what typically happens to those plans?
They fail! They fail because the future was much more uncertain than they thought.
There's a real reason why this happens. When you think the future is figured out you tend to underestimate risk and uncertainty.
The authors highlight a story where, "in one of the most colossal underestimations in business history, Kenneth H. Olsen, then president of Digital Equipment Corporation, announced in 1977 that "there is no reason for any individual to have a computer in their home." This displays it's clear that mistakes can be made in good times. But that's not relevant to what we're experiencing now.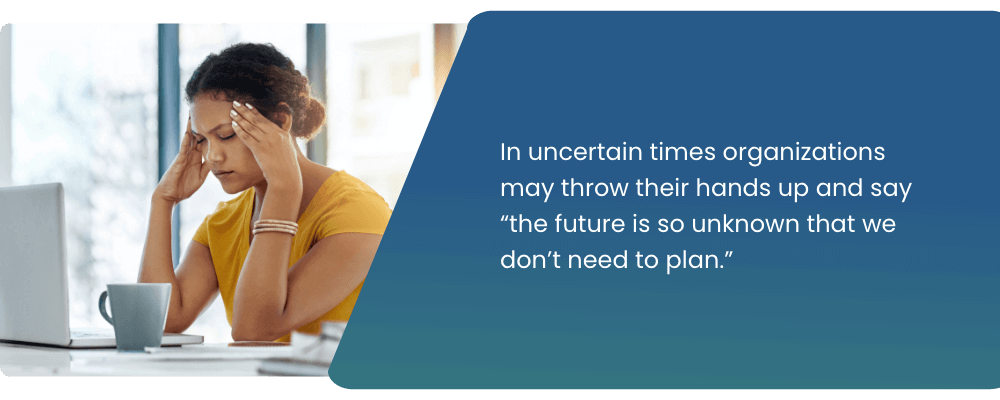 What approach do organizations take towards planning in times of uncertainty?
In uncertain times organizations may throw their hands up and say "the future is so unknown that we don't need to plan."
It's very realistic to think that many organizations have both feet firmly placed in this reality. This scenario tempts two common scenarios. The first is where you decide to be more impulsive and go with your gut instinct. The second is a state of paralysis where no decisions are made.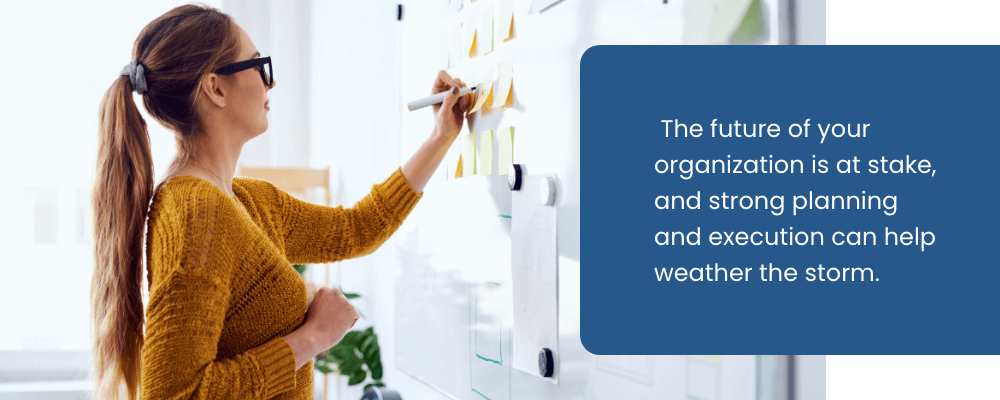 Proceeding with Planning during Uncertainty
If you find yourself in that position, start a conversation with someone outside of your organization. Everyone is experiencing COVID in very different ways and you'll need to hear a variety of opinions before you pick an option.
But, all roads must lead to Rome. Find a path that ensures you pick up the planning process as soon as possible. The future of your organization is at stake, and strong planning and execution can help weather the storm.
If you're an AchieveIt client, chat with your customer success manager and strategy consultant. For those who aren't a customer quite yet, find a peer. Chat with an individual another company in your industry. Leverage LinkedIn to find those individuals and begin building relationships.
If you need help discussing or finding a peer, let us know and we are happy to make the connection.
About AchieveIt
AchieveIt is the platform that large organizations use to get their biggest, most important initiatives out of the boardroom and into reality. Too many great ideas never quite make it across the finish line, because there's no real way to keep everyone on course and keep everything on track. What does it take to actually guide these initiatives all the way through to completion? You've got to:
Get everything in view – so you can see what's happening with every initiative, at every level, from the enterprise to the individual, in real time.
Get everyone engaged – with an easy-to-use platform that connects your organization from the executive leadership to the project teams, keeping everyone accountable and on the same page.
Get every possible advantage – not only because you have the premier platform in this space, but because you can draw on the experience and best practices of our execution experts.
That's why everyone from global corporations, to regional healthcare systems, to federal agencies have turned to AchieveIt for their Integrated Plan Management. Let's actually do this.
Ready to improve your plan execution?
Organizations of all types leverage AchieveIt to connect, manage, and execute their most important initiatives. Replace manual processes & siloed systems with interconnected plans in a single, automated platform.