Virtually everyone in the corporate world is familiar with the acronym for a SWOT analysis – Strengths, Weaknesses, Opportunities, and Threats — but what few realize when conducting a SWOT analysis is that Strengths and Weaknesses are meant to analyze the internal processes, and Opportunities and Threats are for the factors external to the organization. The reasoning behind this tool's strategy is this, internal strengths and weaknesses are within the control of management, so they can be manipulated to the organization's advantage. External opportunities and threats are beyond management's control and require either market-leveraging or risk-mitigation strategies.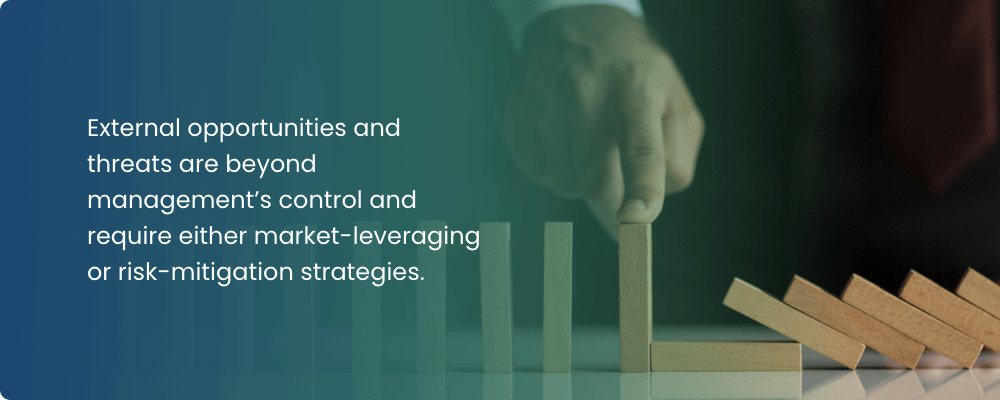 Internal & External Elements of the SWOT
Strengths
When discussing a SWOT analysis, you have to begin with strengths, which are defined as the positive attributes – tangible and intangible – internal to your organization. This is your opportunity to remind yourself of the value existing within your business. Ask yourself, what do you do well? What resources do you have? What advantages do you have over your competition? These are important questions to ask during a SWOT analysis.
Weaknesses
This is the time to note the weaknesses within your business, those factors that are within your control but detract from your ability to obtain or sustain a competitive edge. The more accurately you identify your weaknesses, the more valuable a SWOT analysis will be for your assessment. Which areas do you need to enhance in order to compete with your best competitor? What other areas might you improve as well? Weaknesses could include lack of expertise, limited resources, lack of access to skills or technology, inferior service offerings, or the poor location of your business.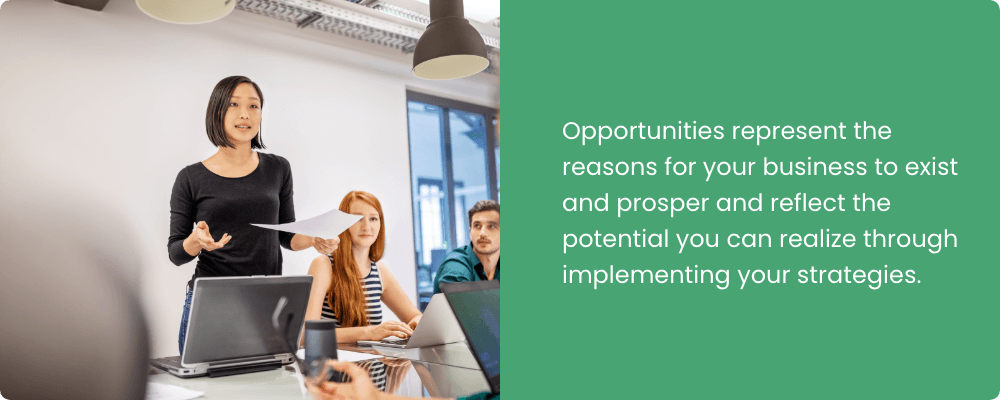 Opportunities
Opportunities represent the reasons for your business to exist and prosper and reflect the potential you can realize through implementing your strategies. Opportunities may be the result of market growth, lifestyle changes, resolution of problems associated with current situations, positive market perceptions about your business, or the ability to offer greater value that will create a demand for your services. When brainstorming opportunities for a SWOT analysis, ask what opportunities exist in your market, or in the environment, from which you hope to benefit. Keep in mind that if you identify SWOT opportunities that are internal to the organization and within your control, then you will want to move them to the Strengths quadrant of your SWOT.
Threats
Finally, when completing a SWOT analysis, you have to address threats. Threats include factors beyond your control that could place your strategy, or the business itself, at risk. Competition – existing or potential – is always a threat. You have no control over threats, but you may benefit by having contingency plans to address them if they should occur. A threat could also be a challenge created by an unfavorable trend or development that may lead to deteriorating revenues or profits. What factors are potential threats to your business? The better you are at identifying potential threats, the more likely you can position yourself to proactively plan for and respond to them.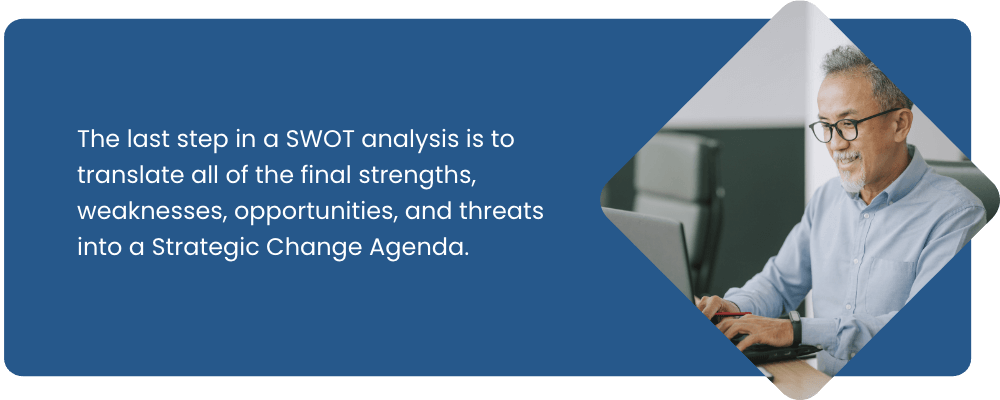 The Implications of a SWOT analysis
The last step in a SWOT analysis is to translate all of the final strengths, weaknesses, opportunities, and threats into a Strategic Change Agenda. This keeps your SWOT from becoming a check-box exercise that adds little or no value to your organization. The Strategic Change Agenda explains the need for a specific strategic direction. In this final step, your planning team formulates a strategy by addressing these issues based on the findings in your SWOT:
In what niches will we compete?
What product and/or service lines, geographic areas, and/or operational areas will we focus our planning efforts? What areas represent the greatest opportunities for growth and prosperity?
What customer value proposition will differentiate us in those niches?
What direction does the strategy require we take in human capital?
What are the technology enablers of the strategy?
By answering these questions and converting a SWOT analysis into a blueprint for transformation, you create organizational consensus and planning focus, while charting a clear and deliberate path for the organization's future – all critical to developing actionable and successful strategic and operational plans.
How AchieveIt Helps Develop a SWOT Analysis
The AchieveIt Execution Management platform includes a SWOT analysis tool to help you develop and document the strategies that will drive results. The online SWOT is fed by other strategy development tools, such as a Strategic Themes Assessment, Capabilities Gap, and PESTEL Analysis. By completing these quantifiable assessments, the SWOT is automatically populated with the consensus thinking of the organization. Once your strategic planning team is ready to conduct its SWOT brainstorming session, the starting point is a SWOT analysis that already contains considerable data. Hence, your team has to fill in gaps, rather than start from scratch.
BONUS DOWNLOAD: 4 Rules to Developing a Foolproof Strategic Plan.
About AchieveIt
AchieveIt is the platform that large organizations use to get their biggest, most important initiatives out of the boardroom and into reality. Too many great ideas never quite make it across the finish line, because there's no real way to keep everyone on course and keep everything on track. What does it take to actually guide these initiatives all the way through to completion? You've got to:
Get everything in view – so you can see what's happening with every initiative, at every level, from the enterprise to the individual, in real time.
Get everyone engaged – with an easy-to-use platform that connects your organization from the executive leadership to the project teams, keeping everyone accountable and on the same page.
Get every possible advantage – not only because you have the premier platform in this space, but because you can draw on the experience and best practices of our execution experts.
That's why everyone from global corporations, to regional healthcare systems, to federal agencies have turned to AchieveIt for their Integrated Plan Management. Let's actually do this.