Strategic plan, strategic initiative, strategic priority, strategic project and the list goes on. These terms are thrown around in businesses all the time.
Organizations of all sizes regularly pour considerable resources into developing and implementing a new plan. This plan maps out where they are now and where they want to be.
And these plans are full of priorities, goals, strategies, projects and more. But if done correctly, the items deemed as strategic initiatives will position the organization for success in the future.
However, many organizations miss a crucial step. Not all initiatives meet the criteria for being "strategic." Our guide to strategic initiatives will help walk you through the planning stages and execution of your company's strategy.
In This Article
What Are Strategic Initiatives and Why You Should Have Them
A strategic plan is a detailed plan that helps organizations achieve their goals and long-term visions. Strategic initiatives outline the specific steps an organization must complete in order to make its strategic plan a reality. These initiatives are the first physical objectives of an organization's strategy and are essential to the strategy's execution and development. In many cases, initiatives comprise several different projects or strategies that function together and create a larger plan your company strives to achieve.
A strategic initiative should prioritize a few characteristics:
Defined goals
Concrete steps
Organized schedules and timelines
Milestones
Budgets
Progress gauging
But just because it has these elements, doesn't mean that your initiative is "strategic".
For an initiative to be strategic, it should meet the following criteria:
It will help achieve organizational strategic goals and position the company to better deliver value for clients and shareholders
It implies a change or improvement, making it distinct from day-to-day operations
Resources, capital, and capacity are prioritized and deployed to implement the initiative
If the initiative meets all three of the above criteria, it is likely a strategic initiative.
If in doubt, ask yourself the following questions:
Of all the things we've planned to do, which are the most important to get right to accomplish our goals? If we only had the resources to dedicate towards three (or four or five) initiatives, which would they be?
These should be your strategic initiatives. It's critical to recognize and differentiate these from other initiatives. Successful implementation of these strategic initiatives can heavily impact execution results. Ensure you address the company's vision in your program to continue to grow your company and benefit stakeholders.
Types of Strategic Initiatives
Regardless of the kind of industry you work in, you'll want to explore the various types of strategic initiatives to find what works for you. Here are several examples for you to keep in mind:
Corporate level: This level concerns the markets your organization competes in. For example, a software company may want to expand its products into phone manufacturing or try to develop new hardware for its initiative.
Business level: This initiative tells you how to succeed over competitors, such as restaurant chains working to improve their existing menus.
Functional level: Initiatives at the level of single departments or teams help your organization improve its internal processes and contribute better programs. For example, restaurants may want to develop a marketing team that leverages taste test results for their customers.
Corrective initiatives: Address issues within your company and fix them. For example, you can locate performance gaps and work to close them.
Constructive initiatives: These initiatives address new methods and directions. Auto manufacturers, for example, may want to specialize in new car lines, like trucks or SUVs.
Innovative initiatives: These initiatives introduce new products or ideas, such as streaming videos rather than using television services.
Defensive initiatives: Maintain what currently works for your company while defending against competitors. A cable network may use this initiative by developing its own streaming service to stay relevant in the public eye.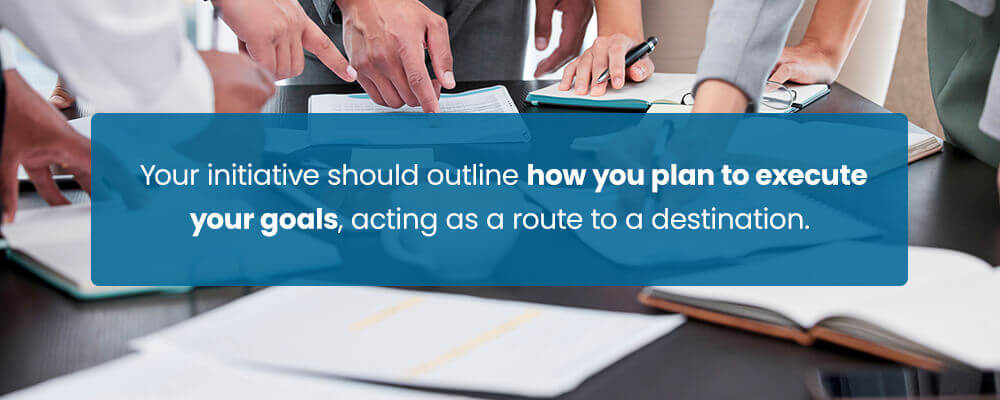 Why You Should Have Strategic Initiatives
So, why should your company or organization have strategic initiatives in place? In short, strategic initiatives help your business achieve specific goals while closing the gap between your target and how your company currently performs. Initiatives benefit top leadership teams and individuals, such as executives and CEOs, who need to build a strong foundation to review their many projects.
Initiatives help organizations concretely define how certain issues impact their programs while focusing on achievable goals that will bring strong changes to the company or community. Strategic initiatives help improve your overall operations while reducing complacency among your team members. You'll find the greatest returns on your projects when everyone knows how organized the strategy is.
The Three Most Common Reasons Why Strategic Initiatives Fail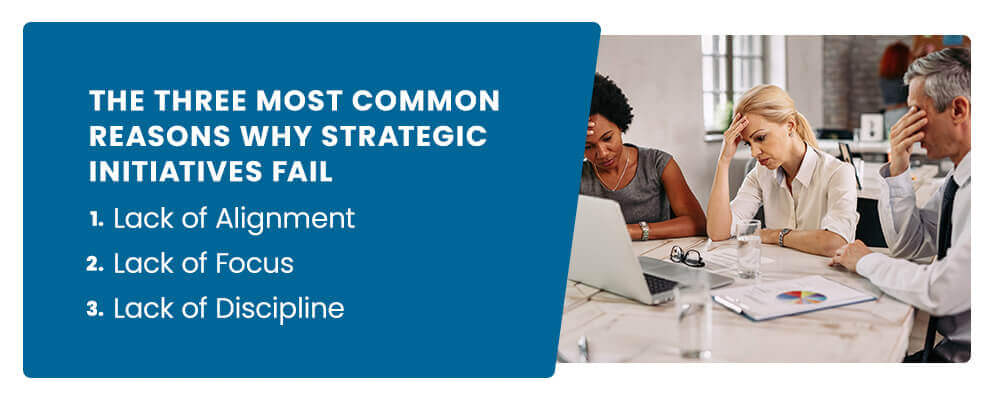 A strategic initiative may fail for several different reasons. If your strategy isn't going to plan, look for some tell-tale signs that it wasn't ready for execution yet. Here are the three most common reasons strategic initiatives may falter.
1. Lack of Alignment
One of the most critical issues to address within your organization is a lack of alignment. Misalignment may happen when your initiatives do not express your priorities, contrast your initial values or fail to address pressing issues. Whether or not the mission is successful does not matter if your initiatives are misaligned, causing tension within the organization or preventing your business from presenting a unified vision. These outcomes are not desirable, and your company should strive to prioritize the programs that align with your values and mission statement.
2. Lack of Focus
In some cases, your business may lack focus. This can look like prioritizing too many goals, creating stress on your resources or failing to support your staff members. Focus helps your company minimize the number of projects, allocate the correct resources and hire enough people to support your strategy. Even if your resources are limited, you can focus on projects that are most meaningful and achievable.
3. Lack of Discipline
Discipline is essential while executing your initiative. However, many companies find that when new opportunities come, they take resources away from other projects to focus on their new ideas. As such, nothing ever succeeds. Try to question new opportunities instead, asking yourself whether it is relevant to your strategy. If yes, pursue the project that will add value to your company, and if no, reject the new opportunity and focus on your current strategy. Discipline helps you stay competitive in your current industry no matter what comes your way.
How to Develop a Strategic Initiative
So, you've identified the need for strategic initiatives. Now it is critical to develop them effectively. But what steps does this entail?
Step 1: Define the Strategic Initiative
One of the first steps is to define the initiative, clearly articulating the choices you will make.
According to Freek Vermeulen and the Harvard Business Review, many companies fail to implement proper strategies. An actual strategy sets clear decisions for the team and defines what your company plans to do and what may not work for its goals.
Many strategies are shelved despite how hard your team works on the plan. In most cases, this is due to unclear choices or a failure to define the initiative.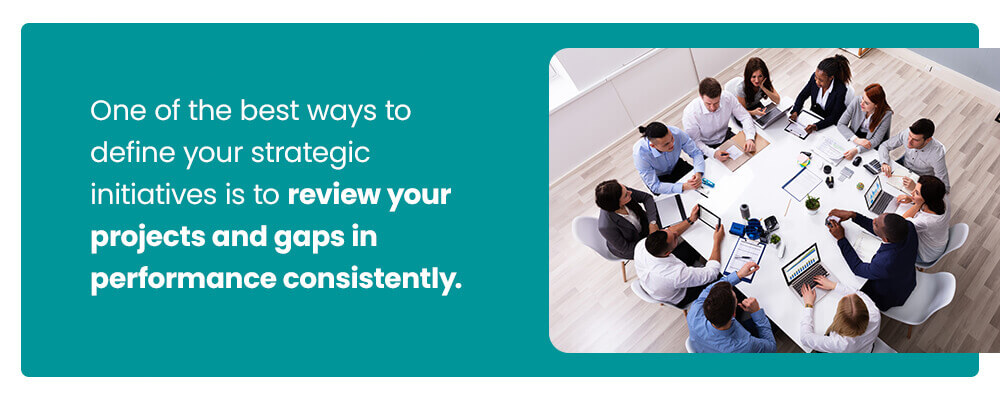 One of the best ways to define your strategic initiatives is to review your projects and gaps in performance consistently. An initiative often includes several strategic goals that a team can use to focus on its mission and values. When you focus on a few specific goals, you may better understand your strategy and how your ideas can improve the community or your business.
Define your initiative by setting measurable, specific, realistic objectives for your company. This may help inform your overall definition by understanding your plans to achieve your goals and the point of each strategy you focus on.
Step 2: Determine the Strategic Initiative's Scope
The next step is to define the scope. This consists of the necessary resources required to bring the plan to life. These resources should include financial, human capital and technological resources.
When defining the scope, don't forget what could go wrong. Identify key insights and risks that could compromise the successful execution of the strategy. With the stakes understood, identify the appropriate mitigations for the identified risks.
Examples of Strategic Initiatives From 3 Different Industries
Organizations in various industries may use strategic initiatives to help grow their business or execute helpful plans. From local government agencies to nonprofit companies and large chain businesses, different industries can use an organized and detailed outline of their goals to find strategic plans that best fit their needs. Here are three strategic initiative examples from the healthcare, nonprofit and banking industries.
Healthcare: Healthcare organizations like hospitals may look to increase their market share. This may look like trying to reach new patients or customers or appeal to the local population with new marketing tactics or community services.
Nonprofits: Nonprofit industries rely on donations from the community or investors to grow their businesses and help the community. An example of a nonprofit industry initiative may look like a plan to create a performance culture. This objective can help a nonprofit improve its internal culture while focusing more on incentives or personal management.
Banks and credit unions: Banks or credit unions may want to focus on initiatives like cross-selling or improved productivity across teams. When selling more products, a company may want to create a strategic plan to sell various products to its current customer base to increase revenue. If a bank seeks to improve productivity, it might consider an initiative that helps organize products or companies across multiple lines of business.
How to Execute a Strategic Initiative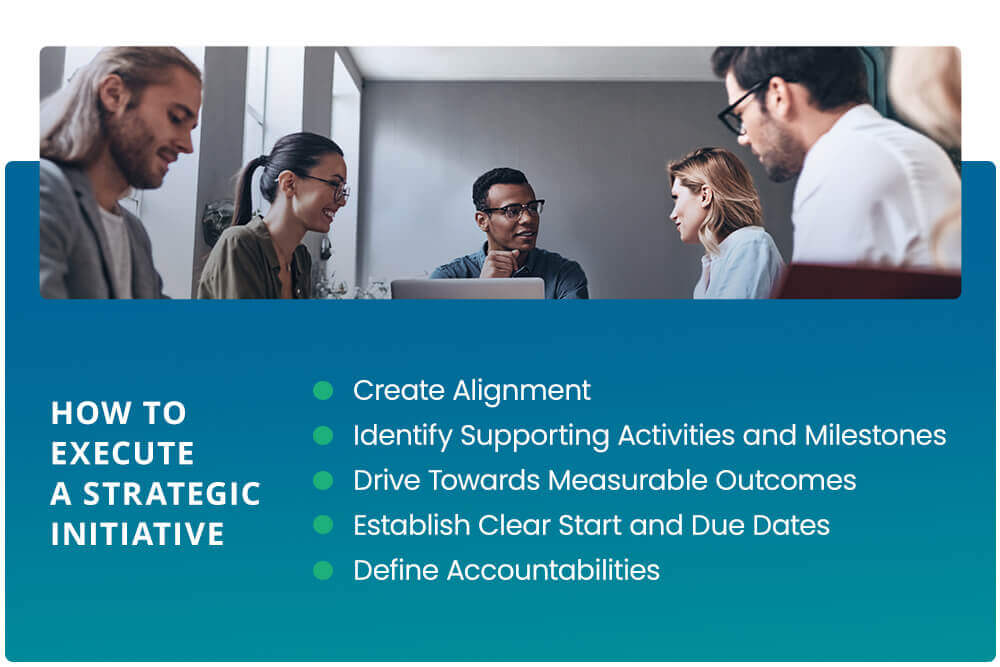 With the initiatives clearly defined and scoped, it's time to develop the plan to execute your strategic initiative.
Most organizations have their own process for building a plan for strategic initiatives. Unfortunately, not all these ways position you for success. As you develop your project, keep the following tips in mind to help you generate results.
Create Alignment
Ensure that there is alignment for each item within your plan. Point out which areas of focus, goals, and outcomes are impacted by different bodies of work within the plan. If you're unsure where to start, ask yourself, "How?" and "Why?". Understand how strategic initiatives directly tie to organizational goals and key performance indicators (KPIs).
Alignment starts when employees understand their roles and how they affect the overall strategy. A successful strategy begins and ends with a company and employees committed to their vision and performing achievable goals.
Identify Supporting Activities and Milestones
Most of the strategic initiatives won't be completed on their own. Identify supporting activities and milestones that will increase your likelihood of generating your desired results. Ensure that the supporting activities and milestones are appropriately resourced. Failure in these will impact the success of the overarching strategic initiative.
One of the best ways to identify activities and milestones is by communicating clearly with all employees. Create a culture that celebrates milestones and strives to reach your strategic goals through incentives, well-organized schedules, and tasks.
Drive Towards Measurable Outcomes
Plans often consist of a lot of qualitative information. This could be a color rating/scale or simple context on initiative completion.
However, initiatives and activities must drive toward measurable, quantifiable outcomes. With proper metrics, there is no question about what success ultimately looks like. This impacts completion and improves insight into how the initiative is progressing.
Perhaps your company may be striving toward customer retention. In that case, you'll want to train your managers to monitor your goal's progress and drive your workers toward excellence. Whatever you want to improve within your company, you'll want to track measurable outcomes through numerical goals and KPIs.
Establish Clear Start and Due Dates
Clarity around expectations is one of the best things you can establish in your planning process. Simply defining clear start and due dates is an easy place to start.
Ensure that you and your team often communicate about your goals through process maps or time-tracking tools online. The organization is key to creating a focused work environment that prioritizes tasks and completes each one promptly.
Define Accountabilities
Select one person responsible for providing progress updates for each item within your plan.
For many initiatives, there is a great deal of shared accountability and many people working towards completing one body of work. However, there should only be one person responsible for reporting on progress. This eliminates confusion about who to go to for status updates and reinforces accountability.
But don't stop by assigning it out. Develop a standard cadence of accountability. This cadence defines how often your organization will be requesting and reporting results. This will enable a standardized, quick way to understand how strategic initiatives progress.
Encourage accountability in the workplace with strategy evaluations and performance metrics. Consistent reviews of your work ensure your team stays on track and works to improve any strategies that need to be changed. Feedback from others is also one of the best ways to gather insight into how well your tasks, process, and workflows are working.
Get Your Strategic Initiatives on the Right Path With AchieveIt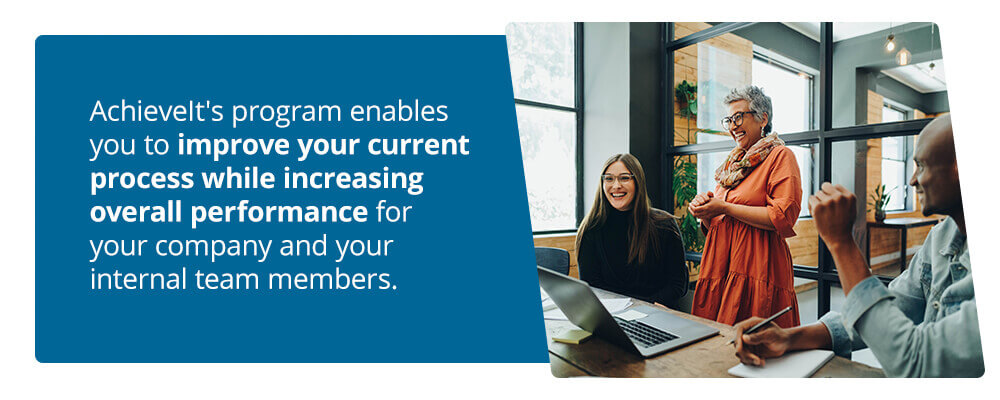 Once you have identified your strategic initiative, completed a thorough scoping process, and developed an execution plan, you should be well-positioned to begin the implementation process.
Our company helps you close the gap between plan creation and achieving results. AchieveIt's program enables you to improve your current process while increasing overall performance for your company and your internal team members. You can successfully execute your strategic initiative with a program that focuses on plan optimization, ROI measurements, organized reports and tasks, and direct advice from experts.
About AchieveIt
Various organizations across government, healthcare or banking industries, among many others, use AchieveIt to take their most important initiatives from an idea to reality. Some incredible ideas never come to fruition because of a lack of organized strategy courses, tracking or reporting. What do you need to implement your strategic initiatives?
Organize your view: Understand the details of every initiative's levels in a real-time platform, from the enterprise to the individual.
Engage your team: An easy-to-use platform connects your organization. Our program keeps everyone engaged and on track, from executive leadership to project managing teams.
Find your advantages: Use our premier platform, and draw on the experience and practices of our execution experts.
Whether you work for a corporation, healthcare organization or federal government agency, AchieveIt can help organize your team with our Integrated Plan Management. Contact AchieveIt online to schedule a demo, or call us at 1-800-535-1559 and speak to a representative today.
Ready to Improve The Execution of Your Strategic Initiatives?
Organizations of all types use AchieveIt to connect, manage and execute their most significant or influential initiatives. Replace time-consuming manual tasks or isolated systems with interconnected strategies and plans in a single, automated platform.
Ready to improve your plan execution?
Organizations of all types leverage AchieveIt to connect, manage, and execute their most important initiatives. Replace manual processes & siloed systems with interconnected plans in a single, automated platform.