Strategic plan, strategic initiative, strategic priority, strategic project, and the list goes on. These terms are thrown around in businesses all the time.
Organizations of all sizes regularly pour considerable resources into developing and implementing a new plan. This plan maps out where they are now and where they want to be in the future.
And these plans are full of priorities, goals, strategies, projects, and more. But if done properly, the items deemed as strategic initiatives will position the organization for success in the future.
However, many organizations miss a key step. Not all initiatives meet the criteria for being "strategic".
What is a Strategic Initiative?
For an initiative to be strategic, it should meet the following criteria:
It will help achieve organizational strategic goals and position the company to better deliver value for clients and shareholders
It implies a change or improvement, making it distinct from day-to-day operations
Resources, capital, and capacity are prioritized and deployed to implement the initiative
If the initiative meets all 3 of the above criteria, it is likely a strategic initiative.
If in doubt, ask yourself the following questions:
Of all the things we've planned to do, which are the most important to get right to accomplish our goals? If we only had the resources to dedicate towards 3 (or 4 or 5) initiatives, which would they be?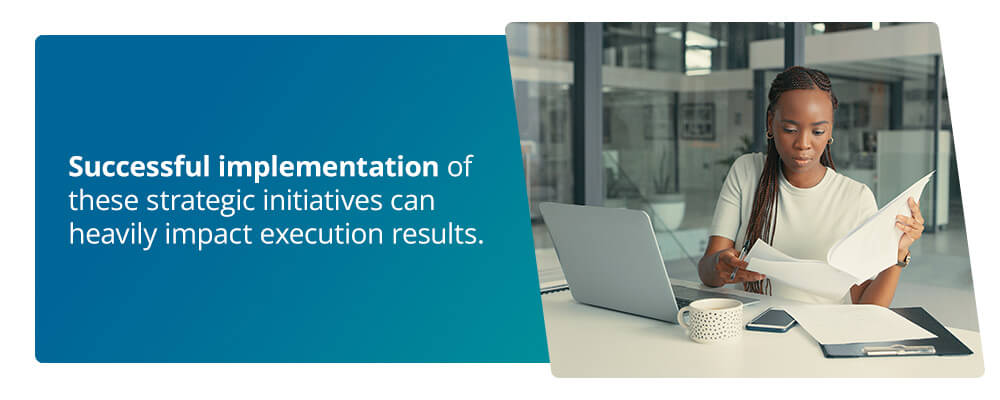 These should be your strategic initiatives. It's critical to recognize and differentiate these initiatives from other initiatives. Successful implementation of these strategic initiatives can heavily impact execution results.
What Goes into Developing a Plan for a Strategic Initiative?
So, you've identified the strategic initiatives. Now it is critical to developing a plan to execute. But what steps does this entail?
Step 1: Define the strategic initiative
One of the first steps is to define the initiative, clearly articulating the choices that will be made.
According to Freek Vermeulen and the Harvard Business Review, many strategies fail because they're not actually strategies. A real strategy involves a clear set of choices that define what the firm is going to do and what it's not going to do.
Many strategies fail to get implemented, despite the ample efforts of hard-working people. And it's because they don't represent a set of clear choices.
Step 2: Determine the Strategic Initiative's scope
The next step is to define the scope. This consists of the necessary resources required to bring the plan to life. These resources should include financial, human capital, and technological resources.
When defining the scope, don't forget what could go wrong. Identify key risks that could compromise the successful execution of the strategic initiative. With the risks understood, identify the appropriate mitigations for the identified risks.
Executing Strategic Initiatives
With the initiatives clearly defined and scoped, it's time to develop the plan to execute your strategic initiative.
Most organizations have their own process for building a plan for strategic initiatives. Unfortunately, not all these ways position you for success. As you are building your plan, keep the following 5 tips in mind to help you generate results.
Create alignment
Ensure that there is alignment for each item within your plan. Clearly point out which areas of focus, goals, and outcomes are being impacted by different bodies of work within the plan. If you're unsure where to start, ask yourself the questions "How?" and "Why?". Understand how strategic initiatives directly tie to organizational goals and KPIs.
Identify supporting activities and milestones
Most of the strategic initiatives won't be completed on their own. Identify supporting activities and milestones that will increase the likelihood of you generating your desired results. Ensure that the supporting activities and milestones are appropriately resourced. Failure in these will impact the success of the overarching strategic initiative.
Drive towards measurable outcomes
Plans often consist of a lot of qualitative information. This could be a color rating/scale, or simple context on initiative completion.
However, it is key that initiatives and activities drive towards measurable, quantifiable outcomes. With proper metrics, there is no question about what success ultimately looks like. This not only impacts completion but also improves insight into how the initiative is progressing.
Establish clear start and due dates
Clarity around expectations is one of the best things you can establish in your planning process. Simply defining clear start and due dates is an easy place to start.
Define accountabilities
Select one person to be responsible for providing progress updates for each item within your plan.
For many initiatives, there is a great deal of shared accountability and many people working towards completing one body of work. However, there should only be one person responsible for reporting out on progress. This eliminates confusion about who to go to for status updates, and it also further reinforces accountability.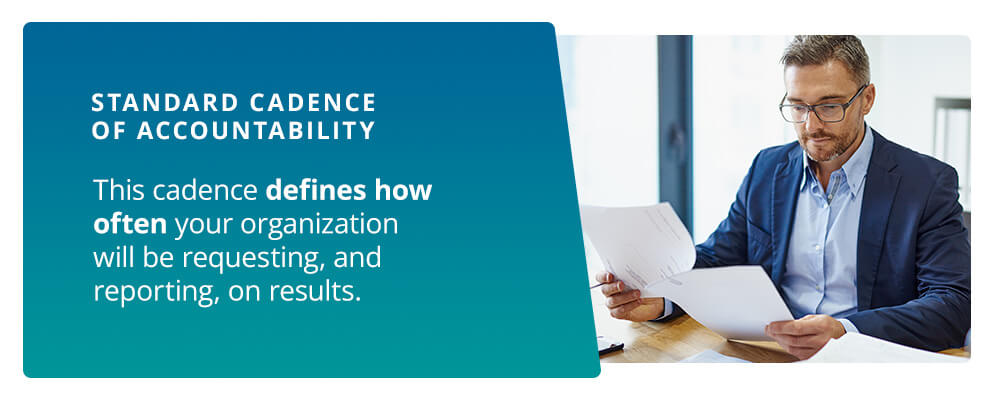 But don't stop by assigning it out. Develop a standard cadence of accountability. This cadence defines how often your organization will be requesting, and reporting, on results. This will enable a standardized, quick way to understand how strategic initiatives progress.
Get your strategic initiatives on the right path
Once you have identified your strategic initiative, completed a thorough scoping process, and developed an execution plan, you should be well-positioned to begin the implementation process.
About AchieveIt
AchieveIt is the platform that large organizations use to get their biggest, most important initiatives out of the boardroom and into reality. Too many great ideas never quite make it across the finish line, because there's no real way to keep everyone on course and keep everything on track. What does it take to actually guide these initiatives all the way through to completion? You've got to:
Get everything in view – so you can see what's happening with every initiative, at every level, from the enterprise to the individual, in real time.
Get everyone engaged – with an easy-to-use platform that connects your organization from the executive leadership to the project teams, keeping everyone accountable and on the same page.
Get every possible advantage – not only because you have the premier platform in this space, but because you can draw on the experience and best practices of our execution experts.
Ready to improve your plan execution?
Organizations of all types leverage AchieveIt to connect, manage, and execute their most important initiatives. Replace manual processes & siloed systems with interconnected plans in a single, automated platform.