The 4-Level Strategic Plan Template
Strategic planning can get complicated in a hurry. Has either of the following ever happened to you?
Your boss attended a conference where the latest and greatest planning methodology was rolled out, and he expects you to be fully on board.
Your organization has never had a strategic plan before and needs an idea of how to get started.
Either way, it's important to keep things as simple and organized as possible. Let's not make it harder than it has to be! One way to simplify the planning process is by starting with a strategic plan template.
Almost every organization we work with struggles with goals that push at the limits of the time and resources they have available. Because of that, it's important to be able to prioritize, categorize, and create areas of focus for your business. As you'll see in our strategic plan template, we recommend a four-level plan, as it forces you to narrow down and decide which areas of the business you're going to commit to this year.
This five level strategic plan template will help you create a plan that's built around best practices for optimized execution.
1) Themes
This is the first level of your strategic plan template and it's your chance to spell out what your organization plans to focus its attention on this year. Themes, often called areas of focus, are like the table of contents in a textbook. When you need to quickly access information, you scan the table of contents, zero in and quickly jump to the area of interest.
We recommend applying this concept to your planning efforts because you'll make your end product infinitely easier to navigate. Depending on your organization, you may have themes or may choose to split up the goals by departmental structure. For example, a healthcare system might have themes such as safety, quality, finance, and performance excellence. An enterprise business may be more comfortable splitting its goals into departmental boundaries, such as sales, marketing, finance, customer success, and human resources. We recommend defining five to seven themes in your template.
2) Goals
The next level in your template is a Goal. Each theme should be supported by a goal. Some organizations will refer to this level as 'objectives' or 'KPIs.' This level contains the measures you're going to track to get a good sense of how the business is performing. Think of your department (or theme) and try to distill one to three indicators of health. A big mistake organizations make is attempting to track too many things. In choosing metrics, less is more. Select the metrics that are most meaningful, and track those numbers, percentages or dollar amounts to hold people accountable and keep the organization focused on what truly matters.
In the strategic plan template, each goal is assigned a "card." A card outlines the strategies and tactics, as well as the associated responsible parties and due dates, that relate to that particular goal.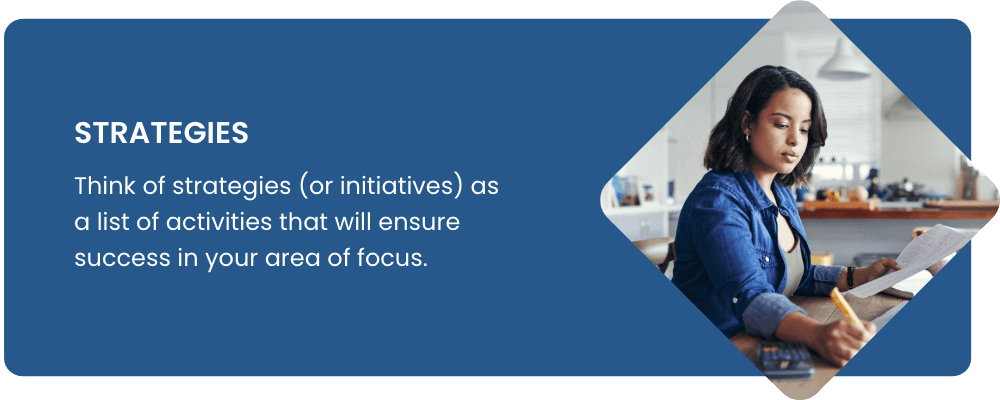 3) Strategies
The third level of the template outlines the high-level items you're going to work on to ensure all of your measures move in the right direction. Think of strategies (or initiatives) as a list of activities that will ensure success in your area of focus. If one of your goals includes a lofty sales target, one of your strategies might be to enter into a new market segment. If your goal is to reduce the days in Accounts Receivable, your strategy might be to offer an incentive to your clients for paying early.
4) Tactics
Now that you've defined the strategies, you're ready to divide up the work. Some of your initiatives can span several years so it's important to meaningfully report on progress over time. Project managers define this step as creating your work breakdown structure. Organizations typically struggle with this step because they try and define too much detail around each of their initiatives. Think of your tactics as milestones, as the highlight reel for your strategies.
Lastly, tactics are where you can start assigning due dates and responsible parties. Make sure that each tactic has one person responsible for providing status updates. This ensures that there is an owner who is held accountable for the tactic.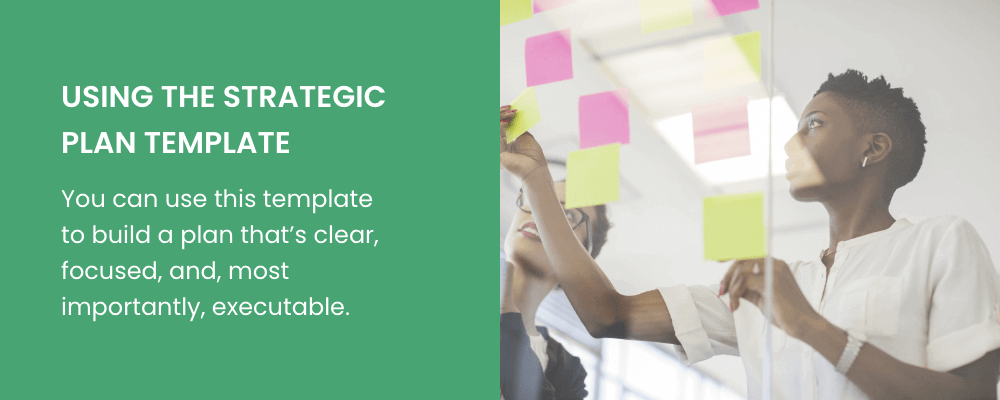 Using the Strategic Plan Template
This simple strategic plan template can help you create the outline for your organization's plan. You can use this template to build a plan that's clear, focused, and, most importantly, executable. We may be a bit biased, but we think it's the best strategic plan template out there.
Start from the Top
The beginning of the strategic plan template provides an example of a strategic plan. This should be used as an outline for your plan. You'll notice that the plan begins with a visual slide of themes around a target. This is something you might see in a presentation or plan outline. Next is a Tree View of the plan, which shows how the themes and goals align. Finally, you'll see a 'card' – an individual goal outlined with metrics, strategies, tactics, accountable parties, and due dates. Each goal will have its own card.
To get started, begin by developing all of your themes. Again, think of the broad areas in which your organization needs to take action. Then, align goals underneath each theme. If a goal doesn't align neatly with a theme, consider if this is truly a priority for the current year.
Finally, make sure that each goal, and each tactic underneath it, has one accountable party and a due date. These are both execution best practices. If a team is assigned to a tactic, no one acts as an owner of that item. And if all of your due dates are at the end of the year, people are likely to procrastinate. Finally, do a spot check to ensure you're not overburdening certain members of your team.
And that's it! You now have an easily readable and visual outline of your strategic plan.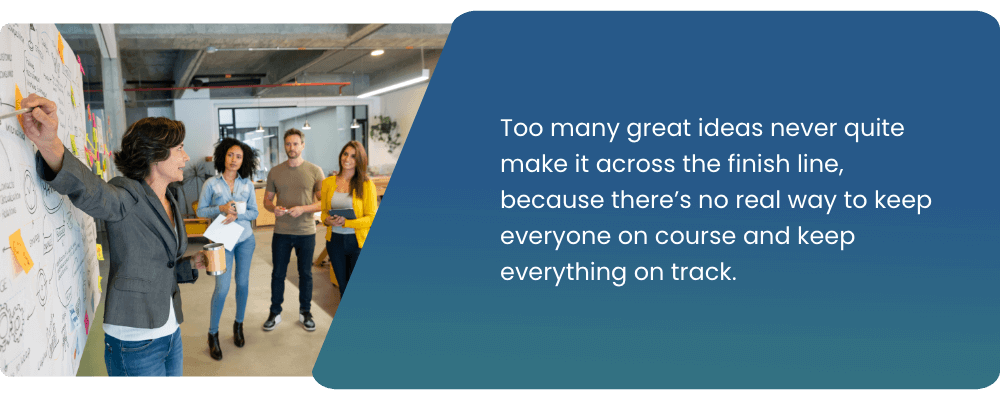 About AchieveIt
AchieveIt is the platform that large organizations use to get their biggest, most important initiatives out of the boardroom and into reality. Too many great ideas never quite make it across the finish line, because there's no real way to keep everyone on course and keep everything on track. What does it take to actually guide these initiatives all the way through to completion? You've got to:
Get everything in view – so you can see what's happening with every initiative, at every level, from the enterprise to the individual, in real time.
Get everyone engaged – with an easy-to-use platform that connects your organization from the executive leadership to the project teams, keeping everyone accountable and on the same page.
Get every possible advantage – not only because you have the premier platform in this space, but because you can draw on the experience and best practices of our execution experts.
That's why everyone from global corporations, to regional healthcare systems, to federal agencies have turned to AchieveIt for their Integrated Plan Management. Let's actually do this.
Ready to improve your plan execution?
Organizations of all types leverage AchieveIt to connect, manage, and execute their most important initiatives. Replace manual processes & siloed systems with interconnected plans in a single, automated platform.