Did you know that 90% of businesses fail to meet their strategic goals? If you and your team have ever gone over budget, missed a deadline or faced an unhappy client, the process you use for executing goals may not be suitable for your organization's needs. There's no doubt that it can be difficult to manage a company-wide project, particularly when there are several interconnected plans that lead to the same goal. But having a plan is sometimes not enough.
As a project manager, it's important your plan allows you to align your most critical objectives and makes it easier to track your team member's progress. With a robust plan and the right tools to support your objectives, you have the best defense against common project pitfalls and setbacks. Below, we'll discuss why you should use integrated plan management software to reach your organization's full potential.
In This Article
What Is Integrated Planning?
Integrated planning, also referred to as integrated business planning, is a multi-functional approach to decision-making that allows businesses to align their priorities across the entire organization. This technique makes it easier for companies to connect all their essential planning functions across each department and coordinate their operations, strategy and financial performance. Organizations can gain complete visibility and transparency over their commitments and resources, ensuring all efforts are focused on strengthening and transforming rather than simply maintaining existing processes.
Without integrated planning, business activities can become fragmented as a result of poor communication and decreased productivity. In a constantly shifting world, organizations must innovate, create value and increase efficiency overall. By empowering business managers and executives with the means to clearly define company-wide objectives, organizations can ensure all team members are working toward the same goal with knowledge of each other's actions.
Why Is Integrated Planning and Project Management Important?
Though planning is not one of the most exciting parts of putting your project into action, it's the most critical part of the entire process. Proper planning allows you and your team to reduce risk and failed plans while efficiently helping everyone in your organization through each of the project phases. Project planning enables your organization to clearly identify goals, avoid missing deadlines and deliver the desired result.
With careful planning, your project performance can be successful. Your organization can achieve several or all of the following benefits of integrated plan management software:
Identify and reduce potential risks
Reduce project failure
Drive communication
Create accountability and transparency
Unite and focus your team
Keep deadlines on track
Take the uncertainty out of change
Prevent team overload
Efficiently track project goals and outcomes
Drive performance and productivity
Common Challenges of Integrated Planning and Project Management
When implementing any new business structure, it's normal to experience obstacles as you work out the kinks. Some of these challenges include:
Lack of or ineffective communication
Budget restrictions
Inability to set clear goals and objectives
Mismatched team member skills
Absence of accountability and transparency
Poor risk management
Limited engagement of stakeholders
Even when trying to boost your organization's efficiency through integrated planning and project management, lacking the right tools can make it difficult to see real change. You and your team can overcome these challenges with a reliable solution that makes it easy to connect and manage your plans. With integrated plan management software, you and other project managers can track progress in real time. Leverage this technology to centralize data and increase access for all stakeholders across a digital platform.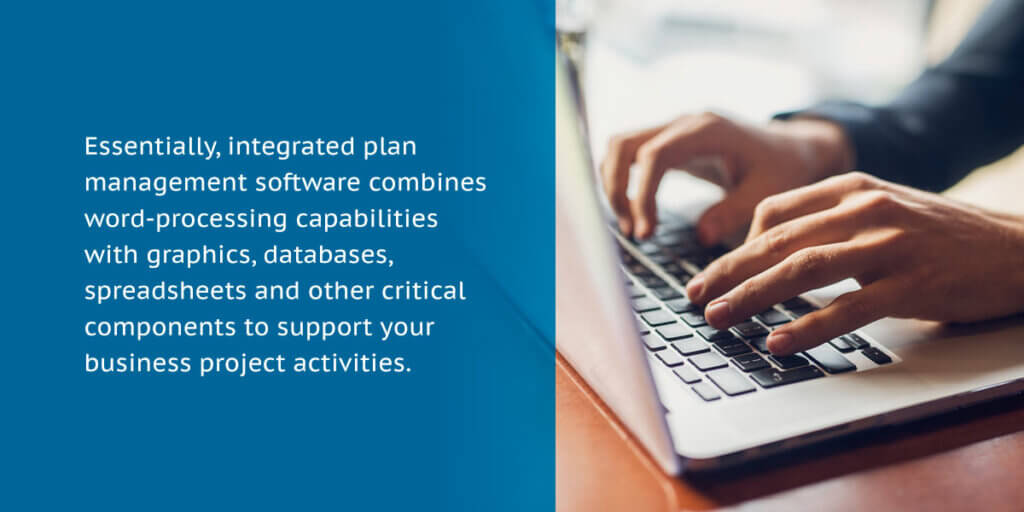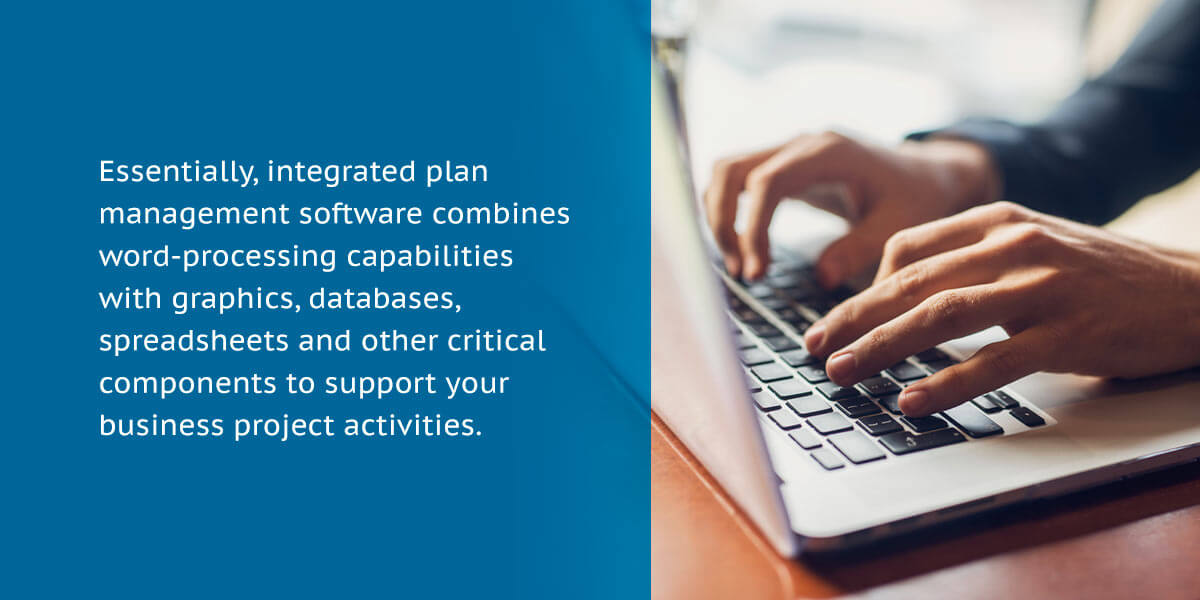 What Is Integrated Plan Management Software?
Though we've discussed the importance of integrated plan management, you might be wondering how this software could benefit your organization as you take on new projects and initiatives. Essentially, integrated plan management software combines word-processing capabilities with graphics, databases, spreadsheets and other critical components to support your business project activities. This solution allows you to effectively plan and perform.
Integrated plan management software also empowers your organization to accomplish bigger goals with a complete view of all initiatives and insights on how to achieve them. By planning, tracking and reporting across several projects, you and your team members can improve progress while supporting communication and individual accomplishments.
Many organizations struggle to get their plans from the brainstorming stage into reality. With integrated plan management software, your business can transform your ideas from thoughts into action. This type of software provides you with the tools you need to successfully initiate every stage of plan management, including:
Plan creation
Progress management
Performance assessment
Features to Look for in an Integrated Plan Management Software
Once you're ready to start improving your projects and goals with integrated plan management software, determine which features you and your team need to succeed. Consider these essential integrated plan management software features:
Enables tracking: You should be able to efficiently track and manage an unlimited number of plans and initiatives.
Accommodates goal-setting methods: No matter how you set your goals and objectives, integrated plan management software should make it easy to follow through.
Creates accountability by assigning tasks: Providing each team member with a specific goal will create clear expectations and keep everyone accountable for their part.
Generates progress reports: Your integrated plan management software should allow you to create and view reports in real time to help you identify areas for improvement.
Enhances communication: Keeping communication all in one place through an integrated plan management platform is critical for streamlining projects and planning.
Provides reminders and alerts: Built-in reminders to activate employees in a specific project can help your team stay on track.
Offers a user-friendly dashboard: Your organization needs an easy-to-use dashboard that offers visibility across all plans.
Delivers customizable metrics: With customizable key performance indicators (KPIs) and metrics, you and your team can better analyze important data.
Supplies tools for easier management: Tools that allow you to manage your goal-setting methods can help you effectively accomplish your objectives.
Keeps goals on track: Integrated plan management software should provide notifications that prevent your goals from veering off track.
Improves executive insights: Your team should have access to analytics that improve executive insights to make better-informed decisions.
How AchieveIt's Integrated Plan Management Software Can Help Your Organization
At AchieveIt, we know how critical integrated plan management software is to organizations looking to enhance productivity, increase communication across team members and track progress throughout an entire project. One of the most challenging aspects of putting your plan into action is improving plan execution and knowing what elements of your project need attention. By entering your key plans into the software, your entire organization will gain a better view of how each team member contributes to your goals.
So, how do you get started? Our integrated plan management platform makes it easy to build out projects, input updates and assign tasks to individuals. You can customize AchieveIt's dashboard, reports and displays that fit your organizational needs, like displaying both quantitative and qualitative information of your choice. You can also use tools like widgets and automatically scheduled reports to ensure you meet critical deadlines.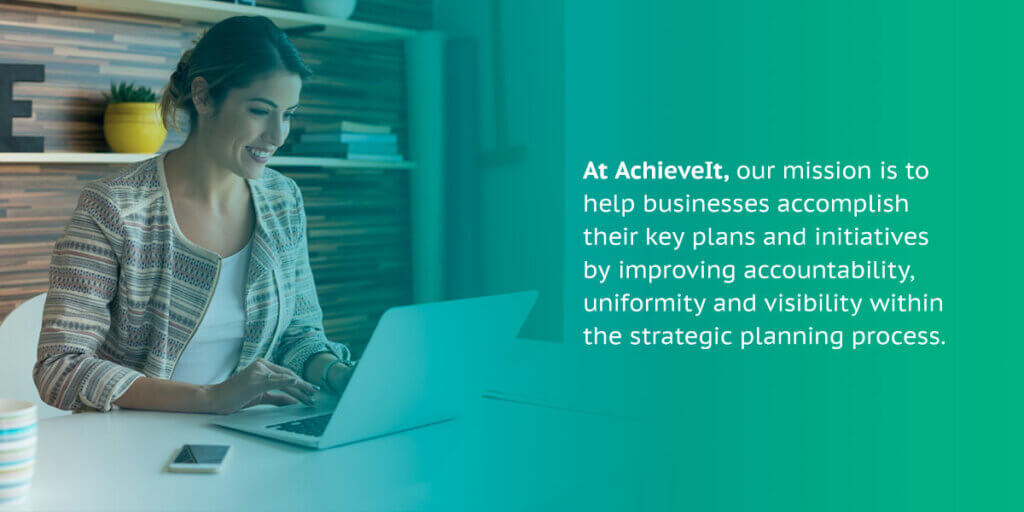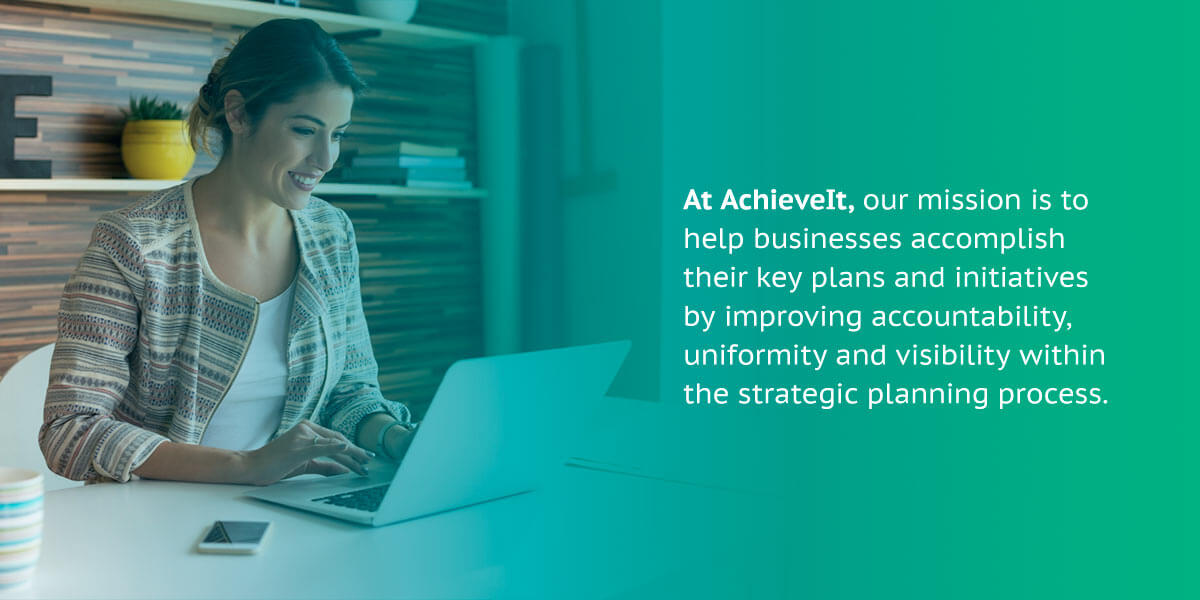 Reach Your Full Potential With AchieveIt
Whether your organization prefers to focus on one overarching project or implement several plans simultaneously, it's critical to have the right tools on hand. At AchieveIt, our mission is to help businesses accomplish their key plans and initiatives by improving accountability, uniformity and visibility within the strategic planning process.
With our integrated plan management solution, you and your team members can benefit from enhanced connections and improved tracking and scheduling capabilities as you execute your goals and assess their performance. Our automated planning platform makes reporting, updating and managing planning tools more accessible for everyone in your organization. This accessibility revitalizes the way your team approaches goal setting and implementation.
If you're ready to take the leap and transform your plans into action, request a free demo and schedule a call with one of our plan management experts today.