Measuring Key Performance Indicators (KPIs) is vital to the health and success of any modern business. That said, it is often a struggle for many customers and organizations. Applying KPIs is an essential piece of rigor to your forward-looking roadmap but it isn't always easy.
This problem is nearly universal in the strategic planning space. Whether I'm working with an emergent business looking to mature its business processes or an established player looking to identify the key indicators the same questions persist.
"How can we develop KPIs?"
"Which measures really are driving results?"
"Isn't ALL of this data important?"
While the answers can vary by organization, the basics span industry, and organization maturation.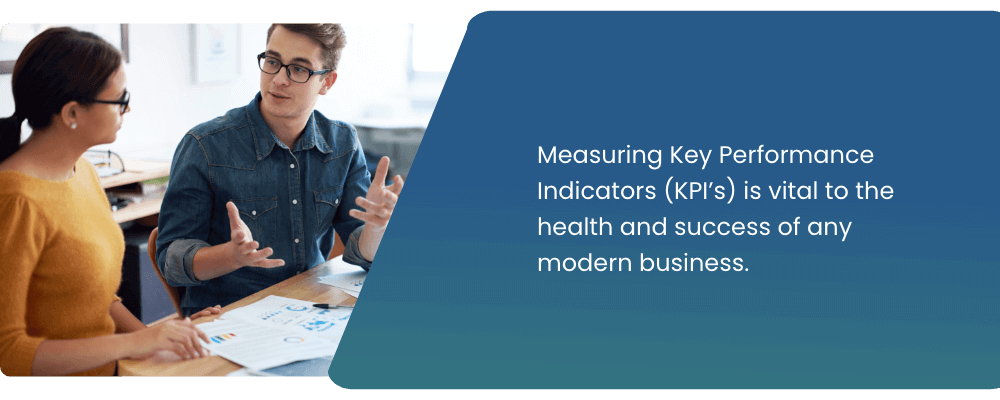 So, what are KPIs?
Before we dive into developing and applying KPIs, it's important to understand the function they perform. KPIs are much more than numbers that are reported on a recurring basis – or at least they should be.
KPIs are Key Performance Indicators. By their name, they enable you to understand the health of your business so you can make critical adjustments in execution to achieve strategic goals.
A quick look at your smartphone yields a litany of fitness data. But what you do with that information is what makes the difference. After all, "what gets measured, gets managed" and below we will discuss simple steps to do just that.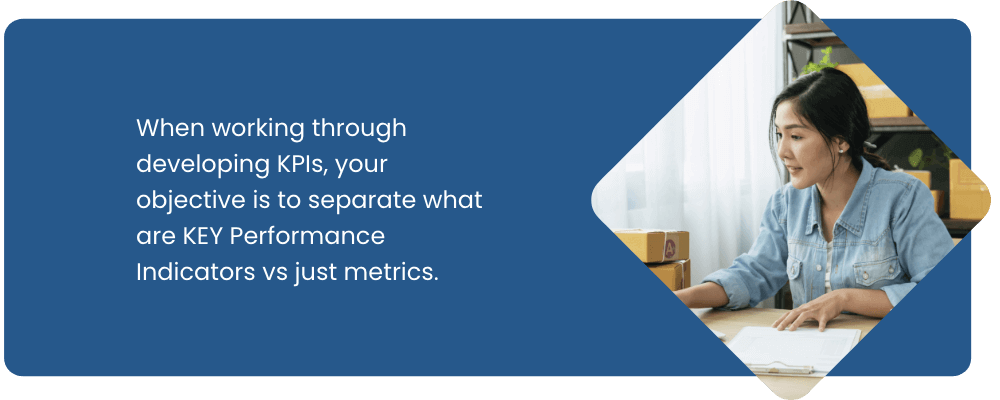 Step 1: Develop your KPIs
Developing KPIs is the first step. To begin, review what data you are already collecting.
Most organizations feel like they need to reinvent a new measurement system. In most situations, the data collection process is rarely the limiting factor.
For less sophisticated organizations, ask a simpler question "what data can you measure". Even if you do not have a CRM it is still possible to count the number of outgoing sales calls you made on a given day/week/month.
When working through developing KPIs, your objective is to separate what are KEY Performance Indicators vs just metrics.
Step 2: Identify what is important
As a next step, you need to understand what information is truly important. The first step here is to separate operational measurements from strategic elements.
Operational metrics are often used in a 'real time' capacity to assess what is happening in your organization on an hourly or daily basis.
Strategic KPIs take a longer view at monitoring progress towards a stated destination.
Consider your smartwatch. Climbing a few flights of stairs will cause your heart rate to climb. Climb a few more and your watch may even notify you that you need to "take a break". This is a good indicator of how your body is performing in the here and now, but it tells you very little about your overall cardiovascular health.
We use different metrics like blood pressure and resting heart rate to evaluate your health over the long term. And your fitness goals likely align with these metrics. These are your KPIs.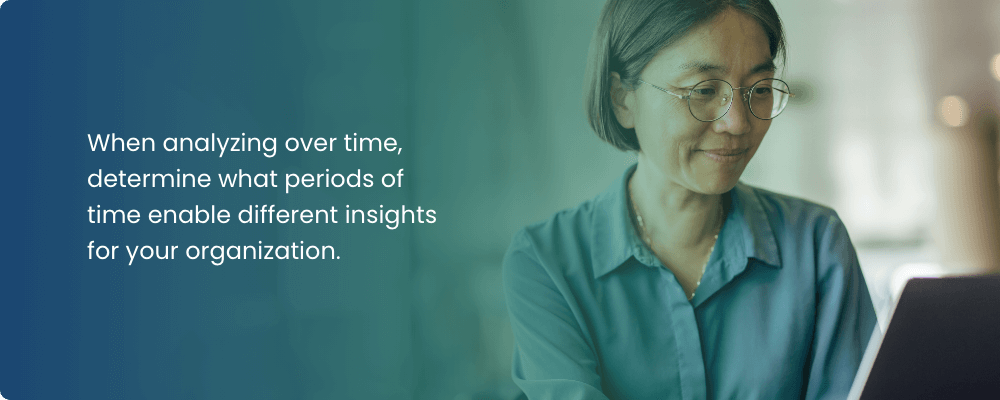 Step 3: Analyze your KPIs over time
KPIs are only useful if we analyze and derive trends from them. Many organizations stop at merely "tracking" metrics. This is only where the work begins. The data tells a story, and it is your job to interpret the information to make critical decisions.
When analyzing over time, determine what periods of time enable different insights for your organization. If you are managing sales KPIs, but your sales cycle is 9 months long, a quarterly view likely isn't enough to spot trends. Use a combination of leading and lagging indicators to balance short-term and long-term insights.
Rushing decisions on data trends can lead to incomplete data and incorrect decisions.
Step 4: Connect actions with results
If you have successfully analyzed your data, now it's time to take the next step and connect your tactics with KPIs.
You know how the data is changing over time, but do you know what drives the change?
By aligning activities with results, you not only measure the health of your organization, but you can predict what steps drive the right outcomes. Furthermore, you can identify which activities you undertake "because we've always done it this way". These activities are not driving outcomes and should be eliminated ASAP.
The combination of understanding what impacts results while reducing inefficiency can take your organization to the next level.
Executive Guide to Strategic Goal Setting
Download this guide to learn how the most successful executives use goal-setting methodologies and technology to empower their teams and improve execution.
About AchieveIt
AchieveIt is the platform that large organizations use to get their biggest, most important initiatives out of the boardroom and into reality. Too many great ideas never quite make it across the finish line, because there's no real way to keep everyone on course and keep everything on track. What does it take to actually guide these initiatives all the way through to completion? You've got to:
Get everything in view – so you can see what's happening with every initiative, at every level, from the enterprise to the individual, in real-time.
Get everyone engaged – with an easy-to-use platform that connects your organization from the executive leadership to the project teams, keeping everyone accountable and on the same page.
Get every possible advantage – not only because you have the premier platform in this space, but because you can draw on the experience and best practices of our execution experts.
That's why everyone from global corporations, to regional healthcare systems, to federal agencies have turned to AchieveIt for their Integrated Plan Management. Let's actually do this.
Ready to improve your plan execution?
Organizations of all types leverage AchieveIt to connect, manage, and execute their most important initiatives. Replace manual processes & siloed systems with interconnected plans in a single, automated platform.