Strategic planning is a method used in various industries to deliberately guide decision-making. In education, strategic planning provides leaders with guidance to keep the institution operating, carry out its missions and comply with regulations. Educational strategic planning focuses on the future of a college or university, providing an intentional way to reflect on performance and determine where to implement initiatives to make positive changes for the future.
To create effective university strategic plans, administrators and stakeholders must understand the ins and outs of how they work and how they can apply them.
In This Article
The Challenges of Strategic Planning in Education
Universities and colleges face several pressures and challenges that can complicate strategic planning in educational environments. Understanding some of these challenges can help you overcome them to create an impactful approach.
1. Lack of Ownership
While strategic plans involve feedback and participation from all of your institution's departments and entities, you should limit ownership of the plan and documentation to one person. Without explicit ownership over the strategic plan, initiatives are more likely to be lost, forgotten or overlooked. With one person in charge, your school is more likely to achieve success.
2. Poor Strategic Alignment
Alignment and representation across your university are crucial to success. Universities and colleges often experience a lack of strategic alignment because the church and state divisions typically have different goals for schools. These clashing perspectives lead to poor strategic alignment and a stand-still in decision-making.
3. Poor Communication
Many educational institutions also struggle with strategic planning due to poor organizational communication. Effectively implementing a strategic plan requires institutional-wide teamwork. Poor communication significantly increases the difficulty of agreeing upon and executing effective solutions and setting attainable goals.
4. Slow Plan Adoption
With a significant focus on innovation and growth, universities may make numerous changes in a year. Constant changes often lead to low motivation to adopt new plans. The longer your teams take to implement a strategic plan, the more likely it is to become outdated. When this situation happens, the plan becomes irrelevant to your current processes.
Why Education Institutions Need Strategic Planning
Despite the inherent challenges, educational strategic planning is necessary for a successful institution operation. A strategic plan can help you improve several aspects of your educational institution through intentional goal-setting and initiative implementation. Strategic planning for colleges and universities helps students, staff and the community progress toward a better future.
Here are a few reasons you should use strategic planning in education: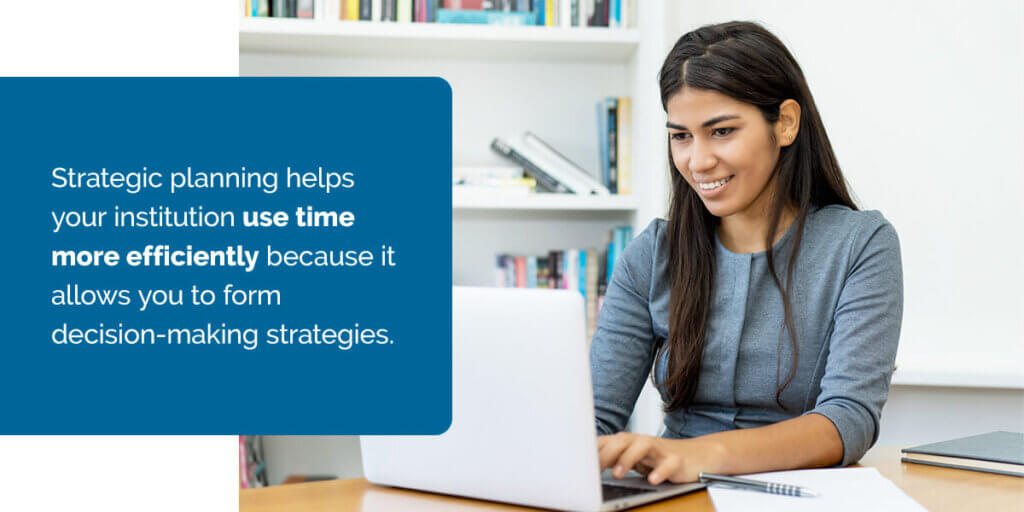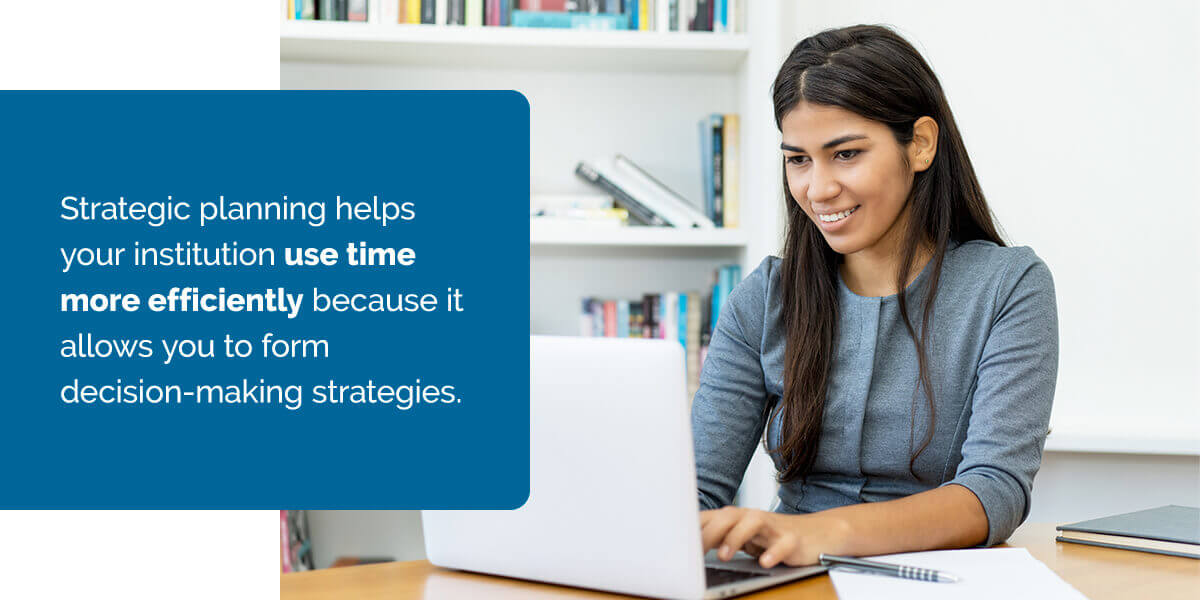 1. Improve Efficiency
One of the biggest reasons to begin strategic planning is the opportunity for improved efficiency in numerous areas of your organization. The challenges of educational planning often lead to a lack of efficiency. Strategic planning for schools allows leaders to determine more effective ways to streamline processes.
For example, your decision-making teams may take significant time to agree on new policies or procedures. Strategic planning helps your institution use time more efficiently because it allows you to form decision-making strategies.
Improved efficiency also results in better cost-effectiveness. The less time is wasted, the more money you'll save, especially over time.
2. Engage Stakeholders and the Community
Strategic planning involves more people than only the primary decision-makers — your planning should involve your community and stakeholders. Feedback from these entities can help you develop a more beneficial and strategically targeted plan based on what these entities want or need from you. Engaging the stakeholders and community also shows you value their input and want to create an environment where they want to be.
3. Form a Focus
Determining a focus for the school year ahead can be challenging without clear objectives. Without focus, your institution will struggle to grow and attract students and staff. For example, you may have vague expectations for the upcoming school year, which prevents decisions and progress from being made. A strategic plan allows you to determine your goals and focus for the upcoming year and beyond while also helping you track your progress.
4. Plan a Future
Strategic planning is ideal for planning a successful future for your institution. Developing a plan for your future helps ensure your school can grow and continue benefiting from its offerings. Rather than being unprepared for the next year and future school years, you can effectively strategize to make the most of your school year.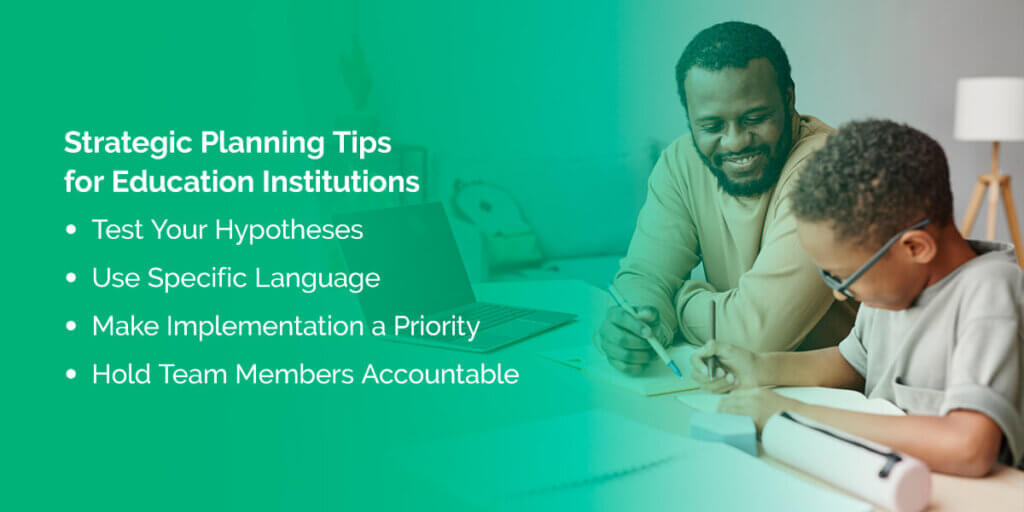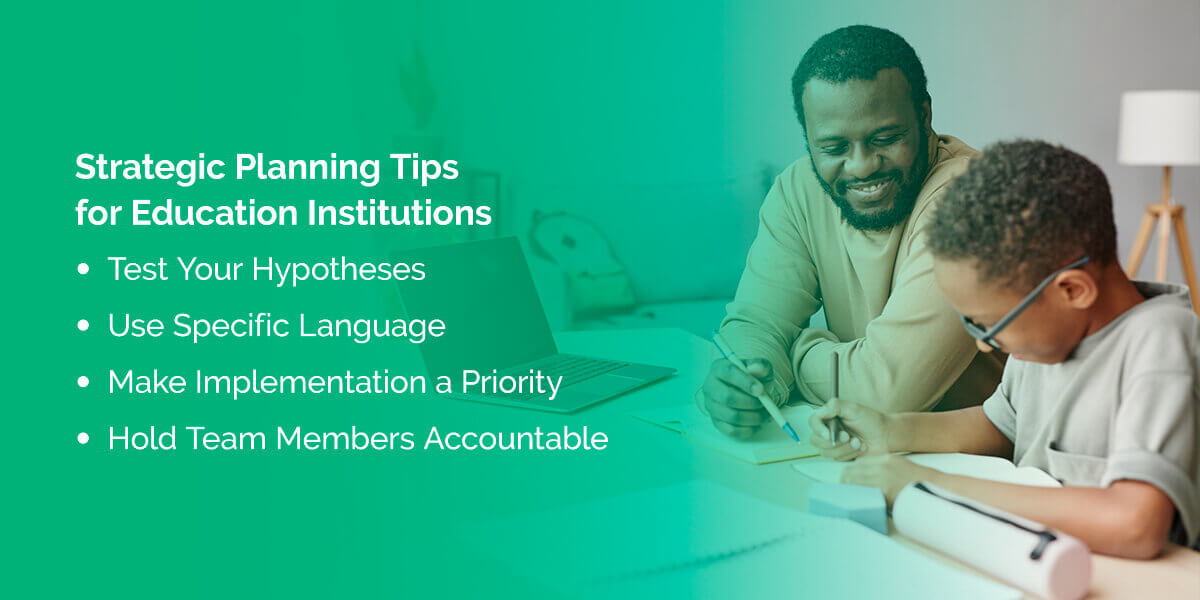 Strategic Planning Tips for Education Institutions
While every school's strategic plan will look different depending on its goals and resources, the strategic planning process is often similar for colleges and universities. Explore a few tips for educational strategic planning to help you get started:
1. Test Your Hypotheses
You're ultimately hypothesizing the outcome when you set initiatives in your strategic plan. These hypotheses are often based on assumptions, though it's typically best to experiment to determine what would work and what may not. For example, if you ask your faculty to begin submitting weekly reports, conduct a quick test to ensure they can do so and have time to do so.
2. Use Specific Language
Using vague or wordy language increases the risk of confusion and the possibility of initiatives being misunderstood and ignored. Swapping out complicated words for simpler, more specific words can help ensure everyone understands your plan. It can help to have someone review the language you use to ensure nothing is confusing and everyone is on the same page.
3. Make Implementation a Priority
Because schools involve numerous departments and divisions, implementing a plan can be difficult without prioritization. Make your plan a priority to ensure it's properly implemented. Doing so is often easiest when leaders promote and require implementation.
4. Hold Team Members Accountable
Another way to make university strategic plans stick is by holding team members accountable. School performance management software allows you to track reports and other strategy-related information to determine who's completing their duties so you can keep them accountable.
Transform Strategic Planning and Execution Within Your Education Institution With AchieveIt
Educational institutions require significant planning to ensure a successful school year. Strategic planning software for higher education can help you focus your strategy despite your institution's challenges. Software like AchieveIt has features that help your team turn ideas into actions.
A few things you can do with our software include:
Solve common implementation challenges: AchieveIt makes connecting members of your team and various initiatives easy. You can track projects, keep everyone on the same page and quickly send updates.
Gain comprehensive visibility: Our platform lets you see every initiative in real time, providing comprehensive visibility over progress.
Consult with our experts: Our strategic plan experts help you execute your plan effectively. Draw on our expertise for inspiration or customize one of our templates to create your plan.
Let's actually do this. Request a demo of AchieveIt to see what we can do for you today.