Strategy Execution is a Matter of Cause and Effect: Strategic Planning and KPIs
If you were to review your strategic planning process, I would bet that all of your hard work boils down to a series of causes and effects:
You're building your plan to ensure your business grows in a positive way, so you monitor effects by reviewing certain Key Performance Indicators (KPIs) on a regular basis. Once you've outlined your desired state, you begin to develop your various strategies/tactics which you hope will cause the desired effect.
This sounds good in theory – cut and dry. Strategies in your plan should cause your business to grow, and your KPIs measure the effectiveness of those initiatives along the way. However, many of us never achieve this relationship. It's complicated. Let me walk you through two very common troublesome scenarios I encounter on a weekly basis: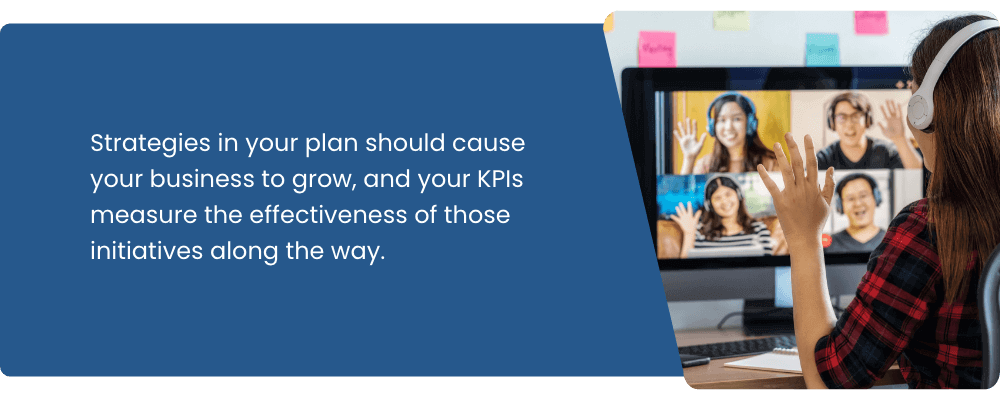 Scenario 1: KPIs Are Missing Context, So You Don't Know What's Causing Them to Rise or Fall
Company X develops a dashboard and sends out a report once a week to their management team. Everyone on the distribution list opens it, reviews the information, and begins to formulate questions based on what they see – a bunch of numbers.
For example, the management team will notice that a very important KPI is off track, but the dashboard doesn't have any more information than that. They don't know who's responsible for the item and there's little to no context around the information, so they can't enter the meeting prepared with ideas for the next steps.
This scenario usually results in a hastily put-together status update meeting where everyone gets together to spend 55 minutes discovering why the KPI is down, and only 5 minutes discussing what happens next. Life becomes a series of meetings to put out fires and you can never seem to get ahead.
When you don't have context around your KPIs ahead of time, conversations are dedicated to information-gathering instead of proactive strategy discussions.
Scenario 2: KPIs Are Missing Numbers, So You Can't Determine the Direct Effect of Any Single Cause
Company Y maintains an extensive Excel spreadsheet that contains its FY18 strategic plan. They list out their various initiatives and latest status updates – but there isn't a metric to be seen.
You now have insight into your organization's activities but it's unclear which projects "moved the needle" on your various KPIs. There's no alignment between the desired outcomes for the organization and the activities team members are working on every day.
If you're living in Scenario 2, there's a term that's used quite a bit which is, "Let's just see how it goes." You know the items in your plan aren't going well, but you don't have enough data to make any meaningful changes; you just hope that time will cure-all. At the end of the year, the measure of success is how many activities everyone completed instead of which outcomes improved.
The KPI-Based Strategy Equation
I would argue that both scenarios listed above are troubling because they're terribly common. If you identify with either scenario, the root cause of the problem is that you only have access to half the story.
In Scenario 1, you see the quantitative information about your plans, but you can't link which activities are driving your numbers up or down. In essence, you have complete visibility into the effect side of the equation.
In Scenario 2, you know the qualitative status of the various activities throughout your organization, but you don't know if they're driving outcomes. As we discussed earlier, the only reason you're embarking on a set of activities is in the hopes of improving business outcomes. If you are only reviewing causes, you're missing half of the equation.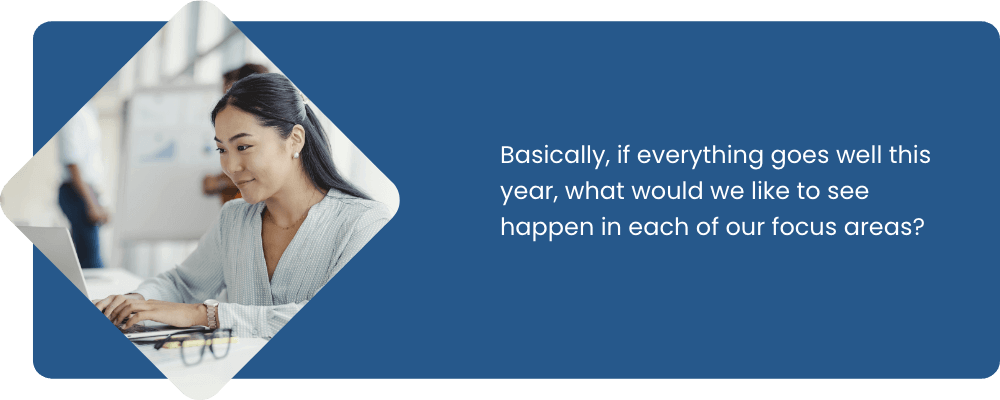 How to Solve Strategy Execution with KPIs
You owe it to yourself to develop a process that incorporates both the quantitative aspects of your plan with the qualitative activities your team is working on. This can only be accomplished if you're taking time during the creation of your plan to connect outcomes to activities.
I find it best to identify 3-5 Key Areas of Focus for your organization and develop a goal statement that outlines what "good" looks like. Basically, if everything goes well this year, what would we like to see happen in each of our focus areas?
Once that exercise is complete, develop 2-3 KPIs for each focus area that would clearly outline the health of each area. Remember to include the words increase, decrease or maintain in the development of your KPIs. Using this approach will ensure you don't create a list of activities – that don't measure success – because quantitative items can only move up, down, or stay the same.
Finally, I would look at each KPI and ask myself, "What activities would help move that item in the right direction?" Many times this area of your plan is reserved for "strategies," which are basically the big projects you feel will make a positive impact.
The last step is to break down each of your strategies into slightly smaller chunks and call them "tactics." (Note: If your strategies are set to last a year or more, you need to identify progressive success criteria at frequent intervals throughout that year+ to get a more accurate measurement.)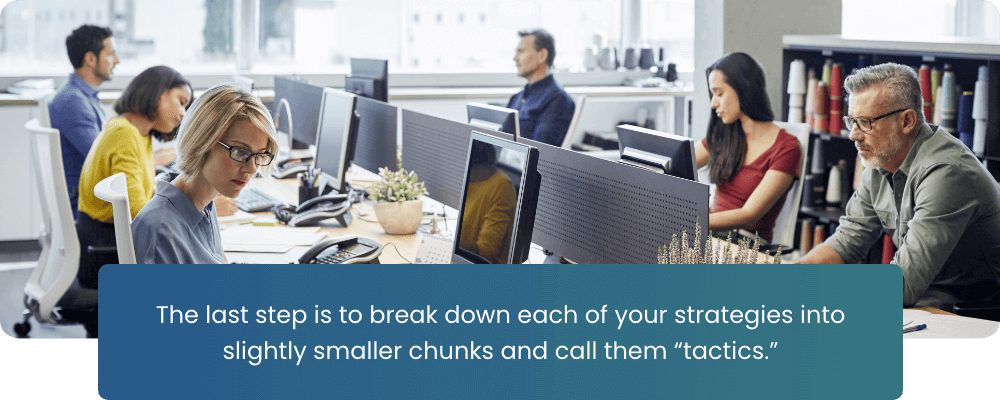 KPIs as a Strategic Planning Tool
It's clear how the qualitative/quantitative approach to planning with KPIs would allow you to effectively articulate what "good" looks like, which makes it easier to explain what you're working on and how it's impacting outcomes.
If you follow my suggested approach, you can understand the relationship of causes and effects in your strategic plan, and therefore be able to make smarter, faster, and better business decisions. If you find yourself in either Scenario 1 or 2 please reach out to me and I'll be happy to help.
About AchieveIt
AchieveIt is the platform that large organizations use to get their biggest, most important initiatives out of the boardroom and into reality. Too many great ideas never quite make it across the finish line, because there's no real way to keep everyone on course and keep everything on track. What does it take to actually guide these initiatives all the way through to completion? You've got to:
Get everything in view – so you can see what's happening with every initiative, at every level, from the enterprise to the individual, in real time.
Get everyone engaged – with an easy-to-use platform that connects your organization from the executive leadership to the project teams, keeping everyone accountable and on the same page.
Get every possible advantage – not only because you have the premier platform in this space, but because you can draw on the experience and best practices of our execution experts.
That's why everyone from global corporations, to regional healthcare systems, to federal agencies have turned to AchieveIt for their Integrated Plan Management. Let's actually do this.