As a nonprofit organization or charity, it's important for you and your team to be able to reach a wide audience of like-minded individuals who are passionate about supporting your cause. By identifying your goals, the purpose of your work and the encapsulation of your values, you can send a strong message to the public and attract more donors and volunteers. Mission statements allow you to broadcast what your organization works to accomplish and the vision you hold for the future and your general ideals.
If your current mission statement does not reflect your true values or reach the audience you intended, it's time to reevaluate it. A mission statement is critical to your nonprofit or charity because it provides those who are unfamiliar with your organization with an understanding of your primary goals, purpose, beliefs and intention in a few sentences or less. In this post, we'll assess how to write a mission statement for charities and nonprofit organizations.
In This Article
What Is a Mission Statement for a Nonprofit or Charity?
A mission statement expresses an organization's core purpose and values. It's a simple, yet powerful, statement that represents the reason behind your organization and what you plan to bring to your audience. Your mission statement should be clear and concise but use memorable language that inspires others to support the work you do in your nonprofit or charity. Ultimately, you and your audience should be able to recite your mission statement by heart, so creating a phrase that stands out is key.
A mission statement often explains why you founded the organization and its goals, values or what it serves to accomplish. It should answer the following questions:
What do we do?
For whom do we do it?
What is the benefit?
However, a mission statement shouldn't simply declare why your organization is the best in your field or how your charity provides the best service or events. Instead, it should take a unique stand on how your organization makes the world a better place or contributes to overall good.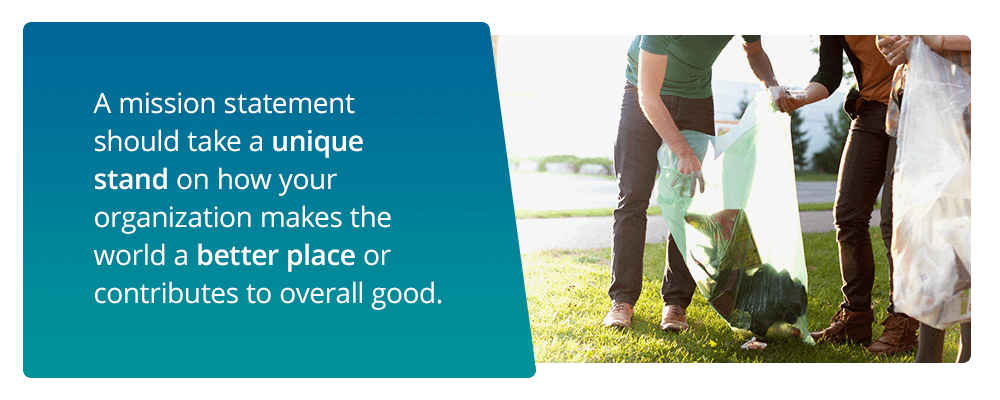 Questions to Ask When Crafting a Mission Statement
Before you develop your nonprofit mission statement, consider the following questions to help you keep it concise and ensure it encompasses the goals of your organization:
How long is the statement? If your mission statement is longer than 15-20 words, try to create a tagline from it between six and eight words.
Does it communicate the organization's message clearly? Clearly articulate your organization's purpose and goals without using complicated metaphors, jargon or phrases.
Is it easy to understand? The mission statement should be easy enough for your entire audience to comprehend.
Is it inspirational? Be sure to choose something unique that inspires and motivates people to learn more about your organization.
How to Write a Mission Statement for Nonprofits and Charities
Once you've answered the key questions above and laid out your core values, you're ready to start developing your mission statement! If you want to ensure you clearly articulate your organization's values and objectives, follow this five-step guide to keep you on track.
Share Real-Life Stories
One of the best ways to inspire your team to come up with a powerful mission statement is to have a group of organization members write down or discuss personal stories of how your nonprofit or charity has made an impact. These stories can help you determine your organization's strong points and how you have made a real difference. Have each member present their story to the group and record the responses.
Identify Common Threads
Examine the stories you've shared and highlight common elements that occur, such as the problems you've solved, the actions you've taken or the people you've helped through your nonprofit or charity. As you circle or underline patterns from your group discussion, you'll soon recognize where your organization stands out the most, such as helping animals get adopted or providing meals for a local shelter.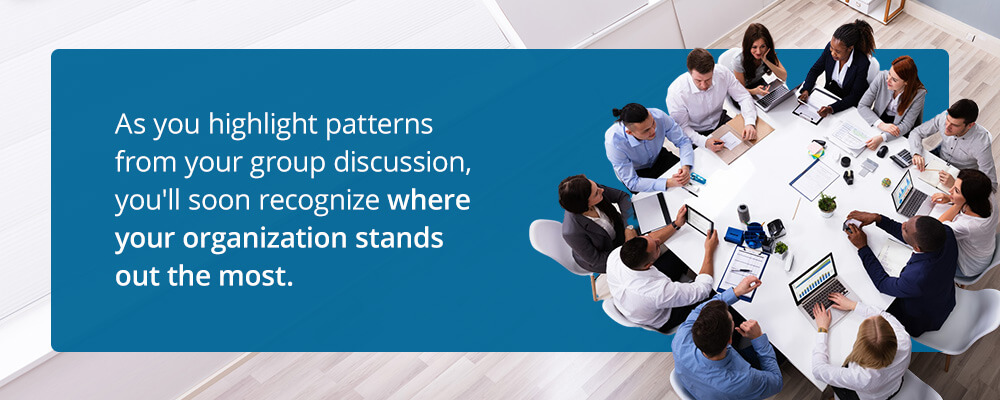 List and Categorize Commonly Used Phrases
After marking the common words and phrases used in your stories, identify which ones are most significant or show up more than others. For example, you might find that your members used the words "helping," "inspiring," "providing" or "quality" the most. Select these keywords and keep them in a new list.
Utilize Mission Statement Building Blocks
Next, allocate each of these words and phrases to the six building blocks of a mission statement, which include:
Actions: What you do.
Beneficiaries: Those who benefit from your work and services.
Services: The services you provide.
Problems: What your organization works to solve.
Causes: The causes you support.
Partners: The key partners in your work.
Craft Your Mission Statement
Finally, it's time to take these personal stories and turn them into your first charity mission statement draft. Choose between two to five building blocks from the previous step and begin writing out different versions of your charity or nonprofit's mission statement. When you're done, discuss with your team and narrow down your top three choices and decide on the best one.
As you create your mission statement draft, keep these tips in mind to ensure your statement is unique, accurate and well-defined:
Make your mission statement personal, simple and specific.
Use the present tense.
Choose phrasing that's easy to memorize.
Avoid using industry jargon or words that the general public wouldn't understand.
Ask for feedback from those in your organization.
Examples of Nonprofit and Charity Mission Statements
Before deciding on your final mission statement, you can look at those from other organizations to visualize how it grabs the audience's attention and reflects the purpose of the nonprofit. Here are some examples of nonprofit mission statements from various companies and organizations worldwide that you may find inspiring for your own organization or charity:
Make-A-Wish: "We grant the wishes of children with life-threatening medical conditions to enrich the human experience with hope, strength, and joy."
Charity: Water: "Believes that we can end the water crisis in our lifetime by ensuring that every person on the planet has access to life's most basic need — clean drinking water."
ASPCA: "That the United States is a humane community in which all animals are treated with respect and kindness."
Beckman Research Institute Of The City Of Hope: "Treating the whole person, not just the diseases."
Save the Children: "A world in which every child attains the right to survival, protection, development and participation."
Fidelity Investments Charitable Gift Fund: "Further the American tradition of philanthropy by providing programs that make charitable giving simple and effective."
Humane Society Of The United States: "The mainstream force against cruelty, exploitation, and neglect."
Solid Ground: "To prevent and end homelessness for families with children in the communities we serve through housing, resources and opportunity."
AchieveIt Strategic Planning for Nonprofits and Charities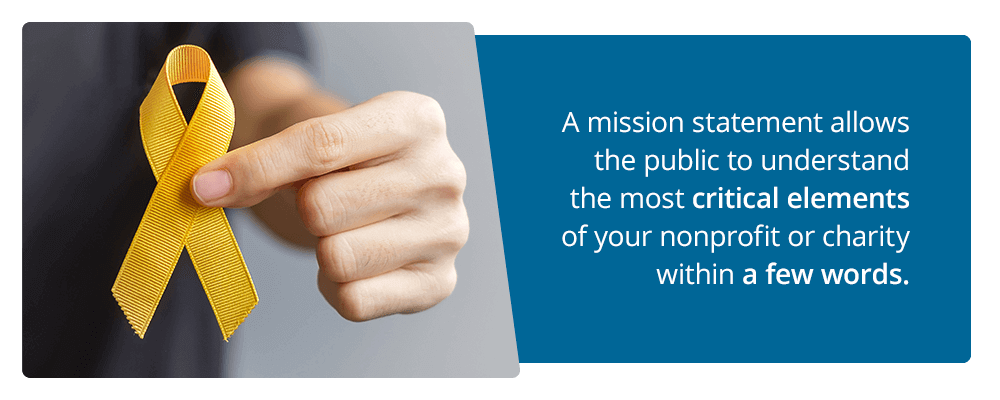 A mission statement is a foundational element of your organization because it allows the public to understand the most critical elements of your nonprofit or charity within a few words. Whether you're writing a mission statement for the first time or rewriting your current one, it's important that you and your team can put in the required effort to live up to the statement you give to the public. However, this can be difficult to manage when you're juggling many other organizational responsibilities.
At AchieveIt, we help nonprofits and charities like yours deliver more of their mission by helping you connect, manage and execute key plans and initiatives. With our strategic planning solutions for nonprofits and charities, we make viewing insights, improving collaboration and enhancing communication more accessible across all team members to help you actualize your goals.
The easier it is for you and your members to meet deadlines, complete projects and hit your objectives on target, the more confident you can be that your organization is living up to your mission statement. To learn more about how software from AchieveIt can help your nonprofit or charity, contact us today or request a demo online.