Performance Management — a term that has been gaining momentum in recent years. Organizations have shifted more focus and resources into managing their most important asset – Human Capital. The process for performance management is far from standardized though. Some organizations use a dedicated performance management solution. Others use manager-facilitated reviews and peer evaluations. Others use ad-hoc meetings between stakeholders. Regardless of the method, the ultimate goal of performance management is to create a strong feedback loop that encourages communication between stakeholders, and ultimately enables continuous improvement.
An effective performance management loop starts with a strong execution plan for each stakeholder. Without an understanding of what needs to get done, and why, managers have little foundation on which to evaluate employee performance.
With this in mind, AchieveIt's plan execution platform has a collection of purpose-built features to aid all types of performance management initiatives. By marrying strategy formulation with employee performance against said strategy, organizations are much better positioned for success.
With the foundation of plan execution in mind, we have put together four tips for effective performance management. This will aid leaders in the formation and execution of performance management initiatives.
4 Stages to Create a Culture of Execution
Download this guide to learn how to build an organizational culture that amplifies execution and results.
Tip #1 – Set Clear Expectations Around Responsibilities and Deliverables
Why This is important: As mentioned above, performance management works when management and employees have a mutual understanding of what needs to be accomplished, and why. Having a clear roadmap of responsibilities allows everyone to focus on projects, manage time, and keep the organization on track for success. When management and employees outline the scope of work, discuss deliverables, and establish agreed-upon deadlines, there is an adequate foundation for performance evaluations.
How AchieveIt Helps: When building in AchieveIt, plan administrators are prompted to complete three main elements of a plan card. What is a 'plan card?' The plan card is the central place to view and update all plan item information:
First, what is the deliverable (title of the card and description)?

Second, who handles the deliverable (the assigned to party)?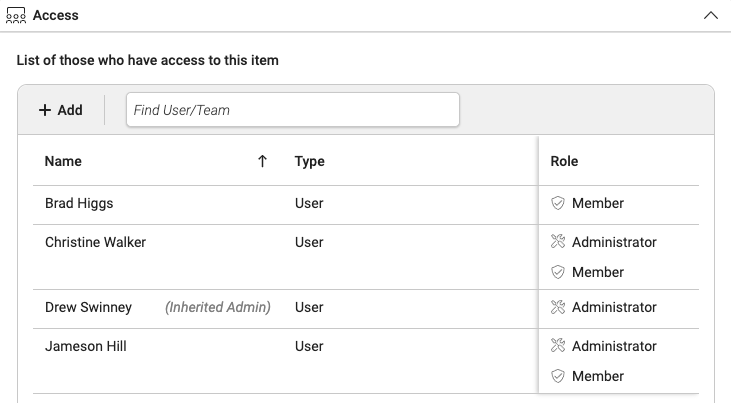 And third, when is the deliverable due (due date)? With these three elements in your records and visible to stakeholders, there is clarity around what needs to be accomplished.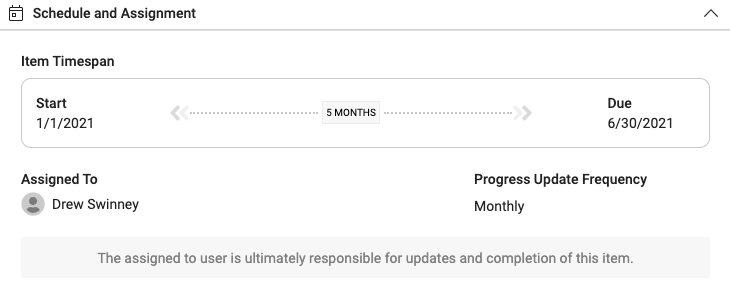 Tip #2 – Communicate Regularly About Execution Progress and Impediments
Why This is Important: Most plans and projects are longer-term in nature, often spanning weeks or months depending upon the complexity. But often, teams meet only once a week, or worse once a month, which tends to leave managers and stakeholders in the dark about progress on initiatives. By encouraging and establishing a system for all stakeholders to regularly communicate about initiatives of strategic importance, leaders will ensure timely execution and avoid costly delays.
How AchieveIt Helps: When setting up a card in a plan, the plan administrator can schedule periodic update requests from the responsible parties. The timing of these update requests can be quarterly, monthly, weekly, or even daily. All update requests are delivered to the assignee's email inbox and can be completed in three clicks. Keeping everyone informed on progress has never been easier.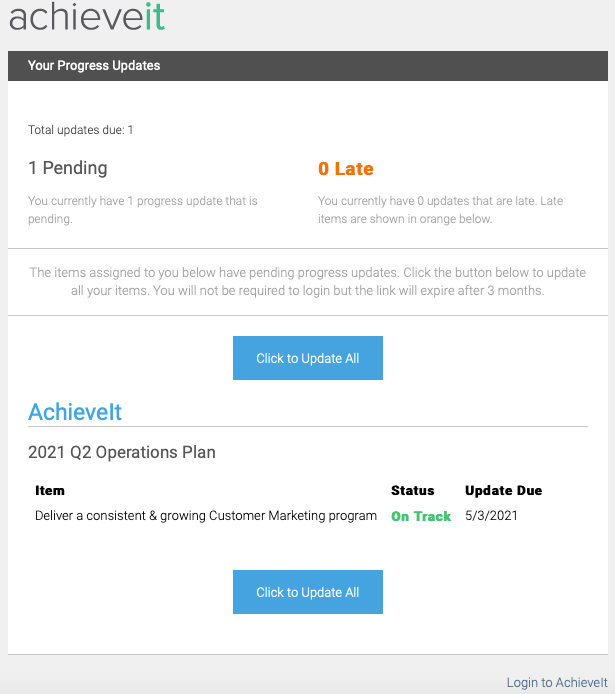 Tip #3 – Establish Coaching Sessions and One on One Reviews to Help Bolster Performance
Why This is Important: The most important aspect of the feedback loop is, of course, the feedback! When evaluating performance, constructive coaching is important when trying to establish a culture of continuous improvement. Coaching sessions and scheduled one-on-ones give both managers and employees a forum to discuss what happened, why it happened, and how everyone can do better forward. It is important to use concrete examples of performance, rather than anecdotal feedback, to ensure optimal results moving forward.
How AchieveIt Helps: Each card affords all stakeholders the opportunity to comment on initiatives as they are being executed. This comment stream provides depth and context to the initiative, giving both the manager and employee a record to reference when conducting a performance evaluation. Unfortunately, details of a project are often lost with time. By using AchieveIt as a system of record, organizations can be sure nothing is lost as project priorities change over time.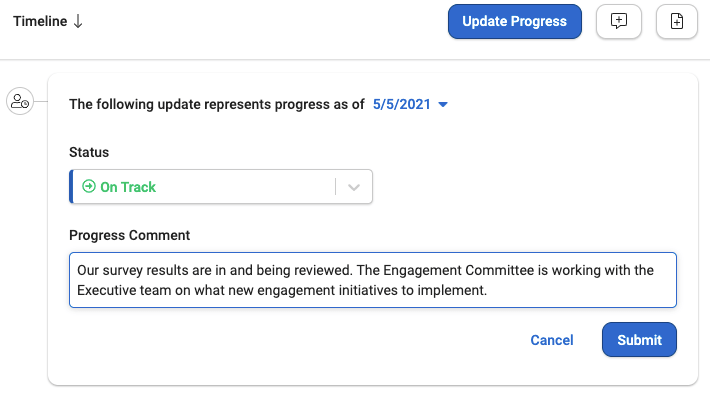 Tip #4 – Recognize and Reward Exceptional Execution
Why This is Important: Just as important as constructive coaching to promote improvement, managers should always look for opportunities to highlight exceptional performance within their teams. The power of encouragement and praise should not be underestimated when trying to lift employee performance. Rewarding exceptional performance, especially when it represents a significant deviation from the mean, can have a tremendous impact on performance and morale.
How AchieveIt Helps: When AchieveIt serves as your system of record, complete with the comments on a project, it can serve as a reference point in team meetings to showcase exceptional execution. Showing completed items and the corresponding context gives managers a foundation on which to build praise. And because the system is available for viewing by all stakeholders, successful projects can serve as a model for others to emulate for repeated success.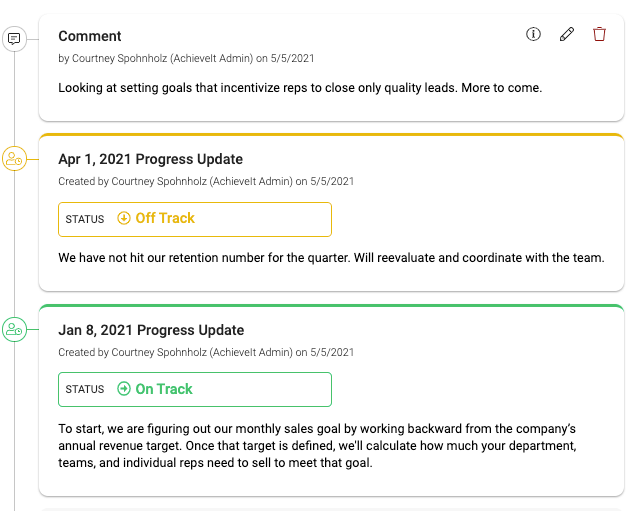 Performance management is a process intended to drive improvement across the organization by focusing on performance feedback. In order for this type of evaluation system to be effective, it must promote communication and engagement between stakeholders which will lead into continuous improvement.
About AchieveIt
AchieveIt is the platform that organizations use to get their biggest, most important initiatives out of the boardroom and into reality. There are so many great ideas never quite make it across the finish line because there's no real way to keep everyone on track. You've got to:
Get everything in view in real-time
Get everyone engaged while also holding them accountable
Get every possible advantage drawing on the experience and best practices of our execution experts
That's why everyone from global corporations, to regional healthcare systems, to federal agencies have turned to AchieveIt for their Integrated Plan Management. Let's actually do this.
Ready to improve your plan execution?
Organizations of all types leverage AchieveIt to connect, manage, and execute their most important initiatives. Replace manual processes & siloed systems with interconnected plans in a single, automated platform.