Organizations around the world are learning how businesses will evolve during 2020. Many organizations are even looking to the future where remote work may become more permanent. This means many will have to find a solution to launching new strategic plans and initiatives completely remotely for the first time.
A strong strategic plan plots out where your business is and where it's headed. It enables the opportunity to define your mission, your values, and supporting goals and initiatives. In this time of social and economic uncertainty, the importance of a strategic plan can't be overstated.
It's important to ensure the continuity of your plan & where new strategies are needed. In particular, assess where remote work plans need to be developed or adjusted.
We've put together a few tips for mastering strategic plans and initiatives in your newly established remote work environment.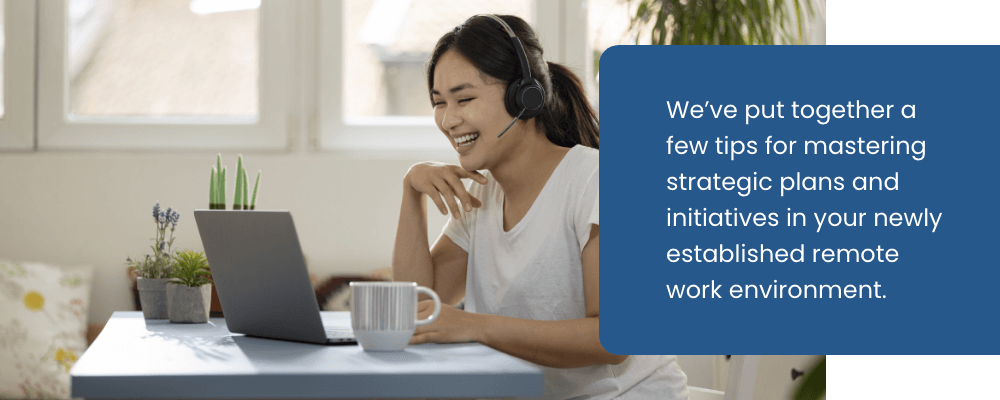 Align your mission statement, goals, and objectives
Alignment has always been important. It drives the cascading of work throughout the organization. From executives to front line employees, proper alignment ensures everyone understands what is important and why it's a focus.
Now that your company may be temporarily or permanently remote, alignment is more important than ever.
Ensure strong alignment across your organization and plans. Where required, add principles for remote work into your mission statement and values. State how your organization is committed to accomplishing its mission with a fully remote workforce. Identify what goals and initiatives must be focused on to successfully ensure long term business continuity remote.
Distributed work environments were growing in popularity before today. Unfortunately, the transition was accelerated for many organizations, creating gaps in plans and initiatives. Closing the gaps is crucial to long-term success.

Improve Transparency
While always important, ensure transparency is a focus. When people can't easily walk around for updates or a pulse check, virtual transparency is key.
Leverage dashboards that reflect the progress of your company's strategic goals and initiatives. The previous method of an in-office poster or dashboard on the office TV no longer works. Find ways to distribute updates and status virtually. Keeping people connected to company objectives and accomplishments is key to an engaged organization.
Promote Individual Accountability
The kneejerk reaction of many organizations is to find ways to monitor individual activity. While it may work for some teams, many individuals reject the micromanagement. This either occurs through worse results or disengagement. Instead, find ways to promote intrinsic motivation.
Give employees ownership of their own accountability. Leverage standard update processes as a checkpoint for accountability. Before forcing micromanagement tools, find ways to empower employees to own their own success and accountability.
This five level strategic plan template will help you create a plan that's built around best practices for optimized execution.
Devise Remote Policies
With a shift to remote work, devise policies to increase and maintain engagement, productivity, and accountability.
Tech Republic recently identified 10 ideas companies should include in their remote policies. We've highlighted a few below, with our added thoughts:
Availability: While we promote encouraging a flexible work schedule, having consistent availability is key. Consistent schedules can help teams and organizations establish clear expectations and maintain strong communication. Include recommendations on key business hours and empower managers to lead their teams as best fit.
Physical environment: Provide recommendations on comfortable remote work set-ups. Where possible, include information on required or recommended equipment. If your company has the means, find ways to help employees improve the comfort of their new workspace. This could be as simple as covering the expense of WiFi upgrades and purchasing additional monitors for home offices.
Response time: Include recommendations for responding to clients, teammates, and supervisors. While many are familiar with digital communication tools like Slack and Skype, these tools are brand new to others. Providing guidelines can help continue strong communication amongst teams.
Measuring productivity: Without micromanaging, find new ways to help employees maintain productivity. Track key metrics like the number of cases resolved, the number of client meetings, and the number of lead generation activities. Provide employees with access to this information and consider new ways to keep engagement and productivity high. Focusing on outcomes instead of hours will empower your team to excel.

Keep a Strong Culture
Culture is key. Without a strong culture, employee engagement declines, leading to decreased results and execution. A remote work environment creates an exciting and challenging opportunity to create a new work culture. One that is conducive to both in-office and remote workers.
In addition to our specific recommendations on a strong remote culture, here are a few ideas:
Meetings: Leverage video whenever possible to simulate the in-office feel.
Communication: Provide a variety of ways to continue strong communication. Promote habits of engagement, listening, and follow-through in all mediums.
Activities: Keep happy hours, birthday celebrations, and anything else that makes your company special. Just do them remotely.
Find new ways to implement & track your plan
A shift to remote changes the way plans and processes can be managed. No more chasing folks down the halls. Status meetings, which were already ineffective, are now even harder. With these increased difficulties, planning and execution processes may be forced to evolve.
It's essential for industry leaders to think long-term for executing plans and initiatives with a growing remote workforce. And the key to success is continuing to implement your goals, plans, and initiatives.
And let's be real, the previous manual methods may not be successful while remote. Find ways to improve the processes related to collecting updates, tracking initiatives, and reporting progress. This will keep the execution of your most important initiatives on track.
Purpose-built software and improved processes increase the ability to effectively execute strategic plans, even with a remote team.
About AchieveIt
AchieveIt is the platform that large organizations use to get their biggest, most important initiatives out of the boardroom and into reality. Too many great ideas never quite make it across the finish line, because there's no real way to keep everyone on course and keep everything on track. What does it take to actually guide these initiatives all the way through to completion? You've got to:
Get everything in view – so you can see what's happening with every initiative, at every level, from the enterprise to the individual, in real time.
Get everyone engaged – with an easy-to-use platform that connects your organization from the executive leadership to the project teams, keeping everyone accountable and on the same page.
Get every possible advantage – not only because you have the premier platform in this space, but because you can draw on the experience and best practices of our execution experts.
That's why everyone from global corporations, to regional healthcare systems, to federal agencies have turned to AchieveIt for their Integrated Plan Management. Let's actually do this.
Ready to improve your plan execution?
Organizations of all types leverage AchieveIt to connect, manage, and execute their most important initiatives. Replace manual processes & siloed systems with interconnected plans in a single, automated platform.