Jamaica Eilbes with Robert W. Baird
Robert W. Baird is an American multinational independent investment bank and financial services company. It is the principal U.S. operating subsidiary of Baird, an international, employee-owned financial services firm providing investment banking, capital markets, private equity, wealth management, and asset management services to individuals, corporations, institutional investors, and municipalities.
With more than 3,100 employees, Baird has offices in the United States, Europe, and Asia, and is one of the largest privately held, full-service investment firms in the United States. Baird manages and oversees more than $305 billion in assets for clients around the world and employs more than 4,600 associates.
Outside of the United States, Bair has an operating subsidiary in Europe, and both an operating subsidiary and investment banking team in Asia.
Our team sat down with Jamaica Eilbes to learn more about the day in the life of our customers. To learn more on how Robert W. Baird uses AchieveIt, check out their customer story.
Robert W. Baird Customer Story
Download this customer story to better understand how a financial institution gained accountability and transparency on their projects with AchieveIt.
What are your roles and responsibilities at Robert W. Baird?
I am the Vice President, Strategic Program Operations Manager. My role is to make sure all the project work we're working on is of business value. The work that we're bringing in that our small dedicated IT team is working on, I make sure they are working on the right thing. I support 6 groups and host a committee called the "Strategic Prioritization Resource Committee" – (SPARC because we love our acronyms).
What does your typical day-to-day look like?
My somewhat typical day-to-day consists of managing each piece of the operations organization. Each area of the organization has a "Tech Lead" and each Tech Lead works with their entire team, which can be as little as 7 or as large as 200 people. Then everyone comes back to the table and says "these are the projects we would like to accomplish." We weigh the projects against business value, dates, importance to the firm, and who's the sponsor. Through a discussion and internal methodology (an internal rating scale from 4-12 – based on complexity, timing, and dates), we decide which projects to prioritize and input all that information into AchieveIt. We redefine every 4 weeks, constantly grooming the plan to make sure we are working on the right things.
What motivates you to wake up and go to work?
Every day is different. And with Financial Services, we are very regulated. We may be going down a path thinking everything is fine and then we have to hit the brakes because new regulations are passed, and/or something breaks and we're being audited, so then we have to fix it.
The part I love is problem-solving and trying to figure out how to re-connect the dots to get everyone back on track. Additionally, I love working to truly figure out what happened — is it fear? angst? or historical things that have happened? I thrive on the whole change management piece because I like to think, "who can I help and what problem seems to be the highest priority now?" — as well as the relationship piece that comes with working across the organization.
What is the hardest part about your job?
The hardest part is knowing when to raise the white flag. I want to continue to build that relationship so badly, but sometimes being so transparent comes at a cost. Take status lights, for example. We have conversations around the definition of what makes an item "off track." Some people take it personally, but it's just the truth. We need everyone to be in sync.
What has been your biggest accomplishment in your current role?
Getting the firm to buy into AchieveIt! But once we started using the tool and everyone saw the benefits of the platform, they started to understand what was happening. It has built so much confidence!
What is something most people don't know about you?
I am named after my great great grandmother, Jamaica. It's funny because some people are like, "Should I ask her, or shouldn't I?" And then when I tell them I am named after my great great grandmother, they are usually like, "You're kidding me!" "I thought it was because your parents went on a honeymoon!" And I have to tell them no. But to clarify, she was born in Jamaica, Queens, New York.
What Jamaica & Robert W. Baird mean to us
"Working with Jamaica is like working with your best friend! She's so incredibly personable and has a way of not only listening and making you feel heard but getting you to take action. She's been an incredible champion who will not only beta test things for us at AchieveIt, but give us the feedback we need to make our tool better for all that use it. Anyone that works with her will tell you just how great she is!"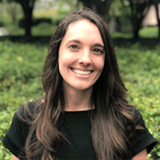 Lindsey LeFaivre | Customer Success Manager, Team Lead
Want to meet more of our Achievers?
Maybe we're a little biased, but we think our customers are pretty great. They are accomplishing amazing things every day, and we're just happy to be a small part of that. If you're interested in reading more stories of the plan leaders who had enough with the status quo and found a way to actually get things done, you can visit our Customer Story library.
We have the pleasure of working with everyone from global corporations, to regional healthcare systems, to federal agencies on their Integrated Plan Management. AchieveIt just gives the tools and training to help, but it's the leaders we work with that drive the real organizational change.
Ready to improve your plan execution?
Organizations of all types leverage AchieveIt to connect, manage, and execute their most important initiatives. Replace manual processes & siloed systems with interconnected plans in a single, automated platform.