Many organizations currently find themselves in a holding pattern. During the COVID-19 pandemic, how do you approach the strategic planning process?
With impacts sweeping across industries, companies of every size are affected. Many strategic plans have come to a screeching halt to address immediate concerns about the crisis. Oh, and this doesn't even consider that many teams and organizations are working remotely. Executing strategic plans in a remote work environment has its own challenges.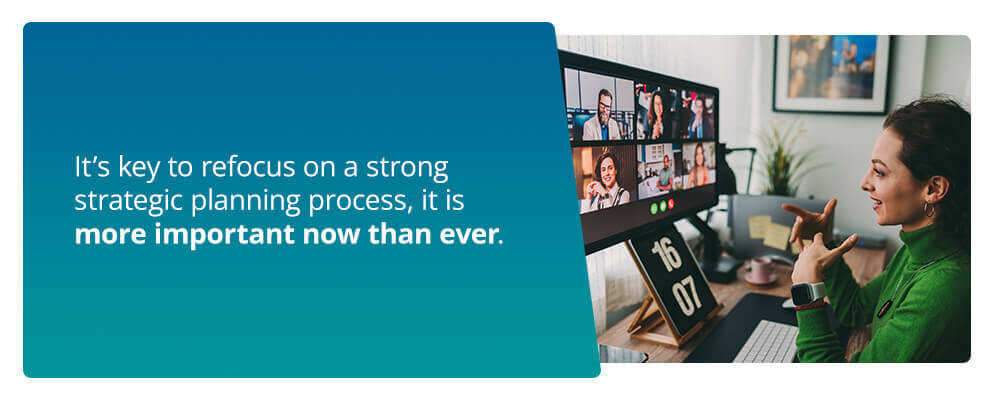 As we approach a 'new normal' and organizations begin to look to the future, it's key to refocus on a strong strategic planning process. Strategic planning is more important now than ever.
Follow these steps to make the strategic planning process more manageable, even amid all the uncertainty.
1. Define Your Recovery
6 months to a year ago, your organization set a vision for the future. "This is what we will accomplish over the next year" is the intent behind any plan.
With many organizations upended, the current state is much different than your strategic plan from a year ago. It's even more likely that things won't feel normal in the continued future. For that reason, one of the first steps involves starting to reimagine what the new 'normal' will look like.
In reimagining the new normal, define what recovery means for your organization.
What must happen for the business to remain both viable and competitive? What organizational and departmental targets will be mission-critical? What must occur for you to ensure that you can continue to serve and meet the needs of your clients?
According to Trevor Cartwright in Forbes, begin the strategic planning process by establishing a small set of non-negotiable decision criteria. This will provide objective guidance for evaluating strategic moves you might make in the weeks and months ahead.
The collaboration will be a key component in defining recovery. Ensure that the right people are a part of the conversation at the onset of your strategic planning process. This will increase the likelihood of identifying the key initiatives for your organization's recovery.
2. Evaluate Your Current Strategic Plan
After establishing your non-negotiable decision criteria and defined recovery, evaluate your current strategic plan. Leverage these new criteria to gauge the relevancy of your plan.
Deprioritize any goals, targets, and initiatives that don't align with the mission-critical recovery plan.
If there are elements of the strategic plan that do align with the decision criteria for recovery, evaluate the timeline accuracy. It's likely that timelines will shift, and resources deployment will need adjustment.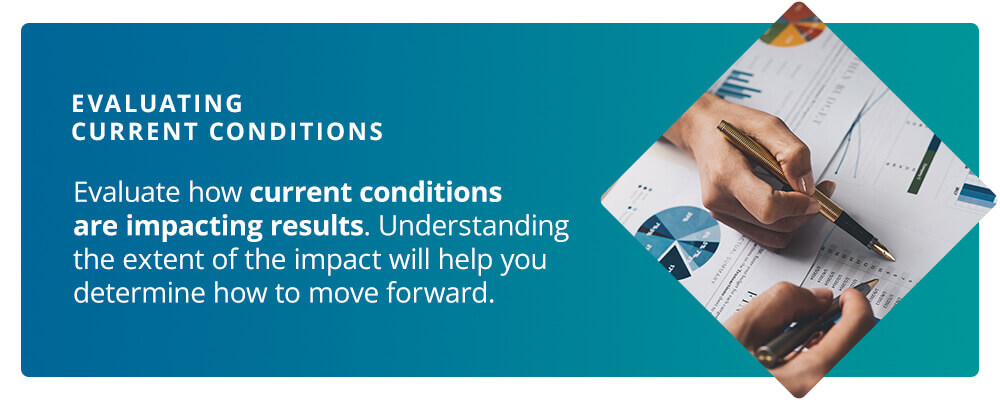 Lastly, evaluate how current conditions are impacting results. In some cases, COVID-19 will not impact results at all. In others, it will impact results dramatically. Understanding the extent of the impact will help you determine how to move forward.
3. Create Your New Plan
With your decision criteria set and current plan evaluated, it's time to develop your recovery plan based on your vision of 'the new normal.'
The recovery plan that you develop should detail both the 'how' and the 'why' with clear alignment.
With so much uncertainty and even more variables, it's important to keep a few things in mind as you create your new plan:
Plan short-term but think long-term. Your new plan will likely be shorter-term, to get you to a place of stability and recovery. But don't forget that longer-term strategic thinking will help your future viability.
Flexibility is imperative. Your non-negotiable targets might not change, but the ways in which you go about achieving them might.
Build scenarios. Any planning process begins with assumptions and bets. Clearly identify what those assumptions are and create best-case scenarios, worst-case scenarios, and most-likely scenarios. This will lend itself to agility and realistic decision-making.
4. Rally the Troops
Let's face it. Morale has probably taken a hit. Engagement might be at an all-time low as people collectively face unprecedented personal and professional challenges. This must be acknowledged.
Yet there is an opportunity to shift the narrative and generate hope. As difficult as things are, you have started the process of recovering, which means that a recovery is still an option. Your organization can still recover from this crisis.
Communicate what will be required organizationally to successfully recover. Emphasize your commitment to doing so. This could take the form of investments, divestitures, expense cuts, restructuring, new technology and infrastructure, and new or modified roles.
5. Look to the Future
The pace of change has been very rapid. This leaves leaders, organizations, and employees to engage in quick decision-making during the crisis. While it seems scary, it often has led to beneficial outcomes, like rapid learning.
How can your organization take the learnings from this experience and carry it forward? What can be done to ultimately make the organization better, more agile, and more prepared for the future?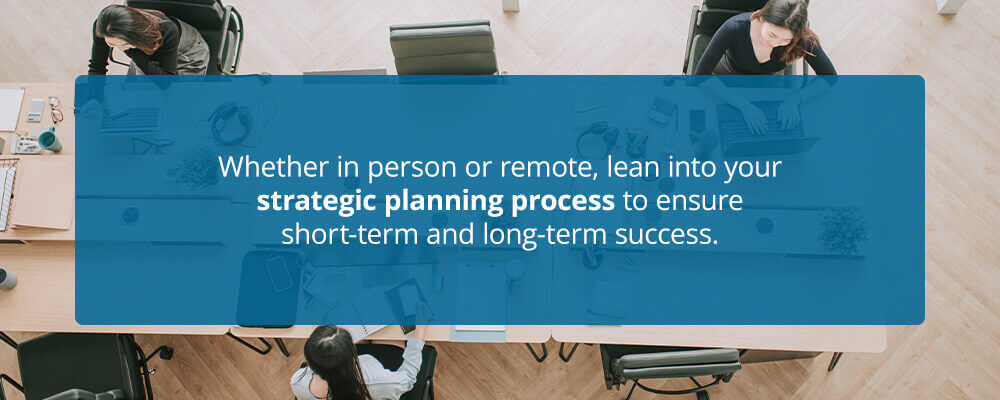 We hope these tips help redefine your strategic planning process. Every organization is affected differently, but strategic planning is more important than ever. Whether in person or remote, lean into your strategic planning process to ensure short-term and long-term success.
About AchieveIt
AchieveIt is the platform that large organizations use to get their biggest, most important initiatives out of the boardroom and into reality. Too many great ideas never quite make it across the finish line, because there's no real way to keep everyone on course and keep everything on track. What does it take to actually guide these initiatives all the way through to completion? You've got to:
Get everything in view – so you can see what's happening with every initiative, at every level, from the enterprise to the individual, in real time.
Get everyone engaged – with an easy-to-use platform that connects your organization from the executive leadership to the project teams, keeping everyone accountable and on the same page.
Get every possible advantage – not only because you have the premier platform in this space, but because you can draw on the experience and best practices of our execution experts.
That's why everyone from global corporations, to regional healthcare systems, to federal agencies have turned to AchieveIt for their Integrated Plan Management. Let's actually do this.
Ready to improve your plan execution?
Organizations of all types leverage AchieveIt to connect, manage, and execute their most important initiatives. Replace manual processes & siloed systems with interconnected plans in a single, automated platform.