Goal setting is one of the most constructive, practical ways to prioritize the success of your business, company, or organization. Effective goals show you the way to success. Considering various goal-setting methods may supply opportunities for altering and transforming your objectives to satisfy your needs. Goals should focus on your overall purpose, vision, and actionable steps.
Your organization can use several of these techniques to clarify the development of your most important goals. Here are some of the best methods for effective goal setting. 
In This Article
1. Write Goals Down
Physically writing your goals down can help you keep track of them and why they're important. Seeing your goals every day may solidify your intentions and prevent you from making excuses, transforming your goals from thoughts into actions. Writing goals out can highlight the power and passion behind your vision and bring it to life. 
When writing down your goals, make sure that you focus on the positive aspects of what you will do instead of what you won't do. Create an emphasis on the positive direction you want to go. Visualizing and defining your goals in this way will make a significant impact when you finally accomplish them, leading to a greater sense of gratitude.
2. Create SMART Goals
SMART goals are an essential element of success when it comes to goal-setting methods. SMART goals help organizations set and achieve predetermined objectives, reducing the implementation of vague or ineffective goals that lack guidance. Generating goals that are trackable and consistently monitored will lead to more powerful changes. 
These goals are applicable to your business and valuable for evaluating the efficiency of your performance. If you have non-specific goals, such as aiming to reduce costs, your employees may lose sight of the precise actions they should take to achieve success. SMART goals let you succeed while highlighting the particular steps you can take to get there.
Practicing these goals may help you develop proper strategies for continued success or determine the available technology you can use to get your project off the ground. You can also identify possible opportunities for growth and collaboration when implementing these measurable goals.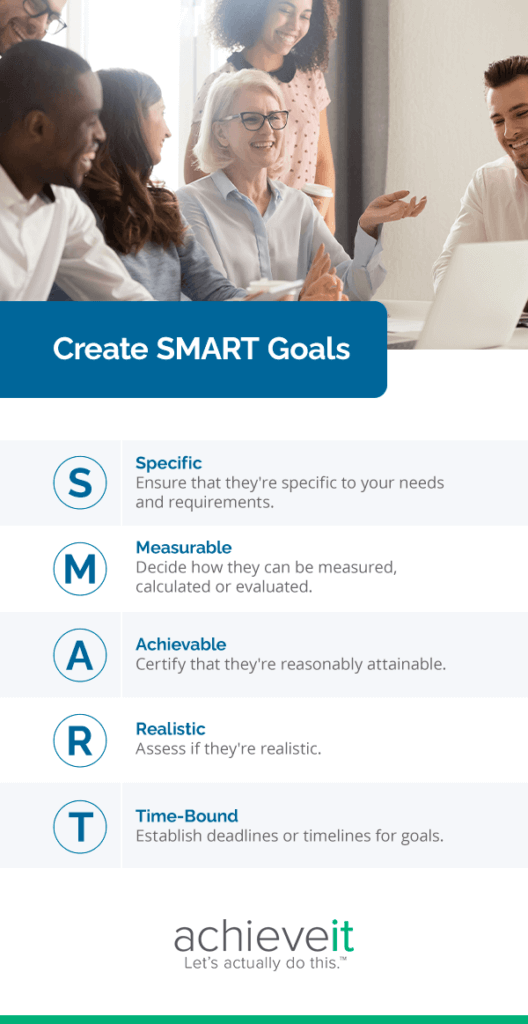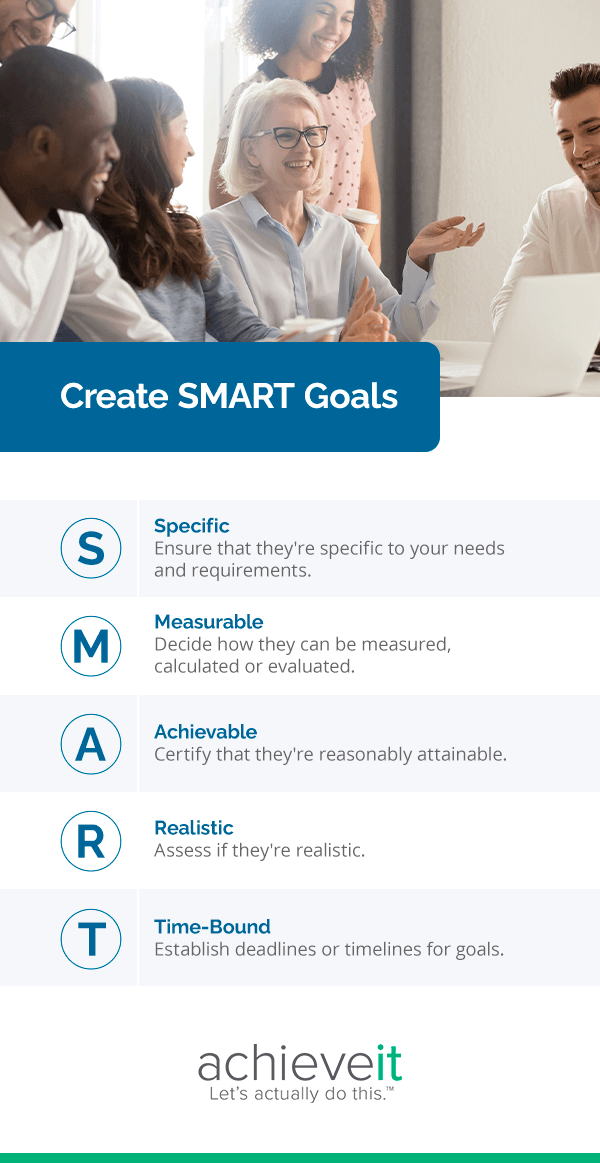 Specific
The first step in designing your SMART goals is to ensure that they're specific to your needs and requirements. Without particulars, it's easy to lose sight of your goal while trying to meet deadlines or expectations. General or indefinite goals and steps can often get quickly misinterpreted, which reduces your likelihood of seeing intended results. Specific SMART goals allow you to list exactly what you want and how you will get it.
Depending on your industry or competitive market, your goals may change as you aim for success. Questions you can ask when determining specific elements might include:
Where is your business at now, and where do you want it to end up?
What are the purposes and benefits of fulfilling these targets?
What are the possible risks or outcomes of these goals?
Who should be involved in the process of setting and meeting expectations?
What requirements or restraints are there to this process?
What particular tasks will help you accomplish your goals?
Measurable
The second step in producing your SMART goals is to decide how they can be measured, calculated, or evaluated. Measuring your goals gives you tangible, quantifiable results so you can check your progress and determine whether you've achieved your intended results. Measurable goals could include particular dates, times, numbers, or percentages. 
Comparing these criteria to past performance may help you determine the success of each step you take. Measurable goals also allow you to establish if you're surpassing your goal or falling short of it. A few questions that will help you determine measurable goals include:
How or when will you know that your objectives are accomplished?
What other indicators will you use to measure progress?
What amount of expenses and resources do you need to obtain your goal?
What data or feedback measures are in place to calculate success?
How can you track or estimate progress during the goal journey?
Achievable
The third step in generating your SMART goals is to certify that they're reasonably attainable. If your goals are too drastic or impractical, you and your team may become discouraged. It's always wise to ensure that you have the proper finances, resources, and staff before going ahead with a plan or goal. Techniques for setting goals should center on rationality to reduce the likelihood of failure. 
Focusing on smaller, incremental steps toward your goal may create enthusiasm for efficiency and confidence among your team. While setting achievable goals is important, remember that goals should be a bit challenging to produce change. Goals that are too easy may lead to a decrease in productivity or interest in reaching potential milestones. Working with your team directly can help you come up with the right balance in this area. Additionally, some useful questions that can aid this process for setting achievable goals include:
Do you have the necessary skills, experience, and resources to achieve this goal?
Do you have staff or personnel with sufficient abilities to accomplish this goal?
Does the required effort for achieving this goal align with the intended outcome?
Do you have enough time to realistically complete your objectives?
Realistic
The fourth step in creating your SMART goals is to assess if they're realistic. Effective goal-setting methods should always be relevant for your business. Aiming for a goal that seems wildly impractical may lead you and your team towards confusion that creates delays in productivity. Relevant and realistic goals will effectively steer your business or project in the direction you want to go. 
These goals can help you stay consistent and avoid falling off track. Avoid tasks and procedures that are not aligned with your ambition and don't contribute to your larger business goals. Questions that may stimulate brainstorming for setting realistic goals can include:
Do these new goals and objectives align with the overall business aspirations?
Are these goals significant and worth putting effort into?
How can you tell that these goals are relevant and worthwhile?
Do these goals accommodate other needs and desired results?
Time-Bound
The last step to initiating your SMART goals is to establish deadlines or timelines for goals. Setting deadlines can help reduce procrastination and create a sense of urgency for taking action. These time frames should be reasonable, allowing room for some challenges while keeping employees stay motivated. Following deadlines on your schedule also gives you greater satisfaction when you achieve those milestones. 
Tackling these goals before a set completion date holds you and your team accountable for meeting objectives. Assigning end dates for effective project or plan management is a great way to stimulate progress and keep employees organized and on track. Some questions that can reinforce setting time-bound goals include:
What are the deadlines or time frames for accomplishing these goals?
When should you expect significant progress in this schedule?
Is this timeframe realistic for when these goals need to be achieved?
When will your team implement the identified goals?
Would smaller, incremental deadlines be more effective?
What short and long-term expectations do you have for these goals?
3. Create Mini-Goals
If your business, company, or organization has many objectives, creating mini-goals is an excellent way to break down the desired result into workable steps. Mini-goals provide a perfect framework for significant goals that may seem overwhelming or unmanageable at first. You can implement these smaller goals slowly and effectively to succeed without added pressure. 
Another benefit of mini-goals is that you'll see success sooner with each small step that you and your team achieve. Working continuously to meet smaller goals paves the way to attainable advancement in the overall vision for your organization. These consistent, minor efforts allow for incremental adjustments to your outcome during your growth process. Mini-goals can also more easily become habits, which may accompany long-term, sustainable success.
This method will make your plans and initiatives feel more productive and profitable, leading to higher feelings of accomplishment. The motivation that comes with adequately executing your goals may propel your business forward to come up with new, innovative ideas and aspirations. 
4. Use Incentives
Using incentives, such as a rewards system, can be a great way to motivate and encourage employees and team members. This encouragement allows your team to work together to maintain progress towards your goals. Incentives provide a desirable reason to accomplish your goals within a specific timeframe or deadline. They also may boost collaboration and participation. Additionally, an incentive system can speed up your workflow and introduce rewards that bring value to your business.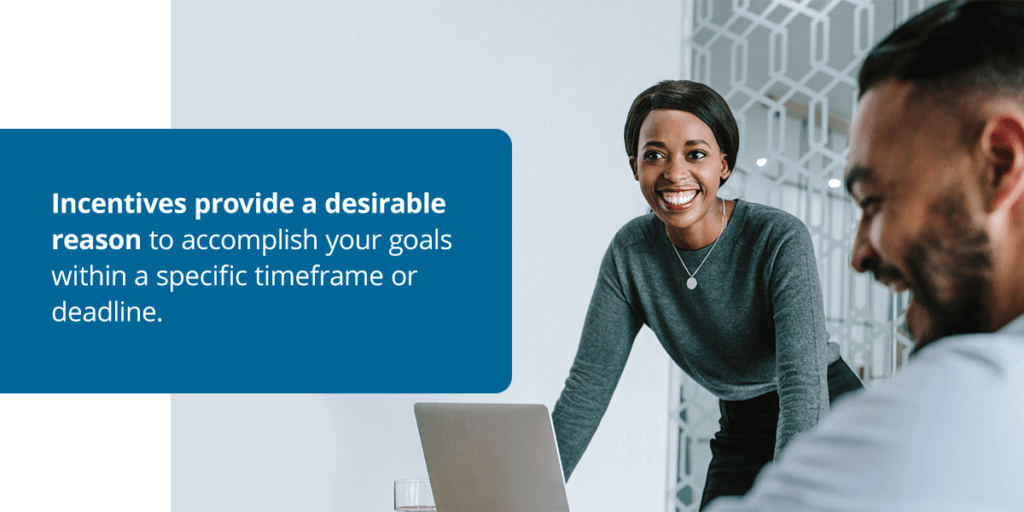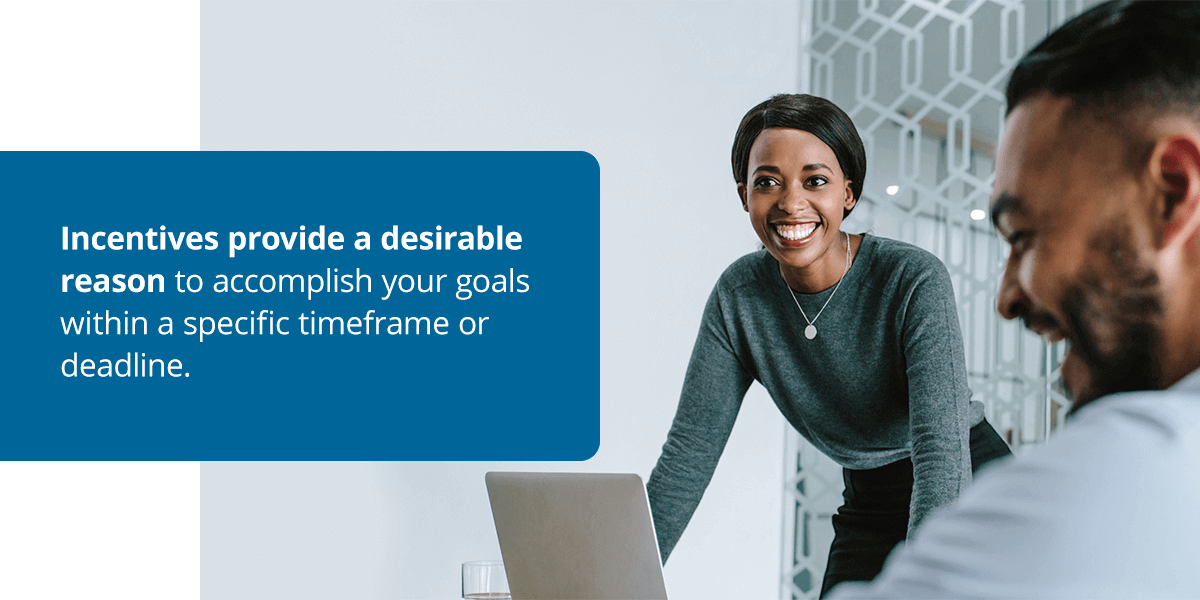 Employees will get excited to meet goals that bring success to the entire organization while also receiving personal fulfillment. Before you can implement incentives, it's essential to learn what your employees prefer or find beneficial. Common examples of incentives to use to meet goals may include:
Bonuses.
Social events or parties.
Outside services.
Raises.
Extra vacation time.
Gift cards.
Public recognition.
Providing desirable incentives or rewards can increase productivity, morale and support high performance in your company. Reinforcing your organization's values and mission while recognizing your team's hard work and dedication is important for creating a positive environment
5. Build In Accountability
Accountability is vital in any organization. While accountability can shape individual goals, it's even more powerful as a driving force for team goals. Accountability may help your business create a shared purpose and enable team members to take ownership over their successes and failures. Reinforcing the importance of accountability may also reduce excuses and increase consistent contribution. You can delegate responsibilities and tasks to ensure everyone moves towards your goals together.
Leaders and managers must uphold accountability as they may inspire employees to follow their example. When developing goals, remain honest about what's attainable for your team. Following through with the plan is easier and more effective with accountability.
This method is excellent for giving that extra push to businesses that want to experiment and bring fresh ideas to their planning space. Using technology such as reminders, notifications, or calendar schedules may also help you stay on track to meet your goals. Your team and employees can work to increase accountability in the company and provide consistent updates on advancement. 
6. Continuously Evaluate Progress
Throughout the goal setting and execution process, certain internal or external conditions may cause you to refine your goals or the actions you take to accomplish them. Your business's goals can also adapt and evolve over time as your strategic plans align with new intentions and endeavors. Continuous evaluations facilitate continuous improvement. Monitoring progress is important, especially if you run into roadblocks or challenges during the process.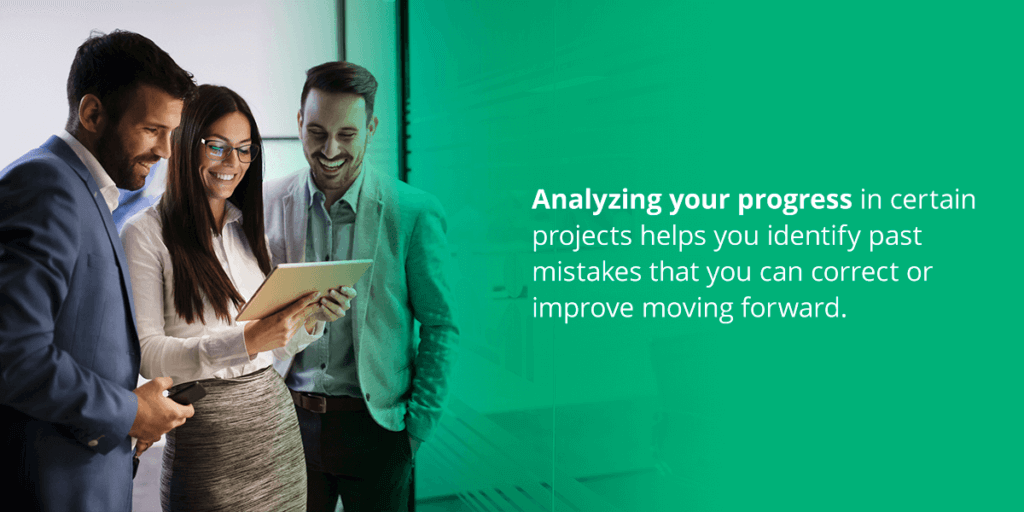 This method is fundamental to your goal-setting journey. Analyzing your progress in certain projects helps you identify past mistakes that you can correct or improve moving forward. You can consider several actions to measure your progress, including:
Assess financial performance.
Determine if all steps in your goal or plan are necessary.
Highlight concrete examples of transparency.
Discuss feedback and concerns with other team members.
Invite employees to share knowledge.
Persuade others to consider new ideas and alternatives.
Verify if your actions are creating the desired impact.
Organizations and companies that engage with exploration and regularly track their progress will generate a transformative environment and gain a competitive edge in their industry. 
7. Ask for Help
Communication within your business or organization is one of the most important elements of maintaining a successful, collaborative planning space. You shouldn't be afraid to ask for help or reach out to others on your team for guidance. Maintaining open communication can help you see goals from different perspectives, allowing you to make the necessary adjustments.
When you work collaboratively, you may ask the right questions that lead to solutions. Leaning on others for support during the goal-setting process can prevent burnout. Interacting with people who have a common goal will produce better performance and results all around.
If you want to prioritize the tasks that meet your goals, your team can examine plans for inadequacy or inefficiencies. This method will ensure that the overall effort and resources are concentrated on the most imperative elements.
Start Setting Effective Goals Today 
Setting effective goals has endless benefits for any business or organization. Utilizing software that can make this process easier may help streamline your workflow and increase productivity. With AchieveIt, we want to help you realize your goals and accomplish your most important plans and initiatives. With our automated platform, you can increase visibility, alignment, uniformity, and accountability when setting and implementing goals. Our software can accommodate your business with managing goals and improving organizational execution.
At AchieveIt, our goal is to reduce manual processing and give you more time to focus on your objectives so you can see results. We invite you to download our free SMART goals template to get a head start in your planning process. For more information about our software, request a free demo on our website or contact us to learn how we can help you set new goals today. 
Ready to improve your plan execution?
Organizations of all types leverage AchieveIt to connect, manage, and execute their most important initiatives. Replace manual processes & siloed systems with interconnected plans in a single, automated platform.