Managing grants can be complex and challenging, which is why it's essential to have a grant management system. Today, there is greater competition than ever for grants from both federal and non-federal sources. The step of selecting a nonprofit or charity to advance a cause is just a small part of the overall lifecycle of a grant.
Luckily, we have some tips to help make your grant process simple, fast, and efficient. Our tips will help you spend less time on admin approvals, application tracking, and reporting so that you can instead dedicate more time to evaluating how the funds can make the greatest impact. 
In This Article
12 Tips to Improve Grant Management
A government office can improve how it handles its grant administration and management process by utilizing the following grant management best practices.
1. Reestablish Your Mission
Though your mission is the driving purpose behind your organization, it can sometimes get overlooked or pushed aside for your other objectives and responsibilities. Without an official objective in mind, you could face some difficulty with the following tasks:
Making an efficient or successful grant
Accurately tracking and reporting on the grant
Developing helpful application materials or guidelines
Creating and achieving concrete goals associated with your mission
To reestablish your mission, consider the needs of your community and your funders' interests and passions. Then collect data by surveying past grantees, conducting interviews, and reviewing what others are funding. This can help you determine where the funds can be allocated to impact the greatest number of people. 
Once you reestablish your mission, you should ensure everyone is aware of your mission, including your staff members, grant applicants, and the community you're serving. Incorporate your mission into your meetings, marketing materials, website, and interactions with community members. Your mission can change with each grant cycle, especially if your community's needs change as well.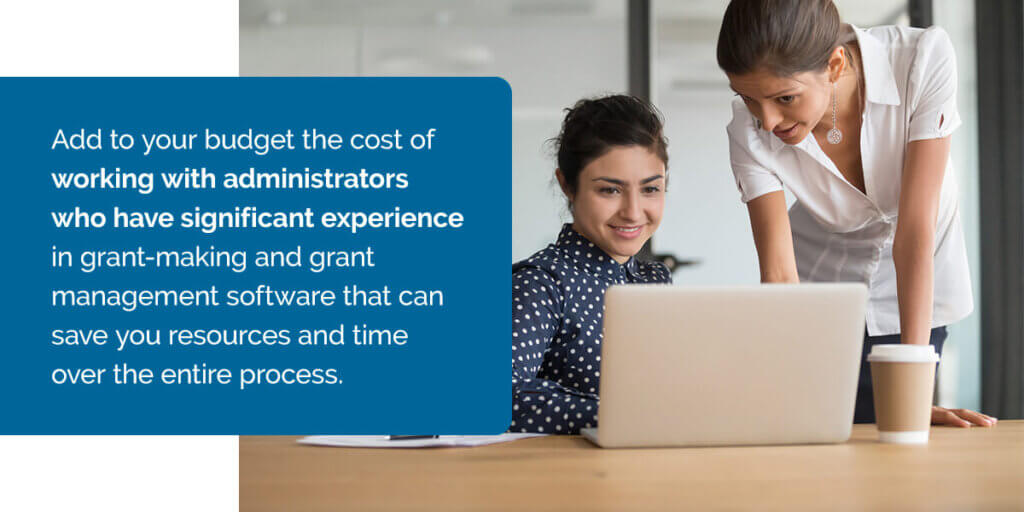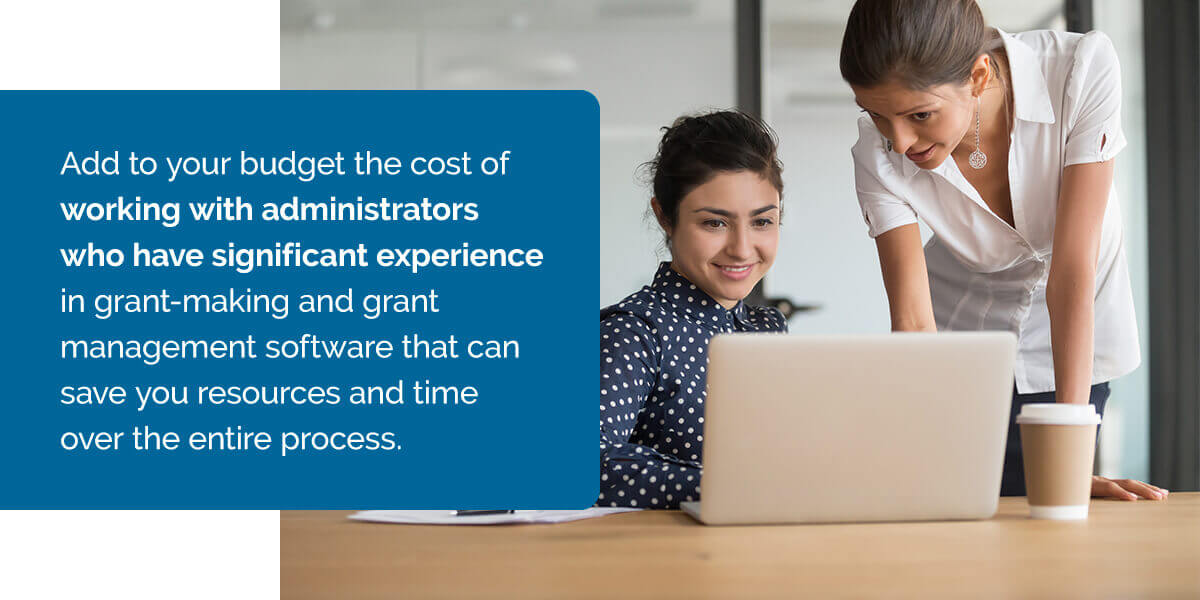 2. Clarify Funding and Budget Details
A well-run grant management system should budget carefully for every step involved in the grant-making process, including:
Collecting applications
Reviewing applications
Guiding grantees
Reporting results
Consider how you can ensure grant funding is sent to the right organization and optimally utilized and what amount you need to spend for consulting costs, grant reviewers, and grant-making software. Additionally, determine how you will track the funds after distribution, how you will report on the funds' impact, and how the funds will be distributed, along with how many individuals or groups will receive funds. 
Add to your budget the cost of working with administrators who have significant experience in grant-making and grant management software that can save you resources and time over the entire process.
3. Create or Modify Grant KPIs
You should also create grant key performance indicators (KPIs) or modify your existing KPIs. Grant performance metrics and KPIs can help you improve your process, track your grant's impact, and report on the fund's impact. Some of the KPIs you may want to create or modify include:
Granting stats KPI: Consider your organization's goals and mission to decide what you want to measure, such as the number of grants that have been awarded, how much money has been allocated, the number of program areas that are currently being funded, what types of organizations submit grant applications, where organizations are located and how many grant applications you received last month, last quarter or last year.
Short-term success KPI: Perhaps the most important information to collect is related to how your funds impact the lives of those benefitting from the grant. However, this KPI can be challenging since you want grantees to submit data regarding their grant impact in an ideal format for your organization. This could mean it's necessary to devote time to evaluate the data your grantee has submitted.
Community impact KPI: You also want to assess how your grant-making impacts the community. If you have a large grant-making foundation, this can be an especially important KPI to establish. This can be challenging depending on what data you need to collect to determine impact. For example, you may want to assess how your funds impacted the area's unemployment rate. Since there could be several factors affecting the unemployment rate, it could be challenging to track your grant's exact impact.
Long-term success KPI: Measuring long-term success can be challenging. You may need to survey participants regularly to determine whether the desired impact was achieved and maintained over the long term. This also requires grantees to follow up with their program participants to share results with you. This KPI could be easier to measure if you have long-standing relationships with grantees but more difficult if you have new grantees.
Grantee participation KPI: Establish a KPI to determine how a grantee is carrying out your organization's work. For example, you may want to review how many people the grantees served last year, how many programs were completed, or whether you were able to successfully attract a diverse pool of applicants.
4. Identify Siloed Grant Data
When grant data is siloed, it is isolated from the organization and controlled by a single department. Typically, siloed grant data is stored in a standalone system and incompatible with other data sets, making it difficult for staff to access and utilize the data. Data silos are common in large organizations, but any organization can deal with data silos without a well-planned grant data management strategy. Siloed grant data can hinder your operations and data analytics. A data silo can lead to:
Inconsistent data
Incomplete data sets
Issues with data security
Lack of collaboration between users
Problems with regulatory compliance
Duplicate data processes and platforms
To avoid these issues, identify siloed grant data. Look for signs of siloed data, such as inconsistent data reported across departments, complaints about a lack of data, and out-of-budget and unexpected IT costs. You can then shift your efforts to breaking down these data silos. To do so, follow the tips below:
Change your organization's culture and ensure each department adopts these changes to data management.
Utilize both data lakes and data warehouses.
Integrate your siloed grant data with other systems.
Prevent new data silos from forming by developing an enterprise data strategy.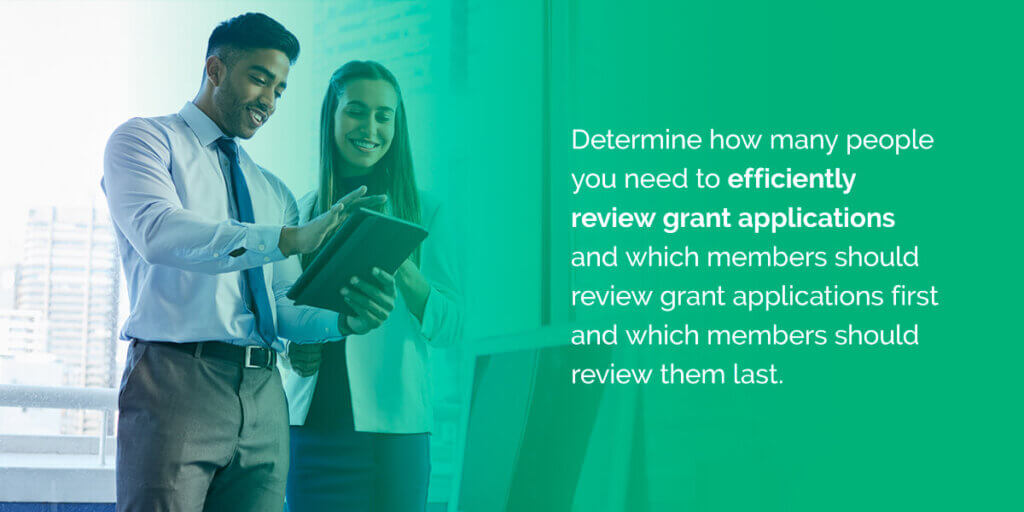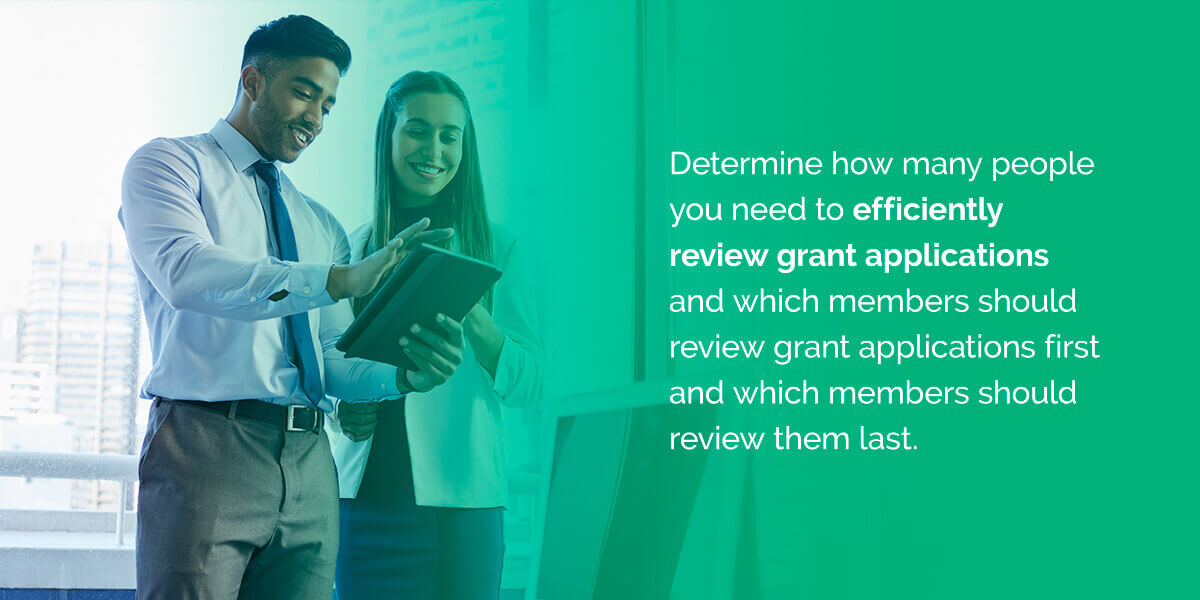 5. Improve Your System for Application Review
Enhancing your grant application management can help you review applications. It's essential to thoroughly review grant applications, but this process takes the time and effort of an entire grant review team. The members who comprise a grant review team can vary widely. Some include just a few full-time employees or even a single employee, and other teams are made up of several stakeholders, while others still include hundreds of volunteers across cities or states.
When assembling your grant review team, consider a few key factors. Determine how many people you need to efficiently review grant applications and which members should review grant applications first and which members should review them last. Each member should have the appropriate experience and background. As a whole, the group should reflect the community your organization is serving and should be diverse in gender, race, sexuality, socioeconomic background, disability, and geographical location.
The Cost of Using Excel for Strategic Plan Management
Download this guide to learn about the hidden costs and dangers of using spreadsheets to keep track of your most important plans and initiatives. Plus, we give you next steps to making the move towards flexible and agile organizational planning.
6. Minimize Manual Data Collection
Minimizing manual grant data collection can save your organization time and money. You can also ensure your data is accurate and improve your organization's overall productivity. Currently, you may rely on manual data collection and entry because you don't have the right tools, different teams are using different tools or you're relying on paper over digital forms. To minimize manual data collection, follow the tips below:
Turn to your IT team.
Find the right software for your organization.
Establish data collection standards.
Assess your current software, processes, and systems.
Convey to your team that minimizing manual data collection is an investment and will lead to numerous advantages that everyone in your organization will benefit from. Advantages may include faster forms processing, reduced human error, enhanced employee value, and lower operational costs.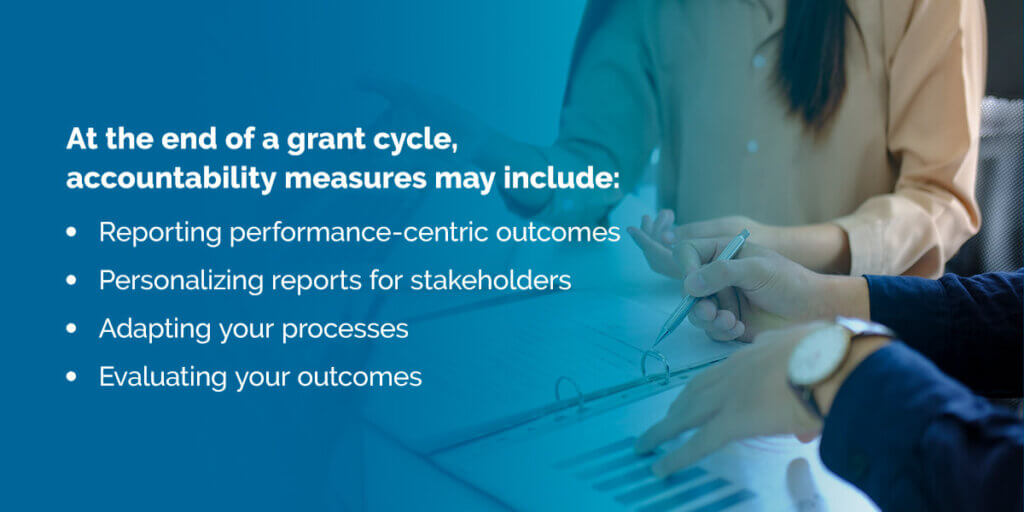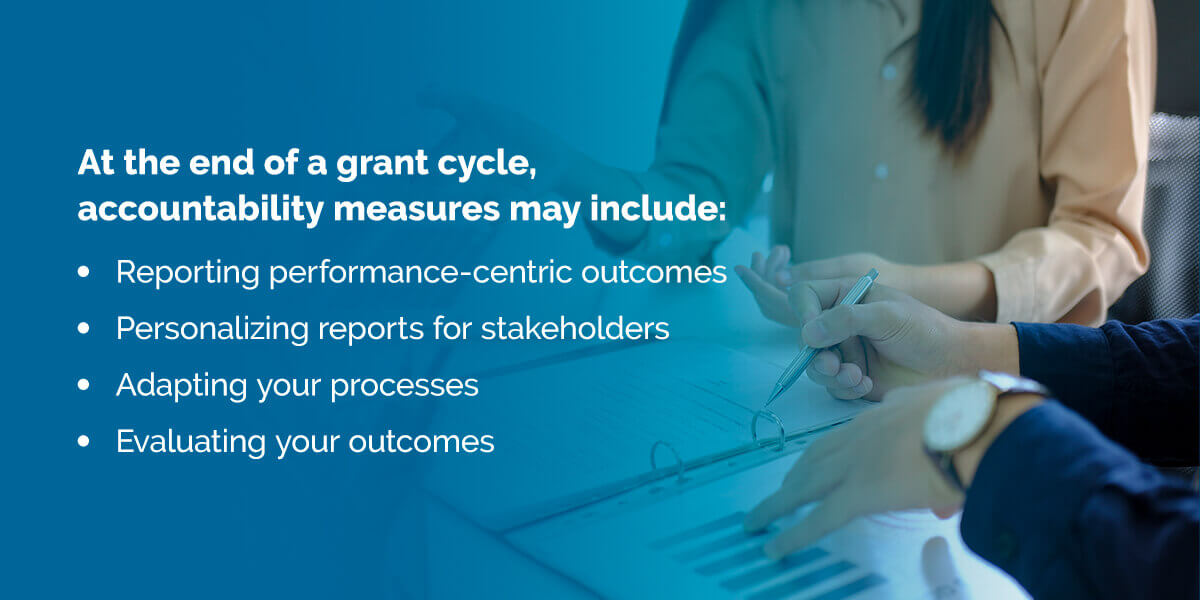 7. Add Accountability to Activities
Accountability is a key part of a successful grant management process. Accountability measures vary depending on the stage of the grant-making process. For example, during the pre-award stage, accountability measures could include maintaining accessible and thorough grant application records, implementing a grant management system focused on accountability, and investing in training at every level. At the end of a grant cycle, accountability measures may include: 
Reporting performance-centric outcomes
Personalizing reports for stakeholders
Adapting your processes
Evaluating your outcomes
8. Make Awarding Funds Easy
Improve grant distribution and make awarding funds easy by working with the award recipient to develop a legal framework for funding. Once this is complete, grant funds can be disbursed. Disbursement varies from organization to organization. As the grantee begins their project, keep communication open. Though the grantee is responsible for meeting financial, program, and administrative requirements, your team should be able to clarify whenever necessary to achieve the best possible results from the grant. 
You should also be able to simultaneously notify applicants who did not receive a grant, which is easy to do with a bulk messaging system in grant management software. The message to these applicants should include encouragement and support. You may also want to explain your thought process for applicants who were nearly chosen and offer constructive advice they can apply next time.
The next step is to notify the winners. Let the grant winners know about receiving the grant and give them additional forms that need to be filled out before moving to the next part of the process. These forms may involve surveys, reporting information, or tax information.
9. Create an Archive of Documents
You can make better decisions for the future and save time on your current grant management by creating an archive of grant documents. Your archive should include essential details about grants and funders, such as:
Deadlines
Grant writers
Social media
Relevant tax forms
Requested amount
Conversation notes
Contact information
Standard funding range
Types of funded programs
Amount received, if applicable
Saving information from current and past applications can save you time later and make your organization operate more efficiently.
10. Collect Data and Report Back
Embracing digital transformation for your data can allow you to assess results and performance at each step of the grant-making process. Focus on oversight of grant-funded programs and outcomes to increase buy-in among grantees and grant-making teams and manage risk on the back end. Data-driven discussions can improve collaboration and communication with grantees.
Collect data regarding the grant, analyze the data, and report it to your organization, funders, and the public. With grant management software, built-in reporting tools can make reporting simple. Trade in spreadsheets and calculations for a few clicks, labels, and imports. You can view your data in visuals and graphs that show your impact and help you identify areas for improvement.
11. Share Progress With Your Team
Share progress with your team by preparing regular summary reports. Use these reports to keep your organization and board members updated on the current status of the grant and funding. Reporting doesn't have to be time-consuming when implementing an efficient tracking solution. Base your progress on grant status, top funders, upcoming deadlines, or whatever metric is right for your organization. For example, if you want to base your progress on grant status, grants could be considered in progress, pending, or awarded.
To effectively manage grants internally, accurate tracking and communication with grant-makers and funders outside your organization are essential. Potential funders likely have progress reporting requirements, and you need to share the correct information with them to instill trust and confidence in your organization.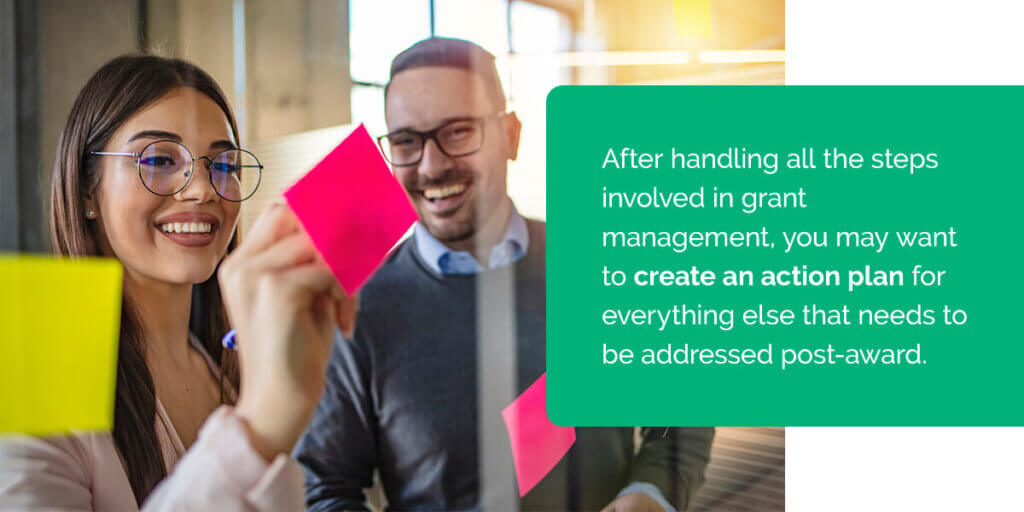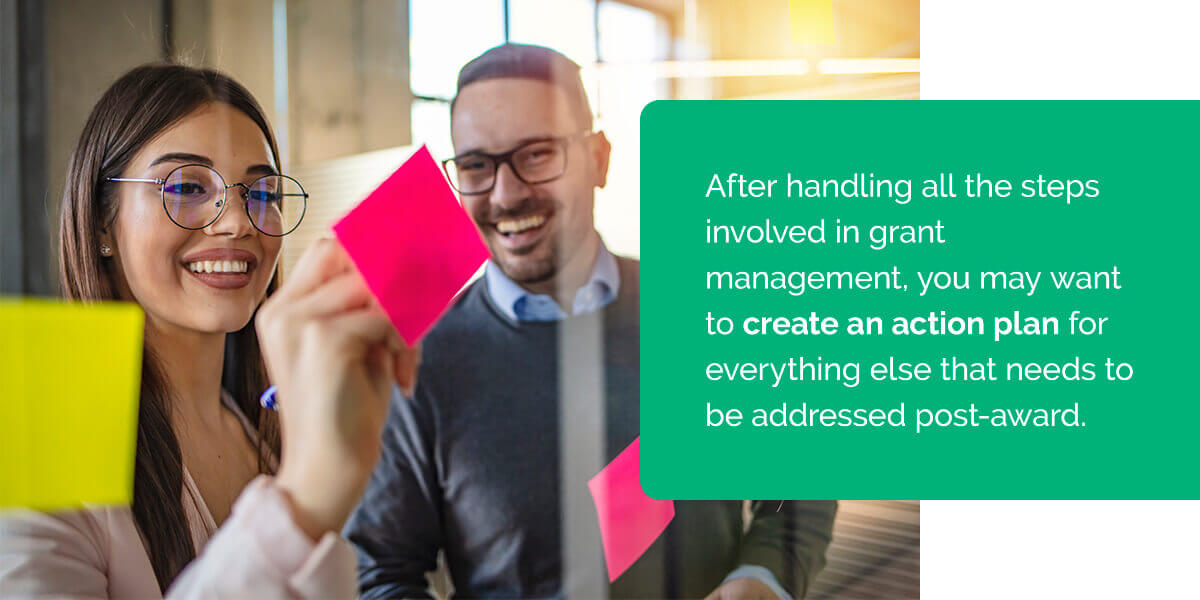 12. Create an Action Plan for Things That Need to Be Addressed
After handling all the steps involved in grant management, you may want to create an action plan for everything else that needs to be addressed post-award. Consider if or when the grant renews, how likely the funder is to offer the grant again, and what your long-term funding strategy is when the grant funding expires. Post-award grant management should include activities that ensure your organization uses the grant funds as promised, such as:
Outlining compliance and reporting measures
Developing a documentation process for when and how you will implement action items
Determining the responsibilities and roles of staff members who are handling the grant
Ensure each of your action items is addressed. Following these tips makes the grant management process simple and seamless. With AchieveIt, you can improve strategy performance and execution in local and state government.
Start Improving Your Department's Grant Management System and Administration
At AchieveIt, we can help your organization manage, execute, and connect your most important initiatives and plans. You can leverage AchieveIt to improve accountability and increase visibility in an automated platform. We offer AchieveIt with implementation and ongoing services like consulting and customer success. Other benefits of choosing our platform include:
Reducing manual processes around planning and execution.
Increasing alignment within your plans.
Improving collaboration across planning efforts.
Establishing uniformity in reporting and planning.
Request a demo today to see how AchieveIt works, or contact us to learn more about how we can help improve your project and program management.