As teams, we design business and strategic plans to take us forward and improve our current situation. By definition, any plan is a call for change. One successful change management process will lead to another and another and so on far into the future. 
These steps will help you overcome obstacles and understand different parts of your goals and how you can realistically achieve them. You will develop support from your teams and stakeholders who will be the foundation for your success. 
In This Article
What Is Change Management?
At a general level, change management is the idea that organizations are trying to find a way to manage the plans they have for various adjustments across their company. A company sets its sights on some new way they want to function and finds a way to transition the individuals, teams, and organizations within their company to get to that new operation.
Deep down, this means organizations that are willing to put in the work change management requires will use growing pains to their advantage and be more successful because of them. Plenty of organizations know the importance of consistently improving processes and managing changes, so you will be hard-pressed to find a successful organization that does not implement this process to some extent. This helps stakeholders understand the business and feel involved in the process so they know what is needed from them to facilitate future change.
Even though organizations agree on the importance of this process, no two are exactly the same because every organization is unique. Companies work through their strategy execution by addressing various management needs and initiatives that are unique to them. This could include a change of direction, a new way to track success, a new system for accountability, overall project alignment, or better communication and collaboration. Whatever the goal, they are exploring change to drive results.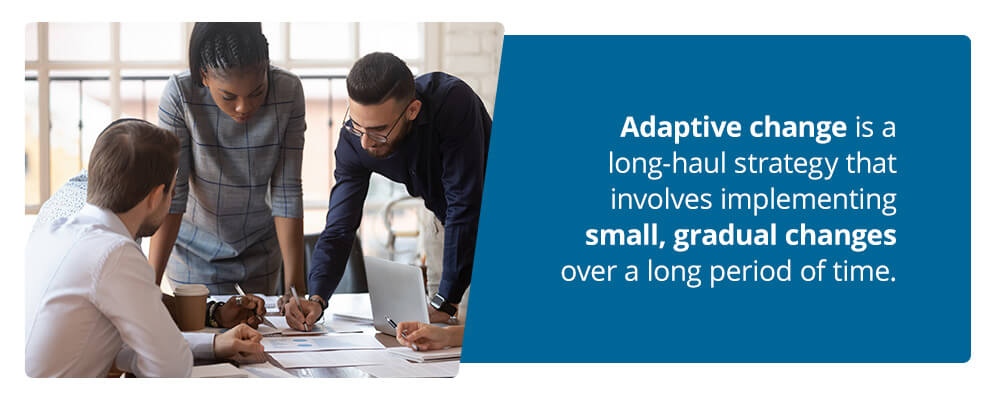 Change management can take two different forms: 
Adaptive change: This is a long-haul strategy that involves implementing small, gradual changes over a long period of time. Areas that are improved could be products, processes, workflows and strategies.
Transformational change: These changes are more dramatic and sudden than adaptive changes. Maybe your organization launches a new product or decides to expand. Any sort of change with a large scale or scope that involves straying from the status quo is considered a transformational change.
11 Change Management Process Steps
Take a second before your organization starts to undergo significant changes, or even before you look for a technology solution. It's critical to define your change management process steps. A successful change management process begins with a firm understanding of change management principles. The elements of an effective process can ebb and flow depending on your organization and the specific goals of your changes. 
There are 11 steps in the change management process that will help you reach your ultimate target — better business results.
1. Identify the Need for Change
Identifying precisely what needs to be changed is an essential first step in the change management process. You should look for opportunities for or threats to your company and evaluate how worthy they are for adjusting. Are they critical enough to your operations that it will be worth the time and effort to make changes? Will you see a return on investment (ROI), productivity boosts, or other benefits? If you see those results happening for your company, it's time to build a plan to make that change. 
Your goals could be focused on a number of different aspects of your organization:
Culture: Do you want to improve the culture of your organization, maybe to one that is more positive or community-oriented?
Specific problems: Maybe you don't even need to analyze your organization deeply to know what problems need to be addressed and changed.
Communication: Communication is a major part of implementing the goals you set, but maybe better communication within your organization is a change you want to make.
Training: Perhaps you want to improve the training your teams receive at different levels of your organization.
2. Prepare for Change
You must get the people in your business on board with your change. After all, people are the most important part of your organization, and they are the ones who will be implementing the changes you are hoping to see. 
This is why it is so important that you introduce the changes to them appropriately and include team members in your process so they do not feel blindsided but feel involved. You must get them excited to change, especially those who are comfortable with the way they've always done things and don't necessarily see the need. 
It is vitally important that leaders throughout your organization have a clear understanding of your vision for change so they can communicate that well to their teams. This calls for well-thought-out communication so you know that every member of your organization is on the same page. This also will increase your morale as your employees feel valued and feel like you desire for them to be involved in the changes.
Join The Bridge Community
Join other strategy leaders to problem solve, network, and bridge the gap between strategy & execution.
3. Draft a Vision Statement
Once you have a clear picture of the changes needed in your organization, it's time to craft a vision statement. This provides your organization with a picture of what the future could and should look like after the change process. A vision statement allows team leaders and employees at every level to understand what the goal is and be inspired to come alongside you to achieve it.
4. Identify How Change Will Affect the Organization
A good organization will work with its employees and not against them. You should always be striving for better communication and for your group to be unified toward your common goal at every level and throughout all stages of change management.
Communicate with your employees through every step of the change management process to get their insight and make sure they are on the same page as the senior leaders. Explain why the change is necessary and what you expect to come of it.
5. Present the Proposed Changes to Stakeholders and Get Buy-In
As important as it is to get your employees' input throughout the change management process, you should be just as eager to get your stakeholders involved. If they do not back the goals you're setting for your change initiatives, it's going to be more difficult for you without their financial and overall support. 
Present the proposed changes to your stakeholders after doing research on their interests. Then, gear the specific goals and presentation to their interests as much as you can while maintaining the changes you want to make. You should also implement a mandatory stakeholder sign-off in all of your steps.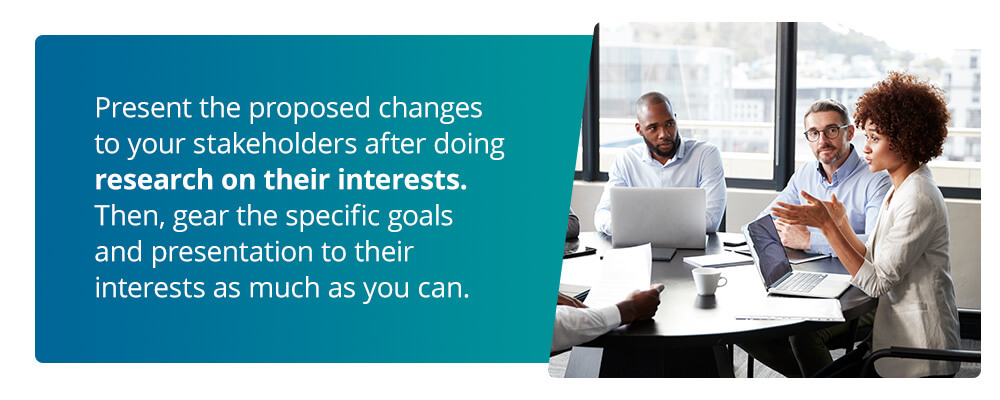 6. Identify Change Proponents
Find the people in your organization who will take initiative and help drive the changes within your teams. Choose people you trust and don't feel you have to monitor all the time. They should make the transition smoother and add to it in a positive way, not detract from it. 
Appoint the appropriate number of change agents based on the size of your organization and how many teams you have. Having too many proponents could lead to communication errors.
7. Identify and Remove Obstacles
When analyzing areas of your organization that warrant improvement, you should also identify obstacles that could prevent you from achieving your goals. At this point in the process, you should work to remove those obstacles so you can track your process unhindered. Use the change proponents you have identified and delegate to them ways to eliminate obstacles so you can speed up and streamline the process.
8. Set Goals for the Change
The goals you set for your organization should be strategic. Ask yourself what changes the goals you are setting help you work toward. Make goals that are measurable by key performance indicators (KPIs) that you determine early in the process. Structured goal-setting methodologies can be a helpful way to do this, like SMART goals.
SMART goals help you manage and achieve your vision by creating goals that are easy to understand, universally applicable and easily measured. The acronym breaks down as:
Specific: A goal to "improve your business" doesn't answer key questions. Address what you're changing, how, and why.
Measurable: Think about what data you can use to measure how you met your goal.
Attainable/Achievable: Strike the balance between an easy goal you can achieve and one that will spur improvements. 
Relevant: Evaluate why you want to meet this goal and how it applies to your company's operations.
Timely: Set an end date and other timeframes for your goal.
SMART goals are just one example of ways to determine needs for organizational change. Find an evaluative system that works best for your company and take a deep dive into every area to find where improvements are needed.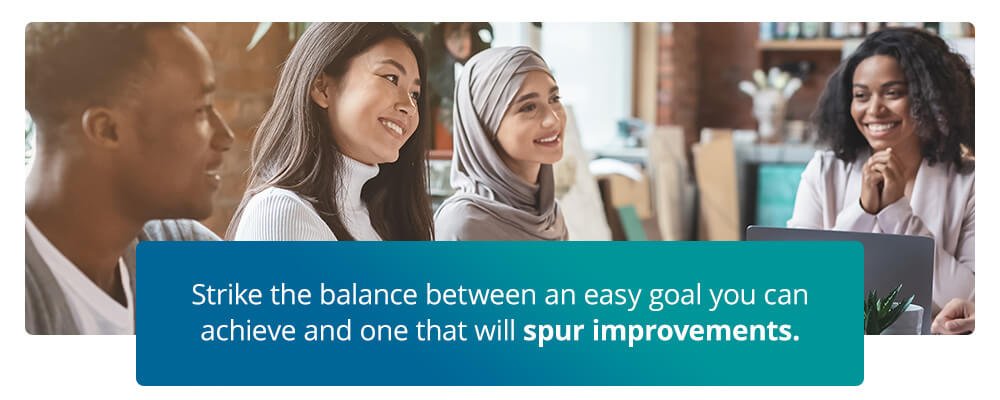 9. Implement the Change Plan
Once you've put in all the preliminary work, it's time to implement the change plan you've worked so hard to build. Focus on strategic imperatives such as execution and accountability. There are ways to simplify the process, such as breaking it down into actionable phases. Creating the simplest process helps you convey your ideas clearly to those under you and increases your chances for success.
If you are looking to implement a technology solution, this is the stage to do that. These types of solutions can help you gain new insights to help you through the change implementation process and measure your change's success. The automation helps you quickly see what aspects of your project are on-track, off-track or even at risk. This helps provide accountability for the results, as well.
10. Embed Changes in Training and Culture
Make your goals attainable by taking certain factors into account and embedding them in your change management process:
Training: No matter what types of changes you are making, you will need to train your employees, as the adjustments are more than likely changing their workflow.
Coaching: For the change proponents you identified, you need to implement some type of coaching so these agents can appropriately train the people under them.
Communication: Communication comes up in nearly every step of the change management process but is vitally important for the changes to work. Organize regular meetings and appoint yourself or another proponent as the primary point of contact for questions and concerns.
Sponsorships: If your changes require resources, get sponsorships to help provide the necessary funding. This could be easily overlooked but is important for successful change management.
Resistance management: It may take some time for all your team members to get on board with the changes you are trying to implement. Having management tools in place for resistance will allow you to ease concerns and get back to achieving your goals quickly.
11. Analyze Results and Report
Completing your change management process is just step one. You must then look back on the process and analyze it to determine how successful it truly was. Conducting a "project post mortem," or analysis and review can help your senior leaders understand what needs to be changed as you conduct your next change process. 
Remember throughout the whole process that this is not a one-time task. Change management processes should be continual throughout an organization's life if they are to continue to grow in size and success.
Why Change Management Plans Fail
Even if you follow the elements of an effective change management process, there are possible failure factors to be aware of. Still, you should keep an open mind through the obstacles because there are still things to be learned and benefits to be had from failures. 
Different groups of factors impact change management and could cause it to fail.
Soft Factors
There are factors in the change management process that relate to people and are harder to explicitly measure. This could be leadership, culture, motivation, morale or any other metrics that aren't easily seen. Determine ways to measure these soft factors and build them into your process to ensure change management plan success. Consider regular check-ins or seek feedback frequently from proponents, team members and stakeholders.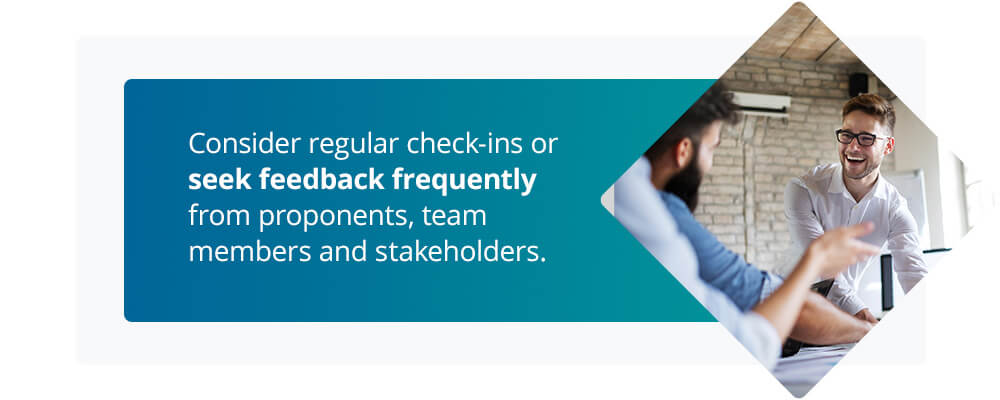 Hard Factors
Hard factors can be defined by three characteristics:
Measured: Hard factors can be measured in direct or indirect ways.
Communicated: The importance of hard factors is easy to communicate within and outside your organization.
Influence: Hard factors are quickly and easily influenced by other external factors.
If you can communicate your plan, measure its success and correct your actions as necessary throughout the process, your change management process can succeed.
Other Factors
These aren't the only reasons a change management plan can fail. Keep in mind these other obstacles that could be detrimental:
Speed: Sacrificing your strategy at the expense of getting things done faster will only work against you in the long run. Remember to set timely goals, breaking them down by quarters, months, weeks or even days as necessary.
Tunnel vision: It can be easy to get too caught up in all the planning you're doing and forget who you are doing it for. Keep your end-user in mind every step of the way.
Communication: Once again, communication cannot be overstated. A common problem organizations have during their change management processes is communicating too little too late. Always err on the side of over-communicating. 
Consistency: Strive for a consistent change management process, unless you need to adjust for obstacles. Do what you'll say you do when you do it, and communicate with who you need to if you have to stray from the original plan.
Clarity: Sometimes, organizations don't have a problem communicating frequently, but they do have a problem communicating clearly. This can be just as damaging, and organizations should check in with their teams to make sure their message is getting across.
Feedback: You need to get tangible feedback from teams at every level of your organization so you can best understand how the process is going before the end. 
How to Improve Your Change Management Process
If you have experienced a failed change management process, then you are now better equipped to build the next one. Here are steps you may have been missing in your last attempt. 
Visibility
To evaluate the change you're experiencing, the key is visibility. Successful managers reinforce the change they see in their organization by constantly assessing and reevaluating that change. It's important to have a mindset that change is never really finished, but a change initiative does have a beginning and an end. At the end of that initiative, there must be reporting and revision to make the next initiative even better. 
Leaders of a change should also make themselves visible to those they're asking to follow them. It's important for morale and for the success of the process that those in charge lead by example and leave everything out on the table for their employees and customers to see. 
Engagement
Your employees must be involved in the change management process for it to succeed. But management at your organization must also understand that your employees are sacrificing a lot and change may not be easy for them. You should make an extra effort to make them feel supported and seen during this time to keep morale up and give your change initiative a higher chance of succeeding.
Your stakeholders should also feel engaged with your process and excited to come alongside you. If they feel distanced from it, they are less likely to buy in, which can hurt your process significantly.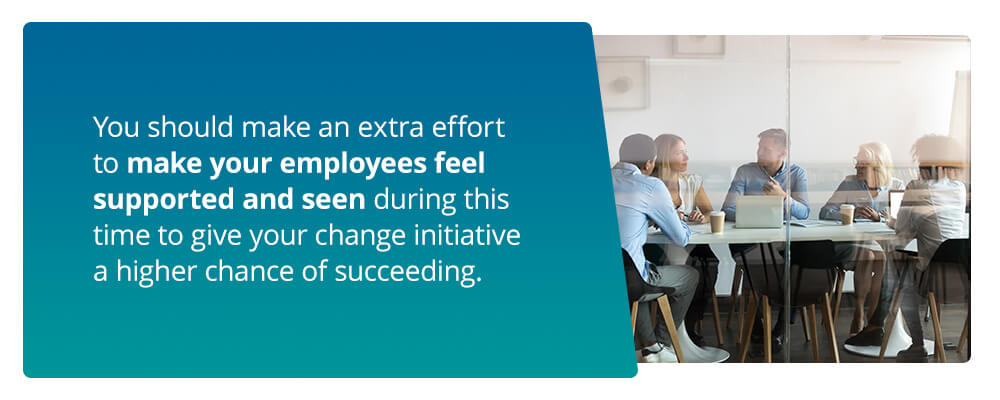 How AchieveIt Helps With Change Management
AchieveIt is the platform large organizations use to get their biggest, most important initiatives out of the boardroom and into reality. A lot of times, great ideas never make it past the drawing board, simply because there are too many ideas and too many logistics that prevent everyone from honing in on a great idea and doing what needs to be done to make it come alive. What does it take to actually guide these initiatives all the way through to completion? You've got to:
Get everything in view: See what's happening with every initiative, at every level, from the enterprise to the individual, in real-time.
Get everyone engaged: Use an easy-to-use platform that connects your organization from the executive leadership to the project teams, keeping everyone accountable and on the same page.
Get every possible advantage: Draw on the experience and best practices of our execution experts with our premier platform.
That's why everyone from global corporations to regional healthcare systems to federal agencies have turned to AchieveIt for their Integrated Plan Management.
AchieveIt provides a number of services that will allow you to create a change management plan that takes your organization to the success it's capable of. Growth is essential for your company as your business continually transforms and changes to the market it finds itself in. 
Effect Change In Your Organization With AchieveIt
AchieveIt can help take your organization to new heights as you work to implement a change management plan that's right for your business. We design plans to implement change and take your organization forward. We will bring uniformity, visibility and accountability to the plan you are bringing to your organization.
Schedule a demo today to see what AchieveIt can do to help bring about the change you've been dreaming of.
Have questions or want to request more information? Contact us here!
Ready to improve your plan execution?
Organizations of all types leverage AchieveIt to connect, manage, and execute their most important initiatives. Replace manual processes & siloed systems with interconnected plans in a single, automated platform.