Read "Accelerate Business Results Through Better Strategy Execution" to better understand how to make your strategic planning dollars count and dramatically accelerate the results curve.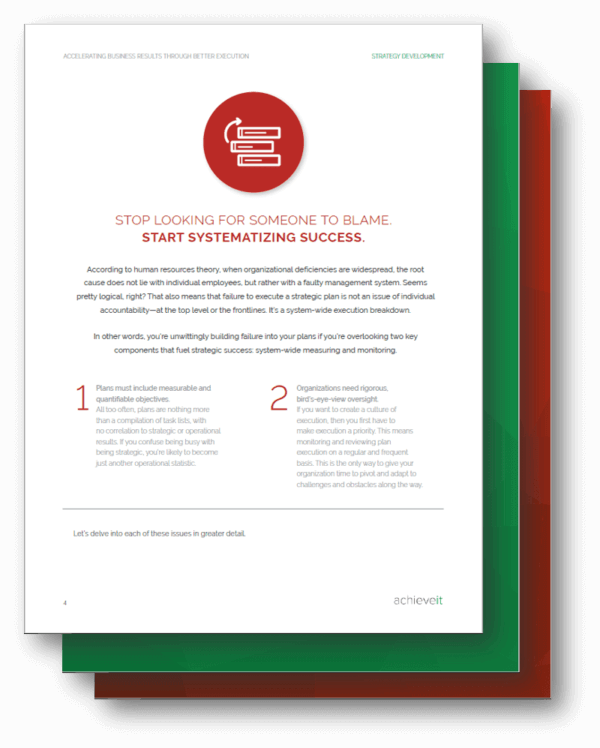 Strategic and operation plans have immense potential value, yet most organizations fail to tap into that value. The reason? A failure to effectively implement them.
The excitement generated during planning retreats rarely translates into execution.
Why does this happen? And what can you do to prevent it from happening to your organization?
In this white paper, you will learn:
The root cause of poor strategy execution
Two execution secrets for accelerating business results
One rule to create measurable and quantifiable objectives
The key components of effective plan review and monitoring
It's imperative to set strategic goals but more imperative to execute. To improve business results, executives must have visibility and the ability to drive both alignment and accountability. That's how to effectively execute. None of that, however, can be accomplished with spreadsheets.  Or emails… or PowerPoint decks.
AchieveIt's Execution Insight Platform is a web-based strategy execution solution that is purpose-built to solve the challenges of strategy execution.  It gives executives a view into the performance and execution of their critical, high-level initiatives, which is not easy to get in either spreadsheets, email or project management systems. The platform features customizable dashboards (no more Excel hell!), smart email alerts and the ability to see not just your data, but the critical context behind it, so you get a full picture of how you're executing, in an easy, efficient and effective way.
It's the only solution available that provides both meaningful insight into how you're executing and the ability to drive results with that insight. Stop drowning in emails and spreadsheets and start driving better results. Watch how to improve strategy execution today.