Corporate strategic planning is essential to businesses and one of the basics of a business plan. It allows you to proceed toward your objectives with direction and focus. However, setting strategic goals is more complex than writing them down during a board meeting. The process requires careful evaluation and analysis to garner the best business results.
Corporate strategy includes all the steps in strategic planning that turn your high-level goals into actionable objectives, maintain and elevate your competitive position and provide quantifiable feedback to keep a flexible and workable strategic framework.
In This Article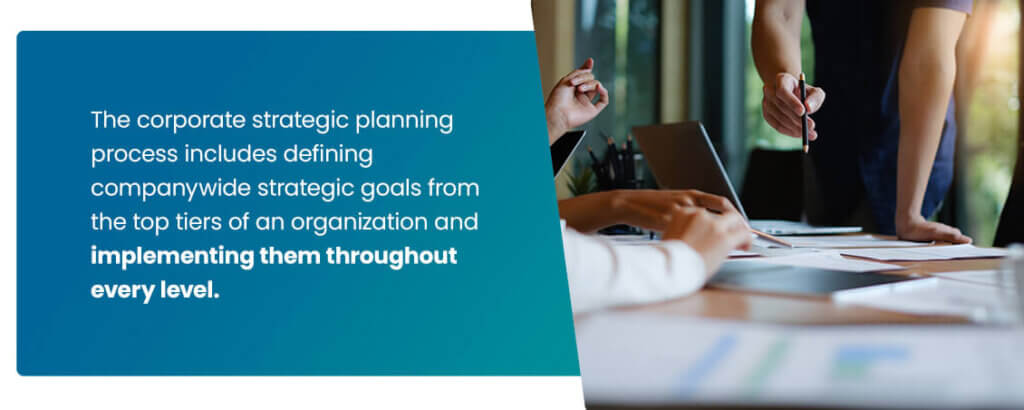 What Is Corporate Strategic Planning?
Corporate strategic planning is a branch of strategy that focuses on the organization. A corporate strategic plan manages a business's objectives and overall direction, and the associated processes are critical to the organization's strategic objectives.
The corporate strategic planning process includes defining companywide strategic goals from the top tiers of an organization and implementing them throughout every level. For many businesses, corporate strategic planning is the first step and strategic planning goals define annual budgeting and allocation of resources.
Corporate strategic plans can be external, focusing on business objectives and the overarching direction for the organization, or internal, such as corporate diversity and inclusion strategic plan.
A corporate strategy — in terms of business planning basics — has four main components, each providing valuable insight through self-evaluation. The four elements of corporate strategic planning include the following:

The Four Elements of Corporate Strategic Planning
Visioning
Visioning involves creating a high-level direction for your business, including business plan basics like corporate values and vision and mission statements. Setting a vision for your company's future is a robust tool in corporate leadership. In general, companies plan between three and five years ahead.
Your vision and values will guide your daily operations and procedures, and involving key team members fosters engagement throughout the organization.
Objective Setting
Aligning your strategic objectives with the overarching vision for your business is the key to successful objective setting. Strategic objectives are the high-level goals of your business and describe what your team needs to do to fulfill its mission over the next three or five years.
The objective setting takes your qualitative goals into measurable objectives, which is critical to get your ideas into an actionable format. In the context of goal setting in an organization, the most effective strategic goals are specific, measurable, attainable, realistic and time-bound (SMART). Communication is also vital in the objective-setting phase. It ensures that team members are focused on priority tasks and operating in a unified manner, aiming towards furthering the company in the future.
Allocating Resources
With your objectives outlined, you now have a clear list of priorities to allocate human and capital resources. With a clear and actionable overview of your strategic goals, you can plan, manage and assign resources to facilitate reaching them. Determining how best to allocate resources to teams and business units is integral to your overall planning process.
Making Strategic Trade-Offs
Also known as prioritization is one of the most challenging core elements of corporate strategy. Taking advantage of every opportunity may not be possible, and almost all business decisions contain an element of risk. Anyone who manages strategic plans and initiatives in an organization must consider all these factors to determine the optimal strategy when setting strategic goals.
Businesses must balance risk and reward and pay close attention to risk management processes to maximize returns and minimize threats to operational procedures.

Why Is Corporate Strategic Planning Important?
Strategic plans are more than just abstract ideas conceptualized in a board room. When actualized correctly, they power organizational alignment and allow teams to direct their efforts in the most productive places. Strategic planning communicates your mission and vision throughout your organization to effect strategic change at every level and prioritize your most important objectives in your daily operations.
Strategic planning can highlight your shortcomings and biases and present new opportunities to streamline your operations. Then, you can track your goal process with actionable key performance indicators (KPIs) and align them with your business processes.
Most importantly, a well-conceived strategic plan provides a competitive advantage in your industry, allowing you to anticipate competitors' next moves and stay one step ahead. With actionable strategies in mind, your business can accomplish goals ahead of the competition and ensure you provide the best possible results for your customers.

What Is the Difference Between Corporate Strategy and Business Strategy?
There is a marked difference between business-level strategy vs. corporate-level strategy. Corporate strategies operate at a higher level than business strategies and focus on growth and profits. A business strategy, on the other hand, focuses on competing in the marketplace. Organizations should develop their business strategies with their corporate strategy in mind.

Stages of Corporate Strategic Planning
Like any successful strategic plan or initiative, teams must tackle corporate strategic planning in four stages. The four stages of corporate strategic planning include the following:
1. Formulation
For an actionable strategic plan, you must take the time to create a roadmap of your most profitable action to achieve your strategic objectives. In this phase, you and your team will set your strategic plan goals and explore the best means to achieve them. Consider conducting a SWOT analysis — strengths, weaknesses, opportunities and threats — for your business to reveal growth opportunities and areas within your operations that require attention. Consider looking into successful corporate strategic plan examples as part of your research.
Before you start, ensure you have a purpose for formulating your strategy based on your core vision and mission. You'll consider current events and trends as part of your SWOT analysis. Ensure you set actionable and measurable goals in the formulation phase of strategic goal setting and communicate them effectively throughout your organization.
Often, organizational leaders formulate a corporate strategy. Every team member adds a different perspective to the process, so drawing on their input could illuminate and provide a more pronounced competitive edge for your business.
2. Implementation
Implementation is the phase where your corporate strategies become corporate actions. Your team has designed and communicated your strategy, so that all members understand their roles and responsibilities. Setting up KPIs aligned with your strategic objectives is critical in the implementation phase, as it provides quantifiable feedback on positive impacts and information on opportunities for change.
During implementation, your team must focus on details and day-to-day processes to implement quick changes. Corporate strategy is a fluid process that requires daily attention to succeed.
3. Evaluation
Evaluating the strategies you executed in the implementation phase provides you with valuable feedback on the efficacy of your corporate strategy. Some businesses perform a gap analysis to identify the need for new products or additions in the gap between their current and desired future positions.
At this stage of the process, your data is vital. An integrated plan management software allows you to track resources, changes, schedules, and the quality of your corporate strategic initiatives. With actionable data on team members and projects, you can make changes and refine your corporate strategy.
4. Modification
In the modification phase, your team can correct and refine underperforming elements of your corporate strategy. You have identified your strongest areas, which your team could leverage to assist in further implementation in areas that need further attention.
How to Create a Successful Corporate Strategic Plan
You and your team may be used to taking a reactive route where you only deal with problems as they arise. However, this can stifle your vision and make it difficult to see the big picture or prepare for obstacles along the way. By following the fundamentals of strategic planning, your company can gain a better understanding of common issues that complicate your short- and long-term goals and make you more proactive in resolving them.
A progressive approach is critical to corporate strategic planning success, so you can pay attention to each step and garner the best results. The five steps in the strategic management process include the following:

1. Establish the Your Corporate Strategic Objectives
Corporate strategic objectives must be clear, achievable and easy to communicate. Consider what business objectives your team needs to achieve and communicate these objectives throughout all levels of your organization. Foster collaboration, allow everyone in your organization to think strategically and offer suggestions for achieving your corporate strategic initiatives.
Employees throughout your organization can provide valuable input to drive your objectives forward. Gather as many insights as possible and set your objectives with as much information as possible. At the end of this step, you should have a broad view of what your business wants to achieve and how the various teams can contribute.
2. Develop Strategies for Achieving Goals
From your broad overview, you can now break your objectives into specific projects and courses of action within those projects. Include metrics and KPIs to quantify the success or failure of each. Establish objectives and key results (OKR) framework so each goal has quantifiable key results to measure the initiative's success.
Pay attention to your human resources during this critical step. Think outside the box, eliminate silos within your teams, and ensure every team member has roles and responsibilities aligned with their strengths.
3. Implement Your Corporate Strategy
It's time to take your strategic plan off the boardroom table and implement it into your business workflow. Making your corporate strategy successful requires focus and input from every team member. Ensure everyone in your organization can clearly see and understand their role within your strategy and how their actions move your plan forward.
You can reply heavily on your OKR framework here for each individual to have a solid view of their roles. When team members see their impact on your overall strategy, they will be more engaged and productive in their efforts to achieve your objectives. Team engagement comes from management and managers should focus on managing outcomes, not people, for the best results.
Partnering with an integrated planned management specialist is essential for maximizing employee productivity and engagement. Strategic planning software can give you a competitive edge. User-friendly interfaces, clearly defined goals, and change management will make implementation smoother, faster and easier for team members.

4. Monitor Your Strategic Plan's Performance
Remember that your strategic plan is fluid and needs regular monitoring for your organization to maintain a competitive position. Again, use your valuable human resources and consult everyone who owns a strategic objective. Foster an environment where you can receive honest input on the strategic plan's progress so your management doesn't feel more comfortable concentrating their team's efforts in weak areas.
Ensure your plan is flexible enough to catch it early if your organization's efforts go off course. If there's an opportunity to produce better results, you can stay ahead of the competition and execute it immediately. Measuring your team's performance with employee performance metrics is an excellent method of assessing where you're achieving your outcomes and where you may need to rethink the allocation of resources.
Consider organization performance reporting to analyze how your business performance compares with your goals and initiatives. You can assess your successes and make adjustments when necessary.
5. Analyze the Plan's Success
Analyzing the impact of your corporate strategy is vital to set a benchmark for what elements to continue with and change. It clearly shows areas to improve and strengthens your teams' engagement and commitment to your strategic initiatives. Include team members from across your organization when you conduct your analysis and foster open and thorough communication so they can share their insights and experiences.
Together, you can define your plan's strengths and opportunities for improvement. Once you have gathered input from across your teams, your strategic team can apply this insight to your new strategic initiatives and amplify your successes.

How AchieveIt Helps With Strategic Planning
Organizations that struggle to get their important initiatives from the boardroom into reality and keep their performance on track may falter with their objectives. With AchieveIt, your business can improve visibility, uniformity and accountability within your strategic planning process.
Our automated platform and strategic planning software enable your teams to connect, execute your goals and evaluate how your essential plans are performing. Integrated plan management solutions from AchieveIt can revitalize how your organization reaches for its goals with dashboards, reporting, updates and more strategic planning tools.
Some of the many ways AchieveIt can help you with your corporate strategy include the following:
Streamlining your corporate strategic execution: Create alignment and organize your strategic initiatives with our process-focused software to integrate and execute corporate strategies.
Using automated updates: AchieveIt focuses on the end user, integrating process updates from different sources for a seamless automated update system.
Consistent expert support and training: AchieveIt conducts regular business reviews, so you can measure your return on investment (ROI) and access quantifiable data about how your corporate strategy aligns with your progress. Your strategic expert is there to provide feedback if needed, and on-site training allows for excellent change management, improved adoption rates and better team engagement.
Data-driven insights and accessible results: You can filter and create outcome-specific reports aligning with your corporate strategy with a holistic view of your strategic business progress to combine your data with applicable contexts. This actionable information gives you a clear picture of what works and what needs work.

Sharpen Your Corporate Strategy With AchieveIt
Many businesses use outcomes-based corporate strategies to drive them towards goals, benefit their bottom line and motivate their teams. With AchieveIt, your organization can improve the execution of key plans and initiatives, increase visibility and improve accountability from a centralized, integrated plan management platform.
Whether you have an existing corporate strategy, want an implementation partner, or like some help streamlining your corporate strategy, you can use AchieveIt's two-pronged approach to strengthen your competitive position. The combination of our management software and an experienced consultant ensures your initiatives are correctly set up for effortless execution.
Schedule a demo today if you would like to learn more about AchieveIt strategic management software. Alternatively, take a self-guided tour and experience the magic of AchieveIt firsthand. Together we can connect, manage and execute key plans and initiatives with innovative corporate strategic plan management.