Financial institutions worldwide help customers reach financial goals and understand responsibilities. They use various tools to meet customer needs and stay on track with corporate goals.
A financial institution strategic plan can help these organizations stay prepared for upcoming trends. These plans allow institutions to identify clear goals and create actionable plans to meet them.
Read on to learn more about strategic planning for banks and other financial institutions.
In This Article
What Is Strategic Planning?
Strategic planning is an ongoing process businesses use to identify goals and create actionable steps to achieve them. The activity helps employees and shareholders agree on desired outcomes that match the organization's overall vision. You can also use strategic planning to analyze current industry trends and modify behaviors to meet new demands.
Many organizations create a written strategic plan to track their objectives. This document typically features components like:
A mission statement that explains the plan's overall context and purpose
Clear timelines for implementing a strategy and reaching a goal
Periodic benchmarks or objectives that show continual progress
Explanation of leaders and other members with specific roles or tasks assigned
An effective strategy explains an organization's current goals and acknowledges how these will lead to more success. Plans can help you prepare for alterations in demand, supply chain disruptions or personnel changes.
Why Is Strategic Planning Important for Financial Institutions?
Strategic planning can bring many benefits to businesses in any industry.
Establishing a core vision: A strategic plan requires you and your shareholders to identify a central concept for your organization. You can then use this shared outlook to unify all stakeholders and employees around a single purpose. By explaining your company's goals and the reasoning behind them, you can provide an increased sense of responsibility. You can also use this insight to inform everyday tasks and behaviors and motivate employees to find more purpose in their work.
Using a data-centric approach: Strategic planning consists of analyzing decisions and backing them up with data. As you break down each of your current strategies, you can evaluate their effectiveness and decide whether to keep them or alter them. Because you have to justify all your methods, you remove any chances of implicit biases or other restraints that could hinder your progress. For example, you might incorrectly assume the most obvious solution is the best for your organization instead of considering more complex options.
Tracking real-time progress: Lastly, a strategic plan allows you to track quantifiable progress toward your goals. You can set benchmarks for crucial stages and divide these by departments, teams or individuals. Then, you can monitor progress by how well these groups meet them.
Overall, strategic planning is crucial because it allows organizations to identify and directly work toward objectives. Without knowing where you want to go or how you plan to get there, it becomes challenging for your company to move forward.
Why Banks, Credit Unions and Financial Institutions Should Implement a Strategic Plan
Financial institutions should strive to make thorough and actionable plans for future goals. Banks, credit unions, insurance services and other financial organizations are responsible for providing customers with accurate data and informative suggestions.
During the COVID-19 pandemic, the financial field has experienced a surge in electronic payments and other digital changes. As the industry continues to shift toward electronic formats, institutions must adapt existing practices to meet new demands.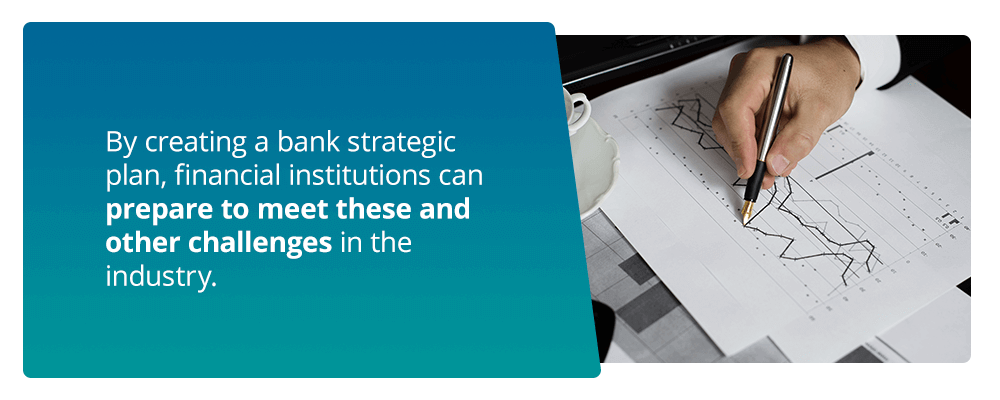 By creating a bank strategic plan, financial institutions can prepare to meet these and other challenges in the industry. Your plan can identify current goals and outline the steps you will take to achieve them. During this process, you can analyze existing strategies and find ways to enhance them.
A strategic plan can improve your financial institution's ability to meet customer expectations. As you optimize your practices, you can establish your institution as a leader in your field.
How to Get Started With Strategic Planning
If your financial institution is ready to create a strategic plan but isn't sure where to start, here are some steps you can take.
Assess current trends: One of the best ways to start the process is by examining current trends in the financial industry. For instance, you can assess its growth levels, significant leaders or competitors in the field or what services are in demand. Identifying trends can help you alter your plans to meet these needs.
Define your mission and values: Next, identify your organization's overall mission and values. You can use these to guide your plans and ensure your actions stay aligned with your purpose. Most mission statements are quantifiable and have a concrete deadline. For instance, you might want to reach a specific amount of revenue by a particular date. Then, as you start creating actionable steps, you can ensure they will lead to your ultimate mission.
Analyze areas of improvement: It's also good to identify areas of weakness within your organization. Whether you haven't met revenue goals or want to improve your customer service, acknowledging these weaknesses can help you resolve them during your plan. You can create concrete ways to respond to lacking areas, improving efficiency and success overall.
Outline corporate goals: Next, you should state your specific corporate goals for your institution. For instance, you might want to expand your customer base, reach a particular revenue number or expand marketing campaigns. The more specific and quantifiable these goals are, the easier it will be to track your progress toward them.
Delegate specific tasks: You will need your entire team's help to achieve broad organizational goals. By breaking down tasks and regulating them to specific departments or employees, you can foster a sense of responsibility and maintain even workloads.
Consider your budget and staff: Lastly, remember your staff and budget availability as you draft your strategic plan. Ensure you have enough resources to complete your goals by the desired deadline. For example, if you have a smaller staff, it might take you six months to reach a goal rather than three. Remembering your available resources can help you create realistic and successful objectives.
AchieveIt Strategic Planning for Banks, Credit Unions and Financial Institutions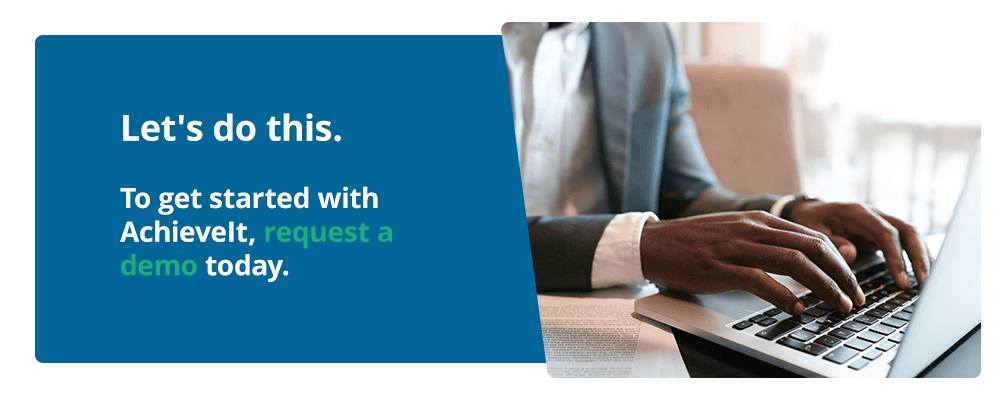 Every organization needs a strategic plan to stay on track with goals and move toward a successful future. Your plan helps you unify members around a shared vision and improve existing techniques. Strategic planning for financial institutions is crucial for overall success.
We've developed our financial software to meet the financial industry's demands. Its high-quality tools and data can help you plan and execute goals. Use real-time updates to account for all data, or use our uniformly formatted reports to directly track your goal progress.
Let's do this. To get started with AchieveIt, request a demo today.