The Basics of Business Planning: What You Need to Know in a Nutshell
As a cloud-based strategic execution software, there's a large emphasis of my client implementations spent on mastering the AchieveIt platform. What most clients are surprised to learn is that their AchieveIt team actually spends a significant amount of time and energy engaging with our clients "pre-software."
Yes, the platform is an extremely helpful tool for clients to manage and track business plans, but at the end of the day the platform can only be as effective as the plan it is managing. To put it simply, "you get out what you put in". While some clients are in a mature stage of business planning, many are not.
If you count yourself among the latter, below is a guide to help you begin to develop and innovate your own forward-looking business plans.
1) Determine Your Present State
Before you can move forward you need to take time to analyze your present-day situation. One way of accomplishing this is by conducting a SWOT Analysis. Start and run there.
By analyzing your organization's or team's Strengths, Weaknesses, Opportunities, and Threats, you can get a comprehensive understanding of your current state of affairs. Once you've completed your SWOT analysis, be sure to layer in additional information like customer insights, employee feedback, along with overarching industry or market data to fill in any gaps.
Now that you have a firm grasp of where you are now, you can create a business plan for the future.
2) Set Organizational Goals
For most groups that I work with, this is by far the most challenging part of our engagement. To be fair, there are few tasks as daunting as determining the barometer of success or failure for your organization over the next few years.
More often than not, this leads clients to develop a comprehensive list of 10-20 organization-wide goals to cover all their bases. This sounds good in theory, but in practice the exact opposite holds true. Start with a plan outline and go from there. Remember that your organizational goals are the unifying targets that pervade the entire organization. Every single person in the organization should be driving activity towards these goals at any given time.
Can you remember a list of 10-20 goals and focus your energy on all of them? If you've found yourself in this pitfall, you're not alone. Inc.com found that only 16% or employees surveyed agreed that individuals in their organization are clear on the top key results for the year. So, as you write your organizational goals remember, less IS more.
Executive Guide to Strategic Goal Setting
Download this guide to learn how the most successful executives use goal-setting methodologies and technology to empower their teams and improve execution.
3) Fill in your plan
With your organizational goals set, the rest follows naturally. Regardless of the hierarchy, there are two foundational questions that will help you fill out the remaining elements of your plan. They are "how?" and "why?".
The process is simple. If you're at the organizational goal level and are developing a strategy to support it, the strategy should answer the question of "how are we going to do this" to the level above it. As you move from strategies to objectives, the objective should answer "how?" to the strategy above it and so on.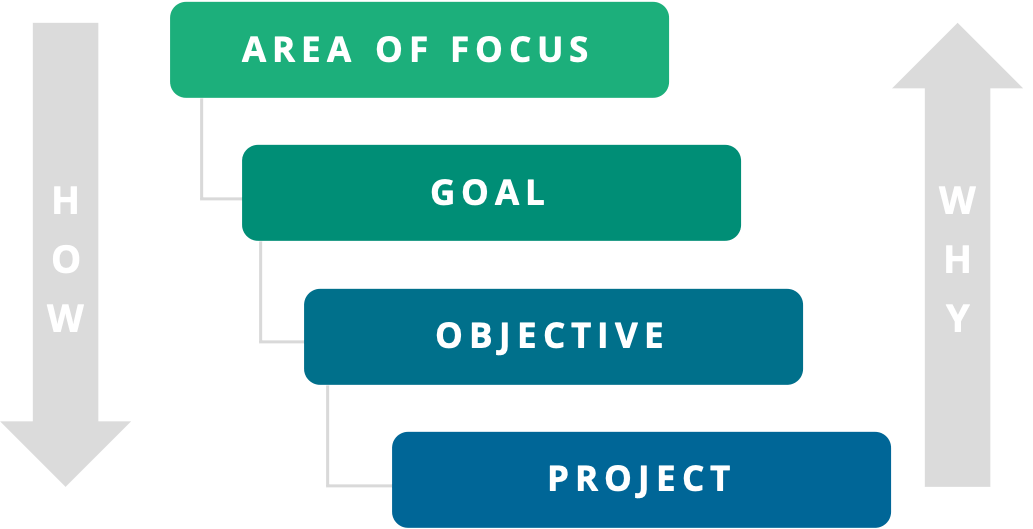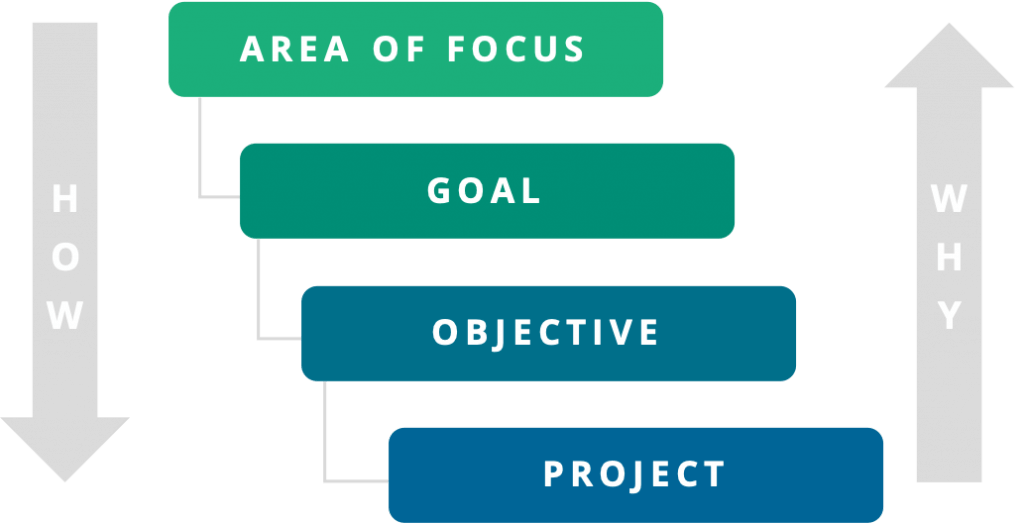 As you read your plan, if you begin at the bottom levels and ask the question "why am I working on this", the answer should be found in the plan level directly above it. Asking the questions of "how?" and "why?" is a simple but effective way to build a robust business plan.
4) Communicate, Communicate, Communicate
Most clients I work with spend an inordinate amount of time developing and refining their business plans. But they almost spend no time at all considering how to communicate it to their organization.
In reality, these two should hold equal weight. Remember that communication or rollout is not an event but is a process. There is a reason big corporations seemingly inundate your television with a single ad 20 different times during a 3-hour football game. It's because they understand what others don't – frequency builds familiarity and familiarity breeds trust.
Much like an advertiser, your job is to build familiarity with your business plan and get your organization to buy-in. If you commit to innovation, your business plan will thank you.
About AchieveIt
AchieveIt is the platform that large organizations use to get their biggest, most important initiatives out of the boardroom and into reality. There are so many great ideas never quite make it across the finish line, because there's no real way to keep everyone on track. What does it take to actually guide these initiatives all the way through to completion? You've got to:
Get everything in view – so you can see what's happening with every initiative, at every level, from the enterprise to the individual, in real time.
Get everyone engaged – with an easy-to-use platform that connects your organization from the executive leadership to the project teams, keeping everyone accountable and on the same page.
Get every possible advantage – not only because you have the premier platform in this space, but because you can draw on the experience and best practices of our execution experts.
That's why everyone from global corporations, to regional healthcare systems, to federal agencies have turned to AchieveIt for their Integrated Plan Management. Let's actually do this.
Ready to improve your plan execution?
Organizations of all types leverage AchieveIt to connect, manage, and execute their most important initiatives. Replace manual processes & siloed systems with interconnected plans in a single, automated platform.