Tactics and strategy were originally military terms from Sun Tzu's "The Art of War." Companies have adapted these terms to fit business methods and modern contexts. What is the difference between a strategy and a tactic? The two are often confused, but they are different.
If you imagine pinpointing a destination on a map and deciding it would be beneficial to go there, that's your strategy. How are you going to get there? What specific actions are you going to take to reach your destination? If you can answer this, you have your tactics. In business terms, a strategy comprises your long- and short-term goals. Tactics refer to day-to-day operations that help your business reach its goals. Both are critical for business success, and companies should explore, define and track their strategies and tactics to yield maximum benefits.
In This Article
What Is a Strategy?
Every business needs a clear roadmap of where it's going. A strategy provides this roadmap by defining a company's direction, vision and overall mission. Your strategy's primary goals should be to maximize your strengths, pay attention to opportunities for improvement and minimize your competitors' advantages.
An effective strategy requires explicit knowledge of your goals and an understanding of the uncertainty of the business space. A strategy is a blueprint businesses use in decision-making. It provides a sense of direction and purpose in the face of unforeseen events and a clear path to pursue your mission and goals.
What Is a Tactic?
Tactics break down the actions and steps you need to take to implement your strategy. A strategy gives you an overall view of the big picture, and tactics are the methods you and your team will use on the ground every day, pushing your business toward its end goal.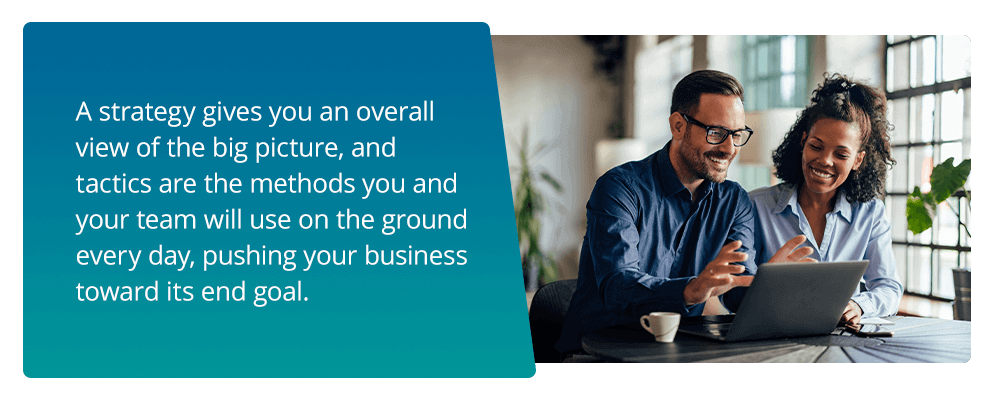 Tactics are more specific and concrete than strategy. They often aim at reaching shorter-term goals and taking individual steps. Tactics are actionable rather than theoretical and provide team members with daily targets and accountability. Each tactic contributes directly to your business mission and goals.
The Difference Between Tactics and Strategy
While tactics and strategy work together to achieve a business's long-term objectives, there is a definite difference between tactics and strategy. In simple terms, let's define strategy vs. tactic:
Strategy: A strategy provides a well-defined destination for your business, including specific long-term objectives and your plan to achieve them.
Tactics: Tactics complement your overall strategy by providing actionable steps to achieve your goals. They are more specific and less theoretical than a strategy and often have short-term targets. They are also known as strategic initiatives.
For successful strategic planning, businesses can't have one without the other. If a company has an excellent strategy but no tactics to augment it, it'll spend more time outlining how they plan to achieve its goals than knuckling down and putting in the work. Implementing tactics without a strategy means people complete tasks without any objectives for the bigger picture. Employees are more likely to suffer from burnout without intrinsic motivation and clearly defined roles and goals.
Businesses need a good strategy and tactics to stay ahead of the curve and maintain an advantage over their competitors. Tactics and strategy must complement each other and provide strategic planning on all levels, from the daily grind to the 10-year plan.
What Makes a Good Strategy?
Your strategy is the foundation for all the decisions and activities within your business. Having a plan is one thing, but a good strategy is entirely different. Some crucial elements of a good strategy include the following:
Clear goals: The first step to building a good strategy is knowing what you want to accomplish and quantifying these goals. Your strategy is your map. It influences all your business's actions, so it must be clearly defined.
Accurate reflections: What are the core values of your business? Your strategy should reflect these values and influence decision-making, now and in the future.
Pre-emptive planning: The business world can be unpredictable, so a good strategy always has a built-in contingency plan. If unforeseen circumstances push your journey off course, you have to be able to handle it.
Actionable objectives: Although strategies are partly theoretical, your goals and the strategy you employ to attain them must be actionable.
Extensive research: Your strategy should be based on reliable data. Gathering data from past experiences will help you project into the future, so before you can put together a good strategy, you need to plan it and do as much research as possible.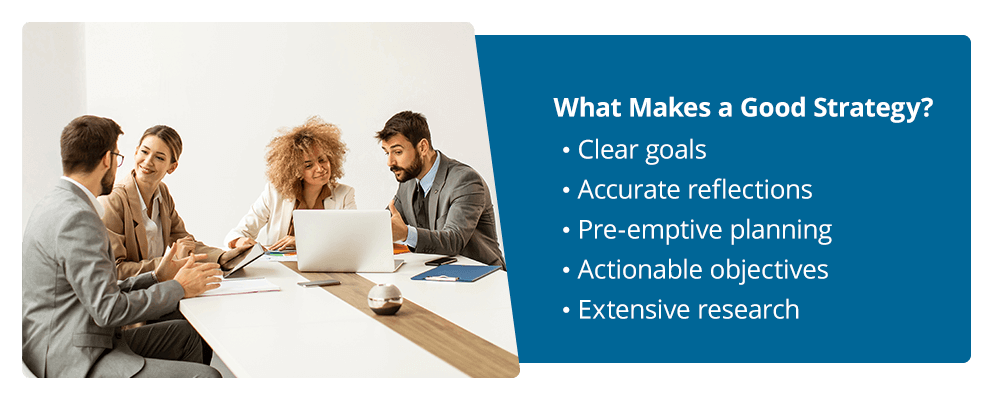 What Makes a Good Tactic?
Aside from augmenting your strategy, what else makes a good tactic? Some essential features of a good tactic include the following:
Explicit purpose: Your tactics must always have a precise aim that augments and builds your strategy.
Fixed timelines: The timelines for strategic initiatives are always finite. Well-defined activities should be completed in a specific time frame. Measure the impact of these tasks and analyze the data to make changes to your strategy as needed.
Short-term application: Tactics detail the steps your business needs to take to reach your goals, so the deadline should be short-term. You're breaking your strategy into easily digestible chunks, taking a long-term plan and streamlining it into short-term actions.
Actionable steps: It should be clear to everyone what has to be done to complete a strategic initiative. The more specific you make your tactics, the better the results.
Strategic link: If you can't see how your tactics augment your strategy, they may not be the best use of your time and resources. Every tactic should have a clear link to your strategic goals and provide measurable results to achieve your principal intentions as a business.
Three Tactic vs. Strategy Examples
Tactics and strategy are connected — you can't have one without the other, but how do they work together in the real world? Tactics and strategy sound great in theory, but your business might benefit from some practical examples to implement the concepts effectively. Consider examples of a strategic and tactical approach in these three industries:
1. Health Care
Many health care organizations are at capacity, which is detrimental to patient experience. A health organization must address these two challenges to ensure success and maintain its valuable services to the community. The first step is to devise a strategy.
Strategy
Building an addition onto a health care facility is unlikely, so organizations need to consider an attainable goal to work into the strategy. One option is to make internal processes more efficient so patients can get in and out quickly. They could also devise a plan to improve patient experiences.
Tactics
Short-term steps to make this strategy actionable could include the following:
Introduce a scheduling app to streamline urgent care better and address patients quickly.
Use data analytics to identify weak points in the discharge process.
Provide actionable tasks for staff to ensure the discharge process meets patient needs and minimizes readmissions.
Incorporate data analytics to provide a predictive model that outlines hospital capacity challenges.
Give patients access to a two-way communication platform and ensure timely responses to increase patient engagement and identify areas that need improvement.
2. Government
Local governments require transparency, visibility and accountability to succeed. They must be responsive to citizens' needs and provide thorough information on their strategy and processes. Improving transparency and citizen engagement is a worthy goal for all local governments.
Strategy
A broad strategy to achieve goals may focus on improving communication by implementing innovative two-way communication channels, encouraging citizens to engage with government departments, and keeping people informed of the goals, plans and successes. Governments should understand what their communities want and require and be able to provide them with real-time updates.
Tactics
Some tactics governments could use to augment their strategy include the following:
Update the publicly-facing website and user interface to promote citizen engagement and encourage communication.
Create an innovative community dashboard to foster two-way communication — the public can interact with the government, and the government can provide real-time updates.
Develop and roll out a marketing plan that informs citizens of innovations and encourages them to engage with the government.
Use data analytics to pinpoint opportunities for improvement and incorporate them into the existing strategy, then share these updates with the community.
3. Education
Education systems are always looking to improve the efficacy of their programs and learning outcomes. Tests and practical assignments provide a quantifiable method of judging their performance. Educational organizations could implement various strategies and tactics to achieve these objectives.
Strategy
They could focus on reporting to standardize learning outcomes, relieve the burden on their administration and enhance their programs with the data. This strategy would go hand-in-hand with incorporating more technology in the institution for staff and students.
Tactics
The short-term tasks educational institutions might set to achieve their strategy could include the following:
Incorporate reporting software in the coming year and train teachers, administrative staff and students to use it effectively.
Use data analytics to examine student outcomes and identify areas where you can improve your program, teacher education and student engagement.
Roll out assignments in real-time to ensure students meet their key performance indicators (KPIs).
Implement smart learning systems in all classrooms and provide teacher training to foster a culture of innovation.
Align the marketing plan to complement their strategic initiatives and enable staff, administrators, parents and students to communicate effectively.
Measuring and Tracking the Progress of Tactics and Strategies
Taking the time and spending the money to put together an excellent strategy — and tactics to augment it — must yield clear results. Measuring and tracking your progress can let you know if your strategies and tactics are working or need revising.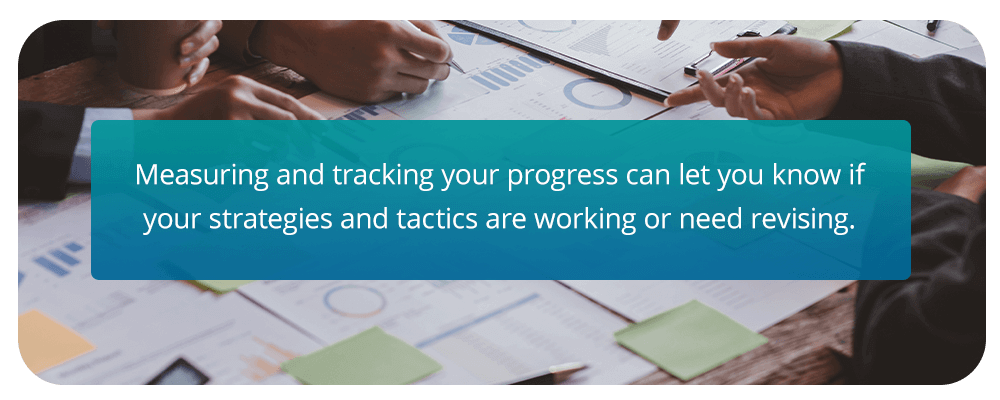 Measuring and Tracking Strategies
To track the effectiveness of your strategy, you must develop some key performance indicators to quantify its performance.
KPIs rely on quantitative data to determine the progress of your strategy and provide input on how to boost the numbers further. Review your strategy and decide where you can put measurable KPIs in place. Set targets that align with your KPIs and choose reasonable time frames for your team to meet these targets.
A good strategy is adjustable in the ever-changing industry landscape. Accurate tracking and measurements are essential to strategic planning — they provide you with crucial information on where your strategy is succeeding, so you can maximize these positive outcomes. KPIs and other measuring tools also show incontrovertible evidence of your strategy not performing as planned. Armed with this data, you can adjust your tactics to stay on track regarding your goals.
Measuring and Tracking Tactics
Effectively tracking your tactics requires careful planning and a strong culture of accountability. All your tactics should have a start and finish date and milestones to break the work down into achievable amounts. Your team members need specific action items to guide them toward completion and adequate allocation of resources.
Tactics give you a step-by-step breakdown of what every organization member needs to achieve, so you can hold them accountable for relevant tasks. Assign ownership for each strategic initiative, and ensure you can measure strategy-related outcomes. Track how resources are used so you can update your budget accordingly.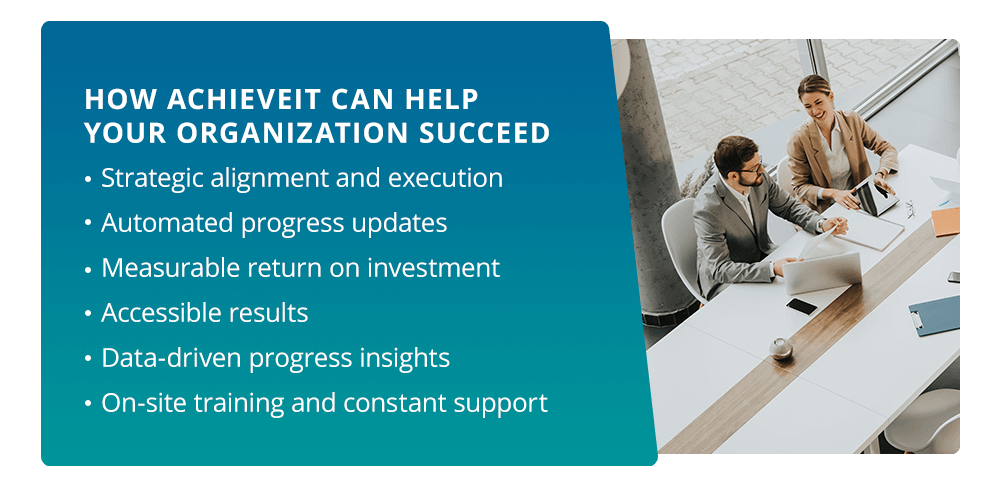 How AchieveIt Can Help Your Organization Succeed
Devising a strategic plan is only part of the process. Many businesses have a gap between strategy and execution, which is where our industry-focused strategic planning software comes in. AchieveIt can help you with strategic and tactical outcomes in the following ways:
Strategic alignment and execution: You can create alignment and organize your initiatives with our process-focused software to align, integrate and execute strategic plans across your organization.
Automated progress updates: Progress updates can be challenging as data comes in from different sources. With AchieveIt, the end user is the focus, and automated update requests are delivered via email, so there's no need for time-consuming login processes.
Measurable return on investment: AchieveIt conducts regular business reviews so you can analyze whether your progress is in line with your strategy.
Accessible results: You can easily filter and create outcome-specific reports focused on what matters most.
Data-driven progress insights: You get a holistic view of your business strategy and its progress when you combine your data with context. With this detailed information, you can see what works and what needs work.
On-site training and constant support: Your strategy execution expert will get back to you quickly if you want a second opinion on addressing a challenge. AchieveIt also provides on-site training so you can look forward to quicker adoption and employee engagement.
Let's Actually Do This
Most organizations use goal-based strategies to drive their bottom line and motivate employees. With AchieveIt, your business can benefit from our integrated platform to accomplish big goals. Whether you have a strategy and need help implementing it or want some input streamlining your strategic approach, AchieveIt can help you increase visibility, improve accountability and establish uniformity in a single automated platform.
Using AchieveIt's two-pronged approach can transform your great ideas into successful initiatives. Schedule a demo with us today if you want to learn more about AchieveIt strategic planning software. Alternatively, take a self-guided tour and experience AchieveIt firsthand. Together we can connect, manage and execute key plans and initiatives with innovative integrated plan management.