Six Sigma is a disciplined, data-driven approach and methodology for eliminating defects. Though there are many standard ways to keep track of six sigma projects, the most common is the DMAIC methodology: Define, Measure, Analyze, Improve, and Control. This methodology, coupled with appropriate six sigma tools, can improve the execution of your six sigma initiatives.
DMAIC Methodology
Typically, you will use the DMAIC methodology to improve a process currently in place within your organization. We see this methodology employed particularly often in process improvement job functions. Below is an explanation of the DMAIC methodology: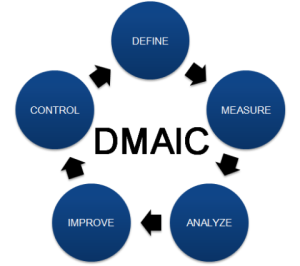 Define
This phase includes steps that are purposefully aligned to identify the business case for an initiative or project and the analysis of the project's business impact. It includes financial analysis and gathering customer feedback.
A key piece of the Define phase is to document the analyses you complete, in a way that's easily accessible to all the people involved with the project. Six Sigma tools, especially an execution insight platform, will provide the ability to collaborate and store documentation/deliverables related to each step of the Define phase in a single place.
Measure
Identifying how you will measure success is easily the most critical phase. Study the trends of the current process to establish the baselines you'd like to improve upon, then set a target for improvement. The key criteria when establishing your target is not only to decide how much you can improve but also to set target dates for improvement milestones. Additionally, completing competitor and market research will help you establish the right target in order to meet your organization's goals.
Analyze
The steps within this phase will find the root causes that are causing defects in your system. It's a more complex phase because you will be analyzing how much impact the various root causes have on the outcomes you are trying to influence. Process maps and analysis should be stored where the rest of the team members can access and understand improvement opportunities.
Improve
The Improve phase will allow you to systematize the brainstorming efforts that lead to solutions. Try brainstorming off-the-wall creative ideas, in addition to the traditional "solutions" to your problems, as you never know when a different perspective could uncover the right approach. Once you identify some potential solutions, be sure to track the implementation of the solutions within your chosen six sigma tools or execution insight platform.
The key to succeeding in the Improve phase is not just to involve the right key players and to establish deadlines, but also to set a single responsible team member. When everyone on a team is "accountable" for a step, no one is truly held accountable. When a single individual is responsible for a step, you can truly enforce accountability.
Control
Finally, you must be able to continue to measure, over time, how the solutions are improving your process. Establish "out of bounds" metrics that alert you when new solutions may be needed. Tracking these measures in a system such as AchieveIt will allow you to continuously monitor your quality and success.
Implementing the DMAIC Methodology with Six Sigma Tools
The DMAIC methodology (and really process improvement as a whole) is grounded in systems and workflows. Therefore, you need an application that can interface "system-wide" within your business and layer on top of the existing workflows of your frontline staff. This is the essence of AchieveIt's Execution Insight Platform.
Using a collaborative platform to work through your DMAIC process is important for all team members to have clarity into how their projects align to the strategic big picture. It allows managers clear visibility into the status of initiatives and helps them hold their teams accountable.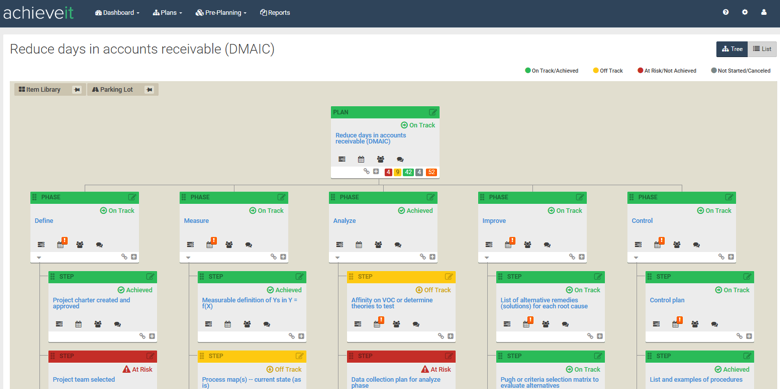 We've created a Six Sigma DMAIC Excel template that you can use to track your initiatives. This template will help you organize your DMAIC project, and prepare you for the implementation of an execution insight platform.
While there are many six sigma tools available, few are tailored perfectly for companies that adopt process improvement methodologies (like DMAIC), or for those looking to achieve operational excellence. To learn more about how AchieveIt can support your six sigma or process improvement initiatives, sign up for a free demo.