Effective strategy execution has always been notoriously difficult. It's thorny, nuanced, and resistant to most efforts to improve it within an organization. There's a reason many studies have found that 90% of strategies fail. And that clients come to AchieveIt in the first place.
In my experience, most organizations struggle with some or all of the following issues:
Ineffective communication – the most common inhibitor of strategy execution
Poor or absent alignment – not having a coherent and consistent organization across various levels of planning
Ineffective change management – failing to engage the culture of an organization as a means of strategic execution
Lackluster performance management – not understanding how to properly measure success
A great deal has been written about each of these topics, and as an electrician methodically tracking down a faulty outlet, these are the common areas we engage with our clients first. Lately, however, I have noticed a new recurring issue across organizations. That is – ineffective sensemaking.
What is sensemaking for strategy execution?
According to Forbes, sensemaking "is the process by which people give meaning to the things they face in an experience." Sensemaking, by its very nature, is ingrained in the fabric of the human experience. It is a combination of communication and contextualization that helps us rationalize our world. In almost all cases, we cannot perform our best in situations that do not make sense.
Sensemaking for strategy execution means giving your team meaning to a new strategy or direction. It means giving each person involved a fundamental understanding of a particular decision in the context that is most pertinent to that individual.
As a leader, it's your responsibility to take an individual or team's unique situation and articulate the decision-making in the language and context of that particular worldview.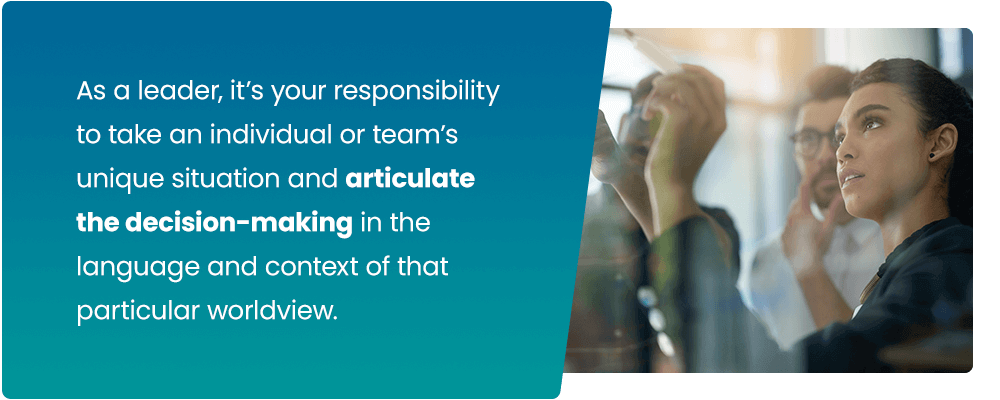 What does effective strategic sensemaking look like?
Organizations that do this well explain that sensemaking is as much about mindset as it is about execution. A commitment to sensemaking requires flexibility and a broadening of perspective. As it pertains to communication with your peers, it demands a level of empathy not commonly found in most corporate communication. To help something make sense to another you must be willing to put yourself in their shoes.
An important maxim to the sense maker centers around "strong ideas weakly held". It helps leaders remain open (if not exactly appreciative) to results that differ from predictions.
Strategic sensemaking leaders are willing to change course when they find themselves in this position. Too often in strategic planning and strategy execution, leaders rigidly follow a planned path towards what, in their mind, is a predetermined solution.
Four Drivers of Strategy Execution
Download this guide to understand the cost of allowing poor execution, identify common barriers and learn how to implement a system that encourages a culture of execution.
Taking a step towards sensemaking in your strategy execution.
You, as a leader, are key in leading the strategic change toward sensemaking. As leaders form the strategic direction of your organization shift to strategy execution, try to bring a level of sensemaking into your leadership toolbox.
We already know that a "poor strategy well communicated is better than a good strategy poorly communicated." If you can take strong communication, and layer in contextualization, you'll have a strategic direction that truly makes sense.
Creating a sensemaking mentality in your organization is a pivotal step towards taking a strategic plan from theory into execution. It may be the most important step you take as a leader today.
About AchieveIt
AchieveIt is the platform that organizations use to get their biggest, most important initiatives out of the boardroom and into reality. There are so many great ideas never quite make it across the finish line because there's no real way to keep everyone on track. You've got to:
Get everything in view in real-time
Get everyone engaged while also holding them accountable
Get every possible advantage drawing on the experience and best practices of our execution experts
That's why everyone from global corporations, to regional healthcare systems, to federal agencies have turned to AchieveIt for their Integrated Plan Management. Let's actually do this.
Ready to improve your plan execution?
Organizations of all types leverage AchieveIt to connect, manage, and execute their most important initiatives. Replace manual processes & siloed systems with interconnected plans in a single, automated platform.