Communication is an integral part of any government organization. Many audiences, including the public and other government entities, look to municipalities for various information. As an organization that must make changes, implement initiatives and communicate effectively, a strategic plan is necessary.
A strategic communications plan for your municipality helps strengthen communication between your organization and its audiences. Plan your communication needs for the next month, quarter and year with an effective strategy for your entire organization.
Learn more about strategic communication plans and get started with a free downloadable template.
In This Article
What Is a Strategic Communications Plan?
A strategic communications plan is a written document intended to outline and guide an organization's communication efforts. Strategic communication plans create a strong foundation for communications and marketing activities through the proper channels for your audiences. Your organization can identify communication goals and a framework for understanding and implementing the strategy.
More specifically, a communication strategy should highlight the "who," "what," "when," "where" and "how" of your organization's communications. Identify what information you must communicate, who you're communicating with, where information gets shared, when information is delivered and how to track and analyze communications. You may have several different information types, audiences and communication channels, all of which you must address.
For example, a communication strategy in local government would likely include plans for communicating between federal, state and local government entities, public institutions, private partners and departments within the municipality. The information communicated to each of these different parties will vary, requiring different communication channels, timelines and analyses. Setting up a communication strategy for each communication need ensures it's effective.
A municipal communications strategy intends to help you achieve goals and grow toward purposeful communication with a specific outline of how you'll do so.
How to Create a Communications Plan
Developing a communications plan helps you effectively use your resources. You'll set priorities and objectives while learning more about your audiences to create an effective and unified strategy. Creating your communications plan is relatively easy and saves you significant time and resources.
Here are six steps to creating a strategic communications plan for your municipality.
1. Establish Goals for Your Communications Plan
The first step is identifying your goals so you have defined expectations for your strategy. Only set a few goals to ensure each gets the effort and attention necessary for success. Your goals should be realistic, measurable, specific and action-oriented.
For example, you may want to incorporate new communication channels moving forward. To make this goal specific, you might incorporate communications through social media to increase engagements with a certain demographic by a specific percentage.
When considering your goals, ensure you have methods for measuring and tracking them so you can see your progress. Also, keep resource constraints in mind to prevent going over budget or taking too long to reach the goal. Remember that you can't change everything at once — pick somewhere to start, and as you meet goals, you'll continue making changes.
2. Define Key Audiences and Messages
After stating your goals, the first thing to identify is who will help you meet those goals. Defining your key audience helps you identify to whom you'll deliver your messages. This audience may include each department within the municipality, citizens of the city or town, media representatives and other government leaders.
Once you define your key audiences, you should focus on how you'll reach these groups and what messages they need to hear. Consider how and where your audiences receive information and what information is important to your audiences. For example, most of your community will only be concerned about information that's relevant to them.
3. Create a Tactical Outreach Plan
Next, create an outreach plan based on the channels you'll use to communicate with your key audiences. You can use various tactics to reach your audiences, including newsletters, social media, email and public TV and radio.
Your outreach plan will be most effective if you communicate with your audiences through the channels they utilize the most. For example, you'll likely reach most of your community through social media and news channels.
Also, consider how your audiences will respond to your messages. Will they have questions and need to contact you? Include contact opportunities in your outreach plan such as editorial board meetings or community forums.
4. Develop Materials
Depending on your goals, the information being communicated and key audiences, you may need to develop various materials for your outreach. Materials like press releases, press kits, articles, public service announcements, newsletters and videos are common materials used in communication strategies.
You may need one, all or none of these materials depending on the goals you set for your plan. You may produce some of these materials internally and outsource others depending on your municipality's experience.
5. Specify a Timeline
Determine how frequently you need to communicate with each audience. Your timeline will vary significantly depending on the audience, the channels used and your goals.
For example, you might post on social media to communicate with your audiences several times a week, while you may send monthly newsletters. Setting a timeline for different types of communication will help you and your teams stay on track and organized to send communications when necessary.
You can also use your timeline to plan communications ahead of time. For example, you may schedule certain messages to send on specific days. Doing so helps you plan and ensure timely communications.
6. Share Your Plan
As you plan your communications strategy, you should document it and keep a record of everything you decide on. Once complete, you'll have a written document to share with stakeholders throughout your municipality, so everyone is on the same page.
Creating a digital document is typically best, as you can easily distribute it. As needed, you can update and reshare your strategy.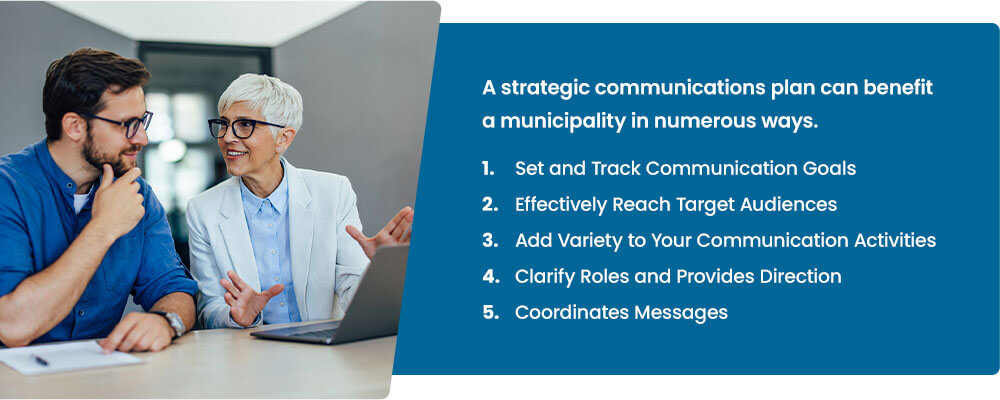 Reasons Municipalities Should Implement a Strategic Communications Plan
Municipalities and local governments manage many essential aspects of a city, including housing services, transportation services, emergency services and more. With such responsibility comes a significant need for effective communication.
Having a well-planned communication strategy is crucial whether you're communicating between these departments or directly with citizens within your municipality. A strategic communications plan can benefit a municipality in numerous ways.
1. Set and Track Communication Goals
One of the main reasons any organization, business or municipality creates a communication plan is to set and track goals more effectively. Goals can easily fall out of focus when you don't outline or plan for them.
Creating a communication strategy in local government allows you to build an entire plan around your goals, helping to ensure your entire municipality works to reach those goals. With a plan to help you track and reach these set goals, your goals are more likely to become a reality.
2. Effectively Reach Target Audiences
As mentioned above, each of your key audiences likely has specific communication needs. A strategic communication plan can help your municipality reach those audiences effectively based on their needs.
Let's say you primarily use email to reach other government officials and share messages. However, an email is an unrealistic option for reaching all of your municipality's citizens. Rather, you may use public TV and radio messages to share information with them.
With these strategies outlined in your communication plan, you'll be equipped to communicate successfully, and your audiences will be more likely to receive that information properly.
3. Add Variety to Your Communication Activities
You have a nearly infinite number of ways to communicate with your audience. However, you may only use a few communication methods you're most comfortable with or are most effective. With a communication strategy for municipalities, you can determine which communication activities and methods are most effective for various audiences.
You can also use your plan to find ways to incorporate new communication activities into your strategy. Adding variety to your plan can help you reach new audiences and keep them interested in your messages. For example, you may add a monthly newsletter to your communication strategy and invite your key audiences to subscribe to it for updates.
4. Clarify Roles and Provides Direction
A communication strategy is also beneficial because it helps everyone involved understand their role and provides direction for communicating moving forward.
Assigning roles and responsibilities clarifies what each person or department contributes, ensuring everyone is on the same page. This aspect reduces the need for micromanagement and prevents misdirection, as everything is organized, planned and assigned to the necessary party.
With clearly defined roles and direction for the year ahead, your municipality can be better prepared for efficient communication.
5. Coordinates Messages
A municipality consists of numerous departments, external parties and other aspects that must be coordinated. Every party within your municipality should be on the same page, especially regarding communication.
Without coordination, each party could send different messages or share different information. This situation can cause significant disruption and confusion across your municipality.
With a detailed strategy, you can ensure your communication is coordinated and all parties are on the same page regarding what information to share and how to share it. Coordinated messages help ensure you share the right information with your audiences.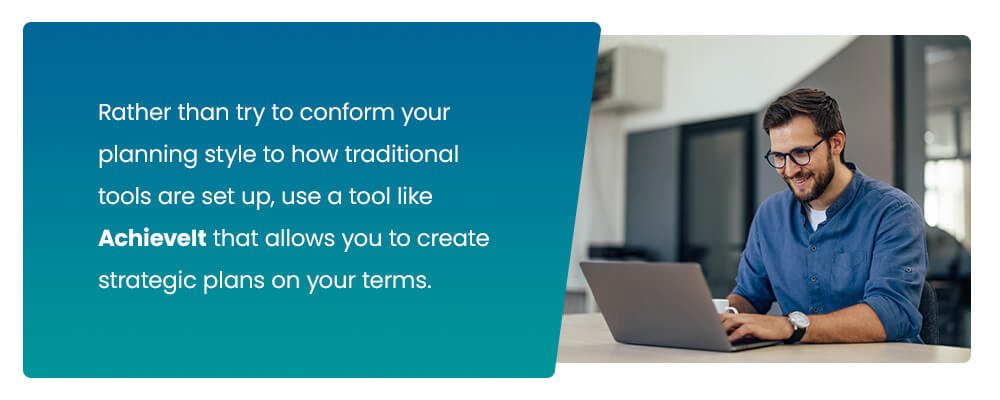 Improve Your Strategic Communications Plan With the Right Tools
Traditional tools and processes for planning and execution, like strategy development, project management and business intelligence tools, offer a starting place for strategic planning and may work for certain organizations or applications. However, they can be limiting, especially for municipalities that want to build and track strategic plans effectively.
These tools are often disconnected, not user-friendly, difficult to manage several tasks, limited in flexibility and provide limited insights. Additionally, tools like PowerPoint or Excel aren't designed specifically for strategic planning, meaning they lack many necessary capabilities.
For the most effective and efficient strategic planning, utilize software designed to help you create a strategic plan. Rather than try to conform your planning style to how traditional tools are set up, use a tool like AchieveIt that allows you to create strategic plans on your terms. AchieveIt allows you to create plans and processes or draw inspiration from other municipalities and government organizations.
Here are a few specific benefits of using AchieveIt:
Automated planning and processes: AchieveIt is automated, meaning you'll spend more time doing what matters and less time chasing down updates and completing manual tasks. With all your departments, plans and processes organized in one place, you can automatically see progress updates and generated reports in your dashboard.
More productive meetings: As you're creating a municipality communications strategy, you'll likely have meetings with your teams to generate the document. Even after your plan is finalized, your team will meet regularly to ensure your strategy works as planned. AchieveIt provides automated updates, so your team meetings can be more valuable. You'll spend more time discussing solutions for issues that need your attention as a result.
Streamlined planning process: AchieveIt is a centralized strategic planning software, so everything you need is in one place. Searching through hundreds of tabs, thousands of spreadsheet rows or many outdated PowerPoints can waste significant amounts of time. With AchieveIt, your plans and updates are organized in one easily accessible place. Viewing your plan's initiatives, details and history is only a few clicks away.
Numerous communication methods: As a government organization, the public has high expectations of your municipality and its initiatives. AchieveIt is extremely helpful for municipalities because it offers several ways to communicate with the public, increasing transparency with your audiences and simplifying how you share information. Whether the information is linked to your website or shared directly through public dashboards in AcheiveIt, keeping the public involved has never been easier.
Our software has numerous planning and tracking features that help municipalities create an effective strategic communications plan. Regardless of what strategies you want to implement, AchieveIt can help you plan it.
Download Our Free Strategic Municipal Communications Planning Template
At AchieveIt, we're your partners for strategic planning. We'll partner, learn and grow with you to reach your strategic goals and form a communications plan that works for your municipality.
While our software allows you to create plans the way you want them, we're also here to help if you're unsure where to start. Our free strategic communications plan template for municipalities can be filled in with your information or simply used as inspiration for what your strategy will become.
Learn more about how AchieveIt works by requesting a demo. Need more help figuring out how to start organizing a strategic communications plan? Contact our team for additional support.