Companies focus on market strategy development and execution when looking to expand their total addressable market or market a new use for an existing product. Knowing your market is just as important as knowing your organization. It is important for growing businesses to draft a compelling market development strategy, as part of a comprehensive strategy development and execution process, and to create goals and objectives to implement the strategy so that company growth and revenue do not stagnate.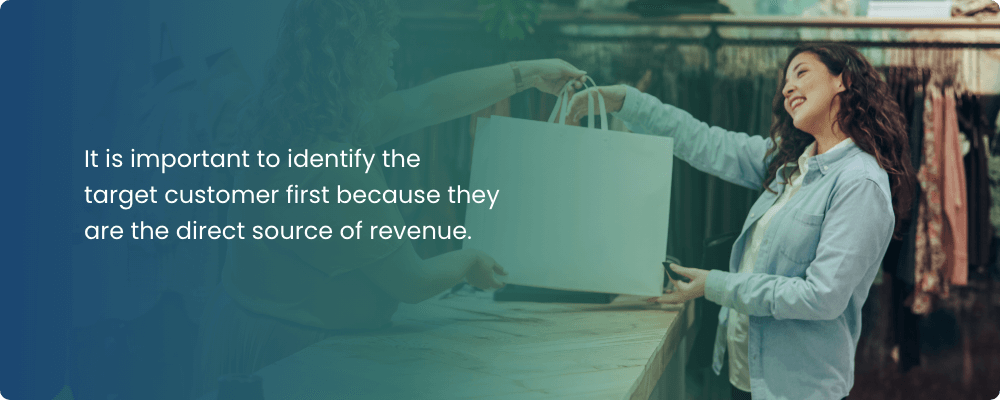 Target Customer & Reasons to Buy
The Chasm Institute recommends a nine-element approach to creating a market strategy development and execution. Here, we delve into two of the most important elements: target customers and reasons to buy.
Target Customer: It is important to identify the target customer first because they are the direct source of revenue. Without identifying the source of revenue, the rest of the strategy cannot move forward. It is common for most businesses to have more than one target customer. Try to think of as many viable target customers as you can.
Reasons to Buy: New enterprises often begin because an entrepreneur saw a gap in the market and a demand for the product. Other times, savvy business executives have to create a need for a product they feel passionately about, thus the need for a market development strategy. Once you have identified your target customer, write down compelling reasons they should buy the product. These could include core business processes or issues the product solves or assisting the business in generating better value or production quality.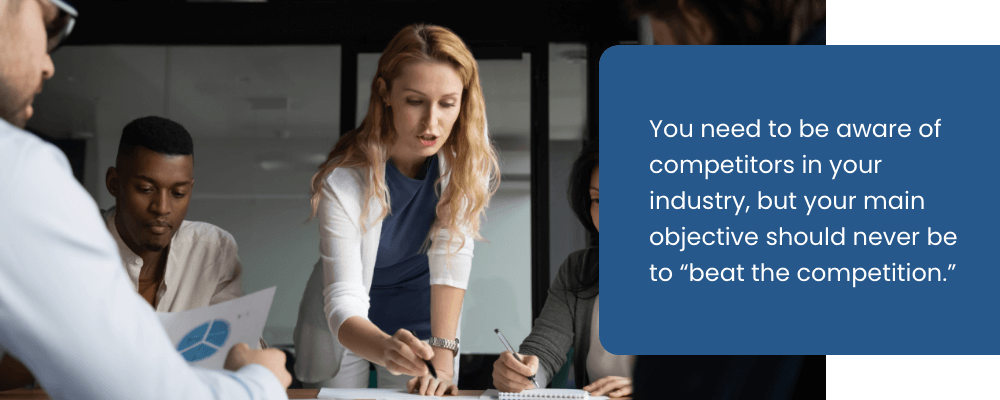 Market Strategy Development and Execution: Other Considerations
The Chasm Institute also includes these four important elements in its model: whole product, distribution, competition, and positioning.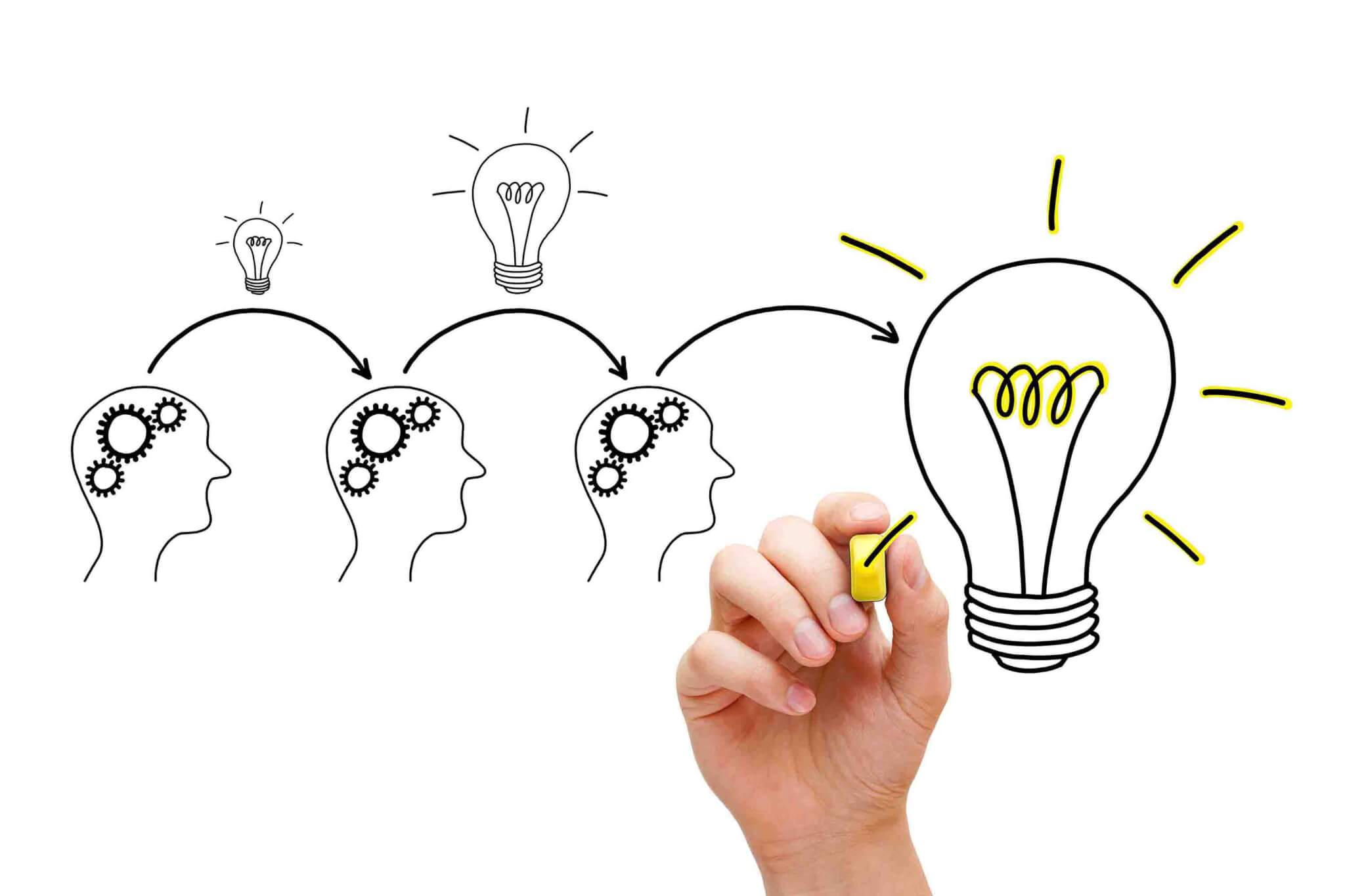 Whole Product: If your business sells only one product, write that product down. This is your "whole" product. If you are a business that has multiple products, then you should think of ways and reasons to sell as many products to your target customer as possible. The "whole product" should be a bundle of all the products and services you are aiming to sell to each target customer.
Distribution: How will you get your product to market? The distribution element identifies which markets and venues will be best for sales, and which vendors and companies are your "allies" when it comes to getting your product to target customers. Will you use direct or indirect sales? How much interaction will you have with each target customer?
Competition: Identifying your competition is also important when drafting distribution ideas for your market development strategy. You should write who is your most direct competition with each target customer, but not make them the sole focus. You need to be aware of competitors in your industry, but your main objective should never be to "beat the competition."
Positioning: It is important to identify competition because then you have a better idea of how to present your product to the target customer. Why is your product the better choice? What advantages can your product give over the others? Product positioning should aim to answer the question: "What makes you different?"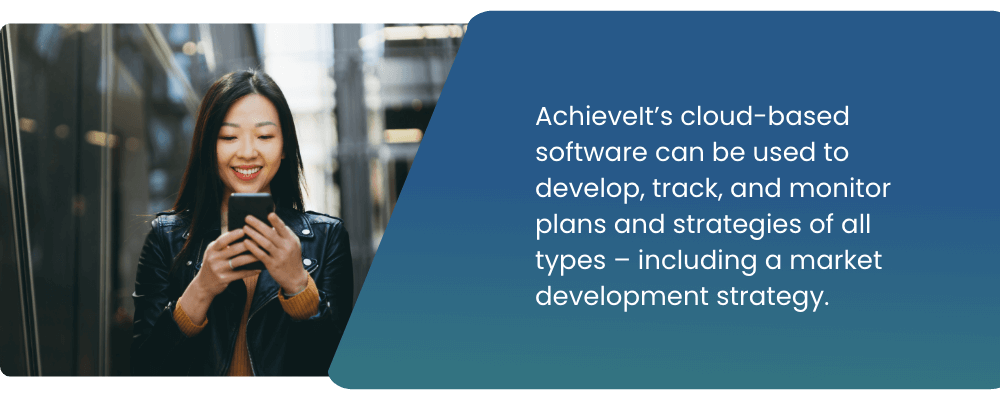 How AchieveIt Aids in Market Strategy Development and Execution
AchieveIt's cloud-based software can be used to develop, track, and monitor plans and strategies of all types – including a market development strategy. It includes a suite of tools that allow organizations to gather strategic business intelligence to focus its strategy, flexible plan design templates to build results- and action-oriented strategies, the ability to cascade assignments to individuals, automatic plan ROI calculations, scorecards, and dashboards, and point-and-click reporting. This best-of-breed software guides you through AchieveIt's proven Execution Flywheel that has generated breakthrough results for clients. No other cloud-based application guides you through the entire strategy development and execution management life cycle with such focused precision.
About AchieveIt
AchieveIt is the platform that large organizations use to get their biggest, most important initiatives out of the boardroom and into reality. Too many great ideas never quite make it across the finish line, because there's no real way to keep everyone on course and keep everything on track. What does it take to actually guide these initiatives all the way through to completion? You've got to:
Get everything in view – so you can see what's happening with every initiative, at every level, from the enterprise to the individual, in real time.
Get everyone engaged – with an easy-to-use platform that connects your organization from the executive leadership to the project teams, keeping everyone accountable and on the same page.
Get every possible advantage – not only because you have the premier platform in this space, but because you can draw on the experience and best practices of our execution experts.
That's why everyone from global corporations, to regional healthcare systems, to federal agencies have turned to AchieveIt for their Integrated Plan Management. Let's actually do this.