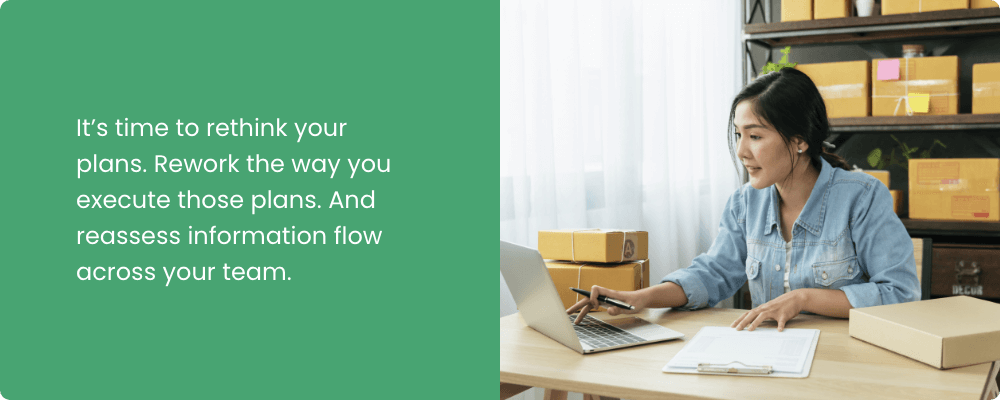 How to Make Critical Improvements to Information Flow during the COVID Crisis
You and your leadership are likely overwhelmed. More initiatives, fewer resources, same expectations. But more than anything, you still need up-to-date information about critical initiatives. You still need to be able to make the right decisions while in the middle of this crisis. If anything, they need to be made quicker.
You are not alone. Many of us suffer from decision fatigue and are overwhelmed with the increase in the volume of challenging decisions we must make.
Your organization likely has been able to maintain visibility and awareness so far with sheer effort. Generate more emails, create more spreadsheets, and circulate more documents. Each additional step adds to the whirlwind of today.
While this may have been effective to vary degrees, one thing is clear: this increased effort cannot be sustained without significant negative impacts on the health of your organization, your employees, and perhaps even those you serve.
It's time to rethink your plans. Rework the way you execute those plans. And reassess information flow across your team.
Improving Processes During a Crisis
What are other organizations and government agencies doing to address the challenge of long-term decision fatigue?
Many of the agencies we work with are focusing on a more simplified approach to plan execution.
So, what does this effective approach look like and how can you implement it also?
There are three things AchieveIt customers are actively doing to reduce the noise for their leadership and refocus their teams:
1. Increasing the frequency of reviewing the top priorities of their plans
Are any large shifts in your strategic plan are now necessary? If so, clarify these shifts and adjust resources as necessary.
2. Focusing their reporting (and meetings)
Reduce the noise for leadership and other report recipients by providing only the information necessary for the decisions at hand. Many customers have adjusted meeting cadences to be more frequent and focused. These new meetings are supported by similarly designed reports.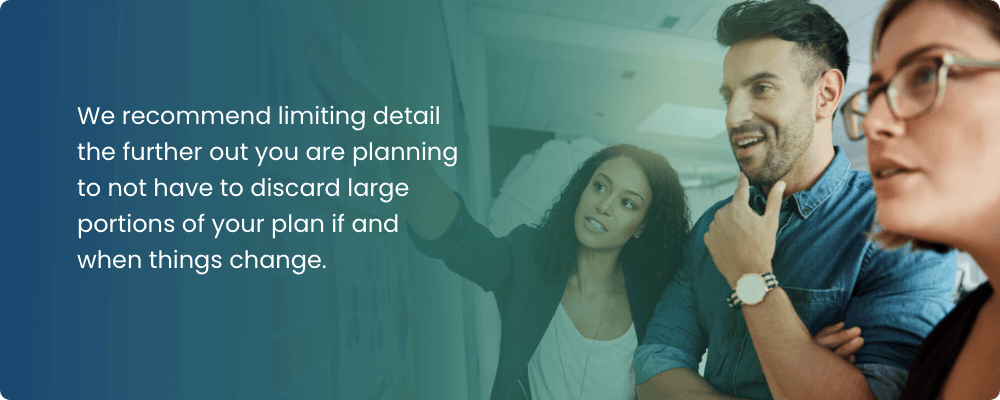 3. Aiming for good rather than perfect
In many cases, the future remains too uncertain to justify the time to create "perfect" plans we created in the past. We recommend limiting detail the further out you are planning to not have to discard large portions of your plan if and when things change.
How Organizations Improve their Planning & Execution Processes
If you think implementing these changes would take a powerful, difficult-to-implement software tool, you're partially correct. AchieveIt is a powerful tool for Integrated Plan Management, but one of its strengths is the ease of implementation. Now is not the time to put your organization through a long implementation that delays getting critically needed benefits.
Many individuals responsible for contributing vital information are onboarded with a short tutorial video. This gets your team up and running in record time. In addition to software capabilities, advanced users are taught to implement best practices from similar organizations with the help of your dedicated account team.
Improving inefficiencies in monitoring and reporting during this crisis has become increasingly important. A quick implementation enables you to quickly leave behind inefficient manual processes to collect and report information. This makes it easy to get the insight you need. With AchieveIt, government agencies and organizations of all sizes can automate the collection of regular updates across the entire organization. These updates automatically feed custom dashboards that provide the leadership the timely insight needed. Oh, and it significantly decreases the effort to get it to them.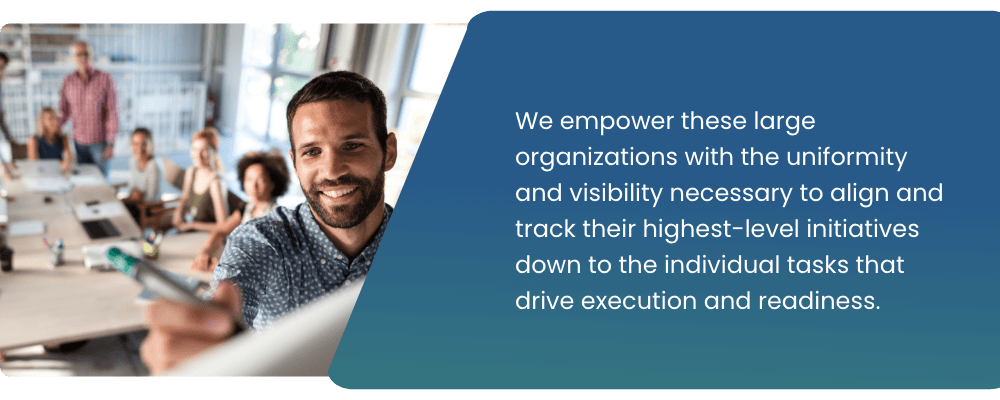 AchieveIt: A Proven Solution to Assist with Digital Transformation
With AchieveIt you have access to a unified platform for managing your workforce, planning, and carrying out your organization's objectives and initiatives with ease.
AchieveIt is a Software-as-a-Service platform that is widely utilized by organizations like the Department of Veterans Affairs, the Joint Pathology Center (JPC-DHA), state and local governments, and hundreds of large commercial entities to track and report on mission-critical plans and initiatives.
We empower these large organizations with the uniformity and visibility necessary to align and track their highest-level initiatives down to the individual tasks that drive execution and readiness.
With everything in one central location, it's easier than ever to stay informed, updated, and connected to one another while achieving goals and accomplishments as a unified front. AchieveIt Core Competencies:
Track performance of long-term projects
Monitor execution on mission-critical initiatives
Track key metrics with reports & dashboards
Coordinate important updates across the organization
Maintain Continuity of Operations
That's why everyone from global corporations, to regional healthcare systems, to federal agencies have turned to AchieveIt for their Integrated Plan Management. Let's actually do this.
Ready to improve your plan execution?
Organizations of all types leverage AchieveIt to connect, manage, and execute their most important initiatives. Replace manual processes & siloed systems with interconnected plans in a single, automated platform.