Any business can benefit from strategic planning, and getting your employees on board with your company's mission and goals can give you a competitive advantage during the process. By defining your business strategies, you also determine how to achieve your goals through specific actions and decisions. 
Implementing practices that promote growth and change may create a uniform vision of success for your team. Connecting and advancing how your employees, managers, leaders, and board members interact, formulate, and execute strategic planning can be the push you need to see success. Here are some helpful tips to consider if you wish to increase strategic buy-in.
Actively Involve All Stakeholders Early and Often
Engaging and communicating with stakeholders can be vital to success. Identify your stakeholders early in the process and know how to interact with and influence them properly. Think about what solid skills you and your team have and how you can approach this process. Try to monitor your progress and see if communication is successful. 
Involving your stakeholders in the planning process can give them a sense of influence and increase their commitment. Project teams can assess the best ways to sustain stakeholders and sponsors by setting clear goals for accountability and change. Developing robust relationships with stakeholders can reduce restraints, minimize risk, and open up future opportunities. It may also help your business to reassure stakeholders that you are maintaining efficiency and keeping communication open for problem-solving. 
With adequate preparation and regular reporting, stakeholders may feel more engaged to build on shared values and missions. Some additional ways you may involve stakeholders include:
Actively listen and exchange information 
Understand the stakeholders' wants and needs
Design specific roles and describe how you plan to accomplish objectives 
Optimize clarity in communication and conflict resolution
Show dedication to build trust 
Be realistic about resources and expectations
Develop a sense of ownership in your business or organization by demonstrating how well specific plans and ideas are contributing to the success of your strategic plan or outcome. Reinforce the importance of stakeholders' and employees' roles to increase participation and help them understand how they might improve the results' quality. 
Realize That Strategy Execution Is Culture
The combination of strategy, execution, and culture is perhaps the most significant contributor to organizational success. Sharing common values, beliefs and behaviors can create an environment for successful planning and strategic execution. To encourage your employees and team, foster an environment of empowerment to highlight accomplishments.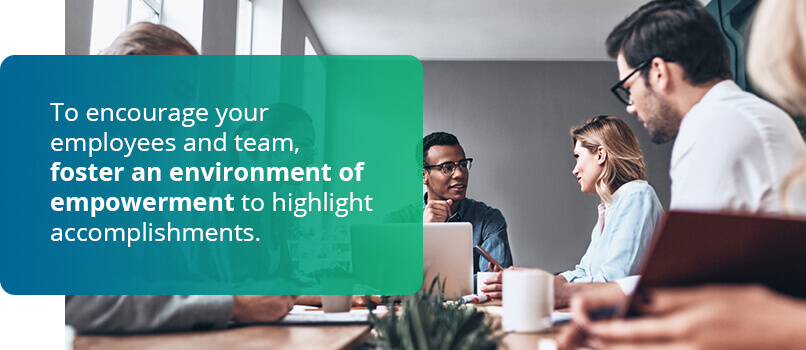 For any business, changes in planning and structure usually become necessary at some point. However, if your leadership does not highlight the importance of collective emotion in cooperating with others, it may affect the ability to aim for success. When trying to implement an interactive culture, five common characteristics may present barriers.
Mistrust: Prioritizing appearances over action and inefficient communication of useful information can contribute to seeing colleagues as competitors. 
Lack of receptivity: All leaders and team members should demonstrate their willingness and ability to participate in effortful change.
All talk, no action: Failure to communicate and collaborate properly can decrease motivation to work toward a common, actionable goal.
Autopilot: When employees experience excessive pressure and unrealistic performance goals, they may be less likely to take the initiative to try new things and innovate.
Complacency: Some or all employees may not be willing to take risks or bother with the effort of organizational change.
A cultural change can be necessary for implementing new, fresh ideas. It may also be critical for decision-making and strategic planning. It may be wise to appoint new people to specific roles that fit their skills and capabilities while providing opportunities and incentives to amplify performance and behavioral outcomes. 
Promote Collaboration Among Peers
A business that lacks encouragement or motivation may see a decline in employees' willingness to collaborate with others. It's vital to inspire collaboration among peers to help address any problems and consider different perspectives. All leaders and employees have distinct personalities and experiences that may influence their engagement with collaborative activities. Demonstrating how collaboration can improve employee performance with sufficient support will help meet your business needs. 
Demonstrating how each team member's involvement is integral to your organization's strategic functions and key processes may improve their willingness to cooperate. Here are a few ways to initiate and develop a collaborative workplace.
Create a close-proximity workspace: Employees who can physically interact and see each other may be more likely to inspire ideas and collaborate.
Build teams with the right people: Smaller or bigger units may be an advantage, depending on the project's size and goal. Consider different employee skill sets and how they may interact and align with business goals.
Implement guidelines: Reinforce a structure that identifies specific project goals and personal responsibilities to increase proactive behavior. 
Reward consistency: Reward team members who consistently initiate collaboration as an example for other employees.
Identify tasks that can benefit from collaboration: Promoting collaboration on a project or assignment where it might not be beneficial may decrease productivity. 
Businesses that encourage employees and peers to collaborate and connect may see more consistency in producing higher-quality solutions.
Measure and Communicate Progress
Tracking and measuring progress and accurate execution is a beneficial way to reach goals. One of the best ways to do this is by engaging a steering or planning committee to oversee the timeline and development of progress. The steering committee typically consists of a small number of industry leaders in the community that help generate support for leadership and the business. Steering and planning committees are in a position to drive change, evolve action planning, and handle project management. 
Additional ways that businesses can measure and communicate for strategic progress and advantage include:
Establish resolutions and objectives.
Track outcome and impact indicators.
Provide insight on improving business value.
Measure quality and quantity results.
Monitor perceptions of the business.
Promote trust and learning with monitoring and evaluations.
Other ways to communicate performance measures include documenting accomplishments, setting goals and standards, and correcting problems and processes. Keeping your team aware of their targets and responsibilities may contribute to more efficient strategic processes. To achieve the ideal outcome, identify successful trends and techniques for project planning. It may also be valuable to track cost reductions and limit and clarify priorities to increase credibility with stakeholders.
Recognize and Reward the New Way
Employee complacency and stagnation are typical problems. A lack of evolution due to poor leadership can lead to disconnection and decreased confidence. Generating an environment that promotes experimentation and thinking outside the box can produce fresh ideas and strategies. Rewards are among the most powerful motivators in a strategically focused business. Affirming your employees' hard work can encourage them to do even better.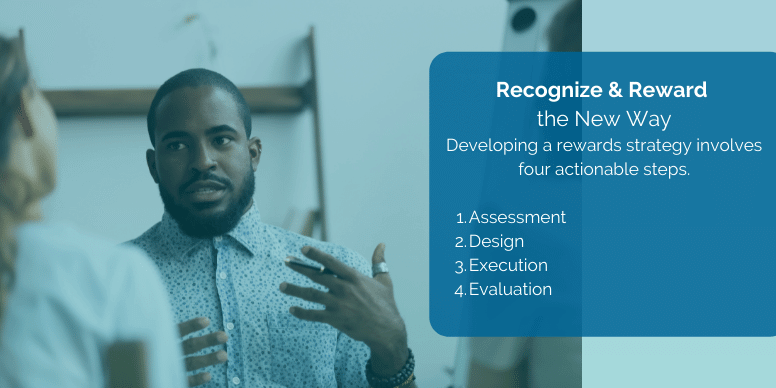 Every hardworking team member deserves recognition. Having a rewards system for your employees may provide incentives to achieve business goals and set an example for behavior and work ethic. 
Developing a rewards strategy involves four actionable steps.
Assessment: Analyze compensation, benefits, and opportunities for growth and development. Create a rewards system by assessing who is eligible and what rewards will work best.
Design: Aside from financial compensation, determine what rewards to offer, such as time off, promotional and training opportunities, and flexible schedules.
Execution: Implement the rewards system by communicating with employees about how they can meet goals and receive these perks.
Evaluation:Examine the rewards system's effectiveness and change or update the strategy to reflect business needs. 
Set performance expectations that align with your business needs. That way, you can maintain consistency with the values your company projects and the practices it implements.
Incorporate Different Ways for People to Have Input
Feedback is another convenient way to improve strategic plan buy-in. Knowing what your employees value most can assist in generating new ideas and detecting issues. Listening to team members' input is beneficial for resource planning because it cuts down on future obstacles in project execution. Involving your team and employees in the decision-making process can optimize engagement, collaboration, and solutions.
Here are some ways you can provide opportunities for input and feedback.
When leaders encourage employees to use their voice, they may feel more empowered in their meaningfulness to contribute to a project. Team members must feel comfortable sharing their thoughts and opinions to become more innovative and create a productive atmosphere. Compose regular check-ins for feedback to become more constructive and give employees a feeling of support. 
These kinds of conversations are pivotal to staying proactive and maintaining a positive impact. Embrace encouragement of different ideas and opinions when brainstorming to distinguish the most effective strategies. 
Schedule Board Meetings
When learning how to create buy-in, scheduling regular meetings with your board can be productive. Some areas of discussion during these meetings might be to report on the planning process, answer questions or work on solutions. These meetings can also provide a perfect opportunity to discuss different perspectives and board members' roles in accomplishing priority objectives. 
You can discuss plenty of additional topics during board meetings, such as:
Upholding transparency and integrity
Implementing values and goals
Prioritizing stakeholder engagement
Possible risks and impacts of projects
Monitoring accountability and performance
Determine expectations and opportunities for innovation
Effective board meetings can be your opportunity to reflect on your company's structure. Discussing compliance issues, financial performance, or relevant changes in the market can create alternative approaches and a new sense of direction. Board directors should always be involved in strategy formulation to consider all critical details and ensure all aspects of a project are realistic. Keeping everyone informed of the projected growth plan can strengthen your strategic planning process and encourage buy-in.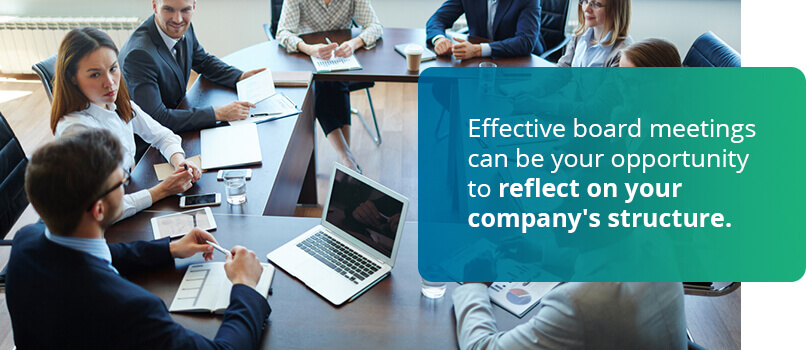 Board meetings can provide the perfect platform to address your business' future and promote focus. During these meetings, encourage participants to tap into their feelings. Emotion can enhance processing and decision-making, which are vital aspects of strategic planning. When planning one of these meetings, consider alternative ways to upgrade your normal process by identifying essential questions and your intended results. Highlighting the priorities and necessary goals may secure engagement and attention.
Identify and Define Economic and Emotive Benefits
It is no secret that strategic plans may sometimes interconnect with uncertain outcomes. However, strategic planning is essential in helping businesses masterfully adapt to become more durable and sustainable. It may also help facilitate program coordination and enhance funding levels. As conditions or changes occur in your business or competitive market, strategic planning can provide an understanding of your alternatives for evaluating achievement. 
Demonstrating your structure's possible profit and gain may reduce unwillingness to employ risk-taking. If you successfully outline your strategic plan's benefits, you may generate more buy-in. 
Examples of economic benefits of a strategic plan can include:
Combating biases and flaws in established processes
Improving productivity and innovation
Increasing market share and profitability
Promoting efficient use of resources
Strengthening the business' competitive position
Addition of new services or technologies
Examples of emotional benefits of a strategic plan can include:
Creating a single, unified goal for your team 
Producing a common language within your business
Adding meaning to missions, goals and values
Promoting awareness of the bigger picture
Developing a stronger connection with consumers
Enhancing transparency, accountability and empowerment 
Devise a clear and definitive framework for any possible positive aspects of your approach. To proactively thwart concerns and indecision, be specific and express certainty when communicating the most vital benefits. 
Start Creating More Strategic Planning Buy-In Today
Once you have armed yourself with these constructive, actionable tips, how do you use them to generate buy-in? Advancing your software to accommodate your business needs can support and improve productivity and resourcefulness, leading to strategic buy-in. At AchieveIt, we can assist you in connecting, managing, and executing your most pivotal plans and initiatives. Our primary focus is to help your business or organization increase visibility, improve accountability and establish uniformity in a single, automated platform. 
Our system provides customizable reports and dashboards to display your choice of quantitative and qualitative information. To reduce manual processes and devote more time to enhancing your business structure, we invite you to contact us for a free demo of software that can help generate strategic buy-in.
Ready to improve your plan execution?
Organizations of all types leverage AchieveIt to connect, manage, and execute their most important initiatives. Replace manual processes & siloed systems with interconnected plans in a single, automated platform.