Budgets and deadlines are two of the most crucial elements when it comes to getting things done in a local government. To be as efficient as possible, you'll need a robust strategic plan for your government department that outlines how you'll spend your provincial budget and how you and your subcontractors will achieve public project deadlines. Building a long-term and multiyear strategic plan with goals and objectives can be challenging. We also understand how complicated it is to transform your ideas into tangible results for your community, and we're here to help.
In This Article
Why Government Departments and Agencies Need Strategic Plans
Why should the state and municipal governments consider strategic planning? Isn't having a yearly budget sufficient? After all, things may change when heavy rains overflow the city sewers or roadway repairs exceed the budget. What difference does additional planning make? What exactly is department strategic planning?
A department strategic plan is a comprehensive and systematic management tool that assists governmental departments, agencies and organizations in assessing their current environment, anticipating changes and responding appropriately to issues. Strategic planning involves envisioning the future, improving effectiveness, developing commitment to the department's mission and reaching a consensus on strategies and objectives for achieving that mission. It involves influencing the future rather than merely preparing for or responding to it.
While combining community vision with available resources is critical, the resources should not stifle the vision. The objectives of a departmental strategic plan will involve identifying how the resources available may be linked to future ambitions. A long-term financial plan, created with the department strategy plan, is crucial to the departmental strategic planning process. A government should have an established financial planning mechanism that evaluates the long-term economic consequences of current and planned policies and programs. A financial plan depicts the expected financial repercussions of certain activities.
Regarding strategic planning in government positions, the notion is that leaders must be good strategists if their departments and agencies are to achieve their goals, accomplish their mandates and, most importantly, satisfy their communities in the coming years. The strategic planning department must lay out effective strategies to deal with changing conditions and governmental leaders must create a cohesive and defensible framework for their judgments. Ultimately, a department strategy provides a big-picture document that directs resources and activities toward a well-defined vision.
Why Current Government Strategic Processes and Tools Fall Short
A state department strategic plan is a long-term commitment to various governmental objectives. Selecting the correct solutions to support the department's strategic plan is critical to attaining them. The strategic planning department requires integrated and holistic systems and tools to increase productivity and improve the overall management of the various objectives while keeping operations running smoothly. An adequate system also keeps communication channels open between different departments.
Many procedures and systems on the market can help manage a department's strategic plan but mainly focuses on short-term success. Business intelligence, project management, strategy development tools and other mainstream options focus on something other than integrated plans that span departments and locations. Each focuses on a specific function of planning, developing, executing or reporting strategies, so finding a single system that keeps everything in one secure place is challenging.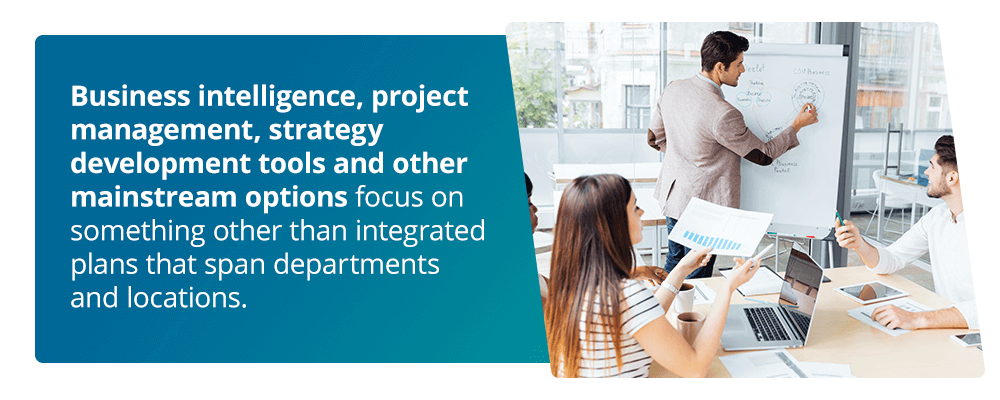 Taking an analytical look into these traditional options, we can see some pros to utilizing them. Still, some cons can lead to your government's strategic processes falling short:
Business intelligence tools: Although business intelligence tools provide visual dashboards, reports and a data-driven understanding of how the government is performing, they miss the "why" behind the strategic plan — the vision and future forecasts.
Project management tools: These tools are excellent for providing detailed project statuses but lack the big-picture view and are typically challenging to use and connect with other projects.
Strategy management tools: Strategy development tools can most certainly help organize plans and foster project alignment. However, these tools are less proficient at enabling the effective execution of these plans. They have limited flexibility and make it difficult to manage multiple plans across the agency.
Mainstream tools: You might recognize mainstream and user-friendly tools like PowerPoint and Excel. Despite being customizable, these tools lack format and version control.
How to Create a Strategic Plan for Your Government Department or Agency
Strategic planning in government can be challenging. You must include stakeholder input, ensure that your department's strategy is consistent across all municipal agencies, connect capital projects to multiple plans and ensure that everyone engaged is on board with the strategy. The good news is that it's possible and the approach may be more straightforward than you think.
Follow these tips for creating your government agency's strategic plan:
Conduct Internal and External Analysis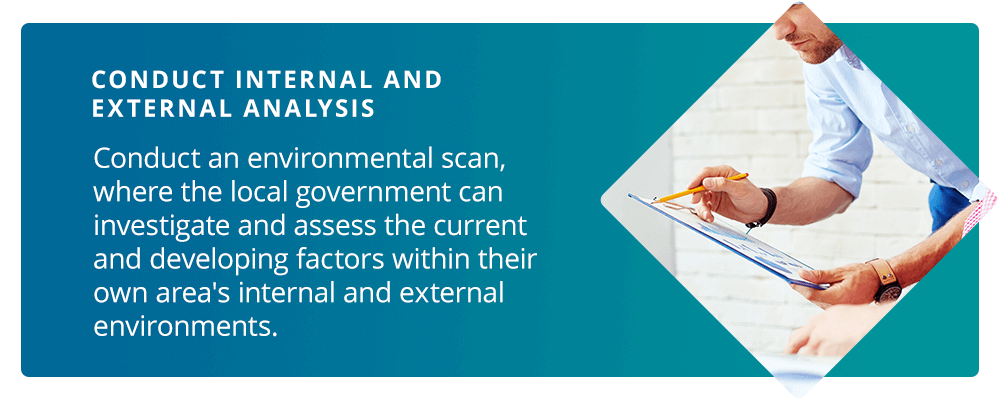 Conduct an environmental scan, where the local government can investigate and assess the current and developing factors within their own area's internal and external environments. The internal and external analysis provides detailed information on the government's existing conditions, including prospective opportunities, strengths, threats and weaknesses to control or prevent.
An internal analysis looks at the government's internal environment to analyze its abilities, resources and competitive advantages. An internal analysis helps you identify strengths and weaknesses and the opportunities and threats that government departments or agencies face. This information assists government officials in making strategic decisions as they carry out the strategy development and implementation process. In a nutshell, the following topics should be included in your internal analysis:
SWOT Analysis:Conducting a SWOT analysis can help you comprehensively understand your area's strengths, weaknesses, opportunities and threats.
Strategy analysis: This analysis assists you in evaluating how well you performed against your current department strategy plan, what you can improve on and where you can focus your efforts.
Internal stakeholder analysis: This analysis enables you to gain insight into the issues and perspectives of your area's internal stakeholders and their influence.
VRIO Analysis: A VRIO analysis can assist you in identifying any competitive advantages you may have and how to convert them into long-term competitive advantages.
An external analysis investigates and evaluates the government's external environment to understand possibilities and risks in its area. Forces outside a local government's immediate control affect them, and they need to be able to plan accordingly. For example, changes in legislation and policies, demographic shifts or climate concerns can influence a government's decisions. An external analysis should usually consider the following:
PESTEL analysis:Conducting a PESTEL analysis can help you discover the many scopes that may influence an area.
External stakeholder analysis: This analysis enables you to gain insight into the issues and perspectives of your local government's external stakeholders and their influence.
Consider the Vision and Mission
The government's vision statement defines where they want to go — it's the anchor that keeps them from being stranded at sea. A clear vision statement will aid in directing the strategic plan toward the best results for the community. Everything written into the plan will eventually help the government department or agency get closer to its vision. Additionally, your local government should base its department's strategic plan on its mission statement. Consider asking the following questions to articulate the critical components of the strategy:
What are the top concerns that your government must address?
Which forthcoming public projects are most important to your constituents?
Perform a Holistic Risk-Assessment
Every government has risks that require attention through policy and infrastructure developments. A comprehensive assessment of the different risks to your community may include the following:
National issues: At the federal level, social and economic concerns arise and citizens on both sides may be dissatisfied with their government's shortcomings. Considering which issues are most essential at the national level can enable your community to make localized efforts to address them.
Constituent dissatisfaction: Angry constituents equals a poor reelection campaign. To avoid unfavorable government-constituent relations, your local government should examine which topics are most beneficial to your community and analyze these concerns.
Economic hardship: Local governments must examine the impact of inflation on local companies, citizens and budgets.
Natural disasters: Which natural disasters are the greatest threat to your area? What steps have been taken or are being made to address these events, reduce risks and communicate with the public?
Cybercrime: Cybercriminals have been creating data breaches in municipal governments for years, and attacks are increasing daily. Have your local government invested in cyber-safe technologies and backed up its data?
International challenges: Do you need help attracting new government employees due to intergovernmental challenges? Do your internal procedures need to be more effective and costly? Do you have an up-to-date information technology strategy? One of the leading reasons for inefficient bureaucracy is a failure to recognize and handle such difficulties.
Public policies: Which national and state legislation are the most important for your municipality to handle in the near future in terms of public policy? What consequences will you face if you do not address these policies?
List the Focus Areas
After reviewing all the significant risks, it's time to prioritize the most critical ones and develop a strategy to manage them. List the top focus areas that are crucial to your citizens or represent significant risks to your community's health, safety, quality and economy. Your focus areas should also align with the local government's and community's future aspirations. Although it would be ideal to address all areas immediately, it could be more realistic. Try to prioritize a few critical issues.
Develop Strategic Objectives
Strategic objectives indicate what your city genuinely wants to achieve — they're quite high-priority and should have a date attached. Your strategic goals should align with one or more of your focus areas and provide some tangibility to how you envision attaining your focus areas. Similar to selecting a few focus areas at a time, you can develop a few realistic and achievable strategic objectives. An example of a strategic objective can be to "improve the community's safety by implementing a new reporting system by June 30, 2023."
Set up an Actionable Game Plan
Now that you've decided on the primary focus areas and objectives, it's time to consider how to execute them. A game plan defines what the government will need to do to achieve its goals. An actionable game plan assists in breaking down the bigger picture into smaller, more attainable results and activities. At this phase in your strategic planning process, you will begin to define the steps you will take to attain specific goals and the talents, expertise and resources required.
Utilize Measurable KPIs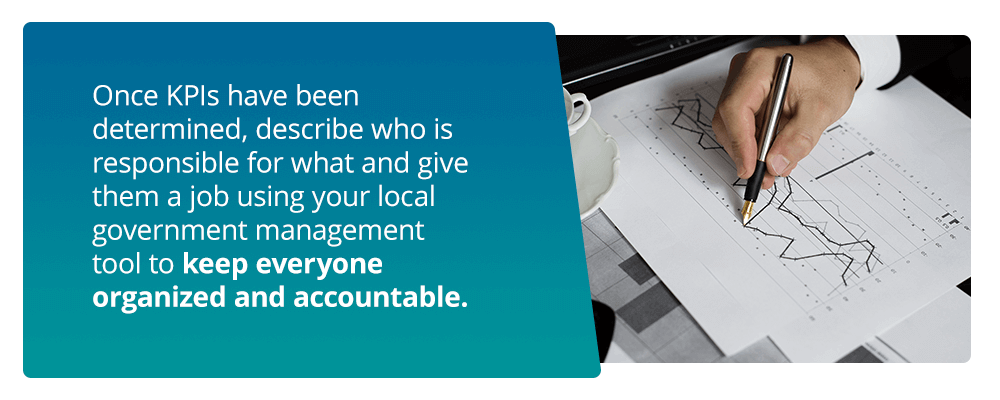 KPIs track progress toward your strategic goals. KPIs are quantitative metrics that demonstrate your government's progress toward essential strategic objectives. KPIs tell you whether or not you have met your strategic target. Once KPIs have been determined, describe who is responsible for what and give them a job using your local government management tool to keep everyone organized and accountable.
Put the Plan Into Action
Following your department's strategy's completion and policymakers' approval of budgets and deadlines for major projects, it's time to begin implementing your government initiatives. File requests for proposals (RFPs) for private-sector partnerships, fill out the necessary documentation and clarify who is doing what and when.
Evaluate the Results
Taking strategic action to address concerns entails some risk in and of itself. You'll need to pay close attention to your KPIs and adjust if problems with fulfilling timelines and budgets develop. If such problems arise, you must assess whether parts of the process may be expedited using government technology. Automation will save you time and money while increasing the likelihood of project success in your management planning.
Transform Government Strategic Planning and Execution With AchieveIt
A government strategic plan is the first vital step toward achieving governmental goals. The execution of these plans also plays a pivotal role in the goals' success. A government runs high-level plans that cascade down and across multiple departments — which can make managing the execution of strategic plans more challenging. This is because different departments work with tools that support their specific work and role. As a result, information is stockpiled across these departments, making planning and organization a manual process.
Transform your strategic planning and execution process with strategic planning software built for your organization. AchieveIt is a FedRAMP-authorized cloud-based platform that connects, manages and executes mission-critical plans and activities for federal government agencies. AchieveIt is a platform that easily tracks the performance of all your integrated plans while automating time-consuming update collection. Managing all these moving parts goes from multiple spreadsheets to a single, easy-to-use platform.
By utilizing AchieveIt, federal government agencies can:
Establish uniformity in data collection and reporting.
Create visibility across plans and initiatives to know what needs attention.
Promote accountability for mission execution.
Make informed decisions with real-time data and proper context.
Monitor the performance of long-term initiatives with dashboards and reports.
Connect all its plans and strategies in one single place.
Ready to Accelerate Your Planning and Execution Efforts? Let's Actually Do This.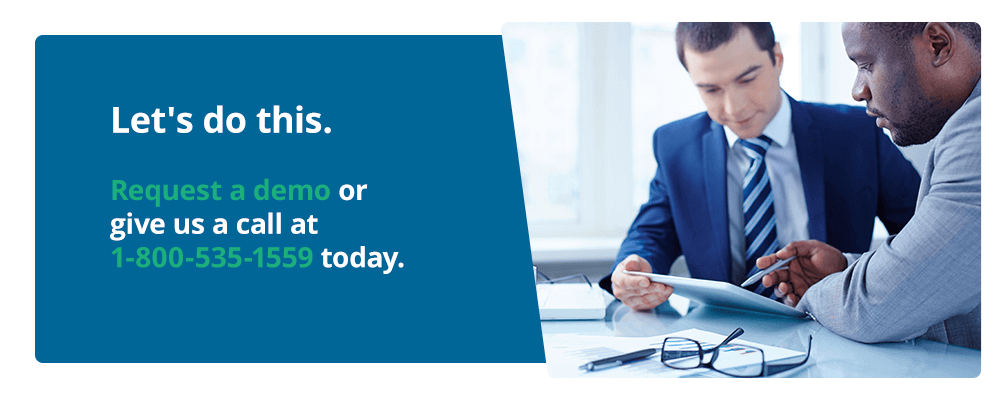 Do you need help developing and aligning your plans? Since planning and executing is more than just software, AcieveIt's expert team will partner with you. Our strategy experts can ensure you stay on track and offer advice on how other federal agencies approach planning and execution. Allow AchieveIt to make your agency more efficient, so you can better serve the public while focusing on achieving mission-critical objectives. Request a demo or give us a call at 1-800-535-1559 today.