Four Ways to Inspire Accountability Throughout Your Team
It is widely reported that the execution of strategic plans and initiatives tops the list of challenges organizations face in today's business environment. While leadership lays out considered strategic objectives, there seems to be a significant gap between the strategic priorities, and what teams and individuals actually accomplish. In truly high functioning teams, there seems to be a common thread that to achieving timely strategy execution: accountability. Defined as an obligation by teams and/or individuals to account for their activities, accountability not only ensures that strategic objectives are accomplished but also instills a sense of trust that everyone is responsible to one another. The benefits of trust cannot be understated. When individuals see their work as being vital to the success of their team and the organization as a whole, everyone does their part to ensure successful strategy execution.
Accountability is often perceived as elusive in organizations, especially in ones that are lacking formal processes for the management of teams and individuals. In an effort to help you address accountability within your own organization, we've pulled together the following best practices: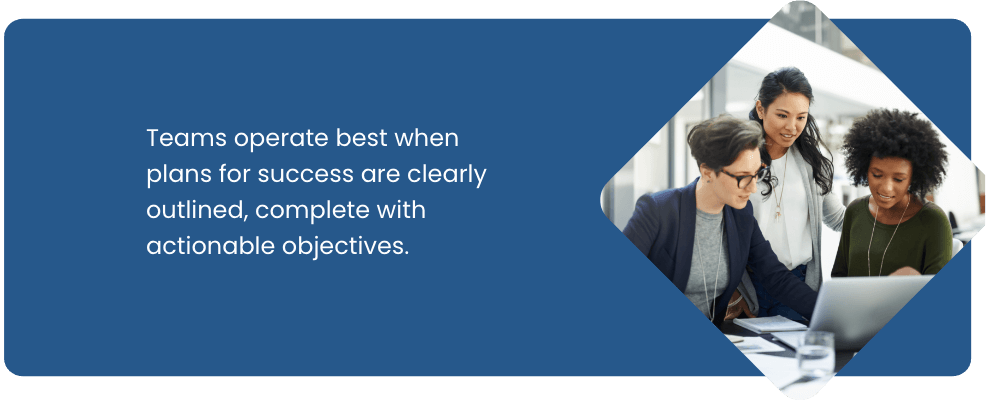 Accountability Tip #1 - Have a Clear Plan with Defined Objectives
Organization-wide accountability to strategy execution begins with a clear understanding of what needs to be accomplished, and why. Teams operate best when plans for success are clearly outlined, complete with actionable objectives. When communicating expectations, an easy tactic may be to apply the four W's—who, what, when, and why. This helps to eliminate any discrepancies between perception and actual expectations. Aim to make team plans specific and transparent. Outline expected goals (sales figures to be achieved, product launch dates to be met, marketing programs to be launched), and add as much detail as possible about how to accomplish those goals. Specificity provides guardrails for teams to follow on the path to success and establishes clear expectations around how individuals should work together to get from point A to point B with regards to strategy.
Accountability Tip #2 - Use Delegation to Create a Sense of Ownership
A high-functioning team is one that works collectively to accomplish objectives, utilizing the strengths of every team member. As a team leader, it is important to recognize and leverage the talents of your team in order to support shared success. According to John Hunt, London business school professor, only one in ten managers truly knows how to delegate and empower others. To be a successful delegator, use past performance as an indicator of future success, assign team members to specifically defined objectives (mentioned above), and explain how his/her role fits into the larger goal of plan execution. The process of delegation helps to ensure that workload is distributed appropriately, and that responsibility for said work is properly assigned.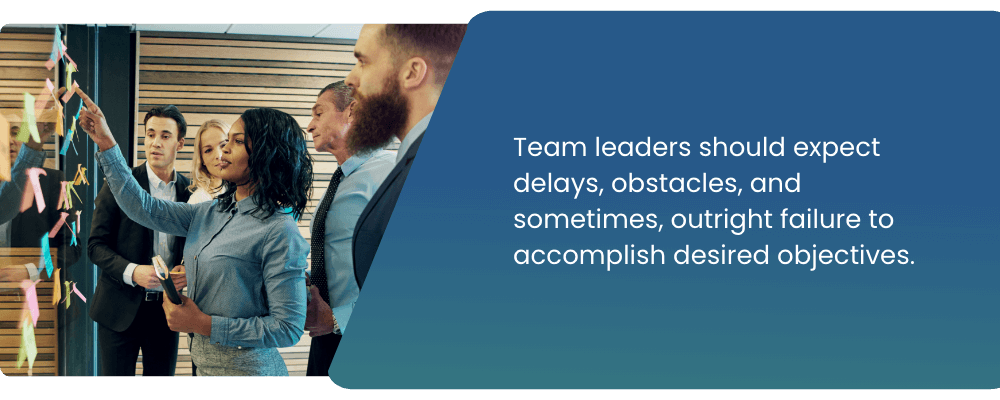 Accountability Tip #3 - Communicate Regularly, Especially when Objectives are Not Achieved
Strategy execution often comes with challenges. Team leaders should expect delays, obstacles, and sometimes, outright failure to accomplish desired objectives. However, truly great teams are defined by how they manage and overcome failure. Consistent communication around objectives helps to ensure all stakeholders are informed about possible obstacles, allowing time for preemptive action. And in cases where objectives are not achieved, communication helps to ensure proper course correction for future projects. In the end, communication is key, because it has a direct correlation to morale, retention, and results.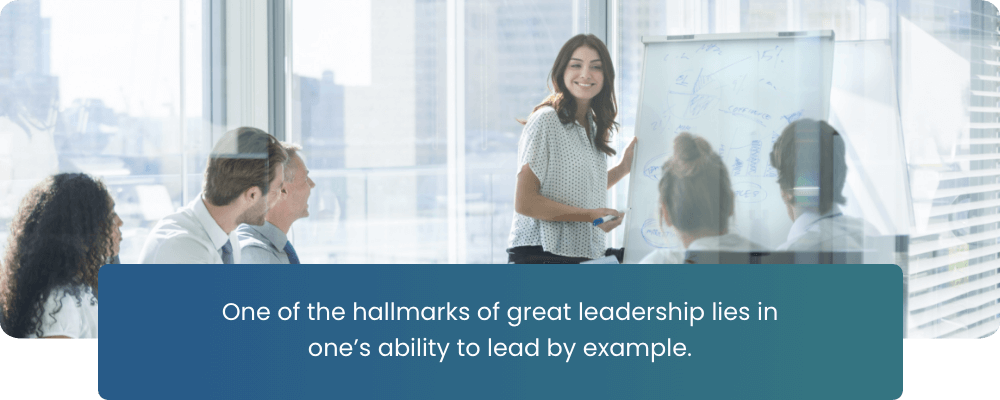 Accountability Tip #4 - Lead by Example and Hold Everyone (Including Yourself) Accountable
One of the hallmarks of great leadership lies in one's ability to lead by example. When team members, the leader included, join together to share accountability and commitment, often times the result is a team that strives harder for achievement. An organization can have great processes for planning, delegation, and communication, but the core of accountability stems from company culture. Having transparency around objectives, from the top down, not only instills trust, but it demonstrates an organization-wide commitment to responsibility and accountability to each other, no matter one's rank.
Driving Accountability with AchieveIt
The AchieveIt Strategic Planning Platform is a cloud-based software solution that enables organizations to align strategy, people, and performance to drive business results. Holding your teams accountable for contributions is now easier than ever with a combination of automated email-based progress notifications, real-time tasking features, and top-down visibility into the status of your most important initiatives.
To see how AchieveIt can help you drive accountability within your team or organization, click here to view a 2-min video or request a full demo.
About AchieveIt
AchieveIt is the platform that large organizations use to get their biggest, most important initiatives out of the boardroom and into reality. Too many great ideas never quite make it across the finish line, because there's no real way to keep everyone on course and keep everything on track. What does it take to actually guide these initiatives all the way through to completion? You've got to:
Get everything in view – so you can see what's happening with every initiative, at every level, from the enterprise to the individual, in real time.
Get everyone engaged – with an easy-to-use platform that connects your organization from the executive leadership to the project teams, keeping everyone accountable and on the same page.
Get every possible advantage – not only because you have the premier platform in this space, but because you can draw on the experience and best practices of our execution experts.
That's why everyone from global corporations, to regional healthcare systems, to federal agencies have turned to AchieveIt for their Integrated Plan Management. Let's actually do this.