When you stop and think about it, a surprising portion of your workday is probably spent providing status updates to your colleagues about where you sit with items you're working on. It's likely that the amount of time it takes to let your team know how things are going, when you expect to complete the work, what deliverables you're waiting on, etc., could have been reallocated from putting together the email to actually working on the project itself.
Are these lengthy, meandering updates that take time to provide, read and digest the best approach to take when providing a status update or is there a better way?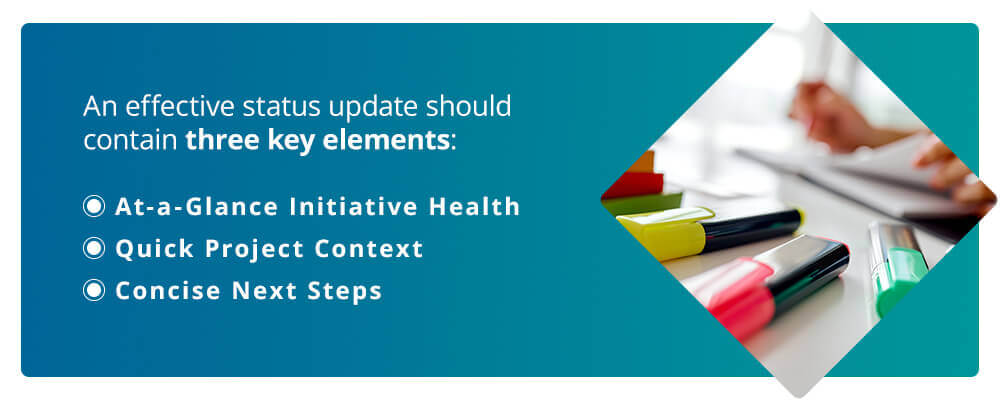 An effective status update should contain three key elements:
At-a-Glance Initiative Health: A status light indicating

red (At Risk)

,

yellow (Off Track)

or

green (On Track)

performance.
Quick Project Context: Two to three sentences explaining why the plan item is either

red

,

yellow

or

green

.
Concise Next Steps: Two to three sentences about what you're going to do next.
1. At-a-Glance Initiative Health
A status light indicating red (At Risk), yellow (Off Track), or green (On Track) performance.
One of my favorite blog posts addresses this topic but the information bears repeating. If you want to make your status reports easier to understand, you need to rely on the power of color-coding.
Imagine. You walk into a meeting where your agenda is to begin with At Risk items and how to get them On Track. Then you address Off Track items, then you can celebrate On Track items with your remaining time. If your status report is color-coded, you can knock out a meeting with more acuity than your way of working now.
2. Quick Project Context
Two to three sentences explain why the plan item is either red, yellow, or green.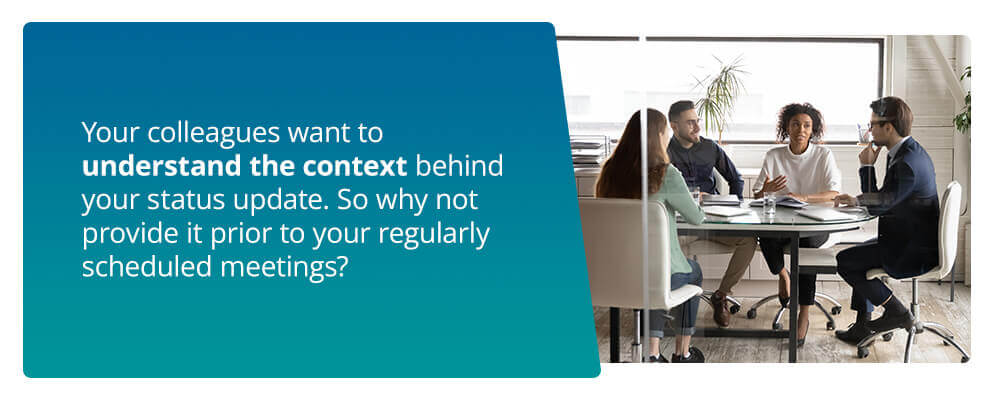 Your colleagues want to understand the context behind your status update. This critical context is why you're having the status update meeting in the first place, so why not provide it prior to your regularly scheduled meetings? This way, you can walk into your meeting empowered with the questions you'd like to ask instead of working through everything on the fly.
The other potential benefit is that you're allowing your team to have an opportunity to understand why the green items are successful. It's common for the status update for an On Track item to be simply, "Things are going well!" By getting context ahead of a meeting, your team can be more prepared with questions to help get to the core of, "Why are you seeing success?," "What can we learn from your success?" and, "How can we apply your learnings to other parts of the business?"
3. Concise Next Steps
Two to three sentences about what you're going to do next.
Now that you've provided your color-coded status and given your briefing on the "why" around your update, it's critical to outline what you're going to do next.
For example, if your item is At Risk and you don't have predefined, clear next steps, you will likely end up participating in a "fire drill." Your team will spend time discussing what can be done to fix the metric immediately, without all the context they need to make an informed decision.
Fire drills are usually ineffective. There are plenty of scenarios where you're doing everything you can to make a positive impact, and yet, the item you're working on is still trending poorly. What you can do is ensure your team is comfortable with your handling the situation.
The Power of Simplified Project Status Updates
It may sound elementary; surely your initiatives are more complex than categorizing them in one of three primary colors?!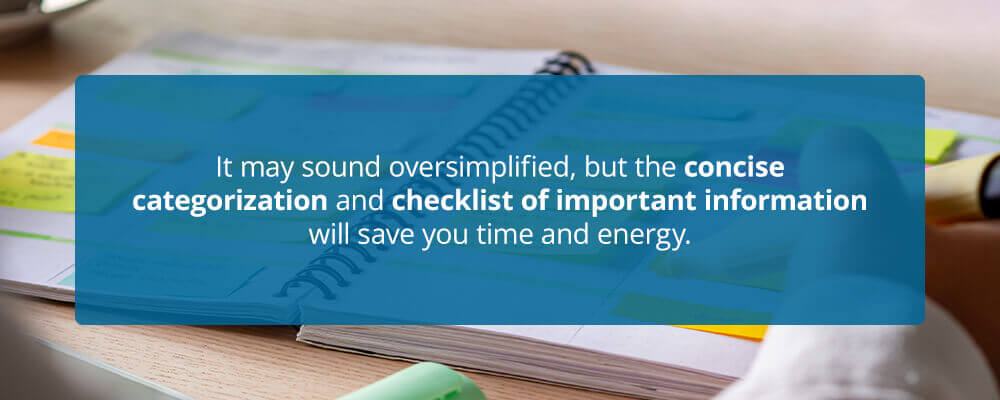 Trust me. It may sound oversimplified, but the concise categorization and checklist of important information will save you time and energy, and put your team on a path towards focusing on your most critical initiatives.
Treat yourself to fewer fire drill reactions, and maybe your hour-long meetings will actually start lasting an hour.
About AchieveIt
AchieveIt is the platform that large organizations use to get their biggest, most important initiatives out of the boardroom and into reality. Too many great ideas never quite make it across the finish line, because there's no real way to keep everyone on course and keep everything on track. What does it take to actually guide these initiatives all the way through to completion? You've got to:
Get everything in view – so you can see what's happening with every initiative, at every level, from the enterprise to the individual, in real time.
Get everyone engaged – with an easy-to-use platform that connects your organization from the executive leadership to the project teams, keeping everyone accountable and on the same page.
Get every possible advantage – not only because you have the premier platform in this space, but because you can draw on the experience and best practices of our execution experts.
That's why everyone from global corporations, to regional healthcare systems, to federal agencies have turned to AchieveIt for their Integrated Plan Management. Let's actually do this.
Ready to improve your plan execution?
Organizations of all types leverage AchieveIt to connect, manage, and execute their most important initiatives. Replace manual processes & siloed systems with interconnected plans in a single, automated platform.