UW Health is the integrated health system of the University of Wisconsin-Madison, caring for more than 700,000 patients each year with 1,849 employed physicians and 21,000 employees at seven hospitals and over 80 clinic locations.
UW Health is governed by the UW Hospitals and Clinics Authority and partners with the UW School of Medicine and Public Health to fulfill its patient care, research education, and community services missions. The 1,750 faculty of the University of Wisconsin School of Medicine and Public Health engage in research, education, and clinical care at locations throughout the UW Health system.
Our team sat down with Samantha Griffiths to learn more about a day in the life of our customers.
What are your roles and responsibilities at UW Health?
I support leaders who are accountable for UW Health's strategic planning efforts, as well as the project managers who support complex, ambiguous, and ambitious strategic and organizational efforts.
I also lead several operational and improvement efforts for the Strategy Project Management Office, including the development and sustainment of team standards, performance measures, and operating procedures
What does your typical day-to-day look like?
Much of my day is spent developing tools that allow the team to perform at their highest capacity. This typically includes slides, visual management boards, technical guides, and standard operating procedures.
I'm often relied on to provide guidance when someone has a software-related question, such as, "How do you do this?" It's very rewarding to know that my expertise has helped someone resolve a barrier and get on with their workday.
What motivates you to wake up and go to work?
I love working with our team, and the activities that allow me to express my creative side.
What is the hardest part about your job?
Finding workarounds to barriers; however, I enjoy the challenge of learning something new and feel especially rewarded when something I learn is helpful in resolving barriers.
What has been your biggest accomplishment in your current role?
I've learned a lot in the 4 years since I've had this job. It's boosted my confidence and allowed me to stretch myself in ways I never thought possible.
What is something most people don't know about you?
I'm pretty open – this is a tough question to answer. I'd have to say many of my colleagues don't know that I was in gymnastics for several years in junior high school – floor exercise and vault.
What UW Health means to us
"Working with Samantha is a dream. She is one of those people who is super organized, always comes to meetings prepared, and gives wonderful feedback. This has not only been seen by me, but the people that she works with internally! It's safe to say Samantha's work ethic is valued by all who interact with her."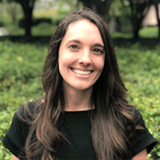 – Lindsey LeFaivre | Customer Success Manager, Team Lead
Want to meet more of our Achievers?
Maybe we're a little biased, but we think our customers are pretty great. They are accomplishing amazing things every day, and we're just happy to be a small part of that. If you're interested in reading more stories of the plan leaders who had enough with the status quo and found a way to actually get things done, you can visit our Customer Story library.
We have the pleasure of working with everyone from global corporations, to regional healthcare systems, to federal agencies on their Integrated Plan Management. AchieveIt just gives the tools and training to help, but it's the leaders we work with that drive the real organizational change.
Ready to improve your plan execution?
Organizations of all types leverage AchieveIt to connect, manage, and execute their most important initiatives. Replace manual processes & siloed systems with interconnected plans in a single, automated platform.