Donna Bradbrook with Alachua County
Alachua County is a local government agency located in the north-central portion of Florida with a mission to provide responsive service to citizens and responsible stewardship of county resources for current and future generations. This local county is also home to a state university and service to more than 260,000 people.
Our team sat down with Donna to learn more about the day in the life of our customers. To read more about how Alachua County uses AchieveIt, check out their customer story.
Alachua County Customer Story
Download this customer story to better understand how a local county government agency reduced the number of homeless animals.
What are your roles and responsibilities at Alachua County?
As the Strategic Performance Manager for the Board of County Commissioners, Alachua County, FL, I am responsible for the following programs/projects:
Countywide operational performance program, including administration of AchieveIt, operational performance reporting throughout the County's budget process, performance management web transparency page, and consulting with operational departments on performance measurement, reporting, and transparency
Coordination of the Alachua County Citizens Academy, an outreach program to educate citizens on all programs offered by the County, Constitutional Officers, Judicial Offices, and Special Taxing Districts
Oversight of Operational Performance Audits and implementation of audit recommendations
What does your typical day-to-day look like?
A typical day, in the time of COVID-19, looks a little different than it did pre-COVID. Our County, and specifically, my role as Strategic Performance Manager affords me the opportunity to work from home. My office is now on a plastic picnic table in the middle of my living room and my commute is significantly shorter, walking from the dining room (after breakfast) to the living room.
Since working from home, daily work communications have changed from in-person office meetings and phone calls to largely email or video communications, so first thing in the morning, I run through any outstanding emails from the prior day and any updates provided after hours. I prioritize daily projects and prepare for any Zoom meetings. Without the ability to just 'pop into someone's office' to check on the status of projects and tasks, I work additional time into any project due dates to ensure time to follow up on outstanding requests.
What motivates you to wake up and go to work?
Personally, I do truly feel that the government closest to the people serves the people best. Having worked in four different local government agencies in the state of Florida over the past 30+ years has given me a true appreciation for the amount of work and dedication of most civil servants.
Just a few examples of those services include the county roads that are paved, the parks that are maintained and built, the refuse and recycling collected and processed, the school crosswalks that are staffed, the clerks processing paperwork in the local court systems, to those things that protect us in emergency situations, like the environmental and engineering studies of sinkholes, the debris removal after a hurricane/tropical storm, or the pumping of unexpected stormwater floods.
I absolutely enjoy educating citizens on the many services of our local government. Through the County's performance program and through the Citizens Academy, I really enjoy when a citizen communicates to me that they 'didn't know all of the things our local government provides' and that they 'now find value in the local taxes they pay.' Those types of statements make it all worth it.
What is the hardest part about your job?
The hardest part of my job is notifying a program that they are next up for an Operational Performance Audit. Nobody wants to hear the 'Audit' word. However, we consider the operational performance audit program to be an opportunity for improvement and not a punitive activity.
After the audit is completed and the recommendations are finalized, we continue to work with the program to assist with the implementation of the recommendations, ensuring coordination, prioritization, administrative, and operational support are provided. We attempt to assist in areas where the program may not have the time or expertise and we work with them to fill in those gaps.
After the initial dismay of being notified of an impending audit, we have found that all of our programs have successfully implemented the majority of audit recommendations are were appreciative of going through the process, the changes made, and the results.
What has been your biggest accomplishment in your current role?
There are two things I'm particularly proud of that were accomplished in my current role. First, I was able to successfully modify the Citizens Academy program to be more structured, interactive, and informative, and as a result of those changes and word of mouth promotion, we increased average participation by 46% and average program graduation by 60%.
Second, I'm extremely proud of the recognition the County has received from the International City/County Management Association (ICMA) through the Certificate in Performance Management program. The County has received the highest designation, the Certificate of Excellence, six years in a row from 2015 through 2020 (the 2021 program certificates have not yet been announced). The ICMA Certificate in Performance Management rates local government performance programs on a number of criteria, that change every year, including transparency, public reporting, data collection, verification, coordination, accountability, process improvement, planning, equity, and leadership.
What is something most people don't know about you?
I'm pretty much an open book. I really enjoy sharing about the things I'm proud of. In addition to my family, which I'm truly thankful for, one thing folks don't realize about me and my family is that we live on 20 acres in north-central Florida, and on our property, we grow things like blueberry, pineapple, figs, citrus, avocado, roselles, and we are looking to expand into muscadine grapes and a few other varieties of native Florida producing plants like beautyberry, yaupon holly, everglades tomatoes, and some University of Florida cultivated varieties like peaches and apples.
Next year, we are also hoping to begin raising chickens for egg production. We do not sell what we grow, we use what we can, preserve some, and give the rest away to family, friends, and co-workers.
What Alachua County means to us
"Donna is one of (if not) the biggest champions of AchieveIt! Everything she does she puts her whole heart into and you never have to worry about her following through. She's the type of person that is willing to help in any way that she can, and you can tell the value she brings to Alachua County is immeasurable. Anyone that has had the opportunity to work with Donna would tell you the same and I feel incredibly lucky to have her as a customer."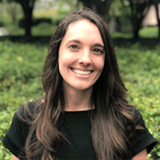 – Lindsey LeFaivre | Customer Success Manager, Team Lead
Want to meet more of our Achievers?
Maybe we're a little biased, but we think our customers are pretty great. They are accomplishing amazing things every day, and we're just happy to be a small part of that. If you're interested in reading more stories of the plan leaders who had enough with the status quo and found a way to actually get things done, you can visit our Customer Story library.
We have the pleasure of working with everyone from global corporations, to regional healthcare systems, to federal agencies on their Integrated Plan Management. AchieveIt just gives the tools and training to help, but it's the leaders we work with that drive the real organizational change.
Ready to improve your plan execution?
Organizations of all types leverage AchieveIt to connect, manage, and execute their most important initiatives. Replace manual processes & siloed systems with interconnected plans in a single, automated platform.