5 Steps to Tackle Strategic Planning Season
With the first day of Fall nearly upon us, we should be preparing for more than just changing leaves, football, and bonfires. It is officially strategic planning season, and time to prepare budgets and annual plans for the upcoming year!
Organizations often utilize a strategic plan to help them move towards a more desirable state. An effective strategy designates the best course of action for a company to take in order to achieve new organizational goals. But an effective strategy depends first on the process of strategy formulation. After all, the more care that goes into the development of your strategic plan, the more likely it is to succeed during the execution phase. Mindful of each organization's unique strengths and challenges, we feel that overall effective strategy formulation is best executed with careful consideration of the following five steps of development: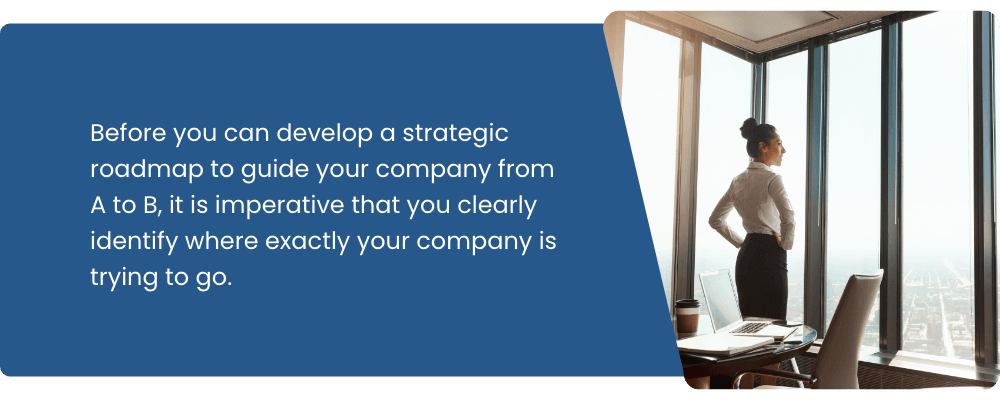 Step 1: Develop a Vision Statement
Before you can develop a strategic roadmap to guide your company from A to B, it is imperative that you clearly identify where exactly your company is trying to go. The development of a vision statement – a description of a strategy's desired end-goal — is vital to the effectiveness of a strategic plan and is the best starting point to chart a course of company growth and improvement.
An effective vision statement encapsulates the future of an organization while offering a framework for strategic, operational, and business planning. A successful vision statement clearly articulates expected outcomes for the strategic plan, presents a strong portrayal of the company's future, and sets a course for strategic planning designed to push a company beyond the industry status quo. Rather than aiming beyond their current market position, all too often, companies plan around visions they have already accomplished. In order for a strategy to successfully guide significant and meaningful change, it must effectively designate a vision statement that is bold in what it aims to achieve.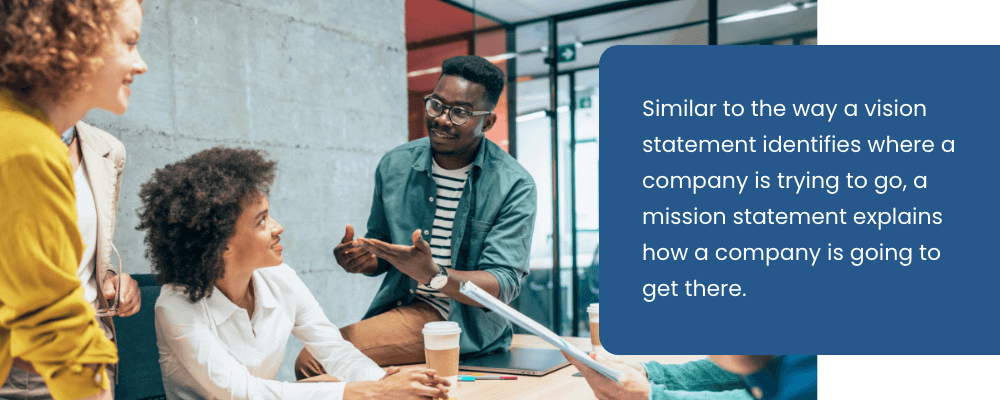 Step 2: Define Your Mission Statement
Similar to the way a vision statement identifies where a company is trying to go, a mission statement explains how a company is going to get there. Your mission statement should articulate the big-picture purpose of the strategic plan and provide a description of the company's core executable values – values that will be better expressed and emphasized as the result of executing the strategic plan.
Your mission statement will serve as a philosophical foundation for effective business planning. After all, the goal of most strategic plans is to achieve the company's mission. A strong mission statement defines a company's fundamental purpose and values, offering a static point of reference during the course of strategic growth and development. Make sure your mission statement defines why your company does what it does and inspires passion and commitment. A clearly defined mission statement is an incredibly important component of the strategic plan, as it helps drive strategic execution, provides direction, and serves as a touchstone for decision-making.
Step 3: Evaluate the Competitive and Operational Environment
In order to develop a strategic plan that aims higher than a company's current market position and can be executed without major internal and external obstacles, a company must conduct competitive and operational environment evaluations. An evaluation of strengths, weaknesses, opportunities, and threats (SWOT) provides companies with a clear sense of the context in which strategic change will be taking place. The interconnectedness of these categories helps inform a comprehensive understanding of the company's current standing and offers insight into both the current condition and future potential of the business.
Step 4: Establish Company Goals and Objectives
Once you have explained where you're going (vision statement), how you are going to get there (mission statement), and your potential obstacles and opportunities (SWOT), you can then establish goals and objectives for executing the strategic plan. Strategic goals should be clearly defined and include highly specific and actionable descriptions of objectives. A strong focus eases plan execution and increases the plan's potential effectiveness. Goals should also be quantifiable, as metric-based goals are easily translated during execution and can help keep participants engaged and on-task. Additionally, goals must be time-bound with clearly defined start and end dates to ensure efficient use of time and resources.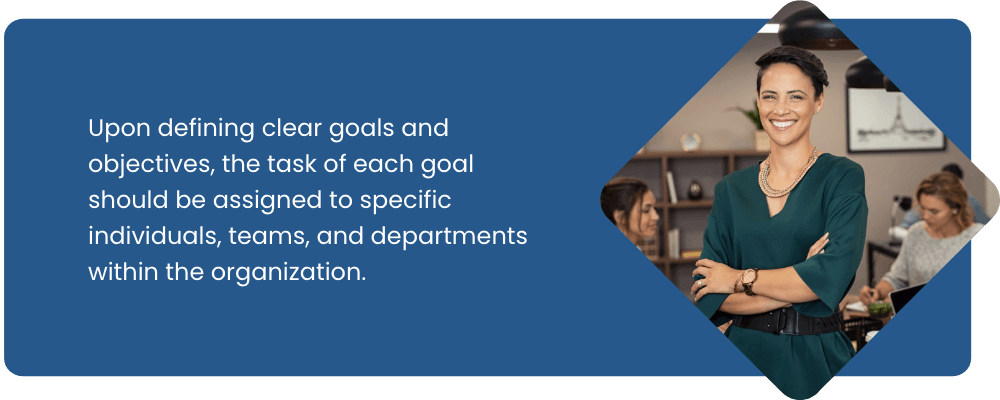 Step 5: Assign Accountability
Upon defining clear goals and objectives, the task of each goal should be assigned to specific individuals, teams, and departments within the organization. By assigning ownership, you are ensuring better execution of strategic goals. Accountable employees – agents of strategic change – help reinforce the organization's mission and vision while fostering a culture of passion and enthusiasm within the company. Responsibility fuels a sense of purpose, which incentivizes thorough and thoughtful goal execution. Additionally, having those in management positions monitor performance accountability helps guarantee goals and objectives are met through the valuation of task completion.
Effective strategies are not one-size-fits-all, but these steps for effective strategy formulation can be customized to reflect the unique goals and characteristics of your organization. While different companies will best endeavor change with custom strategies, we feel strongly that these developmental steps are universally valuable during the process of effective strategy formulation.
About AchieveIt
AchieveIt is the platform that large organizations use to get their biggest, most important initiatives out of the boardroom and into reality. Too many great ideas never quite make it across the finish line, because there's no real way to keep everyone on course and keep everything on track. What does it take to actually guide these initiatives all the way through to completion? You've got to:
Get everything in view – so you can see what's happening with every initiative, at every level, from the enterprise to the individual, in real time.
Get everyone engaged – with an easy-to-use platform that connects your organization from the executive leadership to the project teams, keeping everyone accountable and on the same page.
Get every possible advantage – not only because you have the premier platform in this space, but because you can draw on the experience and best practices of our execution experts.
That's why everyone from global corporations, to regional healthcare systems, to federal agencies have turned to AchieveIt for their Integrated Plan Management. Let's actually do this.