The idea of strategy implementation failure is enough to keep any strategy director up at night and definitely capable of inspiring a few horrific career-related nightmares. Yet there are steps you can take throughout the year to build a more implementable strategy, and correct course if you're already in execution mode.
AchieveIt's Director of Professional Services Joe Krause was featured on Biz 1190's The Eric Holtzclaw Show to discuss his views on strategic planning and strategy implementation. With his 20+ years of experience as a serial entrepreneur, Eric Hotlzclaw's radio show discusses topics relevant to those trying to build and grow their businesses. His interview with Krause outlines four things any organization must do to avoid strategy implementation failure.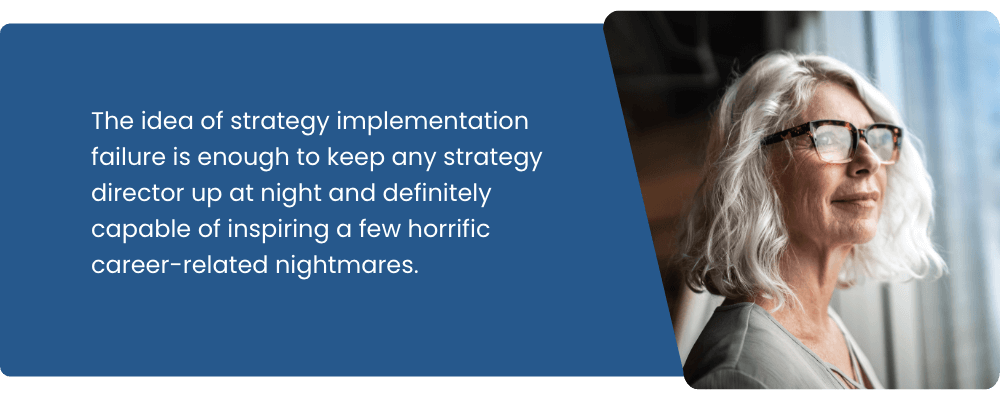 1. Track at a Higher Level
"If you apply the saying 'how to eat an elephant one bite at a time to your strategic planning—think of your overall goal or objective as an elephant, and the tactics as the bites."*
When we think of tracking progress, many think of it at the most granular level, like 'email John', or 'update proposal for Cindy'. But just tracking these simple tasks day in and day out won't guarantee you're achieving your overall goals and objectives. We all have the best intentions in creating our strategic plans at the beginning of the year. None of us set out for a failed strategy implementation. But we somehow end up asking ourselves at the end of the year "Whatever happened to that grand strategic plan" and "Why did we fall short?"
Leaders must view tasks and projects in a way that reflects back to the overarching goals of the organization. Otherwise, you and your team are putting in countless hours of work and effort, just to find out that those goals and objectives still haven't been met.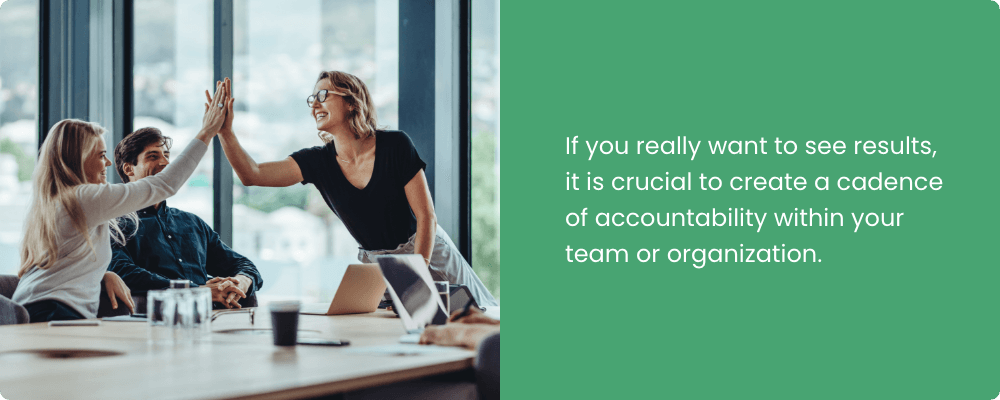 2. Create a Cadence of Accountability
"Strategy by its very nature impacts multiple people. So if you have one person doing the input, there's a problem there."*
If you really want to see results, it is crucial to create a cadence of accountability within your team or organization. This includes establishing clear deliverables, firm due dates, and straightforward ownership. If team members are unsure of what they are responsible for and when items are due, you are bound for strategy implementation mayhem.
It's also important to decide on an update frequency that works best for you and your team– should your team provide status updates daily, weekly, monthly, etc.? This may vary depending on the urgency and nature of the specific project, but is nonetheless essential to establish these expectations upfront.
Consider sharing status updates from your team, rather than just keeping them for your own reference. Creating transparency allows for ongoing inspection by everyone in the organization. And ongoing inspection will send accountability into the atmosphere.
3. Link the Quantitative and the Qualitative
"If you don't have a metric that you're tracking, or a person to own that number, you're going to fail every time."*
Many organizations use items like "work harder, not smarter" or "foster a culture of accountability" as action steps within their strategic plans. And although these are great in theory, it leaves little to no room for actually tracking your strategy implementation progress. When you support every piece of quantitative information with qualitative, you provide yourself with context to make the best decision possible. It gives you the "why" behind the numbers. So whether it's good or bad, you can have a bit more clarity on how to move forward.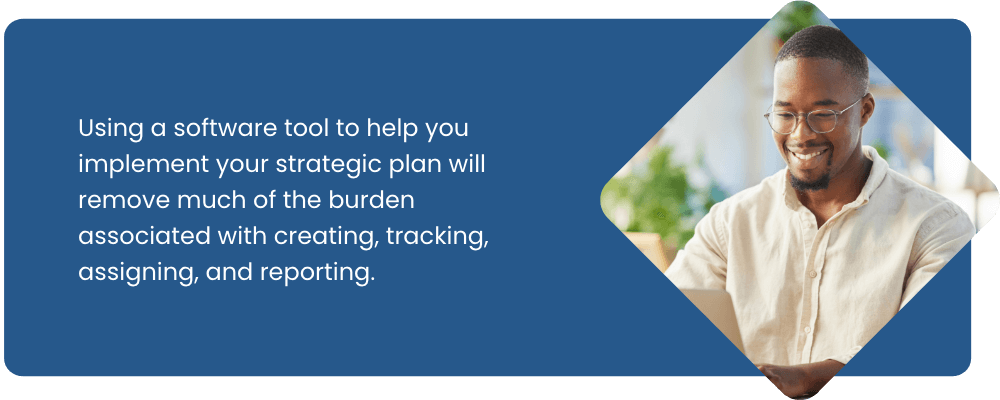 4. Decide on a Software Tool to Drive it Home
"AchieveIt allows organizations to track their plans in real-time. It allows your team to see if they're executing on what they said they were going to do, see where they're falling short and pivot on the fly. It also provides a clear look into how the business is performing on a regular basis."*
Using a software tool to help you implement your strategic plan will remove much of the burden associated with creating, tracking, assigning, and reporting. You need to decide on a platform that gives you the right amount of flexibility and structure with your strategy implementation.
Check out how AchieveIt's Execution Insight Platform can help your organization gain both meaningful intelligence on execution and the ability to drive results with it.