3 Ways to Foster Strategic Alignment to Boost Execution
There's a saying in the startup world that goes something like this: "Success is 1% idea and 99% execution." As I listen to customers talk about their frustrations around execution and strategic alignment, I keep thinking back to that phrase. You can build the most amazing, innovative plan that your company has ever seen. But if you can't get your team to take action on the plan you laid out, then at this point it's only one of many good ideas.
When you are the plan's champion, you already have buy-in because of the amount of time and effort you have dedicated to the plan's research and build-out. During this phase, however, your team's only contribution to the plan is the tasks you assign to them. A lot of times we hear from customers that their team members regard this just as more "busy work." Studies have shown that a plan's success rate can drop by 50% when you start inserting employees into the mix of your plan without addressing expectations and workforce behaviors beforehand. Here is a couple of common problems that can occur:
Employees sometimes can't see what's in it for them, especially when management fails to connect desired behaviors with meaningful recognition and rewards.
The workforce may be unaware of the factors that can create
Thankfully, you can avoid this problem. Creating strategic alignment helps employees better understand their contribution to the big picture and helps managers make better decisions about which projects to pursue. It also keeps the plan more visible throughout your organization, helping elevate accountability and motivation throughout the year. Here are three steps you can take to foster strategic alignment.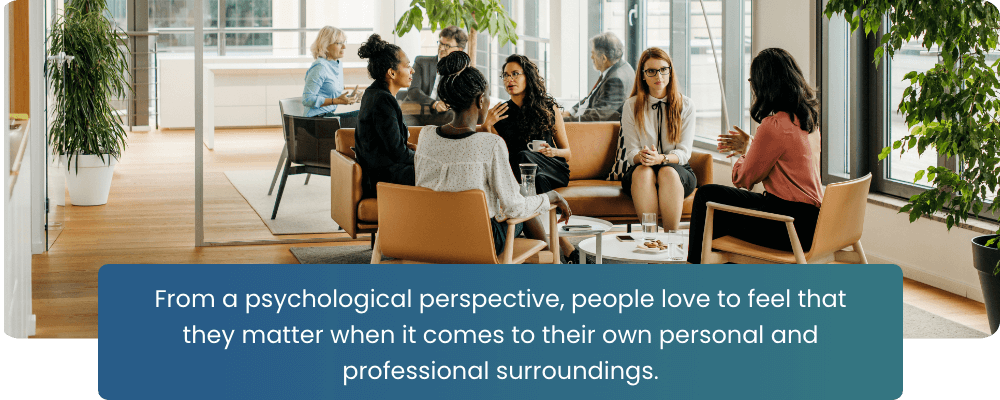 Step 1: Create a Culture of Accountability
Creating a culture of accountability takes more than setting deadlines. It means taking the time to demonstrate to your team that their contributions matter to the bigger picture. From a psychological perspective, people love to feel that they matter when it comes to their own personal and professional surroundings. As a leader, you must tap into your team members' inherent pride around their work through both external and intrinsic motivation.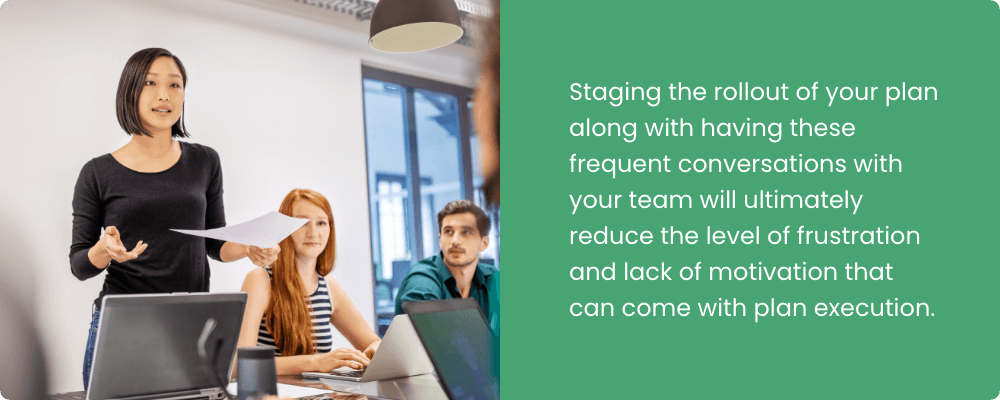 Step 2: Activate Different Types of Motivations
Intrinsic motivation is when your team members feel compelled to accomplish their tasks because of the sense of pride they will feel as a result. As you roll out your strategic plan to your department(s), make a point to visually show your team how each of their assigned tasks rolls up to the overall plan hierarchy. If one person doesn't complete a task, it can affect other goals and initiatives. This demonstrates that their achievements affect the plan's overall success.
During the plan's rollout, practice external motivation techniques by making a point to acknowledge team members who are on track. Praise them in front of other team members during your meetings. Try to have frequent conversations with team members about their progress in order to learn what is helping them succeed. People also love to know that their ideas and feedback are important. Staging the rollout of your plan along with having these frequent conversations with your team will ultimately reduce the level of frustration and lack of motivation that can come with plan execution.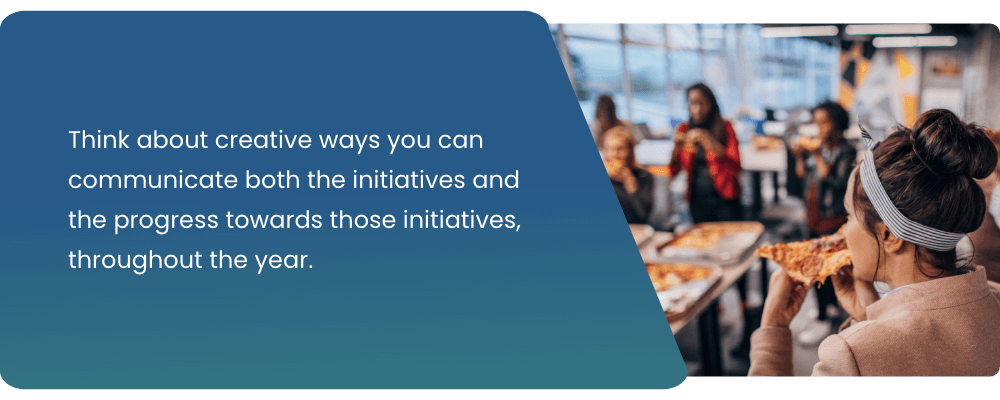 Step 3: Foster Plan Visibility
Have you ever worked in an organization that announced its strategic plan once a year, then buried it, never to be seen again? This isn't uncommon, but it's also not best practice. Unless you communicate the plan often, and through various channels, your employees (leaders included) are likely to lose sight of the most critical initiatives.
Think about creative ways you can communicate both the initiatives and the progress towards those initiatives, throughout the year. Could you do an internal email campaign? Do you have an intranet or internal social media platform you could employ for this purpose? If you have a platform like AchieveIt, it's simple to create visually appealing dashboards to keep everyone informed.
AchieveIt's Execution Insight Platform solves common execution challenges by fostering accountability, driving alignment, providing visibility, and facilitating collaboration. If you're planning major strategic change initiatives for this year, sign up for a demo today.
About AchieveIt
AchieveIt is the platform that large organizations use to get their biggest, most important initiatives out of the boardroom and into reality. Too many great ideas never quite make it across the finish line, because there's no real way to keep everyone on course and keep everything on track. What does it take to actually guide these initiatives all the way through to completion? You've got to:
Get everything in view – so you can see what's happening with every initiative, at every level, from the enterprise to the individual, in real time.
Get everyone engaged – with an easy-to-use platform that connects your organization from the executive leadership to the project teams, keeping everyone accountable and on the same page.
Get every possible advantage – not only because you have the premier platform in this space, but because you can draw on the experience and best practices of our execution experts.
That's why everyone from global corporations, to regional healthcare systems, to federal agencies have turned to AchieveIt for their Integrated Plan Management. Let's actually do this.