Arguably, a leading cause of business failure is not having any type of strategic plan. If a business has little idea where it is headed, it will wander aimlessly without priorities, changing constantly, and with employees confused about the purpose of their jobs. This is why corporate strategic planning is critical to business success, even if the planning process takes time and resources.
1) Strategic planning provides clarity, direction, and focus for your organization
The primary purpose of strategic planning is to define goals for your organization and create a plan to achieve them. Doing so involves stepping away from the inner workings of your organization and looking at the bigger picture. Ask yourself: where is my organization headed? What should its priorities be? To aid in this process, you should connect your organization's mission and vision by answering these three questions:
What is our purpose? (Mission)
What do we want to achieve? (Vision)
How are we going to get there? (Plan)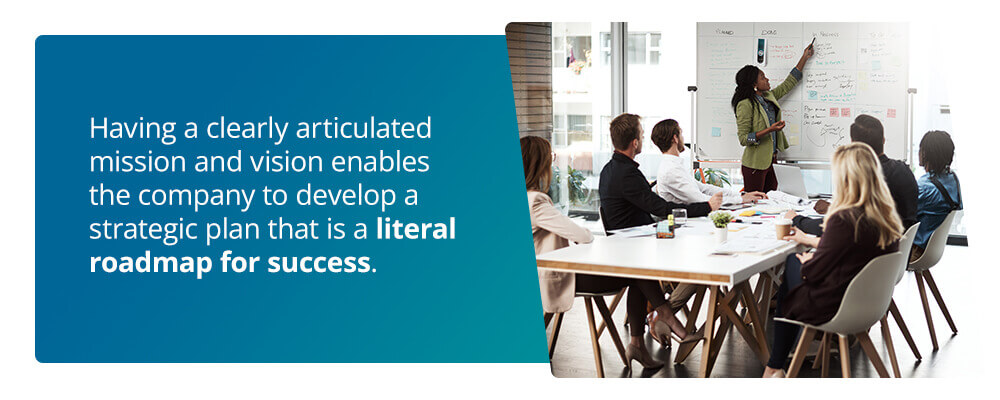 Perhaps the most obvious reason to engage in corporate strategic planning is that it provides direction and focus by way of a written document. Having a clearly articulated mission and vision enables the company to develop a strategic plan that is a literal roadmap for success. Confusion and day-to-day business fires are often reasons why strategic planning yields little results, but these risks can be mitigated by having a plan that is written down, with clear assignments, due dates, and deliverables, so that employees know what must be executed by when.
Curious about help putting together your plan? Learn more about our Execution Experts.
Four Drivers of Strategy Execution
Download this guide to understand the cost of allowing poor execution, identify common barriers and learn how to implement a system that encourages a culture of execution.
2) A strategic plan drives organizational alignment
Having a strategic plan can help you track progress toward your goals. When each department within your organization understands the overall strategy, their efforts to achieve goals will directly impact your success. This will create a top-down approach to tracking key performance indicators (KPIs). Furthermore, having everyone participate in the strategic planning process fosters collegiality and creates an opportunity for discussion on the direction of the organization, which is why strategic planning often results in cultural transformation. In addition, the process promotes the open and creative exchange of ideas, including resolving disputes and working out effective solutions.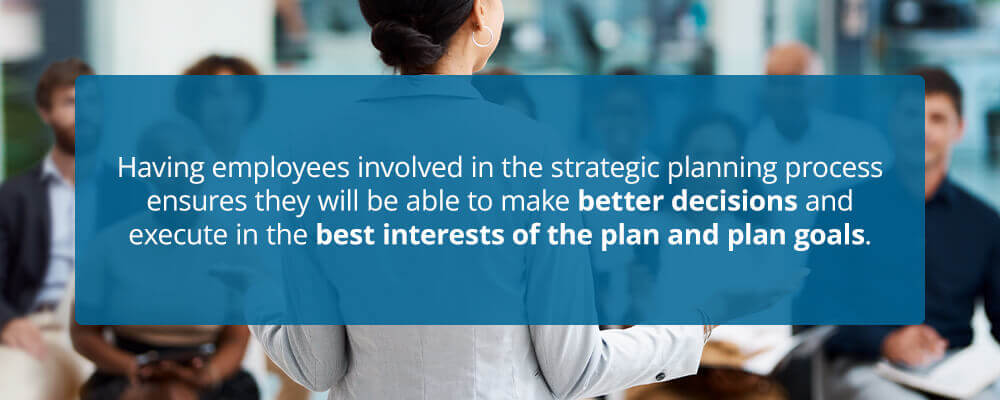 Most organizations have hard-working employees who put their best efforts into areas that have no effect on the strategic success or accomplishing important goals and objectives. Having employees involved in the strategic planning process not only ensures everyone is on the same page when the execution phase of the planning process begins, but also that employees will be able to make better decisions and execute in the best interests of the plan and plan goals. This is why corporate strategic planning serves as the vehicle for answering the question, "How can we better align all our resources to maximize our strategic success?"
3) A plan communicates your message
Even if you have a strong mission and vision statement, most leaders walk around with a virtual strategy locked in their heads. The CEO inherently knows the organization's strategic direction and the tactics that need to be executed. Unfortunately, if the strategy isn't down on paper, or if only a small handful of people know the priorities articulated by the strategy, then the likelihood that the strategy is executed effectively is greatly diminished. This is why strategic planning is so important – serves as a communications vehicle for what must be done to create short- and long-term sustainability.
This five level strategic plan template will help you create a plan that's built around best practices for optimized execution.
AchieveIt's cloud-based strategic planning software is the ideal technology for answering the question, "why strategic planning?", as it enables organizations to manage and track the execution of every type of plan in real-time – whether strategic plans, operational plans, project plans, or quality improvement plans.
About AchieveIt
AchieveIt is the platform that large organizations use to get their biggest, most important initiatives out of the boardroom and into reality. Too many great ideas never quite make it across the finish line, because there's no real way to keep everyone on course and keep everything on track. What does it take to actually guide these initiatives all the way through to completion? You've got to: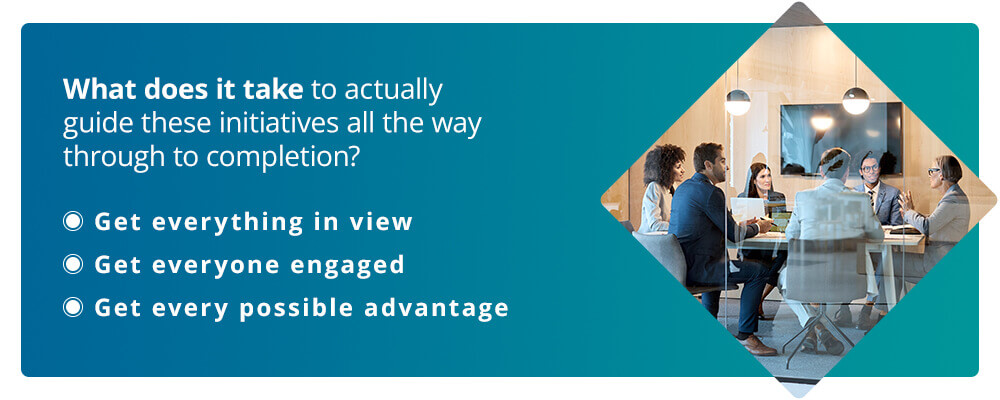 Get everything in view – so you can see what's happening with every initiative, at every level, from the enterprise to the individual, in real-time.
Get everyone engaged – with an easy-to-use platform that connects your organization from the executive leadership to the project teams, keeping everyone accountable and on the same page.
Get every possible advantage – not only because you have the premier platform in this space, but because you can draw on the experience and best practices of our execution experts.
That's why everyone from global corporations, to regional healthcare systems, to federal agencies have turned to AchieveIt for their Integrated Plan Management. Let's actually do this.
Ready to improve your plan execution?
Organizations of all types leverage AchieveIt to connect, manage, and execute their most important initiatives. Replace manual processes & siloed systems with interconnected plans in a single, automated platform.