How to Prepare for the Post-Implementation Lull
As I work with customers from all different types of organizations and industries, I realize more and more how similar each implementation process is. Without fail, there is always one thing teams going through change will experience – The Trough of Disillusionment. Sounds scary, but it's a completely normal part of any transformation process.
At the start of an implementation, there's excitement. The team has high expectations, tight timelines, and aggressive goals. But a few weeks post-launch, users hit their first couple of roadblocks. Features may not work as expected, or the high expectations weren't met. Champions of the change and team members alike become frustrated and begin to lose hope.
Unfortunately, this happens to everyone. But fortunately, there are ways to coach your team through whatever process you're changing or a new tool you're implementing by letting them know what to expect. When you eventually get to the Trough of Disillusionment in your process (see the curve below), your team will know what to expect and how to manage it.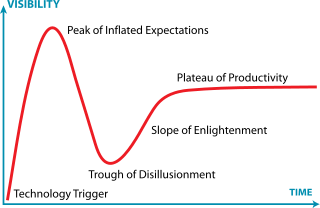 There are four tools I give our AchieveIt customers to use when preparing to tackle the Trough of Disillusionment. Those strategies are:
Keep a pulse on your people
Communicate clearly
Understand exactly what motivates your team
Practice patience
And the final tip? If you find yourself in this position, the most helpful thing is to know that you're not alone in experiencing the downfall after the hype. And, since you're not the first one to experience this, there are a couple of things that can help get you to the other side.
1. Keep a Pulse on Your People: Temperature Check
Not sure if your team is loving the new process or software? Ask them.
Sometimes change champions think things are worse than they are. There's a lot riding on the line to implement this change, so why wouldn't you expect the worst? (It's okay; we're all a little paranoid and we all do this.)
When I'm talking to customers who are at this point, I ask them to look for the silver lining. It's important to start with the facts by conducting a temperature check.
Many times, I work with champions that feel like their team is struggling with adoption, but when we take a closer look, they are adopting quite well. It's still a great idea to check in with them, just to get a full understanding of where they're at, but this is your best-case scenario.
The worst-case scenario is that you find out your team is struggling. But with a temperature check, you can find out what is actually causing them to go through the Trough of Disillusionment. It's important as a leader to fully understand the barriers your team is facing.
Temperature checks can come in many forms, but most commonly I recommend sending out an anonymous survey to your team with the following questions:
What are some things that you're successfully able to achieve using the new software?
Are there features and functionality of the software that you're struggling with, or for which you need clarification or additional training?
Do you feel the software has become a part of your day-to-day process?
If not, what's hindering you from the software becoming part of your daily operations?
These questions will allow you to diagnosis the issue further. Temperature checks can help change champions figure out if it's a product education issue, a lack of process integration, etc.
Another thing some of our customers also include in check-ins is analyzing measurements of success. Ideally, some KPIs are determined at the beginning of implementation that would indicate success, so you can use them as a benchmark throughout. (Even if you haven't identified them ahead of time, it's never too late.) However, keep in mind that the metrics will never fully uncover the change management barriers, but map out the symptoms of having hit the Trough of Disillusionment.
Download this guide to understand how to optimize power and influence to accomplish your most important initiatives.
2. Communicate Expectations Ahead of Time and at Every Point Throughout
The most important key to successfully managing change is communication. Speak with empathy – change is difficult and scary.
As the change champion, you need to be in constant communication with the executive sponsor, your team, any other key stakeholders – and then don't forget about your Customer Success Manager (CSM), or the vendor who is leading the implementation from the new process/software side.
Before the implementation even starts, touch base with each of your groups about:
Expectations of how this change will fall into their current process
The desired return on investment and how that will be reached
Each team member's involvement in the process and launch
What the change management cycle is like, all the feelings and challenges they might go through, and how (and to whom) to communicate what they're feeling when they're going through the Trough of Disillusionment
And then be sure to reiterate and follow up with each of these items at every step along the way
I commonly see organizations talk through about half of these crucial points. I think that's because leaders may feel hindered by internal silos or are afraid of disappointment. It's easy to focus solely on potential negative outcomes, but the more leaders doubt themselves, the less likely the change is going to take hold.
Focus on the positive! Think about when the change is implemented – all eyes will be on how much you've changed the organization for the better! Change champions who fully commit to leading the team through a new process change have a much higher success rate and have the opportunity to receive much more recognition for all their hard work.
One of the communication best practices we adhere to when launching an implementation with a customer onsite is reviewing action items at the end of the day. We go around, person by person, to ensure everyone is clear on their role within the software, and in the change process overall. We achieve this by making time during the training to give each person time to practice completing their tasks within the software, so they feel confident and empowered to continue to complete those tasks outside of the room.
Additionally, I suggest making time to gather your team to discuss and work on the platform, in the same room, outside of formal training hours. It's vital to not only verbally communicate the expectation of their participation in the process, but also support your team by making learning the new process a collective priority and making time to learn the new software together.
Another biggie for communication – get executive buy-in. Communication from the C-suite or other well-respected individuals within your organization will take your message a long way.
And one final note (and the biggest one) about communication: the message that many organizations don't always consider is to reassure employees of what will not be changing.
Commonly in the change management process, we see a lot of resistance born out of fear of the unknown. Employees worry about the effects this change will have on the organization's identity, their own job, and how different their daily operations are going to be. Employees have an attachment to their organization's identity because it is seen as a reflection on themselves.
HBR published an article that dives into how employees identify and care for their organizations so, a lot of change can create fear and uncertainty.
When rolling out your change, focus on which parts of the process will stay the same after implementation. Understanding, as the change leader, that your team is connected to the mission and identity of your organization will help you better navigate through the Trough of Disillusionment, allowing your team to come out successful on the other side.
3. Know What Motivates Your People
Better understanding your team's motivation factors is crucial to success with change management. What motivates and excites your team to make them more engaged in the process? If you don't know that your team responds better to recognition and incentives, and you're applying deadlines and consequences, then you're speaking different languages and your change process runs the risk of people derailing into unacceptance.
Two ways I typically see that keep employees motivated are through social exposure and influence. No two teams are the same, but these are methods that I recommend as the first line of defense.
For contributors, knowing that reports will be reviewed in front of leadership monthly, checking for data as well as compliance to the new process, is very motivating for most users. Not wanting to be the person called out for fear of social and professional discomfort creates action and involvement.
Another tactic is to identify the first follower. Ideally, this is someone who has latched on to the new process and is a well-known and respected person within the organization. Exalting this person as an evangelist for the new process will increase engagement and generate more conversation.
Ultimately, getting your people on board and treating the process with consistency will create not only participation but will also help your team feel committed to seeing the new process be successful.
4. Practice Patience
Change takes time and patience. You won't arrive at your implementation goals immediately. You must remain persistent in finding solutions at every crossroads. No implementation process occurs without a couple of hiccups, but if you, as the change champion, keep in close contact with your CSM, team, and stakeholders, you can lead your team to a more successful future.
However, you do have to hold yourself to a timeline. If you reach the end of your implementation goal timeline and your change still isn't adopted, it's time to have a frank conversation with your team. It may be the last push your team needs to fully commit to the change.
During this conversation, educate your team on what they are experiencing (feeling beaten by the tool, scared of letting go of the "old way," the software not doing everything they'd hoped), validate that those feelings as being totally normal, and give them an opportunity to express their frustrations and concerns. Being heard by others is sometimes just what we need to move forward with a resolution.
Close the conversation by reiterating the importance of the implementation, resources that are available to assist them, and how it will not only make a big impact on the organization but help them individually in their workflow. If you need to, you can also throw in the appeal to logic that there's no turning back to save all the resources and energy that have been funneled into the change already.
The ROI of Efficient Execution
Download this guide and the companion calculator worksheet to show your team what you're leaving on the table without enabling plan visibility, organizational alignment, or automated accountability.
I've seen several customers get to this end of the road, where they feel they have exhausted all options, but every time we've still been able to make the change by having a true and honest conversation.
The Trough of Disillusionment is Only a Dip!
The implementation process can be a roller coaster ride with some challenging moments. But by effectively communicating, understanding your team, sticking with it, and creating opportunities for honesty and transparency, you will be able to come out of the other side, and the "new way" will soon be the "way of doing things."
About AchieveIt
AchieveIt is the platform that large organizations use to get their biggest, most important initiatives out of the boardroom and into reality. Too many great ideas never quite make it across the finish line, because there's no real way to keep everyone on course and keep everything on track. What does it take to actually guide these initiatives all the way through to completion? You've got to:
Get everything in view – so you can see what's happening with every initiative, at every level, from the enterprise to the individual, in real time.
Get everyone engaged – with an easy-to-use platform that connects your organization from the executive leadership to the project teams, keeping everyone accountable and on the same page.
Get every possible advantage – not only because you have the premier platform in this space, but because you can draw on the experience and best practices of our execution experts.
That's why everyone from global corporations, to regional healthcare systems, to federal agencies have turned to AchieveIt for their Integrated Plan Management. Let's actually do this.
Ready to improve your plan execution?
Organizations of all types leverage AchieveIt to connect, manage, and execute their most important initiatives. Replace manual processes & siloed systems with interconnected plans in a single, automated platform.