InsightDashboardsTM
See Clearly. Steer Confidently.
Your Executive Summary Dashboard
PLAY VIDEO
Drive Better Execution Confidently with
Insight

DashboardsTM by AchieveIt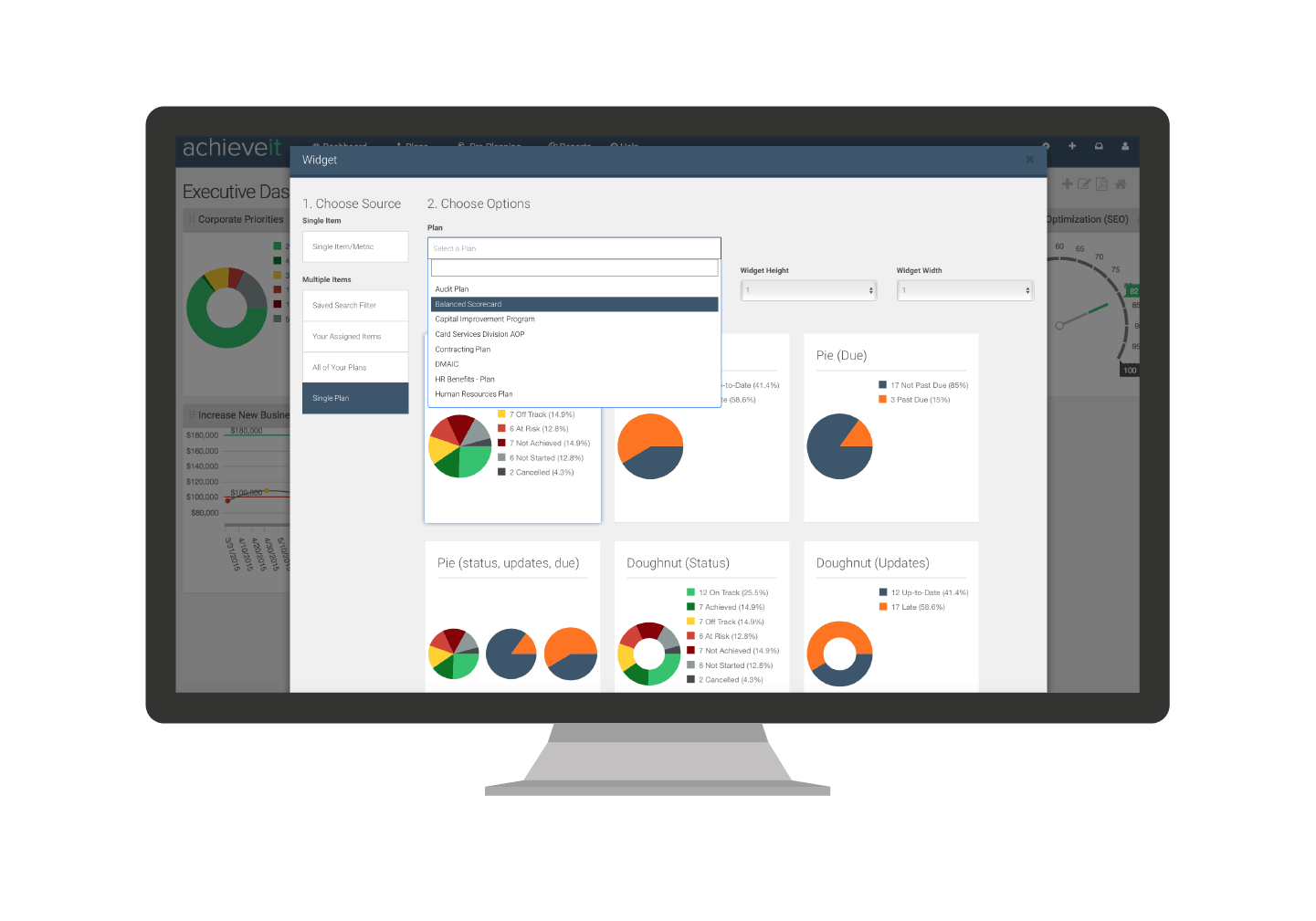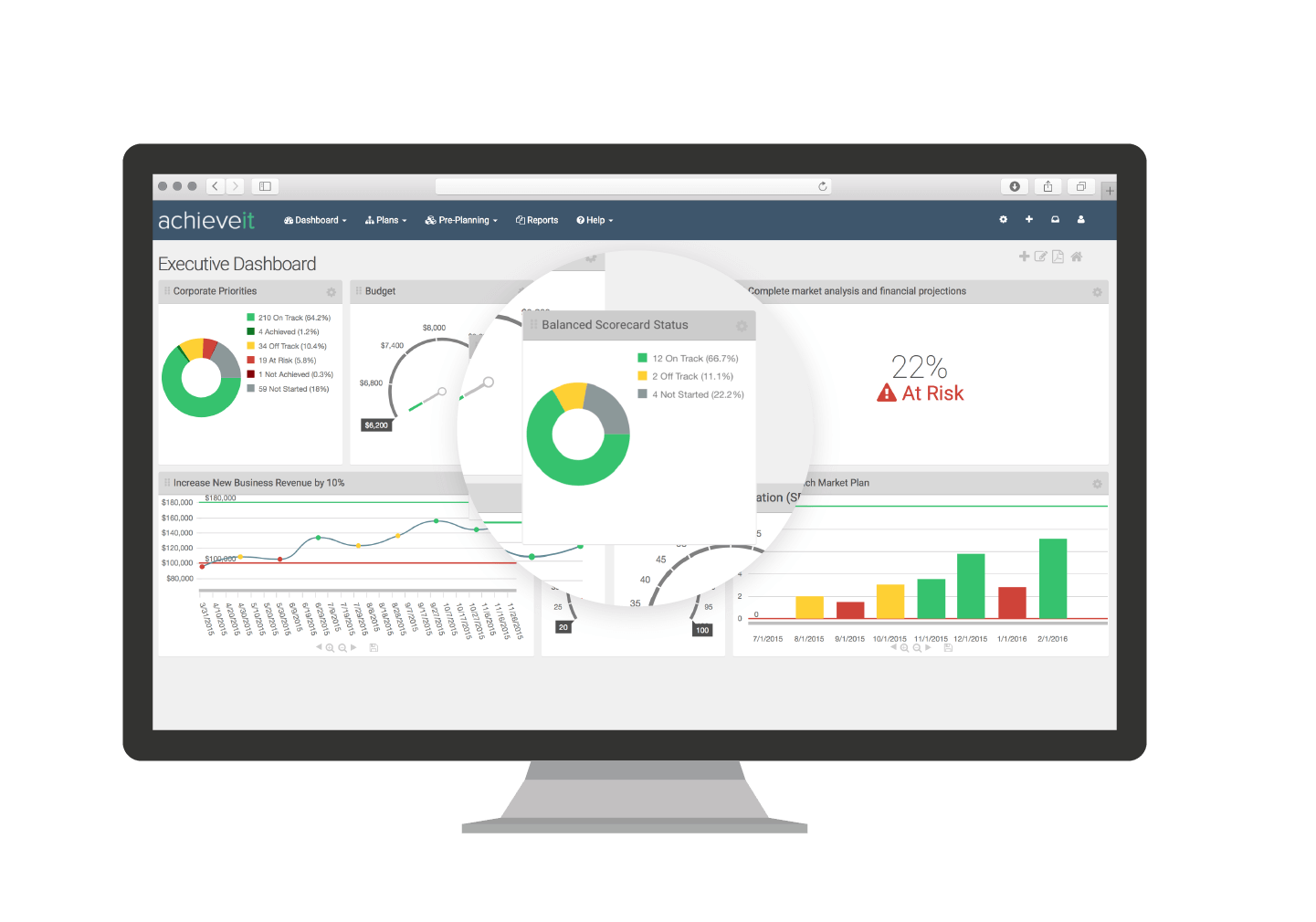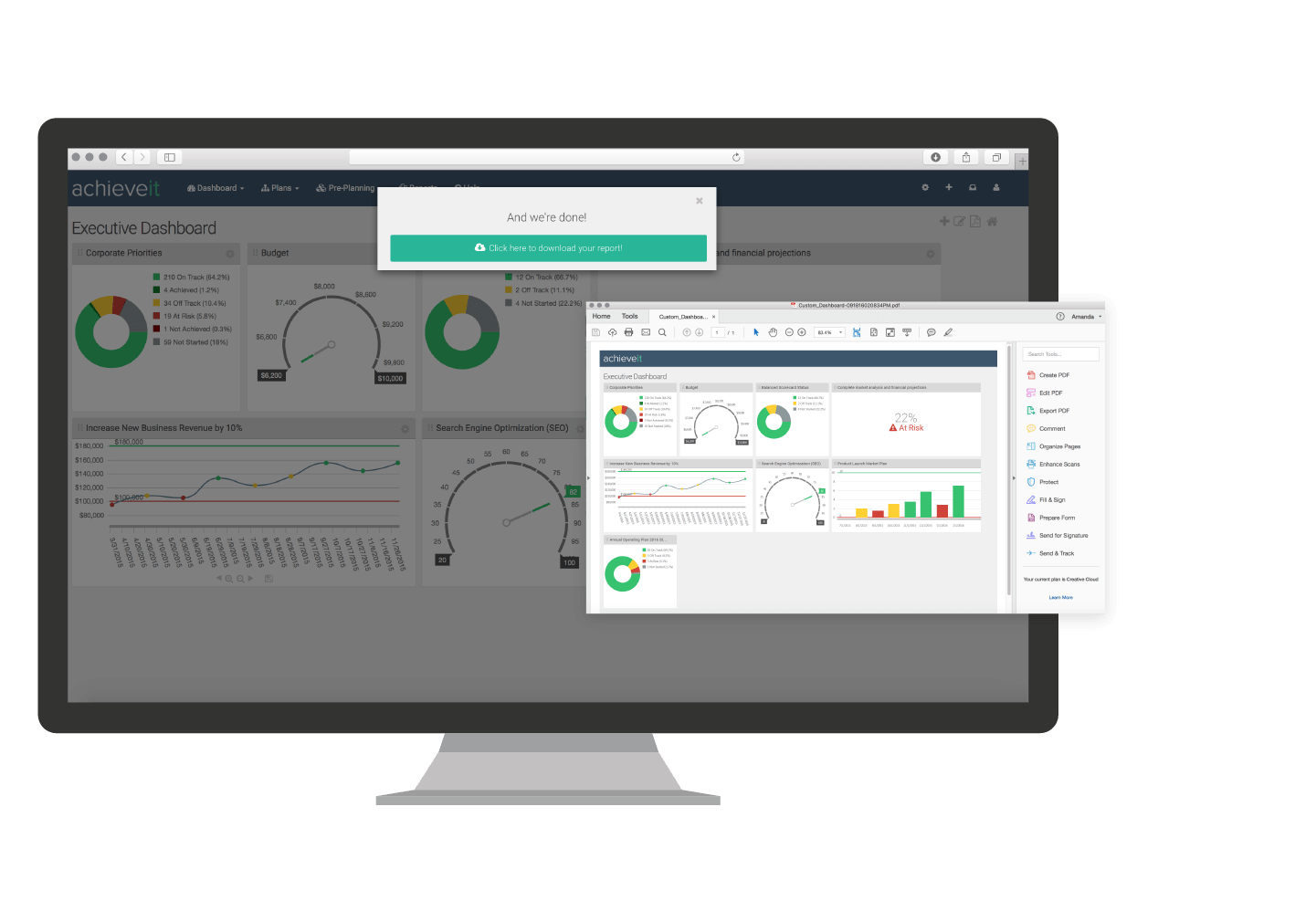 Flexible Customization
Create unlimited report collections tailored to deliver specific and targeted insights, instantly. Stop using an excel dashboard and save time collecting endless spreadsheets
Smarter Insights
Drag and drop metric modules, select preferred formats and drill down into the data for additional clarity.
Agile Decisioning & Reporting
Drill down into qualitative notes when red flags appear in data, print and share with individuals for better, more agile decision making.
To lead with confidence it's critical to have an executive dashboard that lets you keep your thumb on the pulse of your organization. But this can prove daunting when surrounded by volumes of big data, and no context.  Your excel dashboard template that was supposed to create order is now suffocating. Everything you need to know is in a spreadsheet … if you can only find it, and get the information you need on time.
InsightDashboards™ is an executive dashboard solution by AchieveIt, that provides you the flexibility and visibility to execute and drive results with confidence. This capability allows you to create custom executive dashboards or create a report collection of only the key metrics and CriticalContext™ insights that matter to you most. Whether you prefer to monitor leading or lagging indicators, in the format that is the most meaningful to you, InsightDashboards™ are your windows into strategic plan dashboards, performance and results. It's flexible, nuanced, and far more focused.
Like you, many executives spend countless hours logging into business systems and running reports. The right executive dashboard always shows you the latest results from each report you need. This saves precious hours each month. With the InsightDashboards™ you are able to be agile, make smart decisions and judge how you're really executing against your plan by getting the visibility you need.
InsightDashboards is just one of the five key features in AchieveIt that gives leaders an easy, effective and efficient way to get visibility and alignment throughout their organizations. Learn more about SmartAlerts, CriticalContext, MultiPlan View and Meeting Manager.
More Resources to Help You Deliver
Insights AchieveIt gives us the flexibility to look at initiatives from multiple perspectives in order to manage these very vast and broad scoped projects over multiple years. It has become such a godsend for us.
Paul Fowler
Senior Director of OSI

Perhaps the most important strength of AchieveIt is its ability to give us data across all 20 of our departments so we can see how each one is progressing toward their goals.
Hal Levitt
Executive Director of Strategic Execution

I really enjoy the flexibility of the software. We were able to build to our own specifications. We could sort in ways that would be the most meaningful to us… [no more] trying to fit a square peg in a round hole.
Dina Steinberger
Program Director for Performance Improvement within UW Transplant Program

AchieveIt has really helped to simplify the way we approach strategic planning internally... Everyone understands what we are doing, why were are doing it and how we are going to get it done.
Regina McNeil
Senior VP of Market Analytics & Strategic Planning